"A battery isn't a battery when it is a supercapacitor," Thin Air Energy founder James Wiebe told me during a recent conversation.
If James' name is familiar, it should be. He and his wife Kathy owned Chipper Aerospace, which manufactured single- and two-place homebuilt aircraft under the name Belite, Chipper, ProCub/UltraCub, and SkyDock brands. Sadly, that business was consumed by a fire on June 6, 2019.
From the fire in June through November, James was focused on some contract work, but once that project wrapped up, he said, "we've been all in on starting a business since last fall."
Supercapacitors
That business? Thin Air Energy.
The genesis of Thin Air was a solo camping, de-stressing trip to the Idaho backcountry accessed via aircraft, of course. During that 8-day, 7-night adventure, the battery/solar powered equipment James brought along failed him.
"I came back from the trip with fire in my belly. I purchased and learned from the competitive lights," says James in a video. "I decided to design a better, smaller, brighter, quicker charging, longer lasting camping and emergency light."
But Thin Air is about more than a "camping and emergency light," he says.
"Our products offer longer life, far more cycles, superior performance in cold and hot temperatures, and efficient production of lighting, without using lithium ion batteries. Our products are immediately vital in shaping the future for a range of products and industries," he said in a press release.
Thin Air products are designed around supercapacitors. Specifically in Thin Air's case, GraphCaps. GraphCaps are made in China by one of two manufacturers in the country. The third global manufacturer of supercapacitors is Maxwell and was purchased by Tesla — yeah, that Tesla — in May 2019.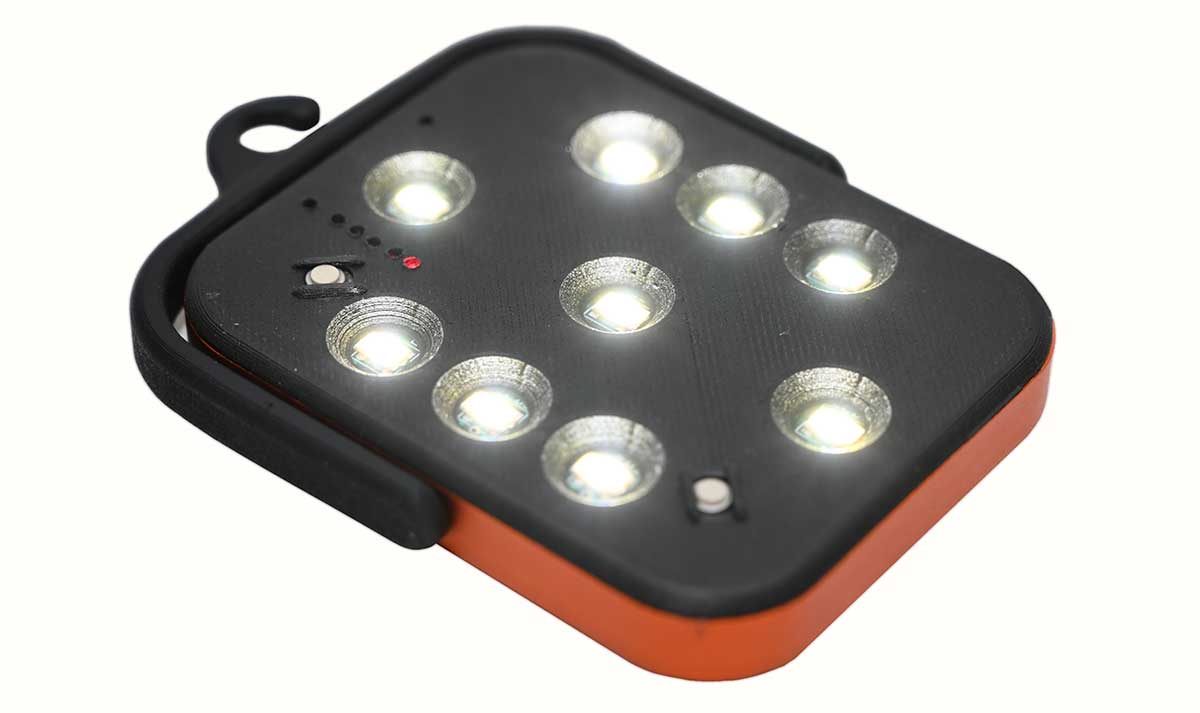 "GraphCaps have just come onto the market in this form in the last year-and-a-half," he said.
While camping, overall, is a much larger industry, a subset of campers get to their location via airplane. And for that reason, James hasn't abandoned the aviation industry. Up until now, if you use a camping light or power bank, it would be "filled with lithium ion batteries."
Lithium-ion batteries wear out much sooner than GraphCaps, according to James, noting 1,500 to 2,000 cycles for Li-ion batteries and 40,000 to 100,000 cycles, or more, for GraphCaps.
Crawl. Walk. Run.
Thin Air is starting with a handful of relatively simple products that both fill a hole in the market, from James's perspective, and prove the concept of using supercapacitors for products traditionally powered by batteries. This is the Crawl part of the plan.
Primary products are the Air Light and Air Power.
The Air Light can last for five days — in night light mode — on a single charge, according to James. A full charge takes two hours, in bright sunlight using the built-in solar panels or 40 minutes (to 80% capacity) using USB.
"I'm planning to do a version of that product that has a red light so that it becomes ideal for pilots," he said.
The Air Light can also accept the ubiquitous GoPro mount for easy application on and around an airplane.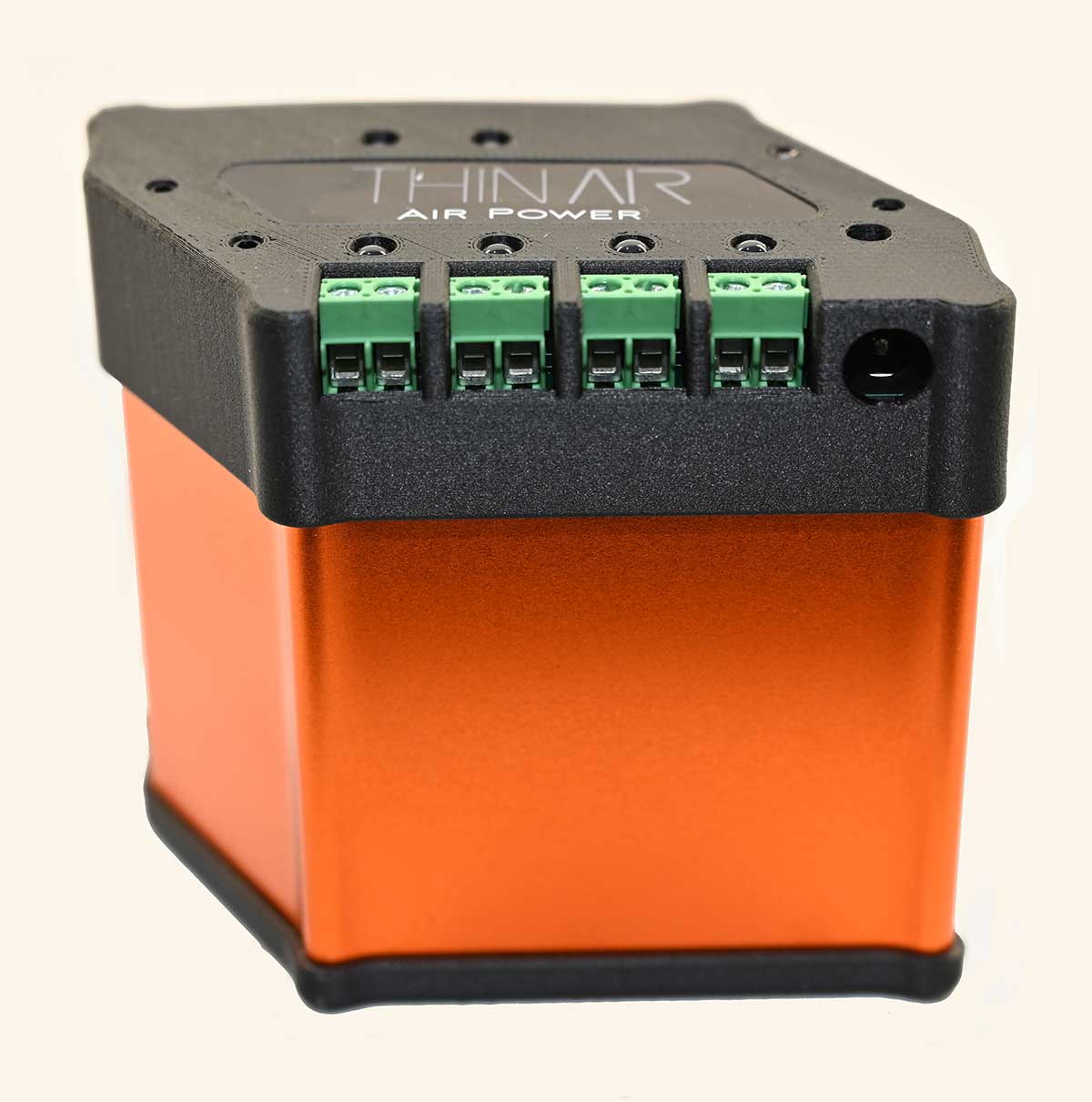 The Air Power weighs just 22 ounces, is 4″ x 4″ x 2.5″, and can charge a cell phone two to three times on a single charge from the stored 35 watt-hours. It can be charged by a solar panel (up to four units) or a traditional wall plug.
"It's a general purpose power supply that is just state of the art," James said.
A soon-to-be released 350 watt-hour version is being branded Air Power Pro.
James has four decades of business experience. Most of that experience is in tech-related fields, which all started in his college dorm room. He shared with me some off-the-record comments about the current and immediate future of electrically-powered aircraft. For now, I'm filing those under the "Walk. Run." phase of Thin Air. But James did say, on-the-record, as a tease of sorts that supercapacitors "will give you 91% of your room temperature charge, all the way down to minus 25°C and it will do so with a calculated lifetime that's over 40,000 cycles."
I like James and Kathy and was saddened to hear that Chipper Aerospace had burned up. However, I had little doubt they'd bounce back. Their energy seems to come out of thin air.