Bill Tinkler was born four years after Jack Knight flew the first day-and-night transcontinental air mail route in July 1924. By the time he was 8, he was eagerly devouring each issue of Flying Aces, which featured fanciful Phineas Pinkham stories and model aircraft building plans. By the time he was in high school, his focus side-slipped from academic lessons to flying lessons.
Flight instructor and former WASP Yvonne Stafford took Bill under her wing and and he soloed at 16. After school, Bill worked for Southern Aviation at Shreveport, Louisiana, and then interviewed with United Air Lines (UAL). Hired by UAL as a pilot in 1955, he enjoyed a 26-year flying career — but not without facing a significant challenge.
Bill's positive and resilient outlook enabled him to work through the debilitating effects of multiple sclerosis during the latter portion of his career.
"Bill had DC-6, DC-7, 727, and 737 type ratings. When he was diagnosed in February 1979, he was flying 737s," says his widow Sharon Tinkler. "The MS affected his left side, and UAL Dr. Gary Cohen referred him to Dr. Roy Swank, who put Bill on the Swank MS Diet. Bill was able to continue flying for UAL and retired in 1982 — and then he continued flying his Luscombe for more than 20 years."
Air Mail 60
Retirement gave Bill the opportunity to turn a dream into reality and fly the 1924 Transcontinental Air Mail Route.
"As a longtime docent and docent trainer at the National Air & Space Museum, Bill came to think that the Post Office did not get the credit it deserved for commercial aviation," Sharon says. "He wanted to make a survey flight to document the status of the original 1924 air mail route and stops, and shine a light on the Post Office's role in the development of air commerce."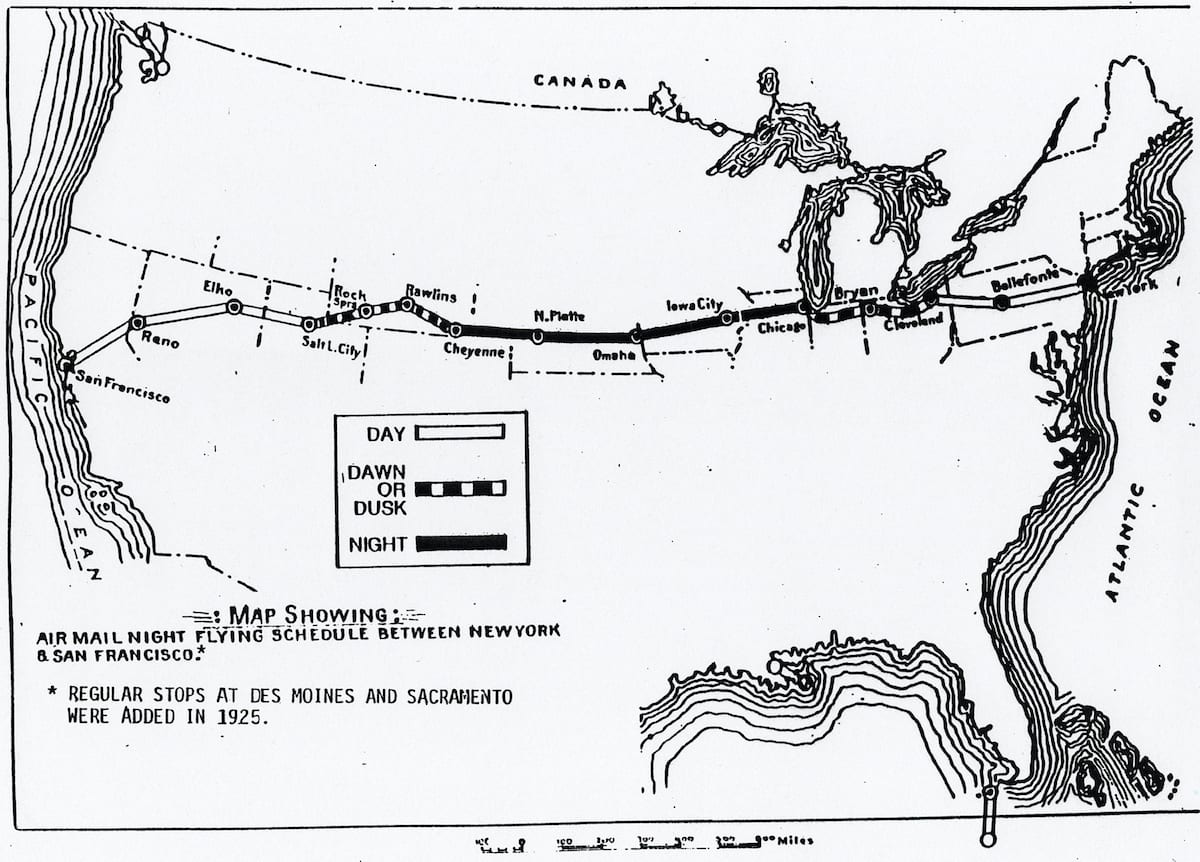 Bill, who lived in Annapolis at the time with his wife, Chriss, had owned his 1948 Luscombe Silvaire 8F (NC1594B) since 1969, and set about making preparations to fly it across the country. He had the original 90-hp Continental replaced with the Moody Larsen engine conversion, and the Luscombe was also fully IFR equipped.
Inspired by the book, "Bonfires to Beacons: Federal Civil Aviation Policy under the Air Commerce Act, 1926-1938," Bill tirelessly researched early air mail history and made preparations for two years leading up to his flight.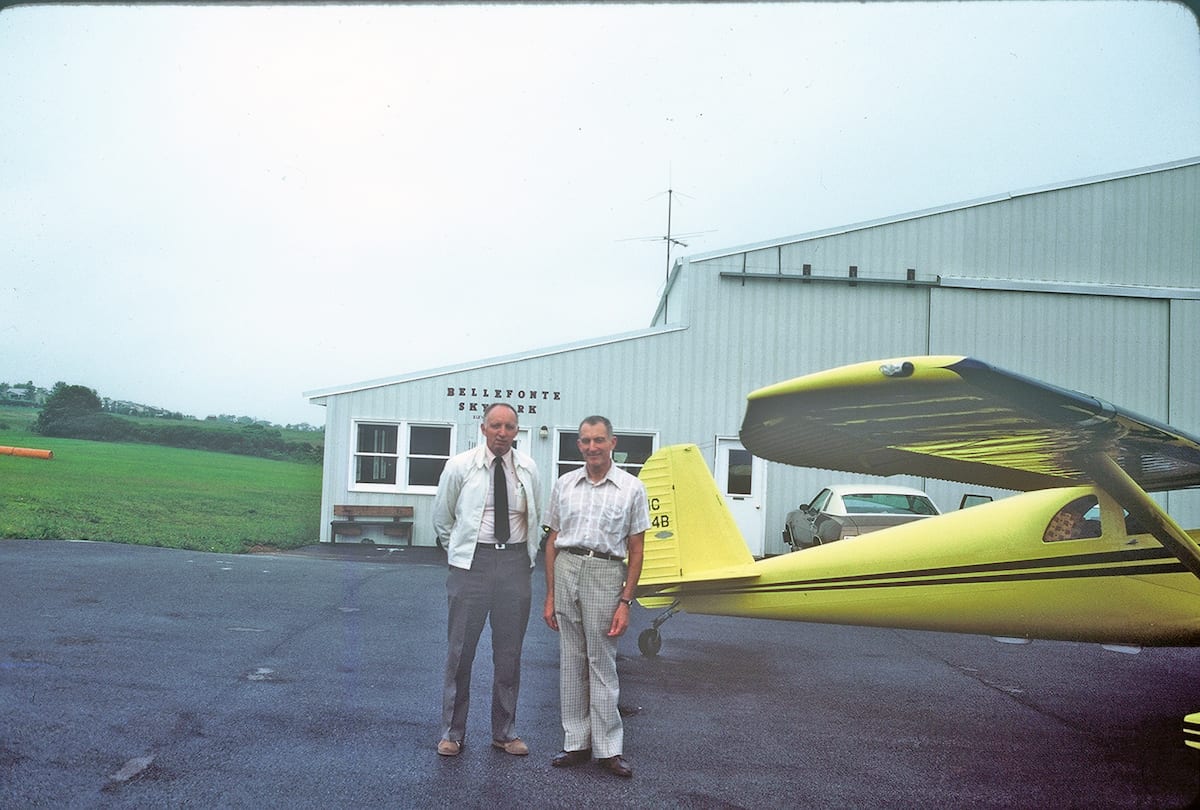 In a March 1984 letter to William F. Bolger, Postmaster General, Bill alluded to his curiosity about the origins of UAL when he wrote: "… I was aware that the original transcontinental air mail route operated by the Post Office Department became United Airlines' mainline. This was through the merger of Boeing Air Transport, National Air Transport, and two other early mail contract carriers. I realized that 1984 would be an ideal anniversary time for the flight. July 1 (arrival July 2) marks the 60th anniversary of scheduled 'through' transcontinental air mail service. I am writing you because I thought that you may share my enthusiasm for the early pioneers of our air transport system and would, perhaps, like to know about my planned flight."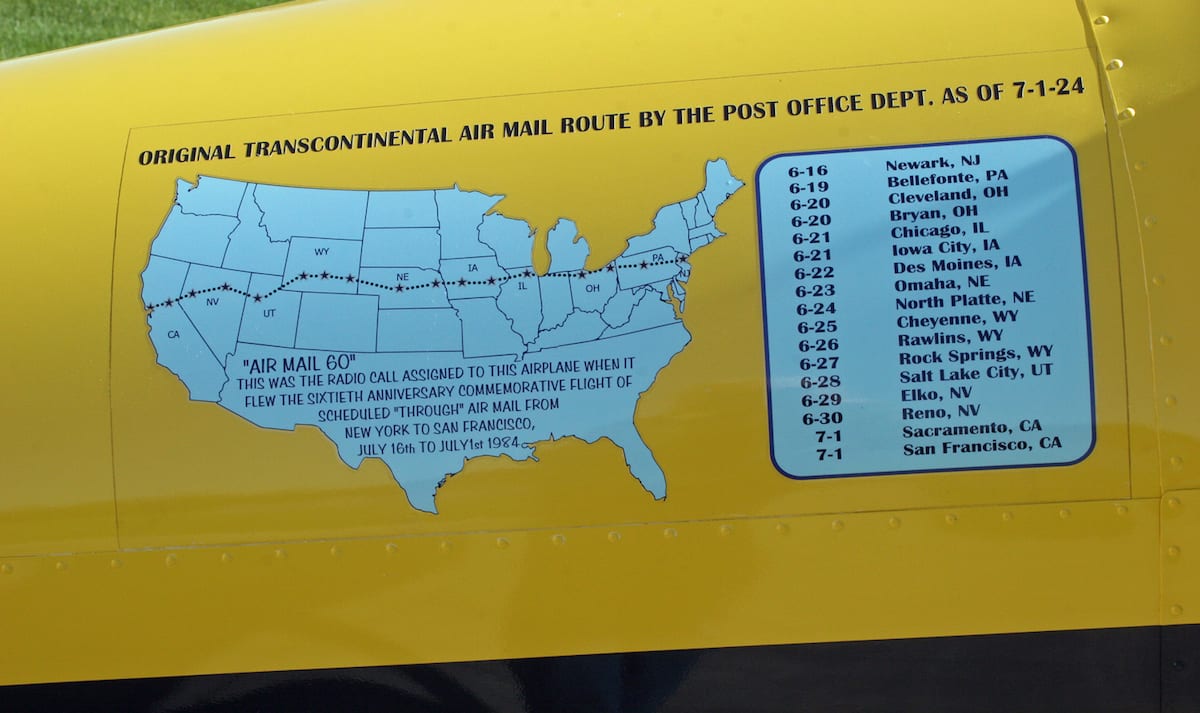 Bolger did indeed share Bill's enthusiasm, and provided Bill with the following letter dated June 14, 1984:
"The bearer of this letter … is honoring postal history by tracing the route of the first regularly scheduled transcontinental mail flight, made July 1, 1924. The route, for the first time, included a night segment from Chicago to Cheyenne, Wyoming.
Partly because of postal employees who flew the flimsy planes and manned the primitive airfields 60 years ago, around-the-clock air transport of mail is now something Americans take for granted.
When the predecessors of today's airlines first started flying mail in 1926, something else we now accept as commonplace — nationwide passenger air travel — was not far behind.
I wish Mr. Tinkler Godspeed in his historical journey."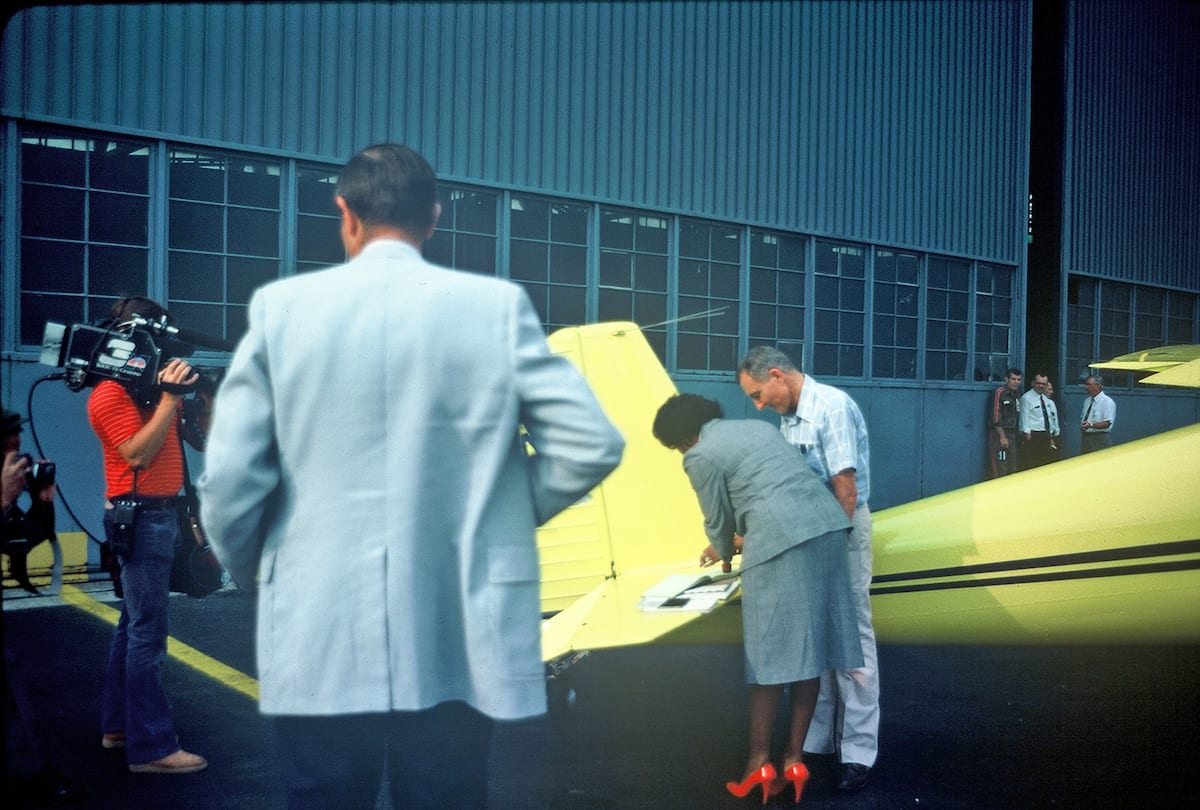 "Air Mail 60" was the call sign during the flight, and Bill planned the trip to allow a hotel night's stay at each of the 17 stops along the route. The Tinklers departed Newark June 16 and arrived in San Francisco July 1. They carried letters that were canceled by post office personnel at each stop. Radio, TV, and newspaper press interviewed and filmed them at virtually every stop. Hosts along the way gave Bill and Chriss a hearty welcome and tours of their towns.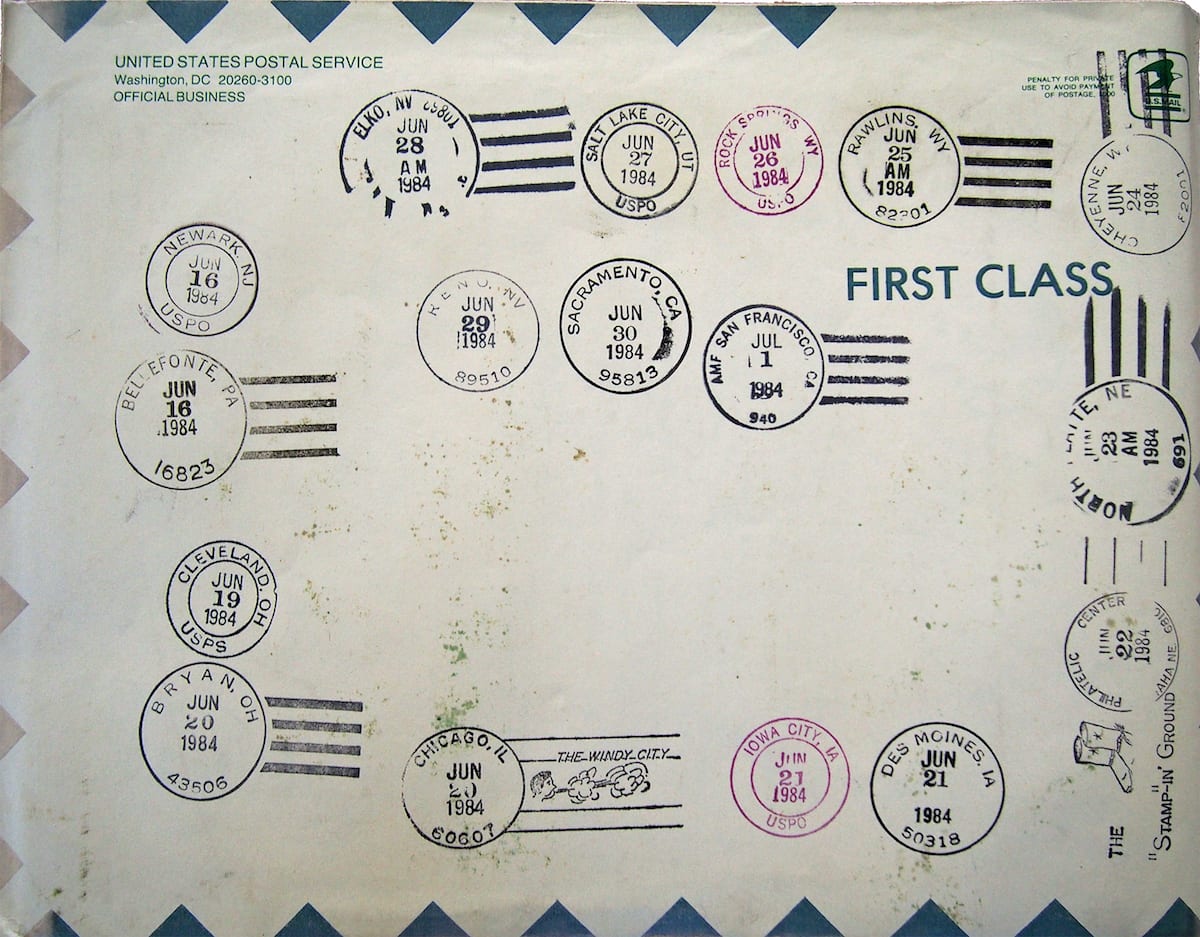 Bill later gave numerous presentations about their flight and air mail history to interested audiences, but it wouldn't be the only long cross country that NC1594B would fly.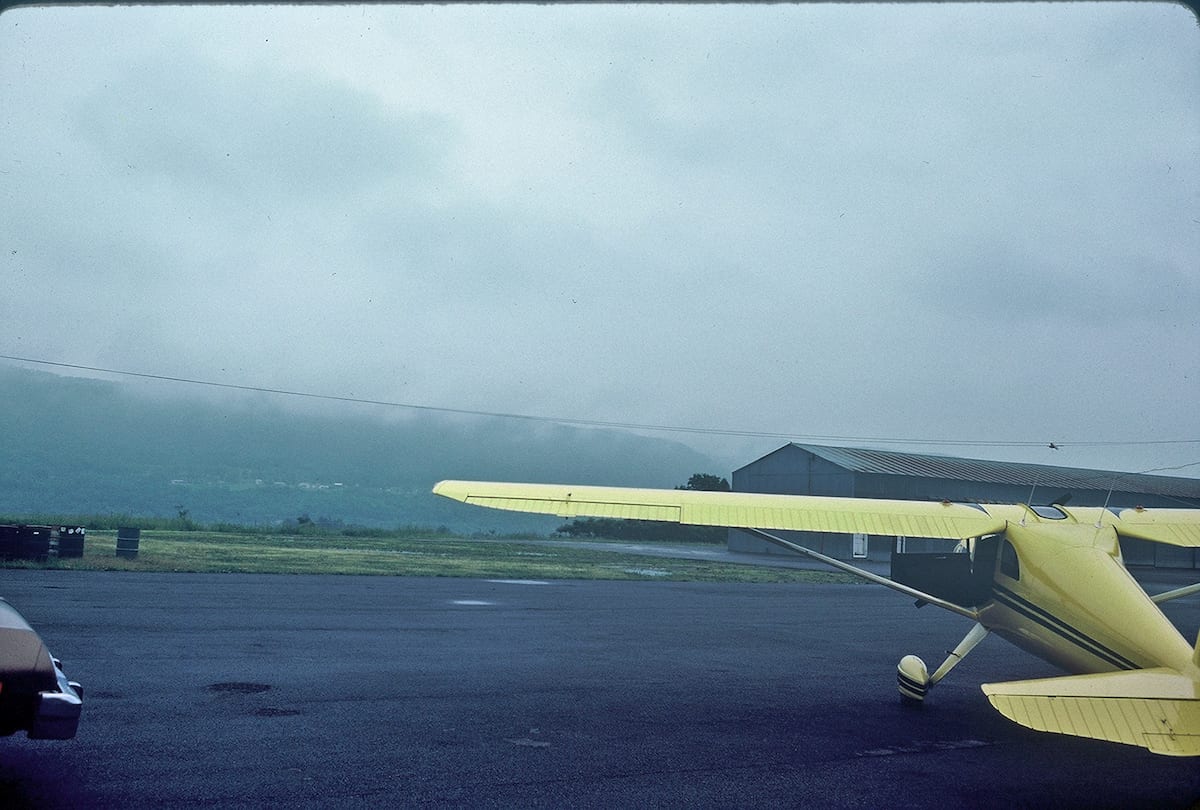 A joyful focal point
Sharon Tinkler was just 4 years old when NC1594B was manufactured at the Luscombe factory at Dallas, Texas. Half a century later, this Luscombe would become a joyful focal point in her life, along with its caretaker, Bill Tinkler.
Sharon had her first light airplane flight in a Super Cruiser.
"I was scared to death, and at the same time, I was attracted to flying," says Sharon. "It didn't take long until I signed up for lessons. I soloed a Piper Colt in August 1993. I was 48 years old and it took me 30 hours to get to that solo at Lee Airport in Annapolis. It was then another 130 hours until I got my private."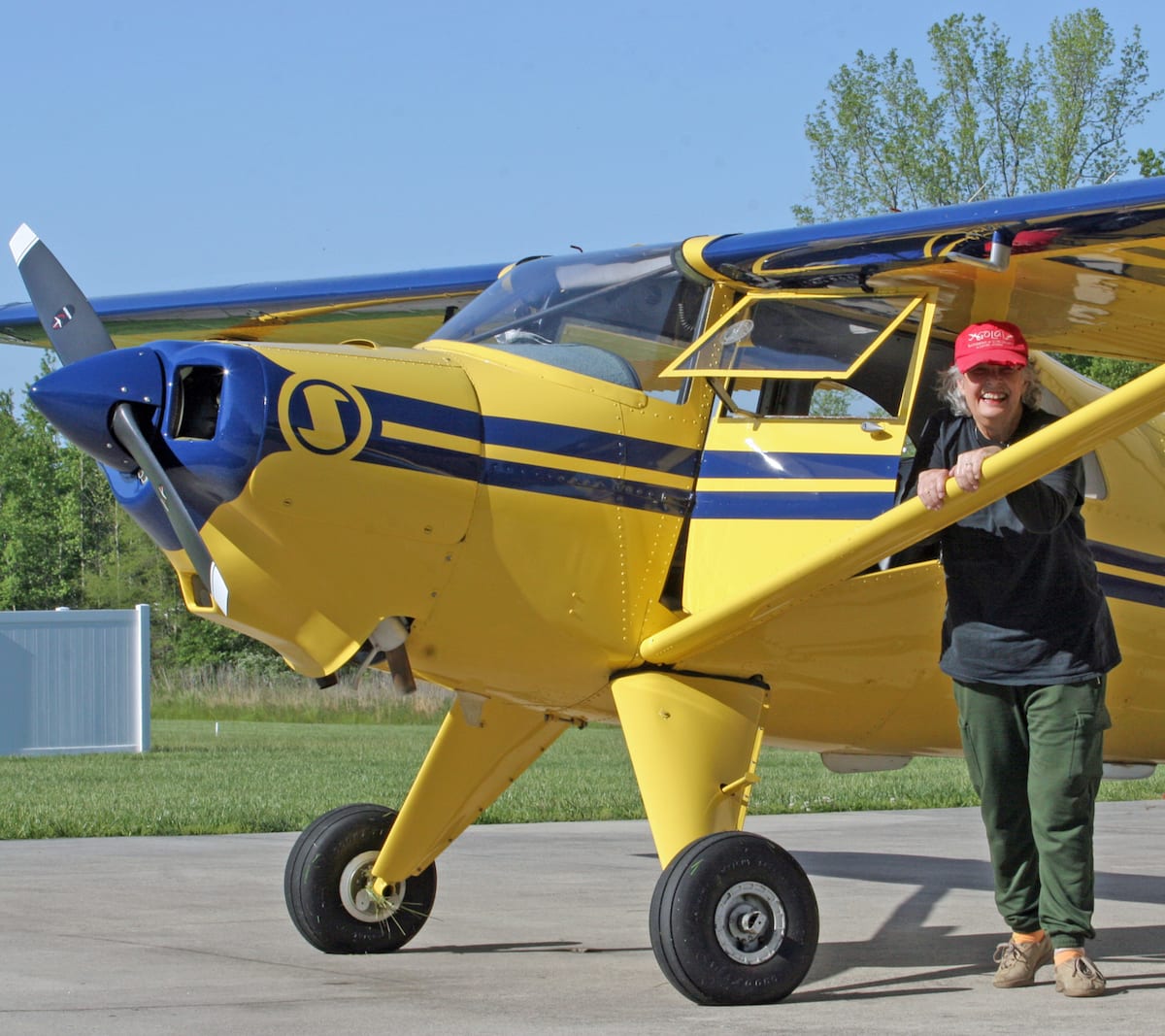 Since she had also flown a Piper Cherokee during her flight training, 50-year-old Sharon decided to buy a Cherokee as her first airplane. As a fully-fledged, instrument-rated private pilot and aircraft owner in her own right, Sharon began welcoming many new "airminded" friends into her life, one of whom was Captain Bill Tinkler, who she married after his first wife, Chriss, passed away.
"Bill was just part of the background at Lee Airport, and we became friends. He was a CFI, and one day he said to me, 'Hey Sharon, how about I give you a tailwheel endorsement and you teach me to use a computer?' So that's what we did."
Having logged 1,600 hours flight time now, Sharon laughs as she recalls learning to fly the Luscombe.
"When Bill taught me to fly the Luscombe, everybody gathered around to watch because I couldn't even land the Cherokee. Bill told me, 'Use the stick to stay over the center line, and use your feet to keep it straight.' That worked for me. I had a short attention span, so while I couldn't do a crosswind landing in a Cherokee that looked like anything anybody should accept, I could in the Luscombe because it's very responsive and quick — there was no lag time and I instantly felt the results of my control inputs."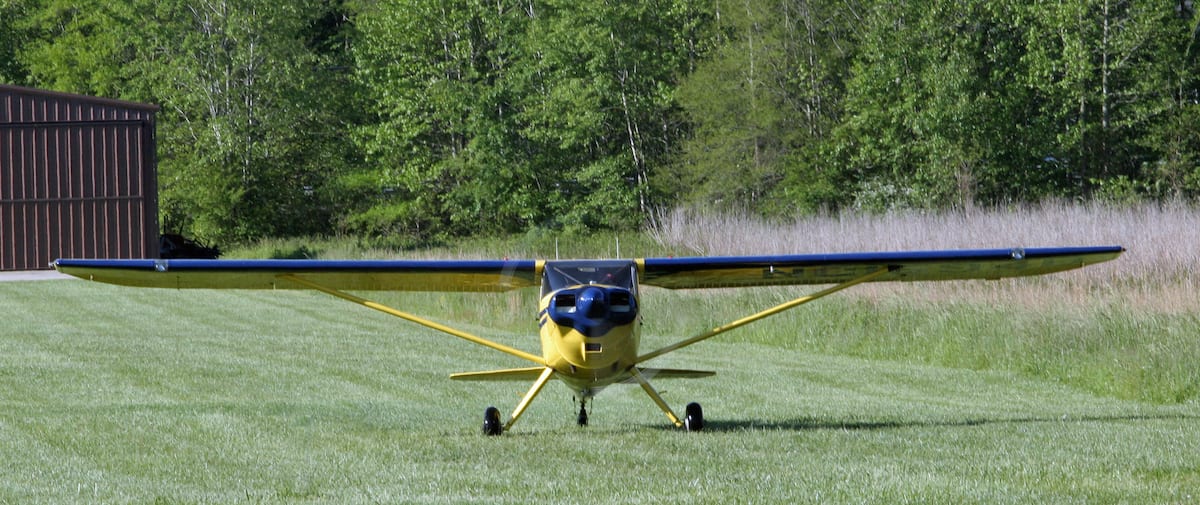 Sharon sold her Cherokee and bought Gracie, a Luscombe 8E. That same year, she and Bill flew his Luscombe (NC1594B) on a 4,383 nm round-trip adventure from Maryland to Iowa, Nebraska, Kansas, Texas, and Arizona, where they left the airplane for a month and then returned for the Cactus Fly-In. Then they flew across Texas and the lower tier of states, and up the Atlantic seaboard to Maryland.
"We didn't have GPS, but we used pilotage and had VORs and NDBs," recalls Sharon. "I cut the corner off a bend in I-10 heading out to Arizona, and Bill asked, 'think you can make a landing site from here?' I said, 'sure, look! The whole world is a landing strip down there, flat as can be.' He quietly said, 'but you'll die walking out. Treat that I-10 like the shore of the Chesapeake — keep it within gliding distance.'"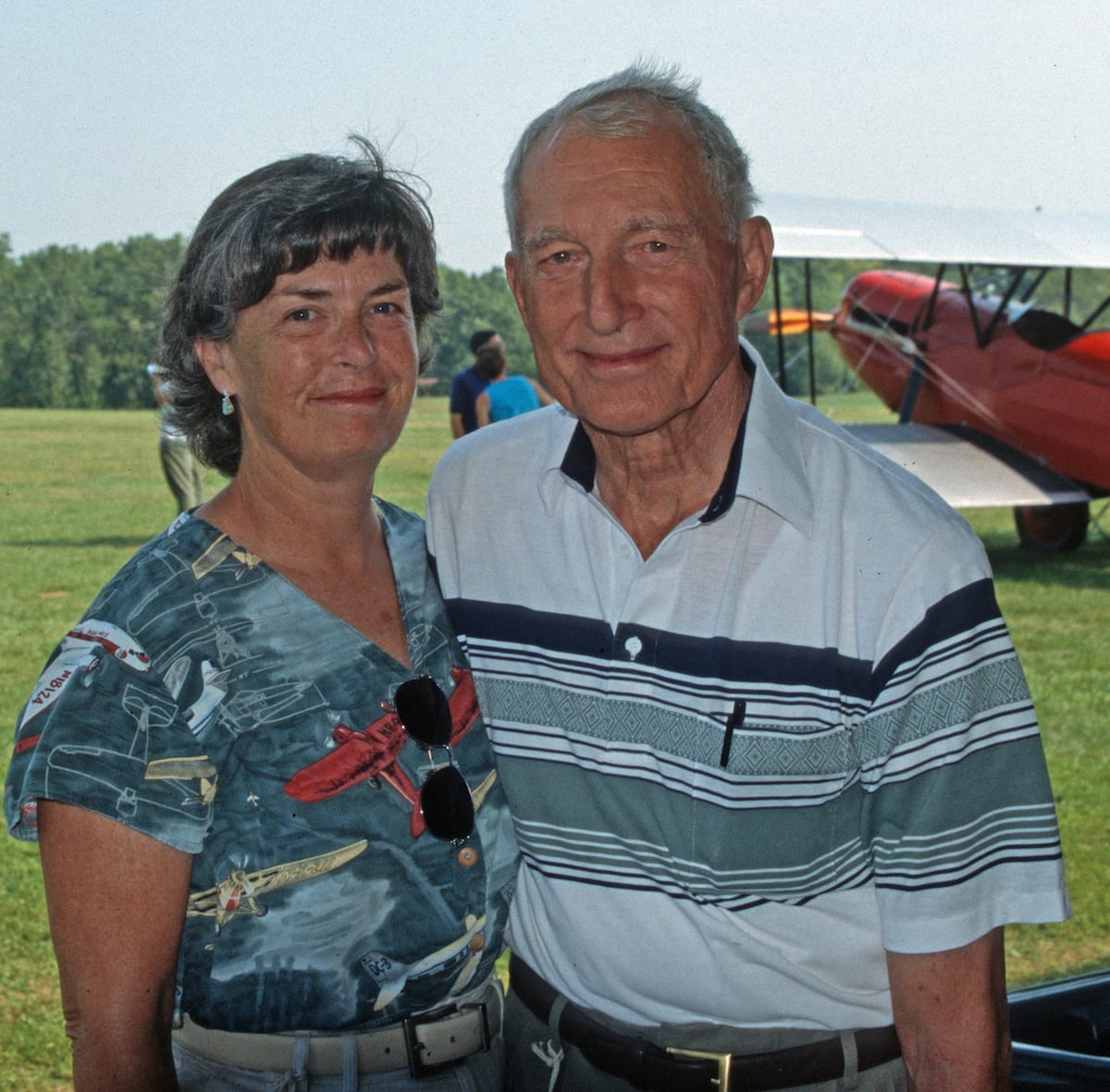 Later, Sharon and Bill went in together and purchased a Luscombe Sedan, in which they enjoyed many cross country trips. When they moved from Annapolis, Maryland to Tullahoma, Tennessee in 2005, they brought both the "Air Mail 60" Luscombe 8F and the Sedan (which was later sold) with them.
Keeping Up with the Times
Bill passed away in 2012, and Sharon continues flying her Luscombe 8F. She just recently had NC1594B ADS-B equipped.
She justifies the hefty price tag for that installation in a personal way: "I'm 76 now and if I need to access various services available at the larger airports within the airspace where ADS-B is required, I want to be able to fly into those airports. I also need to be comfortable in the airplane. I want to see and be seen for safety reasons. The shop removed the ADF and installed the Garmin Aera 660 in its place, and a Garmin 335 transponder, which is ADS-B out."
Sharon treasures 94Bravo for philosophical and sentimental reasons.
"It's taught me to keep a positive attitude, and the enduring lesson that nature is fair because there is no betrayal. Respect it and it will always respect you. It's also my 'church' — it's my place to be at peace."
"And when you fly a vintage airplane, you meet other people with the same heart for that kind of flying," she continues. "It's not just about transportation. They're passionate pilots — it's a love thing, and no amount of money is going to change that."