By DAN MORAN via Reddit
My mother in law had her birthday in early July, and my wife Jill really didn't want to miss it.
However, my in-laws live in Taylorville, Illinois, and we live in Southern California. None of us felt comfortable flying commercial due to COVID, so I volunteered to fly myself, Jill, and our two boys — Ethan, 10, and Alex, 6 — to Taylorville in my Sling TSi.
Jill was hesitant (she's a nervous passenger, especially in any turbulence), but the destination was sufficiently tempting, so she agreed.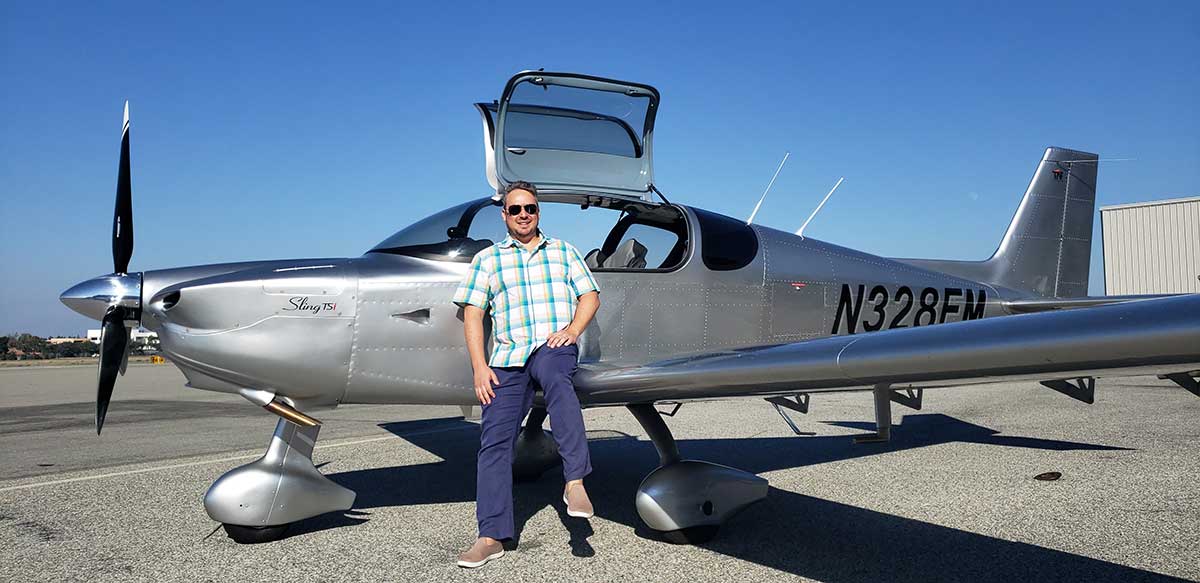 I did extensive planning, not just for the route, but for the setup of the airplane. I had plenty of useful load (my kids don't weigh much, so it was just my skinny wife, our tiny kids, and my fat ass) for the four of us and our luggage, but for those of you unfamiliar with the Sling, there's just not a ton of physical space to PUT the stuff. So, I bought compression tubes, packed everything as tightly as I could, and wedged bags into foot wells, under the kids' seats, etc. Somehow, we made it work and were still about 200 pounds under gross with full fuel.
I had been having some intermittent maintenance issues before the flight (the Lane A warning light went on a few times in flight), so I let the guys at Sling have a look, and they assured me it was sorted out. [Narrator: It wasn't.]
For those not familiar with the Rotax 915, it is a FADEC engine, and the lanes (A and B) refer to the two parallel control units. So, lanes are analogous to mags in that if you lose both, the engine stops, but they really are different animals.
Early on June 27, 2020, we set out!
Day 1: Zamperini Field Airport (KTOA) in Torrance, California, to Sedona Airport (KSEZ) in Sedona, Arizona. 2.7 hours on the hobbs, but about 30 minutes of that was on the ground at Torrance waiting for IFR release due to a marine layer.
This was a short and relatively uneventful flying day.
Sedona was nowhere near halfway to our destination, but the kids had never been to Sedona, and we wanted them to see it. So, we were there by late morning, went swimming, took a jeep tour, etc. Good times.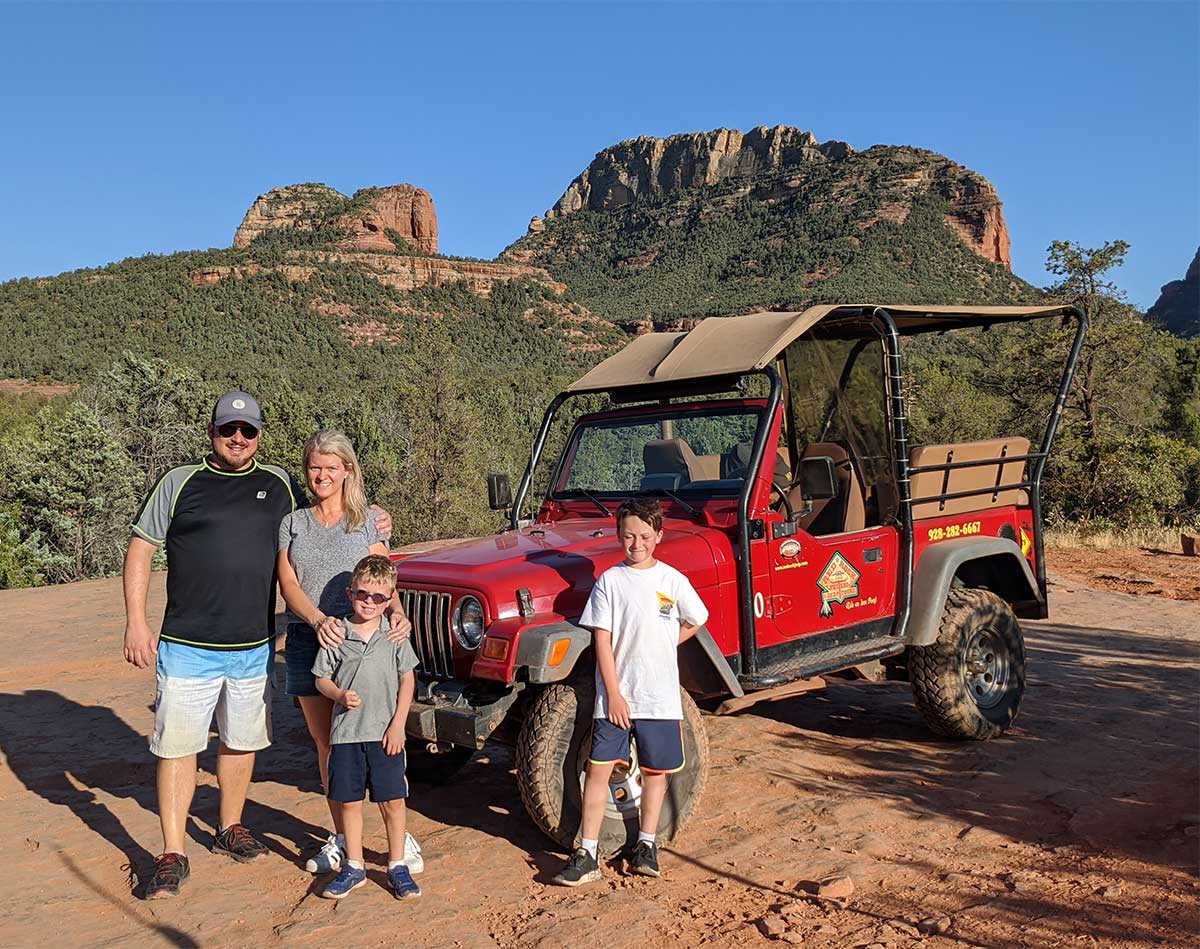 Notably, as I was on downwind into Sedona, my Lane A light came on again (not fun — landing at Sedona is a handful to begin with), but a quick reset resolved it. I called Sling after landing and they assured me it was just an erroneous sensor reading, and not to worry about it.
Day 2: Sedona to Liberal Mid-America Regional Airport (KLBL) in Liberal, Kansas. I had planned Sedona to Dalhart, Texas (KDHT) as our first leg of the day, but that turned out to be naively optimistic. The kids needed to pee, so I diverted to Double Eagle II Airport (KAEG) in Albuquerque, N.M. Had a quick bite, loaded back in, and continued east.
Lane A went off a few more times during this flight, and at this point it was becoming routine to just reset it.
Also, I had planned to climb up into the mid teens for better speed, but my 6-year-old refused to wear his O2 mask, so we had to settle for 11,500 and 15-20 kts slower than I would have liked.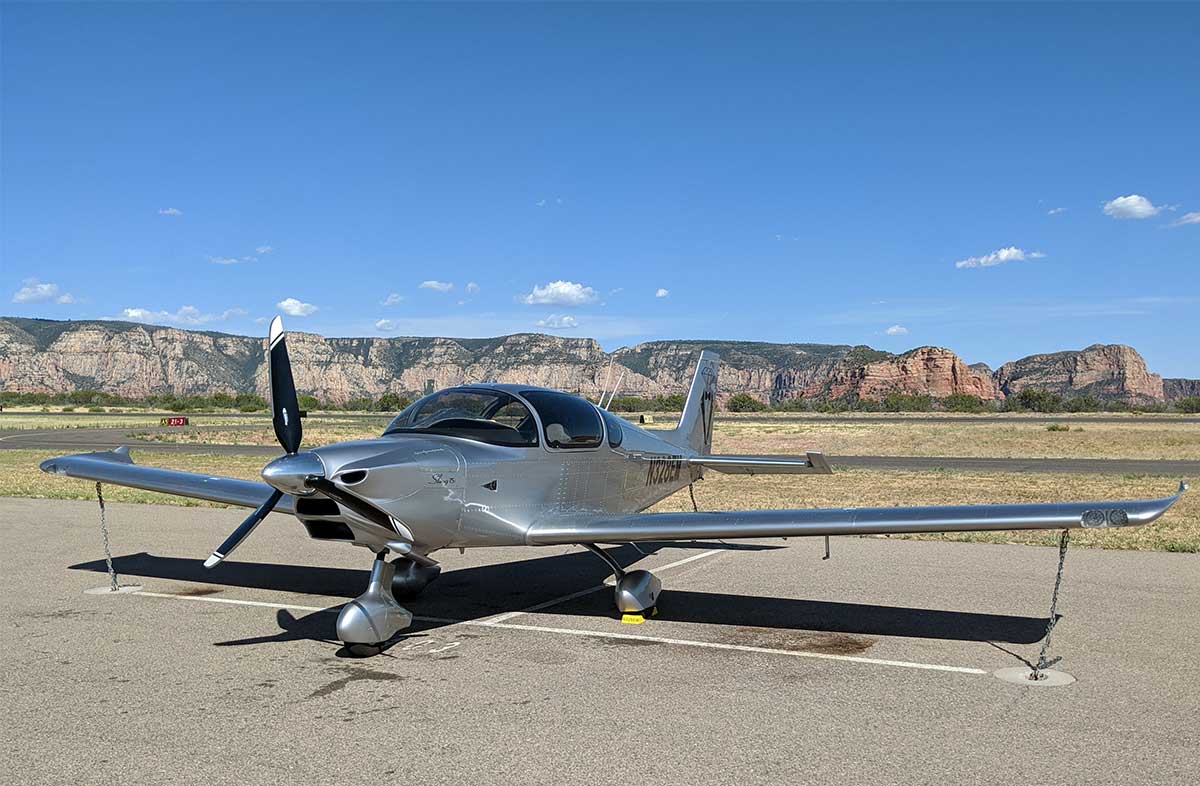 After a few minutes of progress out of Albuquerque, turbulence went from mild to moderate/severe. Crossing the mountains in summer, that's to be expected, but it sucked. My wife was white knuckling it, and the autopilot wasn't able to keep up, so I switched it off and hand flew, trying to allow some deviations to keep it smooth.
After a long two-hour leg, we landed at Liberal. Winds were 30+ kts on the surface, but right down the runway, so no big deal. However, as soon as we climbed out, hats went flying, and my little guy was literally knocked over by the wind!
We went inside, got some drinks, and sat for a while. My wife was pretty shaken by this last leg, and we considered spending the night in Liberal. But a check of the forecast showed that the winds wouldn't improve for a few days, at least, so it was either buy a house and move to Liberal or press on.
Thankfully, within five minutes of takeoff, conditions smoothed out, and stayed that way for the rest of the day.
We flew a long leg to Columbia Regional Airport (KCOU) in Columbia, Missouri, gassed up, and flew a short hop to Taylorville Municipal Airport (KTAZ) in Illinois, our final destination.
During these legs, Lane A would go off every so often, but I just muttered to myself and reset it.
We spent three lovely days relaxing with my in-laws, and on July 2, it was time to head back. The plan was to spend the night in Santa Fe, visit the Grand Canyon the following day, then head home.
But COVID threw another curve ball. New Mexico announced a 14-day quarantine for anyone arriving in the state, so Santa Fe was out.
We decided to try for a longer day of flying, and planned to spend the night in Page, Arizona. Alas, that was not meant to be.
Our first leg, Taylorville to Lee's Summit Municipal Airport (KLXT) in Missouri was uneventful (other than a few more Lane A resets). Notably, my landing at KLXT was my 1,000th, so that was cool.
We got gas and continued to Hutchinson Regional Airport (KHUT) in Kansas, which we'd heard had a particularly good restaurant. On final into KHUT, my propellor controller (I have an Airmaster) suddenly started flashing three red lights (indicating an open circuit failure). I landed without incident, and we had lunch (not bad!).
With a full belly, I left my family in the AC, and headed out to the plane to see if I could figure out what went wrong. The guys at Sling were on the phone with me, and walked me through about 45 minutes of troubleshooting (in 105° heat, with 90% humidity, in direct sun), to no avail.
The prop controller was dead, and I would have to manually control the prop. Not easy with just the very imprecise switch I had in the panel, but so be it. I didn't love the idea of flying all the way home that way though.
Fortunately, the Sling team came through for me again (they're really great guys), and found a mechanic who could meet me at Lloyd Stearman Field (1K1) in Benton, Kansas, only a 20 minute flight away, to take a look. So away we went!
I landed at 1K1 and was really impressed with the field. They had a great restaurant (much better than KHUT in my opinion), and a really festive vibe going there. I waited on the ramp for the mechanic to arrive, and he showed up a few minutes later (he flew his Kitfox in from his farm — badass).
My family stayed in the restaurant and had some snacks while we took the cowling off and got to work. It turns out the brushes from the controller had separated from their solder points and were no longer effective. The mechanic and I begged a soldering iron off a local, patched it up, and I was back in business.
He warned me that this was a temporary fix and the brushes would need to be replaced, but this should get me home.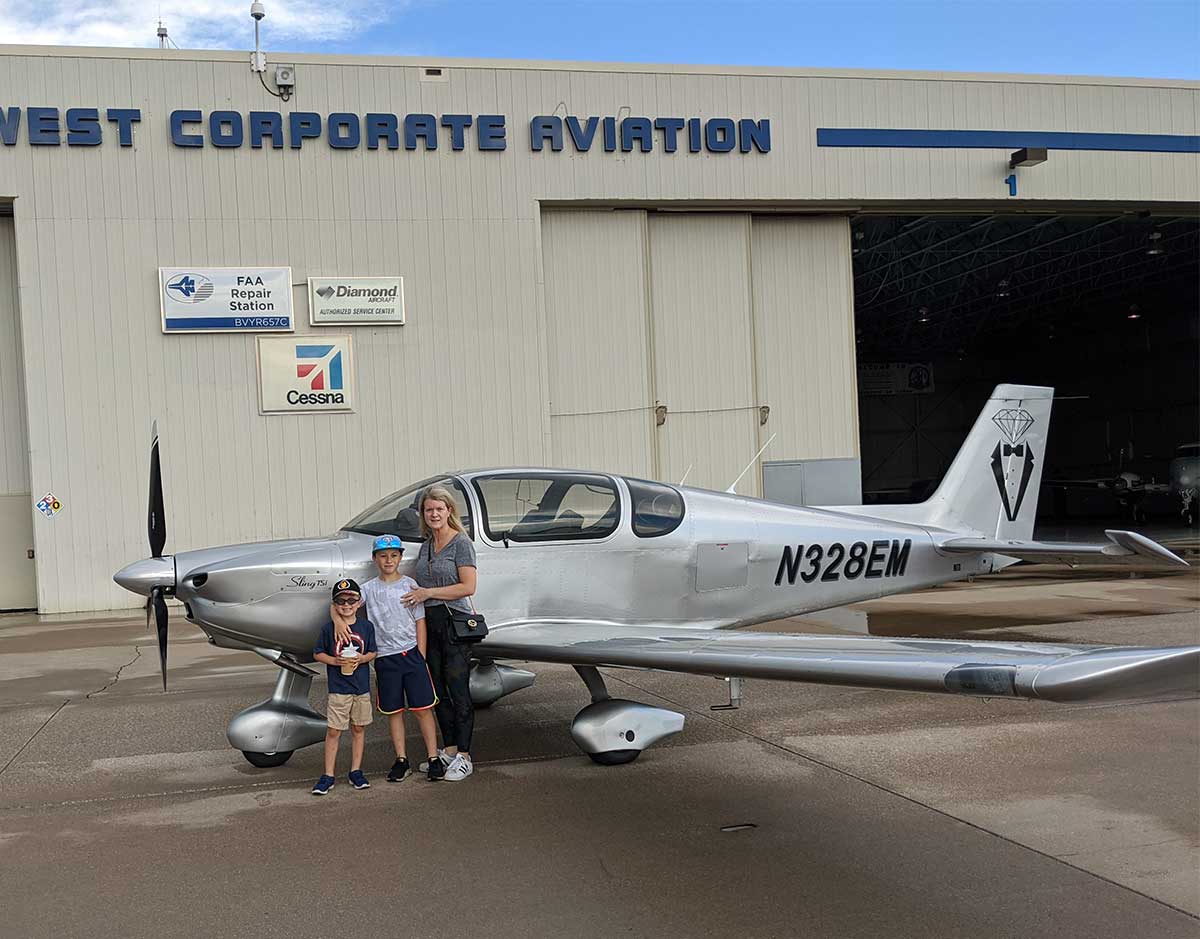 By this point, it was evening, and I knew we weren't going any further. My wife found a hotel, grabbed an Uber with the kids, and headed out. I, however, had promised rides to a few locals who were eager to check out the Sling, so I spent about an hour doing that, then repositioned to Colonel James Jabara Airport (KAAO) in Wichita, (slightly closer to the hotel), and got a ride to meet them.
The next morning greeted us with stormy weather, as a cell passed over Wichita. So we took our time with breakfast, made our way to KAAO, and by the time we departed around 10:30, it was mostly cleared up. The prop controller was working 100%, and other than the persistent Lane A issue, all was well. We flew to Dalhart, Texas, for lunch.
I checked FIS-B before landing, and the way ahead looked good. But in the hour or so it took us to eat, a line of storms had popped up in Eastern New Mexico. We took off out of KDHT, and within a few minutes thought better of it and returned to KDHT.
We spent about two hours on the ground hoping the storms would dissipate, but they just kept building. So, I made a new plan: We would head south towards Midland, then turn west to El Paso. This would take us south of the weather, and let us make at least some westward progress.
However, the weather wasn't done with us yet. We took off into some of the worst turbulence I've experienced in my flying career. My wife was turning green and clutching a barf bag (which she thankfully didn't wind up using). Notably, my kids were watching movies on their tablets and couldn't have cared less, but my poor wife just couldn't take it.
So, after just a few minutes, I turned east and landed at Rick Husband Amarillo International Airport (KAMA) in Amarillo, Texas, for the night. We had a very colorful dinner at the Big Texan Steak Ranch (for the uninitiated, it's an experience!), and went to bed.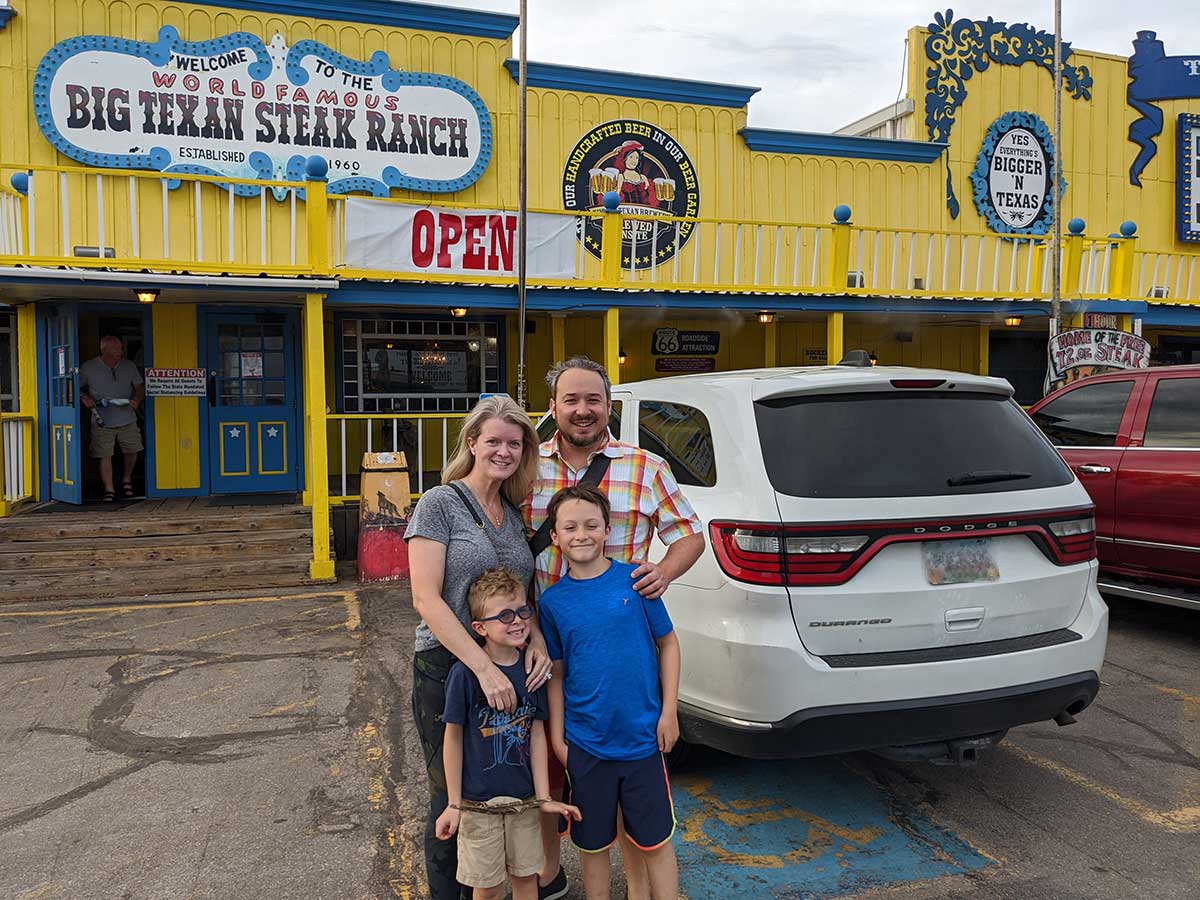 The next day (the 4th of July, for those keeping track), we woke up to calm winds and no weather issues in our path. I was confident we'd make it home at last. We still didn't want to try our luck with New Mexico, so we flew a long leg to Holbrook Municipal Airport (P14) in Holbrook, Arizona, and fueled up. From there, it was a short hop back to Sedona for some awesome lunch (the restaurant there is terrific). Now we just had one leg left and we'd be back home at Torrance!
Of course, by this point in the trip I'd given up counting how many times I'd reset Lane A in flight, and planned to give the Sling guys a piece of my mind about it on Monday. But for now, I figured we'd be fine to get home. [Narrator: They weren't.]
We took off into bumpy skies (no surprise in Arizona in July!), and climbed up to 12,500 looking for smoother air. As we came across the Colorado river, I could feel home coming into range.
However, I could also feel just the slightest hint of roughness in the engine. I obsessively checked all the instruments, and everything was solidly in the green, so I figured it must be jitters. [Narrator: It wasn't].
After about 10 minutes of this, guess what? The Lane A light comes on again. This time, though, it was accompanied by a loud surging of the engine and a partial loss of power. I reset it, and everything went back to normal — except my wife, who LOST HER SHIT. She panicked, demanding to know what was going on.
Of course, at this point I had no idea. All the gauges were reading normal. I knew we had 12,500 feet of altitude and were going to be fine even if the engine quit, but there was no way to communicate that to my hysterical wife. Before I could really even begin to figure it out, 30 seconds later, it happened again. Lane A light, surging engine, power loss, resolved by reset.
That was enough for me — I wanted the plane on the ground. So, I discovered Twentynine Palms Airport (KTNP) in California, was the nearest airport, pointed at it, and began dropping altitude as rapidly as I could with my kids' sensitive ears.
A few minutes later, we made an uneventful landing at KTNP. It was 110° in the California desert, and the field was deserted. I hopped out, spent about five minutes yelling and swearing, and then tried to get my bearings.
Thankfully, there was a small pilot's lounge that was air conditioned. I parked the family there, called a friend to come pick us up (at this point, we're only a 2.5-hour drive from home), and tried to get the Sling guys on the phone again. Of course, it was the 4th of July, so they weren't available. Fair enough.
We unloaded the plane, waited for our ride (if not for that air conditioned room, it could have been a massive problem, but we did have the room, so it was just boring), and drove home.
On Monday, July 6, the guys from Sling flew to Twentynine Palms, picked up the plane, and nursed it back to Torrance. On their return flight, the prop controller failed again (the mechanic at 1K1 warned me it was a temporary fix!), and of course Lane A continued to misbehave. They still have the plane now, and have sworn to get to the bottom of any and all issues and return it at 100%.
UPDATE: The plane is now fixed. There was a sensor mounted to a bracket, which somehow got bent a bit. When that happened, a slightly overlong screw through the bracket touched the component next to the engine control unit, which created a short. Just a crazy thing. Bad luck.
So, it was a huge adventure, extremely rewarding, and a great educational experience for me. It was also an object lesson in normalization of deviation.
In retrospect, of course I regret taking their word for it that Lane A was "just a sensor issue," but at the time, I had no way of knowing otherwise, and they are the experts! So I'm really not sure what I would do differently.
I am pleased with how I handled the maintenance issues and "emergency" (it wasn't really an emergency, but it could have become one).
Would I do it again? Absolutely.
Would my wife? The jury is still out.
Total flight time: 24.4 hours.
California to Illinois
| Depart | Arrive | Hours |
| --- | --- | --- |
| KTOA | KSEZ | 2.7 |
| KSEZ | KAEG | 1.9 |
| KAEG | KLBL | 2.3 |
| KLBL | KCOU | 2.9 |
| KCOU | KTAZ | 1.2 |
| | | 11.0 |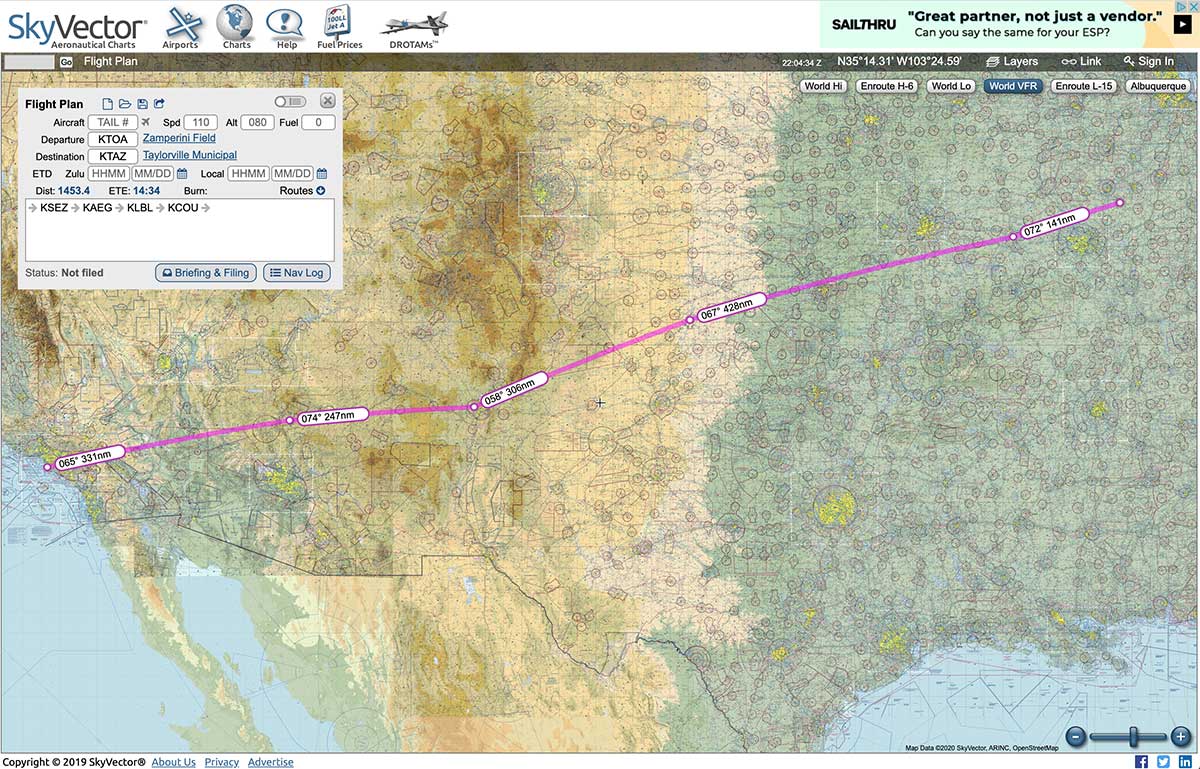 Illinois to California
| Depart | Arrive | Hours |
| --- | --- | --- |
| KTAZ | KLXT | 1.4 |
| KLXT | KHUT | 1.4 |
| KHUT | 1K1 | 0.7 |
| 1K1 | Local | 0.6 |
| 1K1 | KAAO | 0.2 |
| KAAO | KDHT | 2.1 |
| KDHT | Local | 0.4 |
| KDHT | KAMA | 0.9 |
| KAMA | P14 | 3.2 |
| P14 | KSEZ | 0.8 |
| KSEZ | KTNP | 1.7 |
| HTNP | Home (via car) | 2.5* |
| * not included in total | | 13.4 |