Bradley, a private pilot from Arizona, writes: Why are the flight recorders on airliners called black boxes when they're painted orange?
There's no crash here, but that won't stop people from flaming me if I do my usual column-length tease and then admit that I don't know for sure. So I'm warning readers — and flamers — in advance: I don't know.
In fact, I'm not sure anyone knows for sure. There are almost as many theories flying around as there are recorders actually in flight.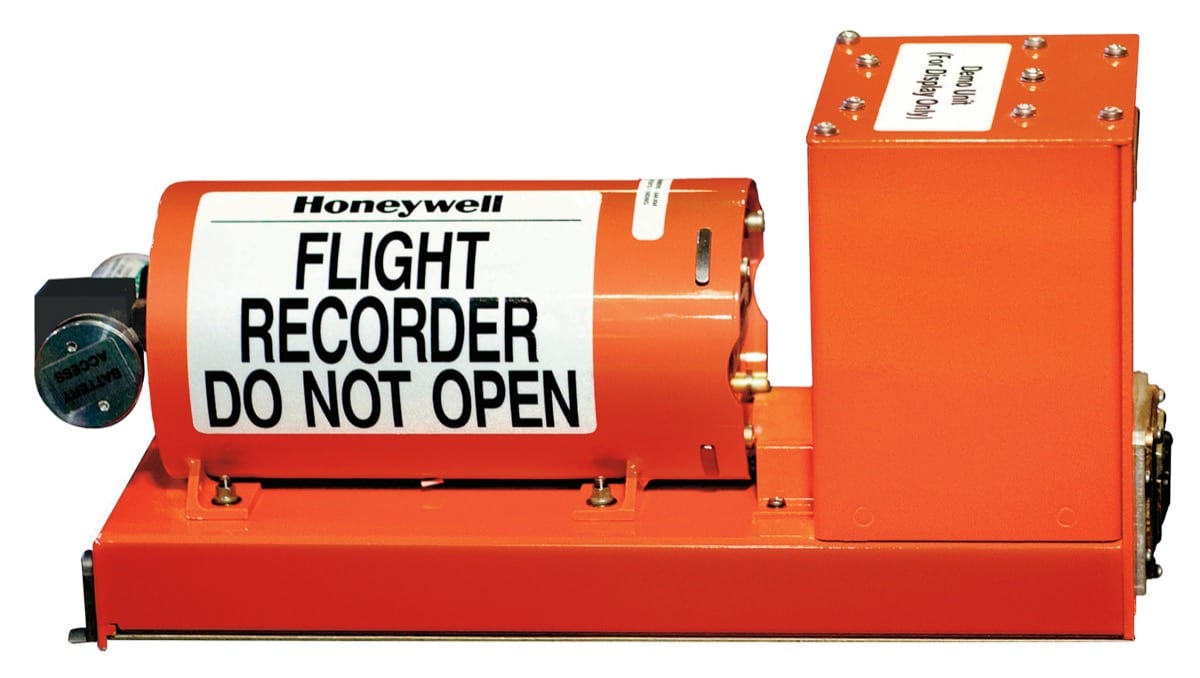 I'll share the leading contenders with you in a moment, but first, the 411 on the flight recorder.
A flight recorder is an automatic system for creating a record of what an airplane is doing and what's happening inside it. It's used by accident investigators to help figure out what the Sam Heck happened after a crash.
Although introduced in the modern sense in the 1950s, flight recorders have actually been with us since the dawn of flight. The Wright brothers had a "black box" aboard to record the distance and duration of their flights. In the late 1930s the French created a recorder that used eight-meter-long strips of photographic film to record basic flight parameters. During World War II, the Brits created a crash resistant recorder that used copper foil to record data. And so it goes, on through aviation history…
Modern recorders, which are required to survive a stunning impact force of 3,400 "Gs" and temps of over 1,000° Celsius, come in two flavors: The Flight Data Recorder (FDR) and the Cockpit Voice Recorder (CVR).
The FDR records a blizzard of flight parameters, some of them multiple times per second, while the CVR records both conversations and noises in the cockpit.
The recorders, sometimes collectively called LRUs in the biz (Line-Replaceable Units), are painted a bright, cheerful, international orange to make them easy to find in burned and tangled wreckage — but as far back as anyone can remember, they have simply been called "black boxes."
So, without further ado, here are the leading theories on why the orange flight recorders are called black boxes.
Theory # 1: A guy named Black invented them
Theory #2: The original was a miniature photographic darkroom
Theory #3: "Black Box" is a generic electrical engineering term
Theory #4: It was developed from top secret "black" research
Theory #5: It gets burned to a black crispy critter in a crash
Theory #6: Early units just happened to be painted black
Let's consider each in turn.
Professor Black, I presume?
It's said by some people that the flight recorder was invented by Professor Gordon Black of the Royal Aircraft Establishment at Farnborough in 1948. Ignoring the fact that the Wrights had a black box, the Frenchmen Hussenot and Beaudoiuin built one in the 1930s, and that two Brits named Harrison and Husband are credited with English work in World War II, it's a neat theory. The main problem being there doesn't seem to be any record of a Professor Black working at Farnborough, much less that he invented the flight recorder.
Another problem is that there are at least two other persons not named Black that are widely credited with inventing the flight recorder, or at least its modern incarnation. The first is Aussie David Warren, who did work on both FDRs and CVRs in the early 1950s. The second is a man commonly called the Father of the Black Box, James "Crash" Ryan. But we don't call flight recorders Warren Boxes or Ryan Boxes.
Light in a dark place
OK, more about those Frenchmen in the 1930s. They're the two who created one of the first effective flight recorders — the one that used film. Apparently, the device used mirrors to trace data onto film with light. Basically, a camera. As such, the "box" needed to be "black" to keep the film from being fogged.
If it had caught on, this would be a good explanation for the origin of the term black box. But film is also heat sensitive, making it a poor medium for a recorder that needs to survive a plane crash. Although, that said, this design found a place in flight tests for many decades.
Engineering slang
In engineering circles, "black box" is a term for electronic stuff that works on its own, as well as one for an object whose innards of are of less interest than the data it outputs.
Hmmmm…
Shhhhh! Top Secret!
The term "black box" first appears to enter the aviation lexicon during World War II, and it comes to us from the Brits, who used it as a generic term for any secret avionics package. Apparently, black boxes could be radios, radar, nav aids, and other secret stuff — often encased in non-descript matte black boxes.
While there's no doubt around these facts, it's hard to imagine how the word got from there to be applied to fight recorders, which are… you know… far from secret.
Crispy critter
Okay, this one is a bit morbid, but some people believe the term black box comes to us from the charring of the box's outer casing that often occurs in a post-accident fire.
While I could see that it might be true that some grizzled air crash investigators have used such a coarse reference in private, I have a hard time imagining it making it to the mainstream from this source.
Black paint: Cheap and available
While Professor Warren's early units were red and round, earning them the nickname "Red Eggs," there weren't any color requirements for flight recorders until 1965, when according to the now discontinued Boeing magazine Aero, the forerunner of today's FAA required all flight recorders to be painted bright orange or bright yellow, suggesting that there used to be other colors. Were other early flight recorders simply painted black?
A Black Box Maker Weighs in
OK. So what do the makers of flight recorders say about all of this?
Borka Vlacic, Product Management Director for Honeywell Aerospace — a leading maker of black… er… orange boxes for more than 60 years — tells me, "I believe the original recorder LRUs actually used to be black, until it was decided that a color like bright orange would be more easily seen during the finding of the recorder. But the saying 'black boxes' from the original color has stuck over the years."
That said, even Vlacic admits that he isn't 100% sure, and acknowledges that the use of the term "black box" by the British in World War II for electric stuff put in airplanes is another possibility for the origin of the term.
My personal belief? Frankly, I can buy almost any of the theories for the origin of the word. But while I don't know where it come from, I'm pretty sure I know why it won't go away. And that's because those of us in the media love cool words, and there's nothing cool about "flight recorder," or "eff-dee-are" and "see-vee-are."
But black box?
Now that sounds cool.