Sporty's is celebrating 15 years on YouTube by offering even more videos.
More than 150 new videos have been uploaded so far in 2020, ranging from in-depth product reviews and technical how-tos to flight training tips and webinar recordings, according to Sporty's officials.
"Pilots have responded, with the channel receiving over 3.6 million views in less than a year," officials add.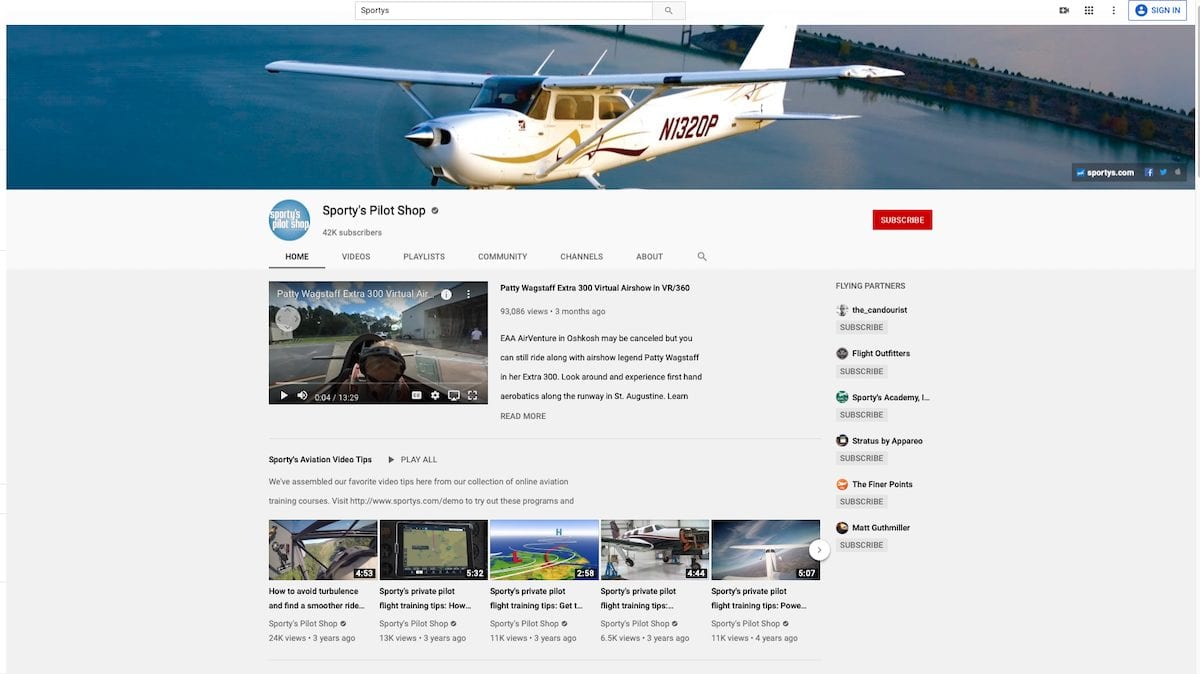 "Being a pilot means more than just sitting in the left seat, and a high quality video is a great way to keep your head in the clouds while you're on the ground," said Sporty's Vice President John Zimmerman. "Our goal is to give pilots the inspiration and information they need to keep flying safe, affordable, and fun."
Sporty's YouTube channel is organized into multiple playlists, including:
Video Tip of the Week: New tips every week, taken from Sporty's Learn to Fly and Instrument Rating courses
Ask a Sporty's CFI: Five minute tips for safer flying, from the instructional staff at Sporty's Academy
Product PIREPs: Hands-on flight tests with the latest new products, from headsets to smartwatches
Touch & Go: How-to videos for using radios, ADS-B receivers, and E6Bs
Flight Simulators: Videos to help pilots set up Microsoft Flight Simulator and use it efficiently
Webinars: Recordings of Sporty's webinar series, with in-depth presentations on hot topics in aviation
There are plenty of fun flying videos, too, Sporty's officials noted.
Sporty's hosted a "virtual airshow" this summer with product specials, contests, and new videos. This playlist includes product demos from select Sporty's partners and even an airshow routine from legendary pilot Patty Wagstaff. This video, shot with an interactive 360° camera, has quickly become one of the most popular videos on Sporty's channel.
Sporty's has also partnered with other YouTube stars for exclusive videos. This includes the Back to Base series with JP Schulze (better known as the Candourist), which takes viewers on a variety of flights around the US and New Zealand. An upcoming collaboration with Baron Pilot will bring a new flight training series in 2021.