Total worldwide general aviation avionics sales in 2020 topped $2.2 billion, according to the latest Avionics Market Report from the Aircraft Electronics Association.
The dollar amount represented a 26% decrease in total year-end sales compared to 2019, which set a record-high total that topped $3 billion, thanks, in part, to the FAA's 2020 mandate for aircraft to be equipped with ADS-B.
2020's sales also marked the lowest amount of sales in the Avionics Market Report's nine-year history, according to AEA officials.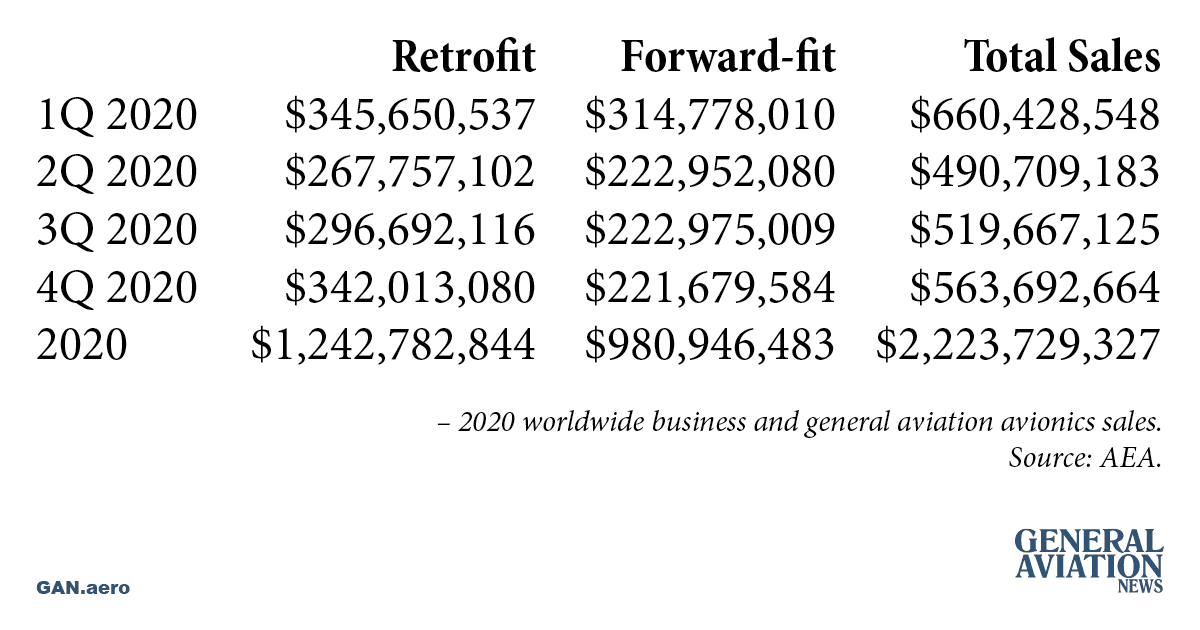 During the fourth-quarter months of October, November, and December, sales decreased 28.1% compared to the same time frame one year ago.
However, since COVID-19 began to negatively impact industry-wide sales near the end of the first quarter of 2020, the industry experienced healthy sales growth during the last six months of the year, association officials note.
For example, after total sales bottomed out in the second quarter of 2020, third-quarter sales increased 5.9% with retrofit sales up 10.8% compared to the second quarter. That upward trend continued with fourth-quarter sales increasing another 8.5% with retrofit sales up 15.3% compared to the third quarter.
The dollar amount reported (using net sales price, not manufacturer's suggested retail price) includes all general aviation aircraft electronic sales, including all component and accessories in cockpit/cabin/software upgrades/portables/certified and noncertified aircraft electronics; all hardware (tip to tail); batteries; and chargeable product upgrades from the participating manufacturers. It does not include repairs and overhauls, extended warranty or subscription services.
Of the more than $2.2 billion in sales in 2020, 55.9% came from the retrofit market (avionics equipment installed after original production), while forward-fit sales (avionics equipment installed by airframe manufacturers during original production) amounted to 44.1% of sales.
According to the companies that separated their total sales figures between North America (U.S. and Canada) and other international markets, 73.8% of the 2020 sales volume occurred in North America, while 26.2% took place in other markets.
"The last half of 2020 provided a softer landing as yearly sales totals slid back to roughly the same numbers in 2016-17," said AEA President and CEO Mike Adamson. "Despite the health crisis and its economic impact, I am encouraged that industry experienced steady growth during the last half of the year. Although 2020 year-end sales are significantly down from last year's all-time high, we see positive signs in the retrofit market, which means our members are keeping busy with avionics upgrades. We are hopeful the combination of innovative new products, the resilience of consumers who continue to focus on upgrades, and an uptick in aircraft production can fuel more sales growth in 2021."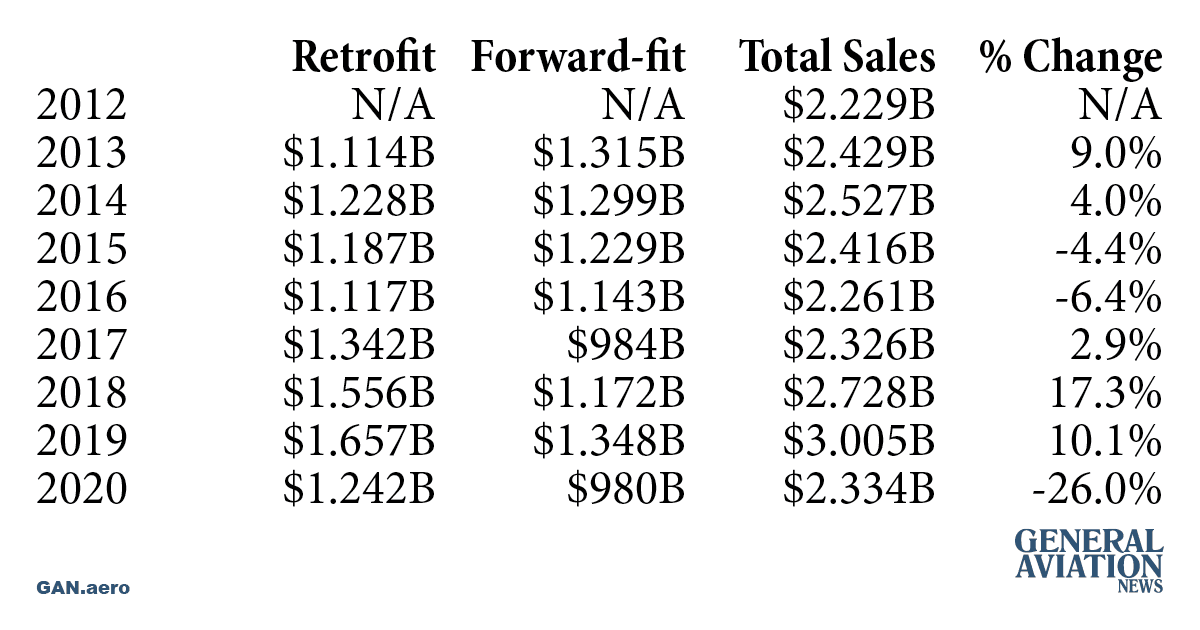 AEA officials note that the 2020 year-end totals do not exactly equal the sum of the four quarterly amounts as reported earlier in the year. This variance is the result of seasonally adjusted year-end numbers by some of the participants. In addition, the number of companies that participate in the AEA Avionics Market Report may change on a quarterly and/or annual basis. This may occur due to mergers and acquisitions during the year, along with new companies participating in the reporting process. Any comparative analysis of the data should take this variance into consideration. All amounts are in U.S. dollars.