By Pete Zaccagnino
Competing at the National Championship Air Races in Reno against many of the world's most talented pilots is a privilege, one that requires putting forth an immense amount of effort to ensure safety and optimize performance.
Our team has been fortunate to have won four championships at the Reno Air Races, including three Jet Gold Championships and one Sport Class Championship.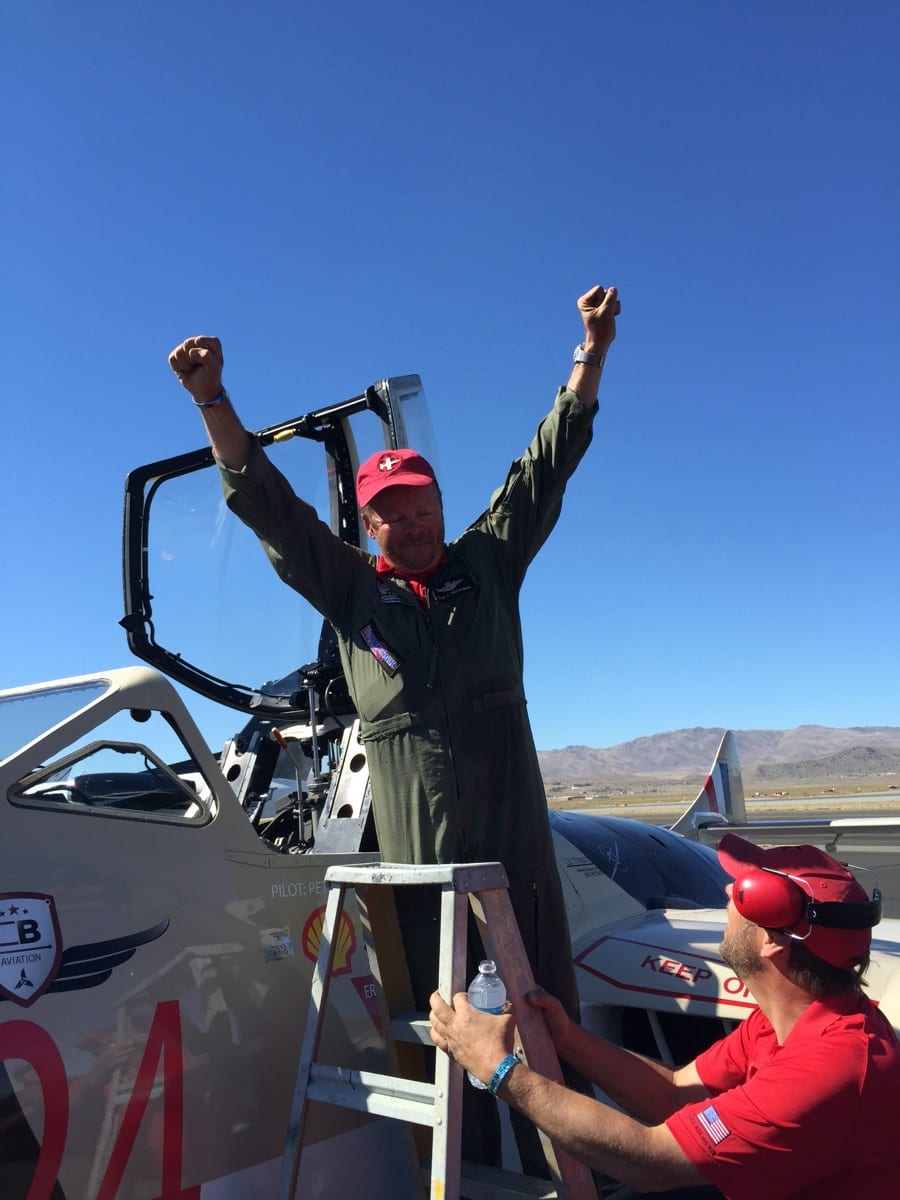 Without a doubt, these victories have been true team performances. As my Jet Crew Chief Mark Standish says, "We've done so much with so little for so long that we are now qualified to do anything with nothing and get it done yesterday."
And believe me, they get it done.
Every one of the volunteers – from the mechanics to the technicians to the cleaners to those who keep us fed and hydrated – play a part in landing that elusive checkered flag.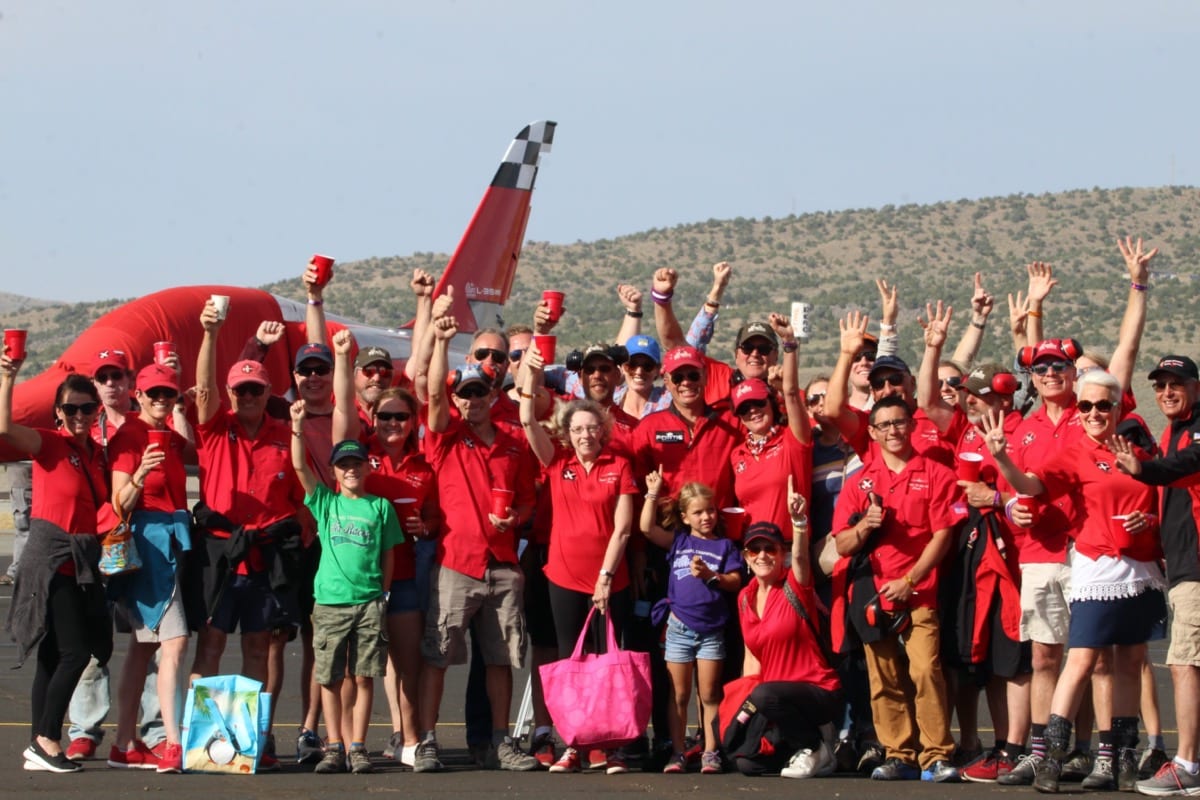 But one thing's for sure, even with the talented and selfless people volunteering on our team, winning in the Jet Class at Reno is no easy feat. A large amount of preparation is needed to compete, much less win, covering everything from finding the right tools to improving engine performance to finding avenues to strip unnecessary weight to test flying to budgeting an appropriate amount of money for your jet (and these jets need to be fed).
If everything falls into place, you may just end up with a victory against a group of men and women who are equally dedicated to this sport.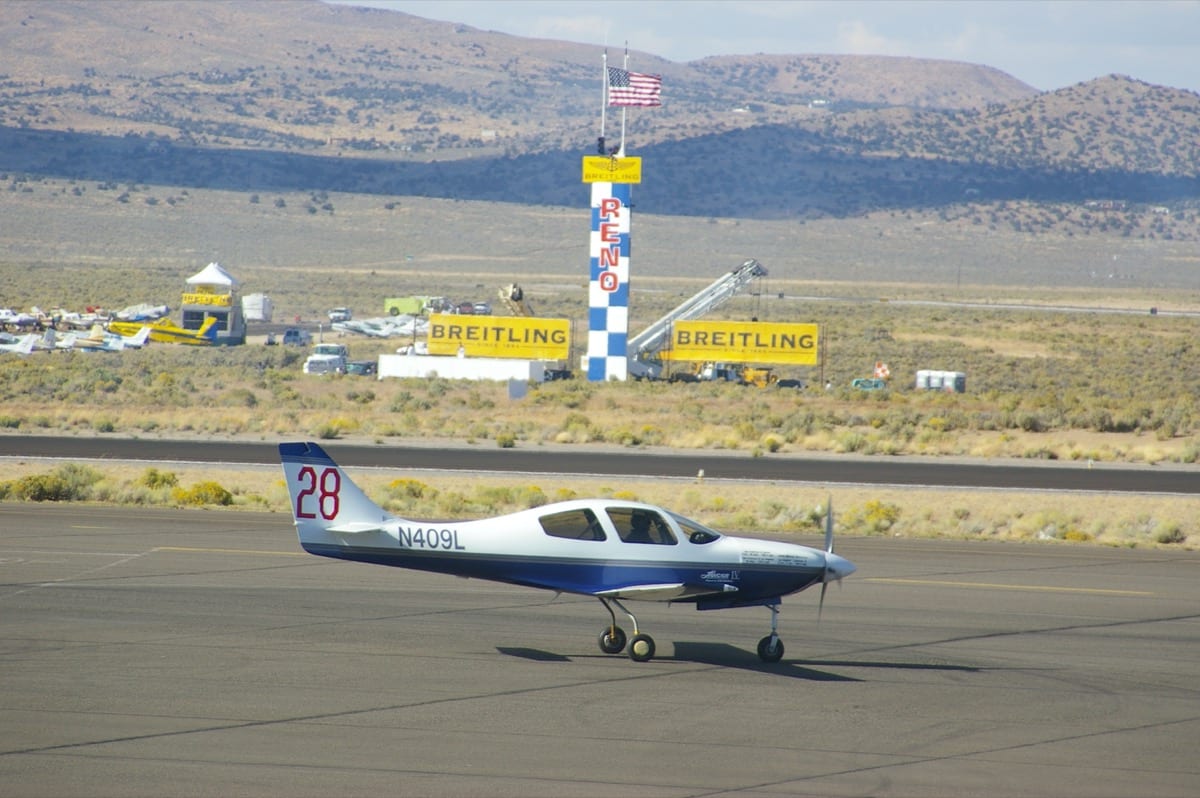 2007 marked my first championship in the Sport Class at Reno flying a Lancair IV, but it also taught me that I was a long way from winning my first Gold Championship in the Jet Class, placing fourth in the Silver in my 2007 rookie year.
The challenges were evident to becoming a Jet Gold Champion. Even so, as my brother and team member Jon Zaccagnino always says, "When the crap hits the prop, we never stop."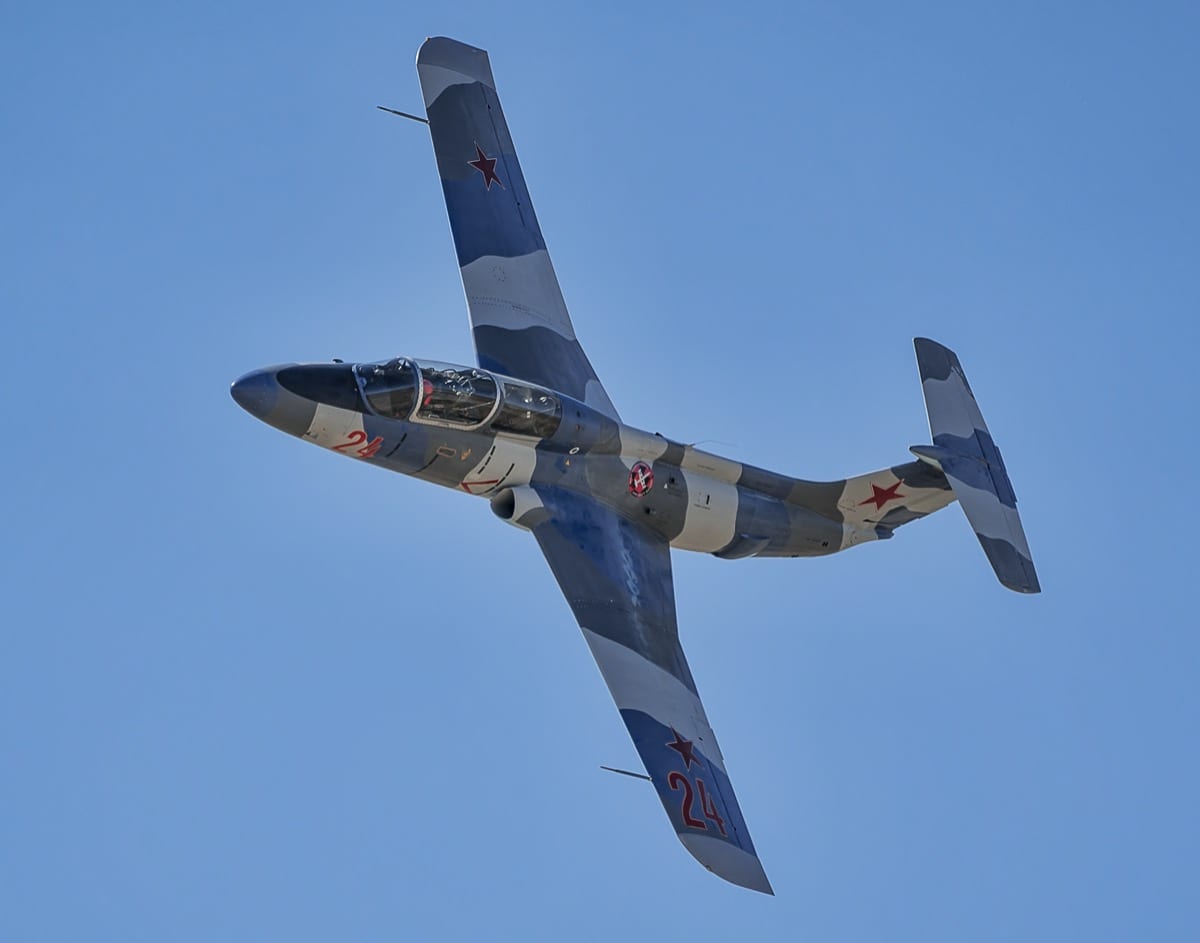 Six years later, I felt the exhilarating rush of victory when we won our first Gold Championship in the Jet Class, in "Just Lucky," a Super L-29. We were able to repeat those wins in 2015 in a Vampire jet, and in 2019, again in "Just Lucky."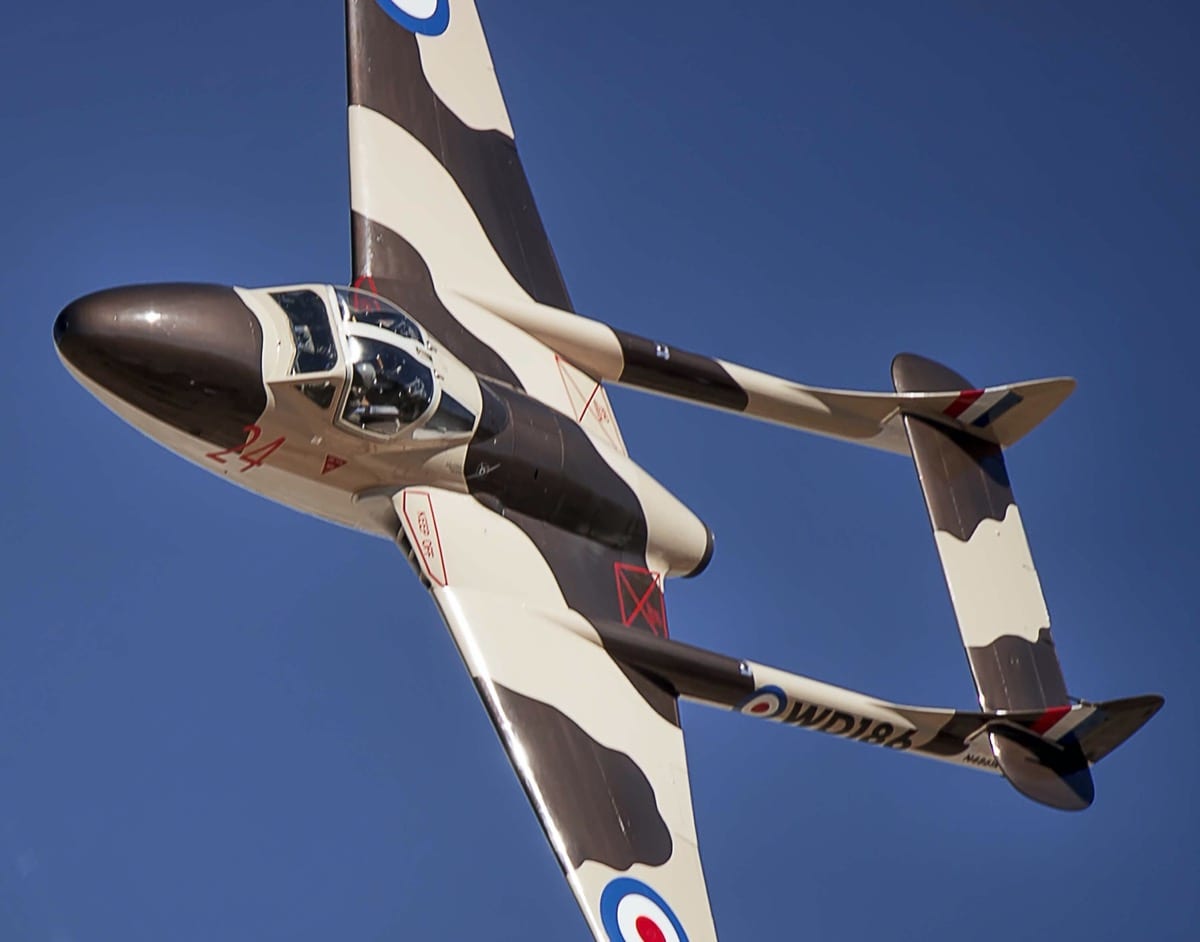 The sport continues to evolve, and I know my fellow pilots will all bring their "A Game" to Reno in September 2021.
Safety First
While winning is certainly a thrill, safety is always first and foremost, not just for myself, but for all of my fellow air racers. Accidents do occur, and sometimes they can be deadly. As aviators competing at the highest level in the world's fastest sport, we're all too aware that every time we get in the air, there's a risk. That's why there is absolutely no tolerance among our community for reckless flying that may help secure an advantage in the competition, but at the possible expense of anyone's life. 
Let's make no bones about it: Racing a vintage jet can be dangerous, especially if you haven't learned how to safely compete in these types of events, familiarized yourself with the racecourse, and learned how to perfectly manage your aircraft. It's a must that those who want to compete in the Jet Class rigorously dedicate themselves to ensuring proper flight safety for air racing.
Rookies quickly learn that flaunting standards is the biggest taboo among air racers. When a rookie makes a mistake, it's expected that he own up to it, otherwise he will undoubtedly lose the respect of his peers. In such rare cases when a flagrant and willful mistake happens, competitors are asked to leave the sport, sometimes within a race itself.
Rookie School
This respect for safety, respect for the integrity of the sport, and respect for fellow racers is drilled into all who seek to compete from the very beginning. All prospective racers must attend Rookie School in June.
Any qualified pilot can attend Rookie School, which costs $750. Pilots must be rated in the aircraft they will race in, as well as meet the requirements of the class. All of this information is at AirRace.org, as well as an application to become a racer at Reno. Applications typically must be submitted several months before the September races.
Pilots are expected to arrive with good formation skills, aircraft knowledge, and basic aerobatic skills related to air racing. That provides a good foundation for them to learn what it takes to race.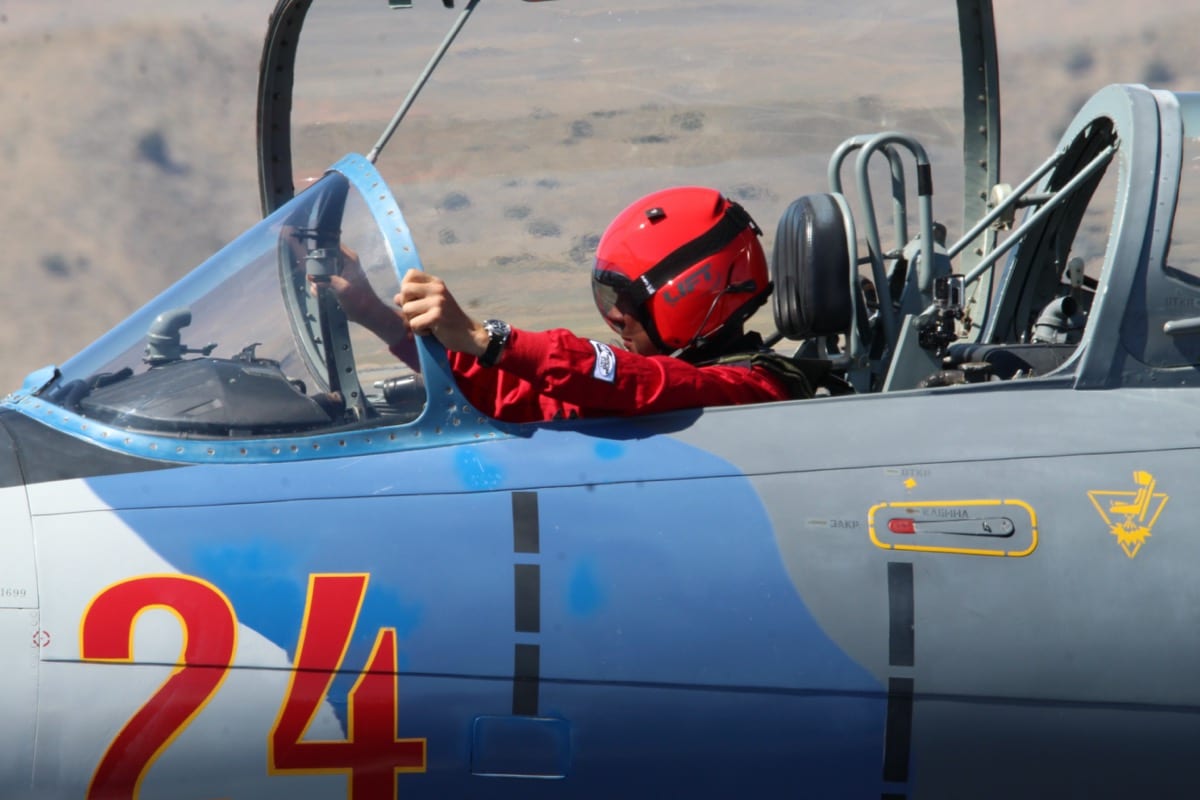 During Rookie School, pilots are evaluated, then trained to ensure that they are capable of safely racing at Reno. Instruction entails numerous activities, including how to stay within the confines of the racecourse and how to recover from engine failure and be prepared for other emergencies.
If a prospective air racer successfully demonstrates that they have what it takes, then they are invited to race.
Three Types of Racers
As in any other sport, air racing draws a diverse assortment of people. While it's perhaps overly simplistic to break competitors into three categories, from what I've seen throughout my career, most racers do fall into three camps.
The first are those who are relentless in their pursuit of excellence and long to bring home the gold. They are absolutely driven to get their planes to a winning level, a process that takes years and lots of dedication and resources.
The second are what I call the "bucket listers." Their aim is not necessarily to win at Reno, but to enjoy the experience of a year's worth of preparation that culminates in a few glorious days competing before tens of thousands of people in The Biggest Little City in the World.
The third camp fall somewhere in between these two extremes. They are elite pilots who are simply outmatched when it comes to the aircraft's performance. Despite their extraordinary efforts, they're aware that their planes are simply not competitive.
There's a wide assortment of backgrounds among competitors at the National Championships.
We have racers from military backgrounds who specialize in air combat, pilots who achieved great renown in aerobatic competitions, and commercial pilots. Though distinct, the varied backgrounds enrich the sport with new perspectives and skillsets.
Regardless of your background in aviation, there are a number of best practices that are critical to ensuring optimal performance.
A Winning Strategy
Part of a winning strategy is not just racing the fastest jet, but also finishing the week and winning on Sunday. And as my Lead Fabricator/Composite Technician Jay Gilbert says, "The mission is to make it go just a little faster than it is really capable of."
Possessing a strategic mindset is a necessity. Although the methodical pace of a chess match may seem a far cry from ripping through desert skies at 500 mph, there's more in common to success in either than might be assumed by a casual observer. For example, if you go all out during qualifications, stressing your airplane, it may not lead to victory on Gold Sunday.
For example, you'll want to pay close attention to your jet's fuel control unit. While turning up your fuel control unit does increase power and speed, it may also decrease your engine's longevity.
Another important factor that can affect a plane's performance is its weight. Most competitors prefer to strip their jets of all excess weight to reduce drag. One question to ask yourself before you "trim the fat" is whether you'd be comfortable with a jet that's only suited for racing, since removing all but the essentials can limit an aircraft's ability to perform a diverse assortment of functions.
As in many other goals and pursuits, perseverance is important. Sure, it's easier to secure a victory when you're in the pole position, but what will you do if you're in third place? How about if you're even further back, say in eighth place?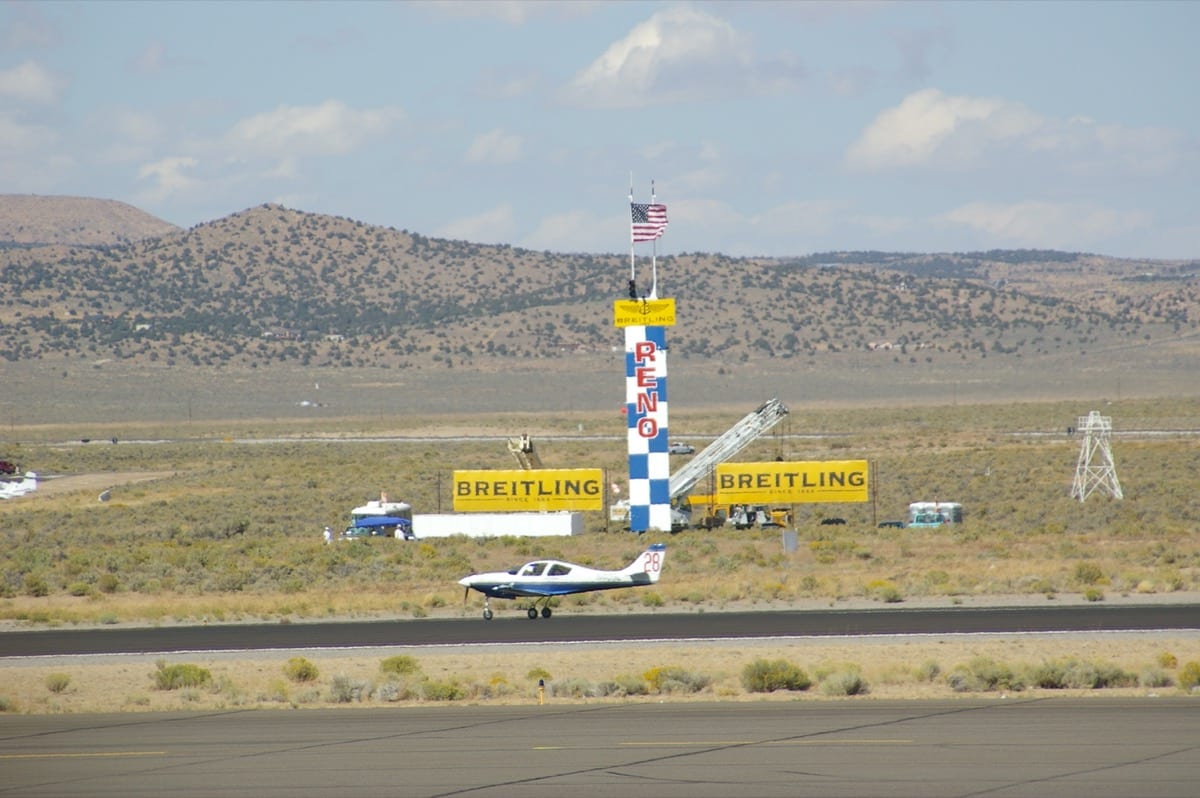 In 2007's Sport Class race, I had to claw all the way back from a start in 12th place to win my first Gold Championship at Reno. Was it an ideal place to start? Absolutely not, but a difficult position becomes impossible if your mindset defeats you before the competition even heats up.
Racing Vintage Jets
If you decide to race a vintage jet, make sure that you have an experienced and reliable technician to work with who knows how to service your model. Many of these jets were made behind the Iron Curtain in the former Eastern bloc. While the tribal knowledge required to skillfully work on these jets is available, it is limited. Technicians able to work on these jets are in high demand and their schedules are often extremely busy. 
A point worth noting is if you're mostly familiar with metric or U.S. based tools for your plane, then you may be thrown for quite a loop if you decide to race vintage jets. Many require tools that are unique, challenging to use, and costly.
While maintaining your vintage jet is essential, optimizing it over the "off-season" is also critically important. As a test pilot, I always test everything that we change or improve. Sometimes the testing is for reliability. Other times it's for improvements in our speed.
The Bottom Line
So, what does it cost? Expenses can vary widely. A stock L-29 can be purchased for as low as $30,000. A stock L-39 can be acquired for around $200,000. These prices are very attractive when compared to most of the Sport planes and all of the Unlimited planes, but jets can be rather expensive to "feed."
As a future racer, keep in mind other expenses like insurance, fuel, tires, and engine overhauls before taking the plunge.
As in all of aviation, insurance for racing varies, depending on a pilot's background and experience. But on average, premiums range from $3,000 to $6,000 a year.
Fuel, again, depends on the jet, but you'll need between 110 gallons to 200 gallons for each race. Classic Aviation at Stead Field provides a competitive price per gallon.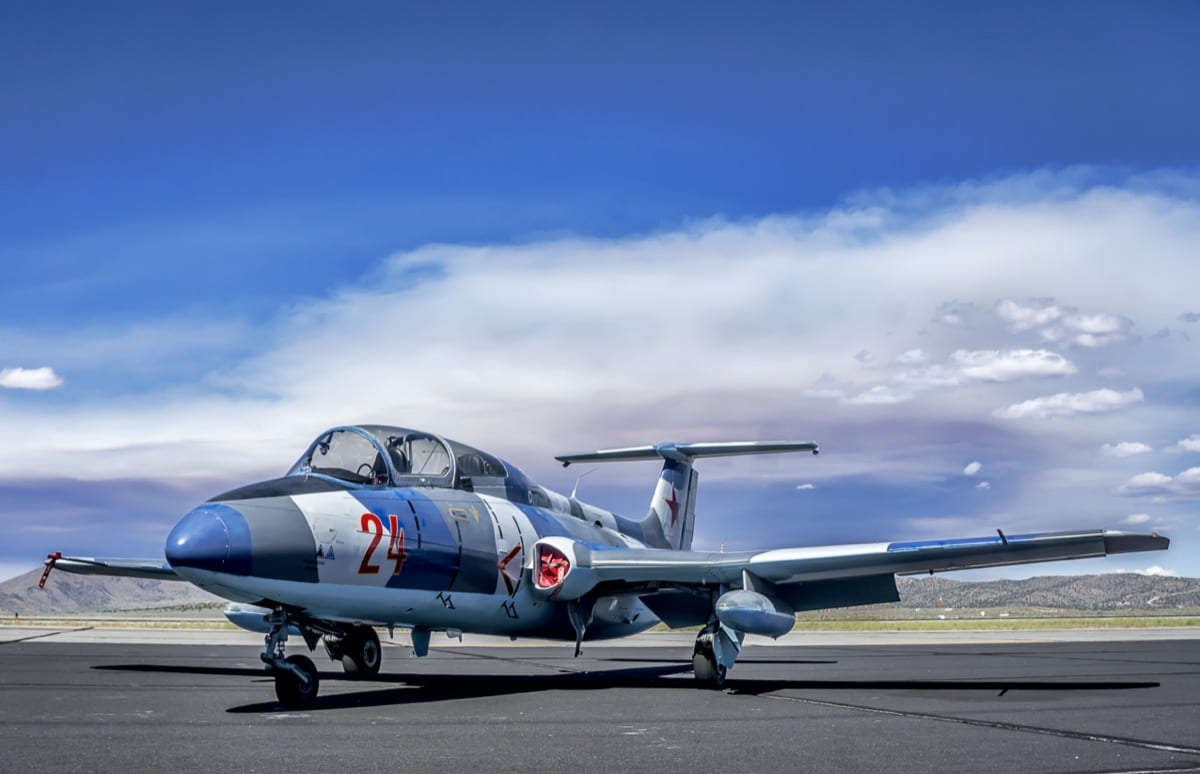 A stock L-29 engine is inexpensive, and if you needed an overhaul most owners simply find another engine to swap. L-39 engines have escalated in price recently to about $110,000 for an overhauled engine.
Miscellaneous maintenance costs depend on how much elbow grease you want to apply. It doesn't have to be a huge number with a good race jet. Often, the race prep is the basic maintenance of the annual, which is under $10,000 typically, in addition to how much prep flying you do and the gas for each flight.
Ready to Race
All right, you decide you can afford to get in the game, but can a vintage jet really win Gold? The answer is yes. Despite being designed as trainers or light attack aircraft, these vintage jets are top-notch racers.
It is important to be aware of how these jets handle to make sure they're a good fit for what you're looking for in an airplane. Vintage jets are made for flying at higher altitudes typically than where we race. That means that when flying at lower altitudes at high speeds, like in the Reno Air Races, the controls get much heavier.
At Reno, vintage jet pilots racing the roughly 8.5 mile roundish course find that their planes must typically be in a high bank angle to stay on the track. Some pilots find the need to pull on the elevator and others simply vary their bank angle to direct the center of lift as needed based on the varying speed at the different spots on the track.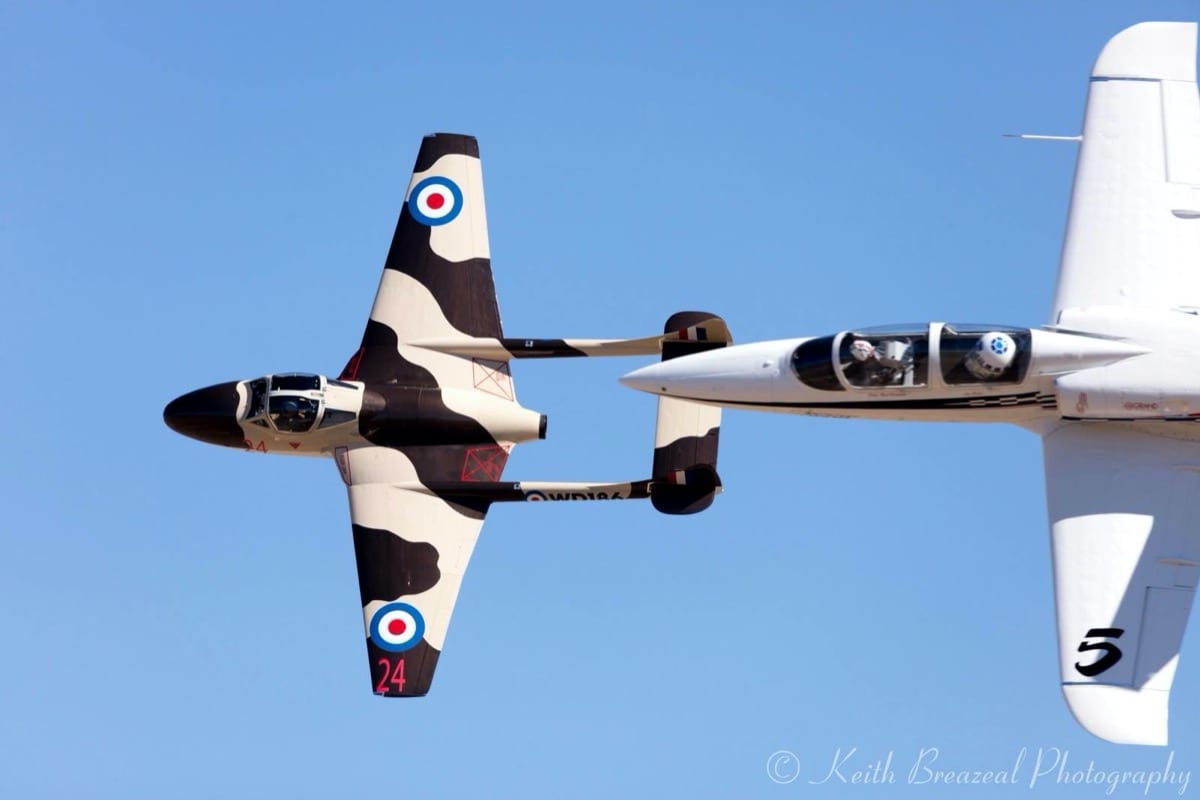 The lighter wing loading for some of the trainer-style jets commonly leads to getting beaten up with turbulence that's quite noticeable. Entering another jet's wash or vortices will also get a pilot's attention every time, especially if your roll is somewhat inverted. In this scenario, the rudder is your friend.
The Secret Sauce
OK, the million-dollar question, what's the secret sauce to winning in Reno?
While I can't share all of my racing secrets, there are a few pointers that can be revealed.
First, get your airplane evolved and developed aerodynamically to be a winning jet.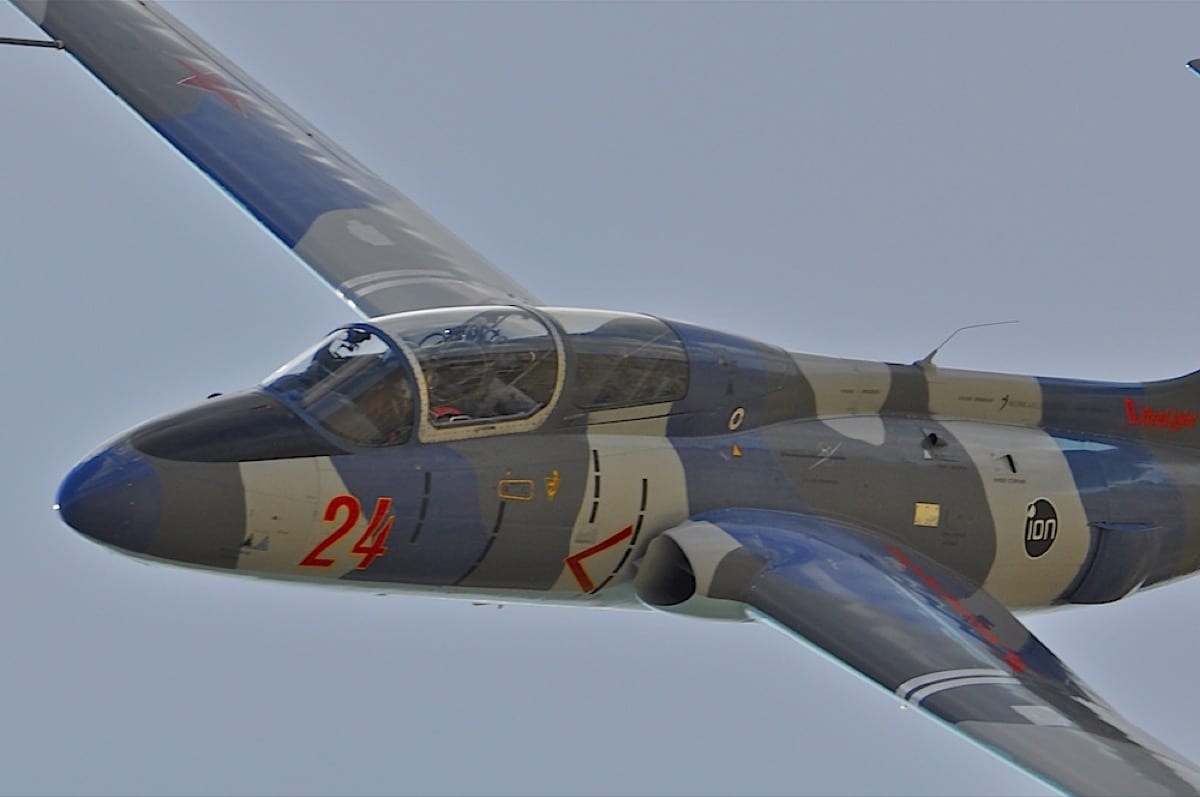 Also, learning how to fly a passing line is a unique challenge and can make the difference in advancing your position.
A passing line is the path in which you fly around another aircraft, first for safety and second to make an efficient pass. The passing line has been debated by veteran race pilots and we all have our strategy. I feel staying in clean undisturbed air that's out of the lead plane's jet wash and wing tip vortices is very important for the "passing line." I'm happy to show people that passing line and other winning secrets at Rookie School.
Above all, racing a vintage jet at Reno takes a whole lot of skill. I find everything about it challenging and humbling. There's a constant level of peer review occurring that not only spurs you to do your best, but is also highly gratifying.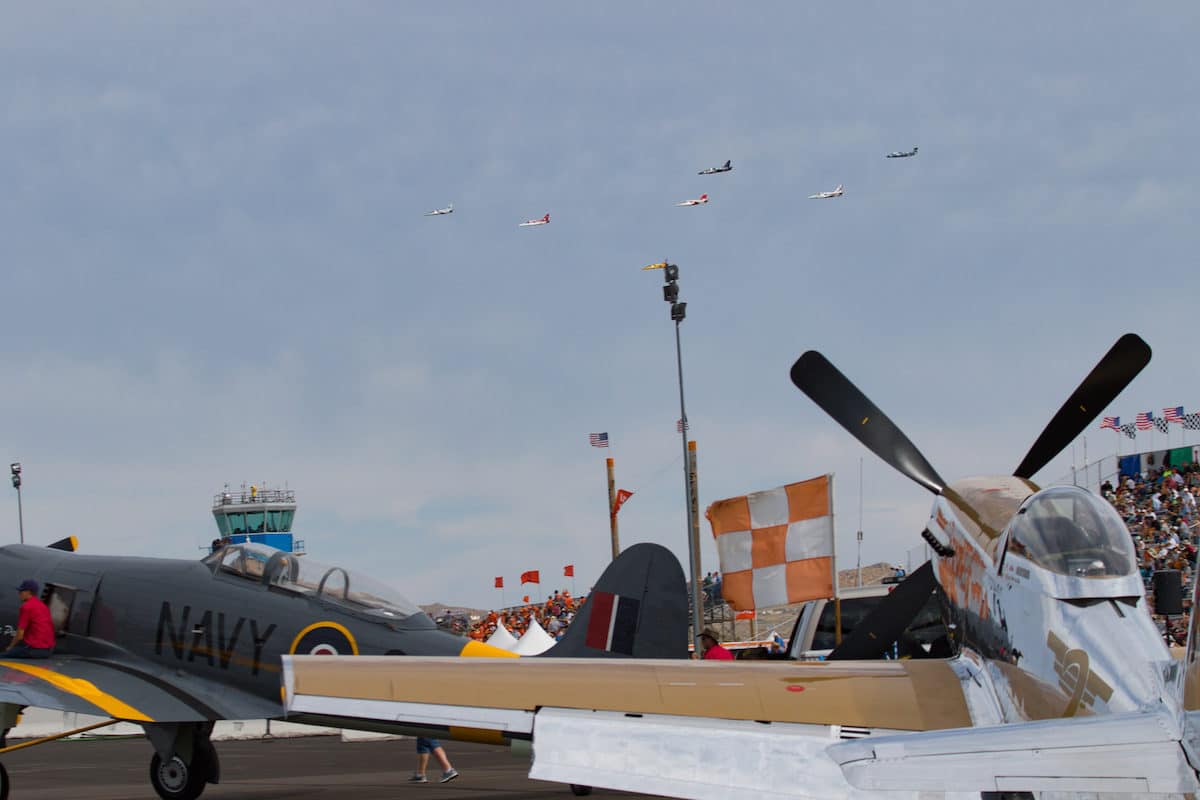 To go around these tracks at any speed is a blast. There's a lot to learn with time on the tracks at any speed. And while winning at Reno is an experience that simply cannot be matched, any race is a success as long as it's safe, predictable, and you're able to use your plane again. Those are always my number one priorities.
So, are you ready to race, participate, crew, or enjoy the overall experience? If you're given a chance to race in Reno and seize that opportunity, you'll find the experience an unforgettable one. Even if you observe from the comfort of the stands or as a crew member, you'll find the National Championship Air Races to be an incredible and unique family unmatched worldwide.
Welcome to our world of racing vintage jets. See you in the jet pits.
Pete Zaccagnino is a pilot, air racer, entrepreneur, and the author of "Relevant: A Military Thriller Inspired By True Events," a novel that traces the story of a private military contractor who must struggle to remain relevant amidst the chaos of terrorism, war, and ever-changing intel on a series of clandestine deployments.
Pete has pursued all things aviation since the beginning. Earning his undergraduate degree in aeronautical engineering and restoring five airplanes and building three others (including a Lancair Super Legacy), Pete has flown over 23,000 hours in more than 270 aircraft types and has flight-tested more than 685 aircraft. Pete's company manages several corporate jets, and he spends three to four months each year on custom-tailored world tours for his customers.
His 15 years of racing at Reno have included four championships, including the 2019 Jet Gold Championship, 2015 Jet Gold Championship, 2013 Jet Gold Championship at 509 mph, and the fastest qualifying lap at 529 mph. In 2007, he became the Gold Champion in the Sport Class, winning his first race in his first year.
Pete is also the owner of High Performance Aircraft Group, which performs flight-test services for several manufacturers, including the U.S. and foreign militaries. Pete holds several pilot certificates and a variety of type ratings in several jets and former military aircraft. In 2019, Pete was inducted into the Aviation Hall of Fame of New Jersey.