For the first 18 years of my life — thanks to my parents — I lived the ultimate aviation lifestyle. Looking back, I don't think I appreciated — enough — that fact.
I grew up on 3B8, also known as Shady Acres, a residential airpark in, when I was growing up, a fairly rural area of unincorporated Pierce County in Western Washington.
Today, the area surrounding 3B8 is far less rural.
So oblivious was I at a young age that I thought everyone had a hangar, with airplanes inside, attached to their homes. I recall spending the night at my friend Carey's house (a mile or so from my home) and thinking it odd that I couldn't find his family's hangar and airplanes.
Anyway, back in the 1980s my Dad started gathering information about other residential airports around the nation. His intent was to create an association of airparks for the mutual benefit of all. That was the beginning of Living With Your Plane.
For many years, he produced a print directory of airparks and a quarterly newsletter for nearly 1,000 members. As time moved on, Mom and Dad moved off the airpark, other interests took hold, followed by retirement.
Living With Your Plane languished.
And yet, I've had numerous conversations with aspiring developers, current airpark homeowners, would be airpark homeowners, service providers, realtors, bankers, and more over the years. Interest in this ultimate aviation lifestyle remains high.
So, Living With Your Plane will languish no longer.
First things first. A residential airpark requires two or more residential homesites with legal access to a common runway. Those homesites must be adjoining the airport proper or be a short walk/taxi away. There are thousands of small "ranch strips" dotting the countryside. Those strips serve one resident (even if guests are allowed) but don't count for our purposes.
Naturally, residential airparks come in all sizes and shapes and styles.
Over the last several weeks I have updated data on existing airparks, added previously unknown airparks, and removed airparks that no longer exist.
I mostly used the FAA's Airport Data and Information Portal (ADIP) to update runway and airport specific information and Google Maps. Erik McCormack, a realtor and real estate developer from Arizona, created AirparkMap.com, which also proved helpful in adding to the Living With Your Plane dataset.
As of March 22, 2021, the Living With Your Plane airpark directory counts 674 airparks in the United States (airparks outside the U.S. will follow in the future). I am certain of three things about our database:
There are airparks I don't know about that should be on our list,
There are airparks on our list that should not be, and
Some of the data is inaccurate. Such is the nature of data. The moment you hit save it is out-of-date.
Among those 674 airparks:
3 don't currently have FAA identifiers
11 have 3+ runways
14 have a field elevation at 10 feet MSL or lower
27 have a field elevation at 5,000 feet MSL or higher
55 airparks are located on, or next to, publicly owned airports
57 have some sort of instrument approach
77 have 2+ runways
146 airparks are privately owned, but are open to public use
147 have fuel on the field
Texas tops the list with 84 airparks, followed by Florida (79), Washington (60), California (35), and Georgia (35).
The cool thing about the newly designed (and still in development) Living With Your Plane directory is the ability to search. For example, if you are interested in an airpark in Texas with a turf runway, you have 18 to choose from. If you'd prefer an instrument approach rather than turf runway at your future Texas home, we list 12 that match that desire.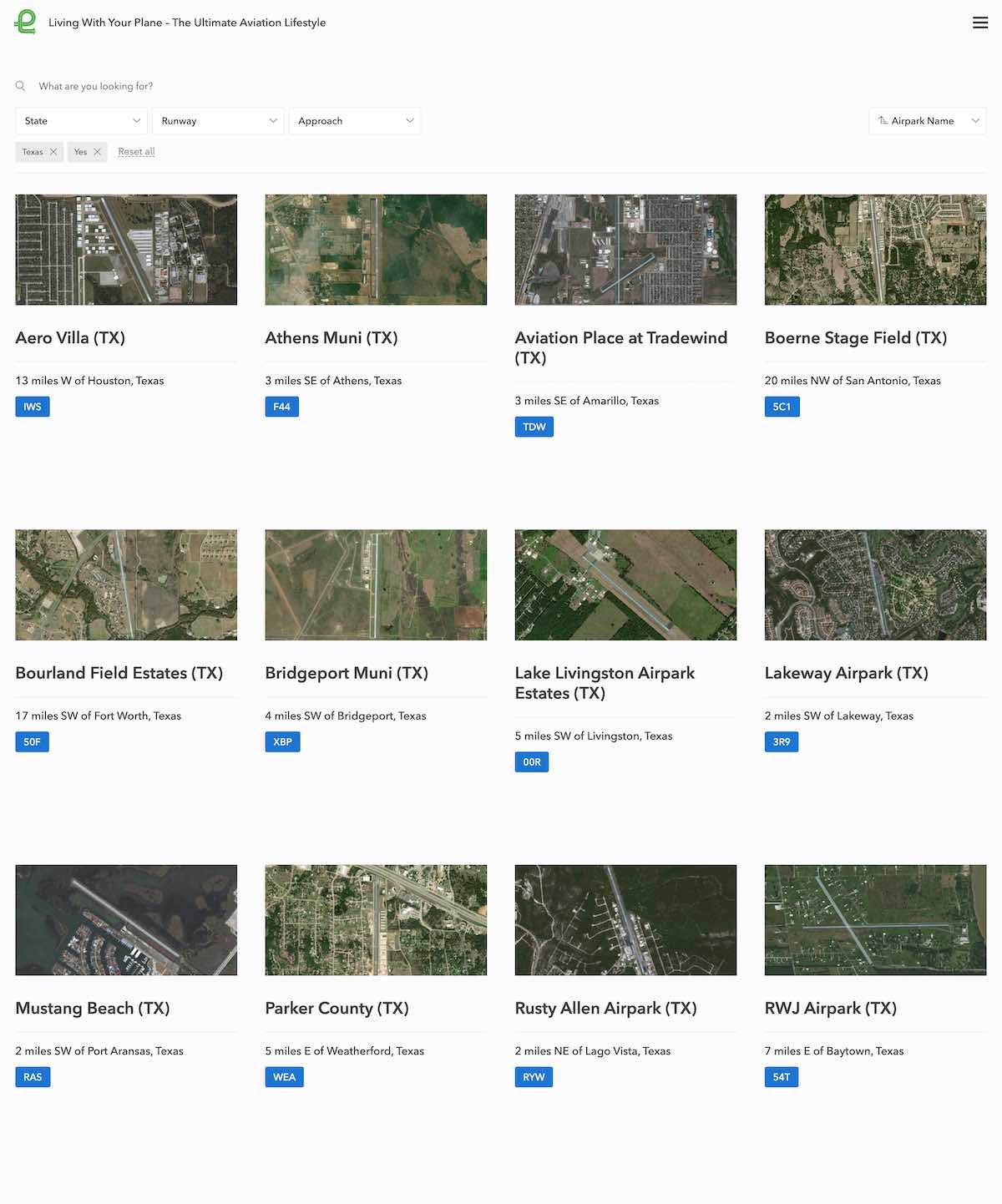 The database is pretty simple at this point. But more data and features will follow. 
Ultimately, the best way to preserve airparks is to make sure future residents are aircraft owners. Too often I've heard sad stories of sellers who accepted the first/best offer that came long. Too often the buyers were non-pilots who were attracted to the acreage that often accompanies an airpark lot, the hangar becomes weather-proof storage for cars, boats, motorcycles, and more, and most importantly, the new neighbor becomes a voter in the airpark community that doesn't value the runway and its associated infrastructure needs.
So, please take a look at our new directory of airparks at LivingWithYourPlane.com. More importantly, let me know what data is missing or is incorrect. Did I miss an airpark? Do I have bad data? Something else? Reach out to me directly at 800-426-8538 x2 or ben@generalaviationnews.com.
Airpark living, for an aviator, is the ultimate aviation lifestyle. Let's work together to preserve and promote this lifestyle as a viable option for future generations.