In almost every discussion I have had on used oil analysis for aircraft engines, one of several myths come up as to the value — or lack thereof — of the process.
Myth 1 is that a single used oil analysis will tell you everything about your engine and point out any problems or potential problems. Unless you have a very serious problem, a single oil analysis will not tell you much about the condition of your engine. Analysis works well as a trend monitor, but is of limited value as a single diagnostic test.
Myth 2 is that the reported values are absolute values and should be about the same for any engine. Most engines settle in to a certain level of each contaminate throughout their lives.
However, these values can vary if you do something unusual. For instance, if you fly into a dirt strip several times in the summer, that can affect the silicone level in your oil.
I saw one TCM 520 engine that averaged around 100 ppm iron from the start. This engine was inspected early on and at TBO, and no unusual wear was noted. This may have been very unusual, but it makes the point that the absolute value is not as important as the change in the wear level.
Myth 3 is that you should start analysis from the first oil change for a new or overhauled engine. The problem here is that during the break-in process your engine will be making a lot of iron from the new cylinders. This level should go down after 50 or 100 hours, so wait to start your analysis program until then.
Also, if you replace a cylinder mid-time on your engine, the iron and silicone from the gasket sealer can be elevated in your next report.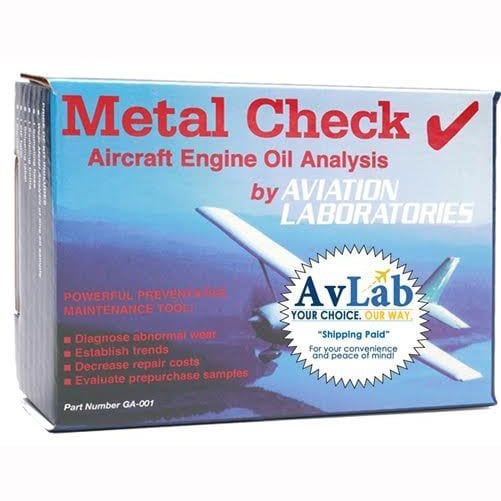 Myth 4 concerns whether or not wear metal levels are linear with hours. This is kind of, sort of, true but not completely.
This is important for the typical pilot who flies about 100 hours a year and changes oil the recommended three times per year or every four months. Say they fly 45 hours on the spring and summer oil changes, but only 10 hours on the winter oil changes. Are the three oil changes going to have similar wear metal reports?
Probably not. The 10-hour oil change will probably have mostly lower values, but maybe not 4.5 times less. In fact, the iron level could be higher because of rust activity during the idle time. So, you need to compare similar conditions when doing a trend analysis.
Myth 5 is that you can use different labs and get comparable results. There are several different systems to measure wear metals and they do not usually give identical results, so always use the same lab, and take the sample the same way each time.
Myth 6 is that oil analysis is a good way to ensure that the engine on a used airplane you are planning to buy is in good condition. That is a big maybe.
First, you do not have anything to compare the report to. Second, you do not really know how many hours are on the sample. And third, you do not know how the sample was taken. The seller could have just used a thief to pull a sample off the top of the oil level after the engine had been sitting for days and the oil is not mixed up. The report may give you some information, but it could be very limited in its accuracy.
So, after all of that, most of you are probably asking if oil analysis is really worth it? Well, I believe it is if you consider the cost of a new or rebuilt engine, and the safety and peace of mind that it can give you.
But, and this is a very important but, you need to be very particular and methodical about how you take the samples and monitor the results.