Sales of general aviation aircraft showed signs of progress within the industry, according to the latest figures from the General Aviation Manufacturers Association (GAMA).
In its general aviation aircraft shipments and billings report for the first quarter of 2021, GAMA reports that deliveries increased for turbine helicopters and propeller airplanes, while business jet and piston helicopter shipments were flat compared to the same period of 2020, which in its closing weeks saw the onset of the pandemic.
"The first quarter of 2021 shows progress for the industry," said GAMA President and CEO Pete Bunce. "It is encouraging to see manufacturers begin to bounce back from the impacts of the pandemic."
He cautions, however, that "we are not yet in the clear."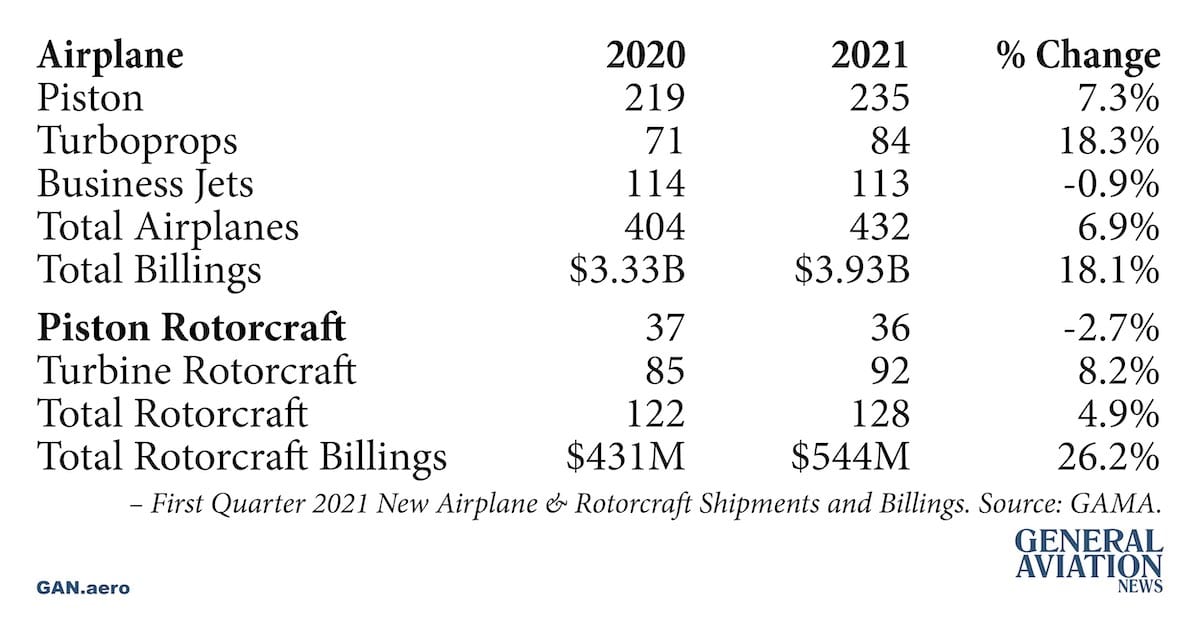 "The industry continues to face headwinds, especially with ongoing supply chain issues and pandemic related restrictions and constraints to global travel," he explained. "It is important that we continue working with governments to assist in strengthening our supply chain, safely easing travel related restrictions, and protecting our highly skilled workforce. Our outlook toward the future is exciting, particularly in light of our industry's commitment to, and focus upon, environmental sustainability which continues to spur development of new aircraft, innovative technologies, and the production, distribution and uptake of Sustainable Aviation Fuel."
Airplane shipments for the first three months of 2021, when compared to the same period in 2020, saw piston airplane deliveries increase 7.3%, to 235. Turboprop airplane deliveries increased 18.3% to 84. Business jet deliveries were flat at 113.
Civil-commercial turbine helicopter deliveries for the first three months of 2021, when compared to the same period in 2020, saw an increase of 8.2% to 92, while piston helicopter deliveries nearly matched first quarter 2020 deliveries at 36.
The complete 2021 first quarter report can be found at GAMA.aero.