I recently received a letter from the organizing committee of the Wings Over Republic Fly-In.
"Our Wings Committee members feel it is time for us to postpone our annual Wings Over Republic Fly-In indefinitely."
Republic is a town in Ferry County in the northeast corner of Washington state. I've never attended Wings Over Republic, or been to Republic for that matter, but I do love that part of the state.
"The late Justin and Carol Smith, along with Rudy Ohlund, began the fly-in in 2000 with a small group of pilots," continues the letter. "We have enjoyed successful fly-ins since then with up to 140+ planes arriving some years."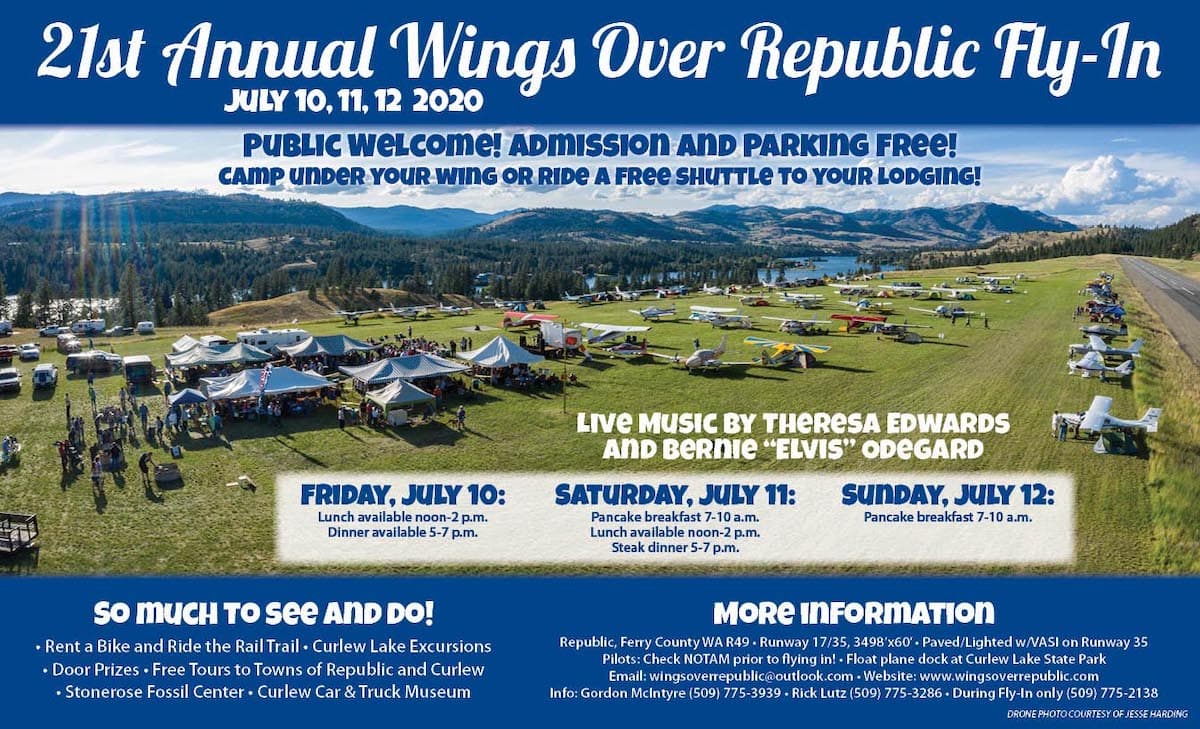 Not every gathering of aviators needs to be EAA AirVenture Oshkosh or SUN 'n FUN in size to make an impact, or just be fun.
And yet, the smaller fly-ins, most often run by a core group of volunteers, are the most vulnerable.
"In the last seven years we have had to cancel our fly-in four times after year-long preparations — due to health issues, fires, smoked-filled skies, and then in 2020 due to COVID-19," the letter explains.
I had forgotten about the earlier cancellations until I read that line in the letter. It immediately brought back sad memories of horrendous air quality from massive wildfires in the heavily-treed western United States.
This letter got me to thinking about how local fly-ins are restarting — or not — in 2021. I reached out to Jeff Simon from SocialFlight.com. SocialFlight is the Calendar of Events partner for General Aviation News.
"Looking back, we had 1,665 in-person aviation events in SocialFlight during April and May of 2019," reports Jeff. "For 2021, we have 889."
So 2021 activity is a bit more than 50% of 2019's activity.
"That said, online events have exploded in number," continues Jeff. "We're cataloguing about 500 online events every month. So many, in fact, that we've had to delete a lot of our older data to keep the database manageable."
While online events scratch the itch for many, they just aren't the same.
Motion, or lack thereof
Isaac Newton's first law of motion states that "an object at rest will stay at rest, and an object in motion will stay in motion unless acted on by an external force."
Health and forest fires were the external forces that acted upon the Republic fly-in three of the past six years. The pandemic, of course, was the external force for us all in 2020.
"We appreciate all the support we have received over the years from our city, county, Washington Pilots Association, Life Flight Network, donations from community businesses, the pilots, the 100+ volunteers, and all of our community members who came out and helped make our fly-in such a success," the letter continues. "Thank you everyone for your support and participation!"
I have no idea if Wings Over Republic's indefinite postponement will be a permanent cancellation or if another outside force, in a positive direction, will breathe new life into the fly-in.
Whatever is to become of Wings Over Republic and the thousands of other smaller events around the country, I hope we all will participate in as many in-person events as we can in 2021 and beyond.
Like life itself, they are all fragile and must be cherished.
Shameless plug: If you are hosting an event, be sure to list it for free at SocialFlight. If you are itching to get out and attend some local (and not so local) aviation events in person, be sure to sign-up — for free — for SocialFlight to see what is going on around you.