One sunny day in early June 2021, a "Tin Goose" came to rest in a field bounded by the Tennessee River. The landing site was Knoxville's Downtown Island Airport in Tennessee.
Not feathered, but clad in corrugated aluminum, this bird was a Ford Tri-Motor 5-AT-B, owned by the Liberty Aviation Museum and leased to and operated by the Experimental Aircraft Association.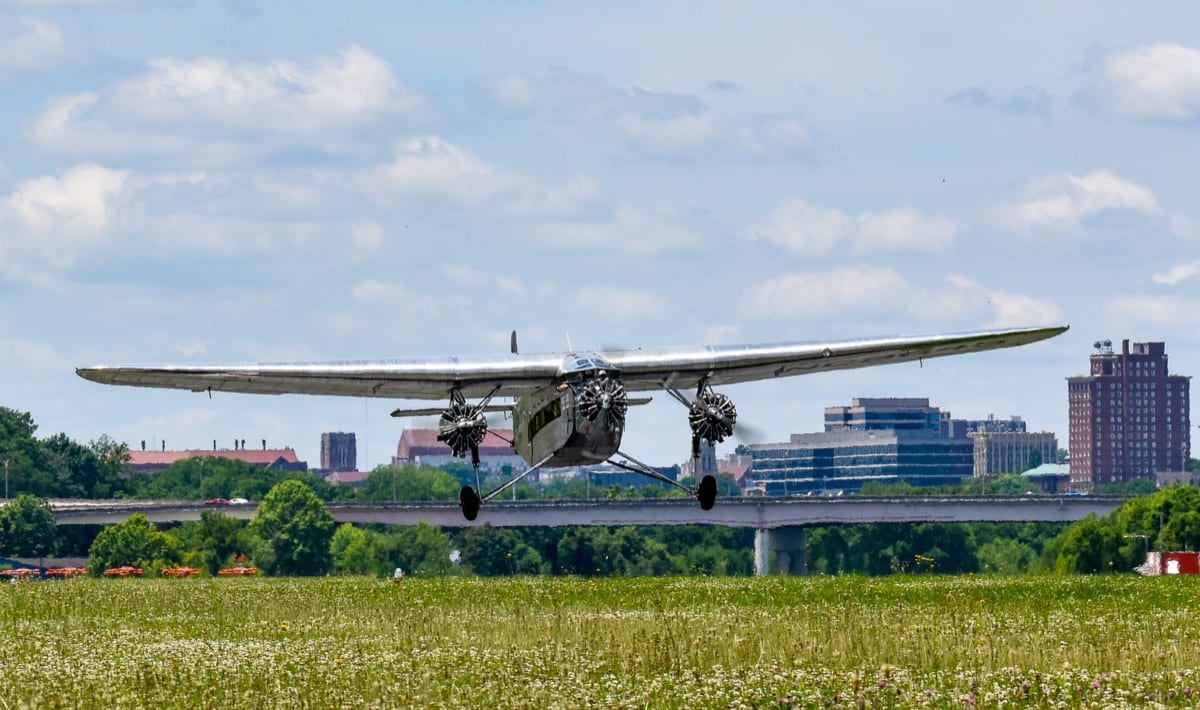 The Ford's arrival marked the start of a four-day tour stop as the plane made its way across the southeast US. According to Tri-Motor pilot Bill Thacker, the tour's mission is "outreach to people of smaller communities, to allow them to touch a piece of history."
And by all accounts, the mission was very successful, as hundreds of spectators toured, photographed, and flew in this treasure from the "Roaring Twenties."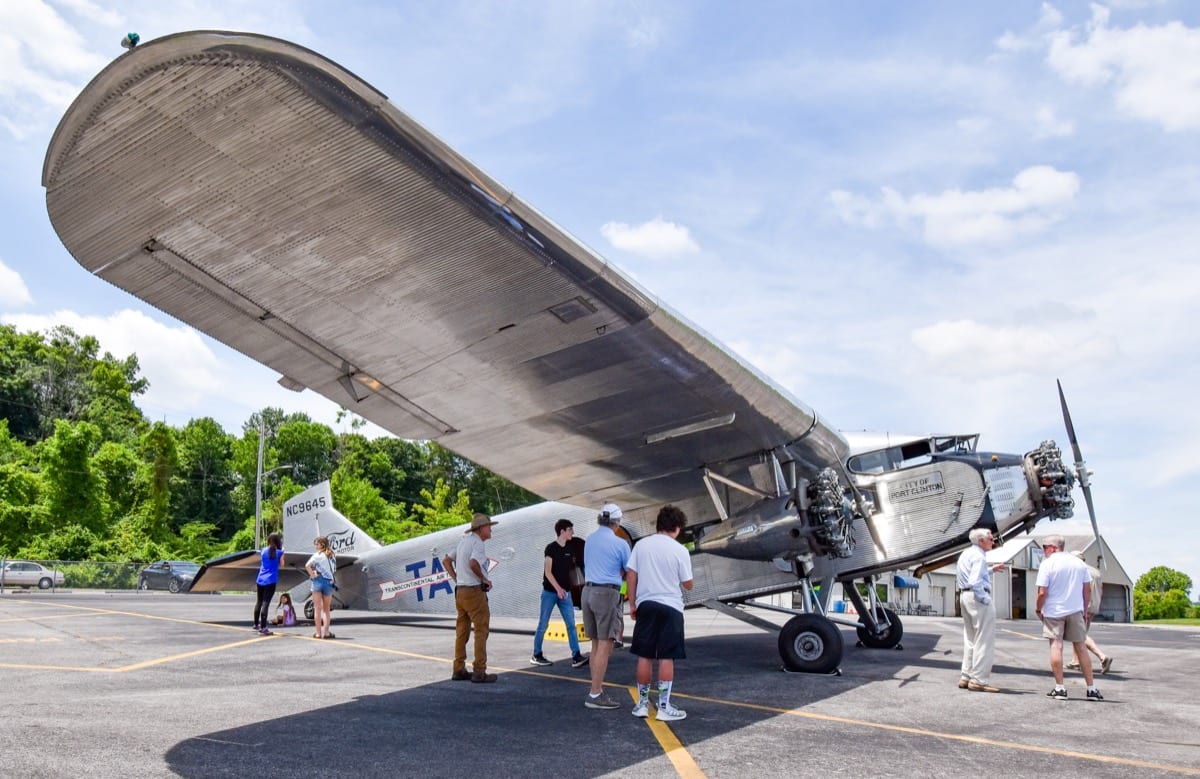 The plane was the brainchild of Henry Ford who, having brought automobile transportation to the masses, sought to do the same for air travelers. In the early 1920s Ford invested in the Stout Metal Airplane Company, founded by William Stout. A few years later, Ford bought the company and began turning out the first Tri-Motor model 3-AT, which was soon eclipsed by the 4-AT and 5-AT.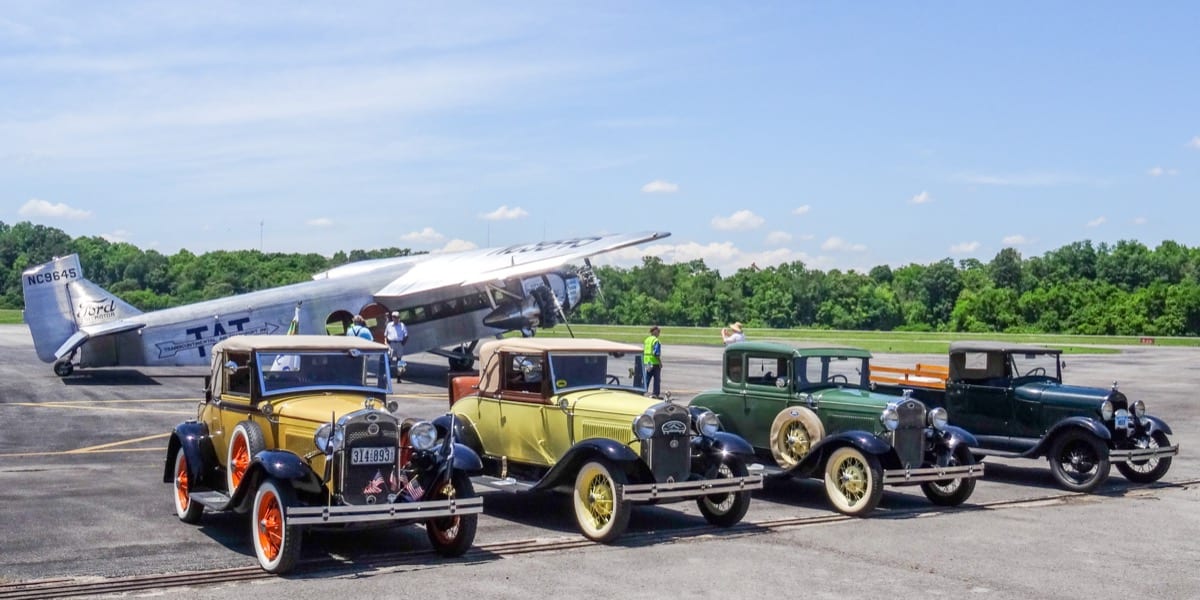 According to the EAA, "Liberty Aviation Museum's 1928 Ford Tri-Motor 5-AT-B, serial No. 8, flew its first flight on Dec. 1, 1928. It was sold to Transcontinental Air Transport (TAT, the logo that graces the aircraft's fuselage today) in January 1929 where it became NC9645 and was named City of Wichita."
Since then, the plane has passed through many hands before landing at its current home.
Tri-Motor designers sought to build a reliable and safe aircraft, and succeeded admirably. Novel for its time, the aircraft's hallmark corrugated skin was employed to provide needed strength, while using thinner and lighter aluminum. Three 420-HP Pratt and Whitney R-985 engines pull the plane along at 85 miles per hour, allowing passengers ample time to sightsee. Bill says the fuel burn averages one gallon per minute when hauling rides.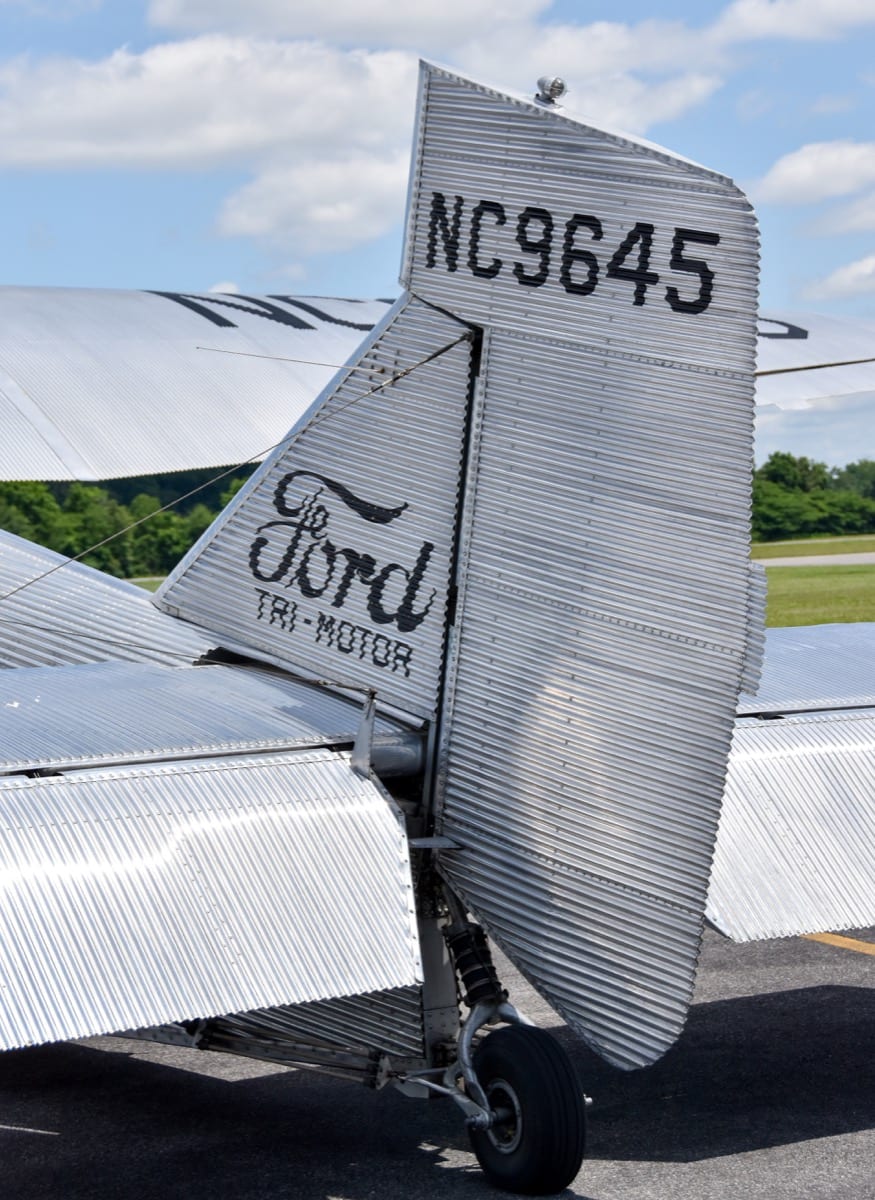 One of Henry Ford's design mandates was to make the air travel experience as luxurious and familiar as possible, so the interior was inspired by plush Pullman railroad cars of the day. Passengers rode in a wood-paneled cabin, each wicker seat boasting its own panoramic curtain-draped window. Individual air vents and light sconces graced the wall above each seat.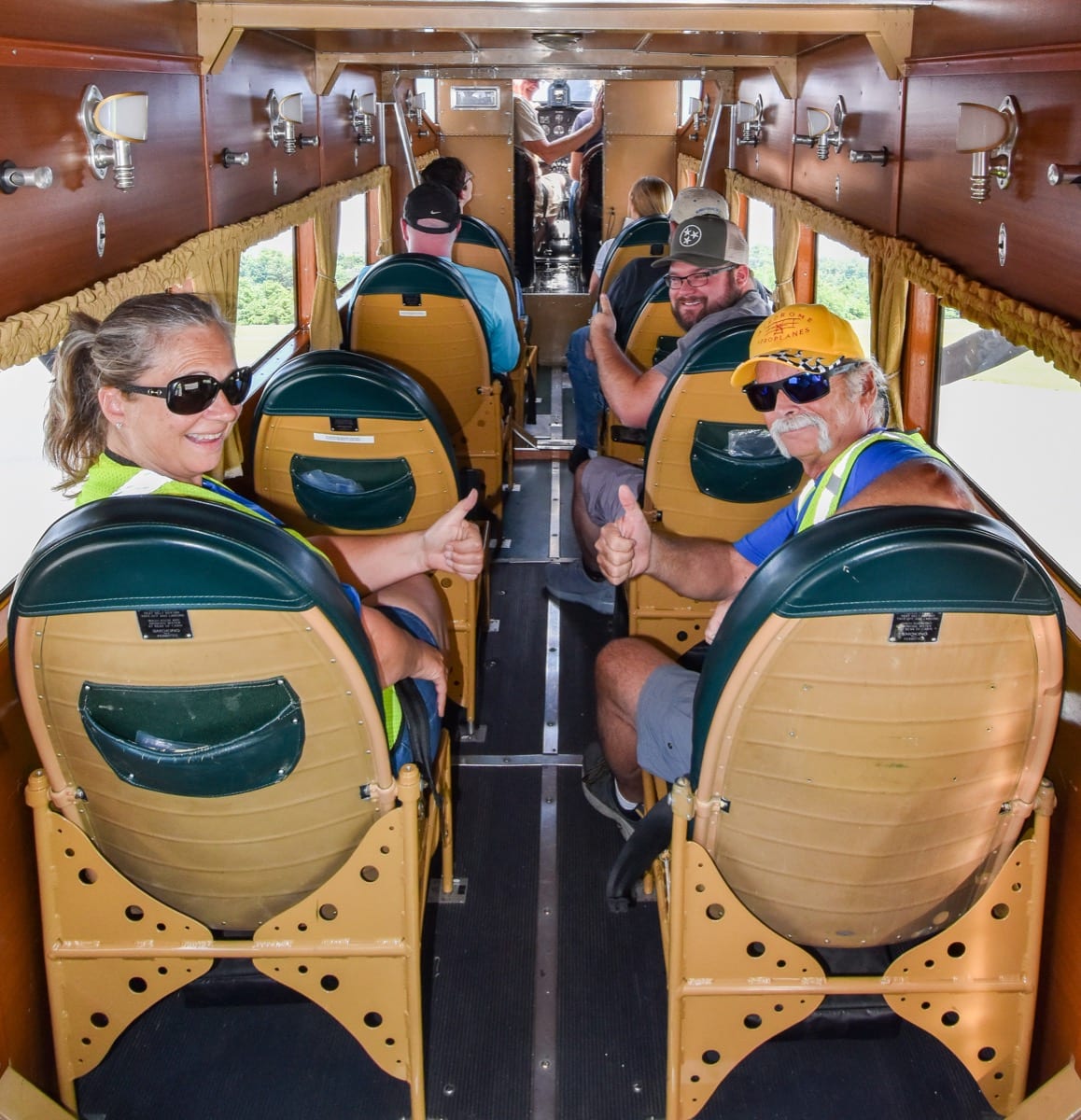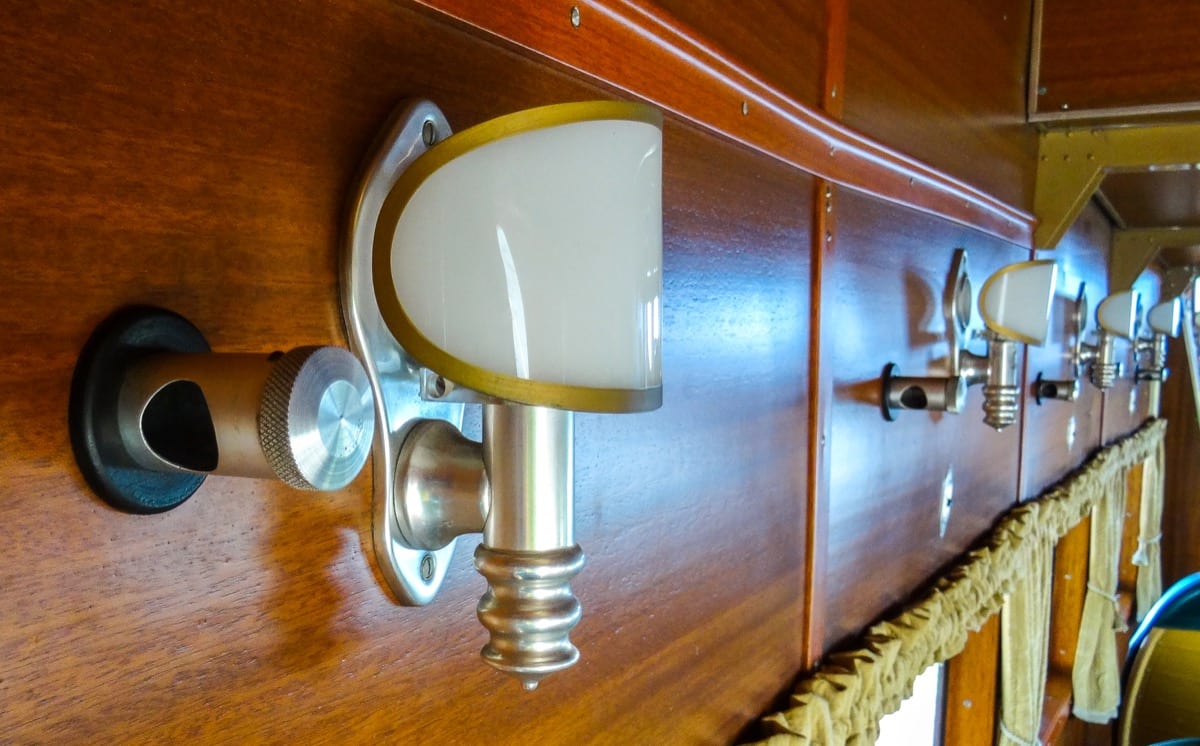 As for flight characteristics, Bill notes that a non-steerable tailwheel, ground-adjustable propellers, rudimentary systems, and the lack of flaps all make for a pretty straight-forward flying machine. Not surprisingly, the controls are heavy (especially the rudder). The 77-foot long wing gets the Ford airborne in 1,000 feet, and after approaching at 80 mph, she lands comfortably in about 2,000 feet.
When asked if the lack of flaps is a detriment, Bill replies, "You're never high in the Ford. When you pull power, it comes down like a brick."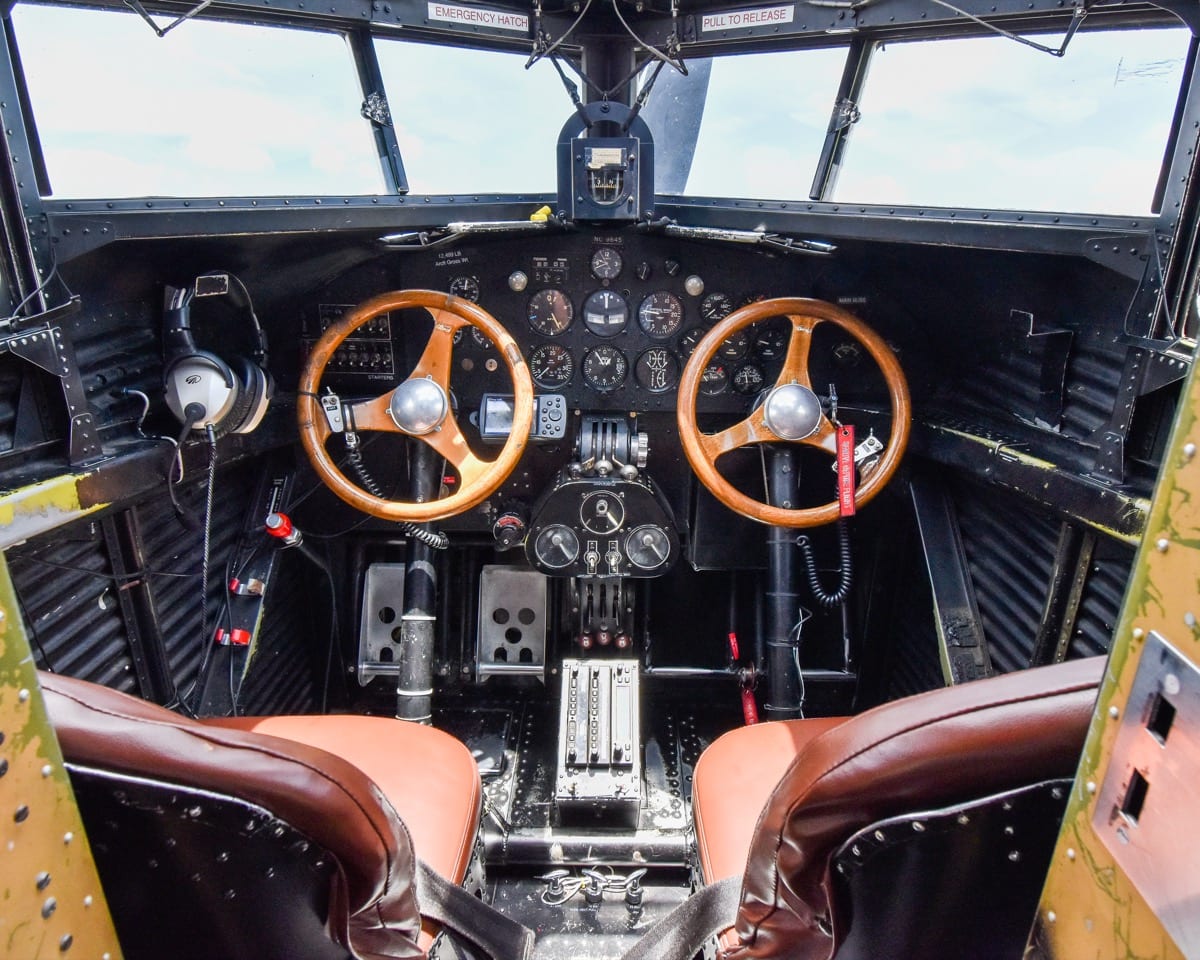 The EAA Ford Tri-Motor visit to Knoxville was made possible by a small army of volunteers. Pilot Bill Thacker and tour coordinator Sherry Finkler were hosted by members of EAA Chapter 17, who assisted in servicing the aircraft, handled the passengers, and "herded cats" for three days.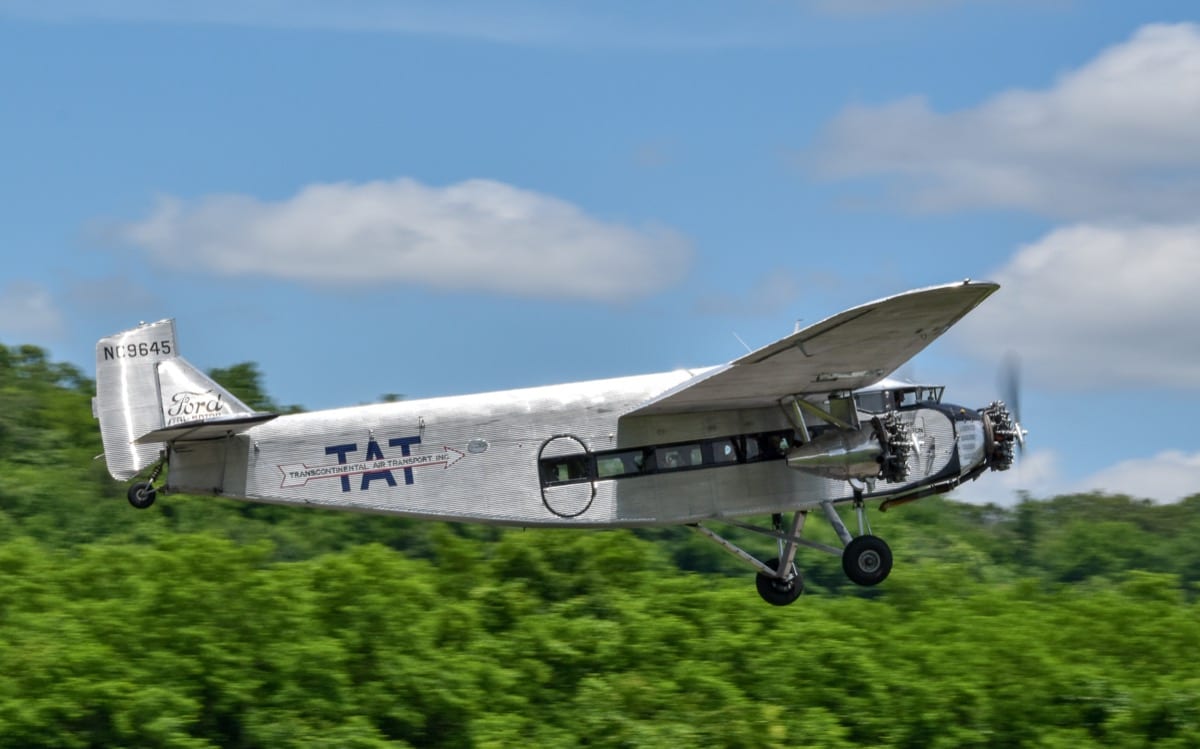 Front and center, literally, was Bill Thacker, whose mother often tells him he was born to fly. Bill grew up on a farm in Ohio, and says he is the classic "kid who fell in love with airplanes after seeing them fly over the family farm."
Following college at Ohio State University where he was also a CFI, Bill worked his way up to the airlines, now commanding a Boeing 787. He is the patriarch of a flying family who taught his wife, daughter, and son to fly. His daughter is now a pilot for a regional airline, and his son is an AMT who owns his own plane.
Truly "living the dream," Bill flies a PA-12 and PA-18 from his grass runway in Illinois.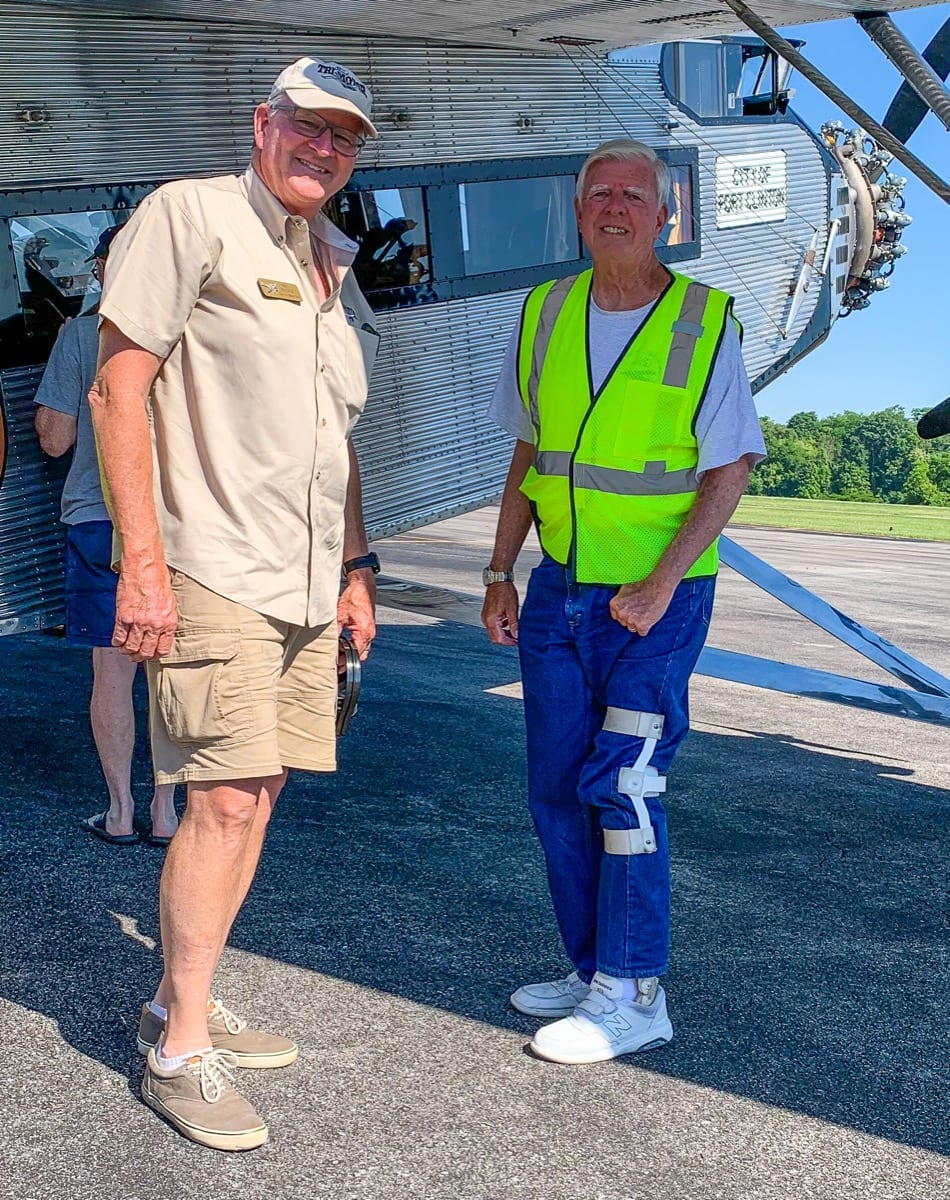 Bill, who has been flying the Ford for nine years, is one of a corps of volunteer pilots who take turns shepherding the plane around the country. In addition to providing a safe and enjoyable flight experience, their duties include servicing the plane, coordinating when necessary with TSA and the FAA, and handling media interviews in each city.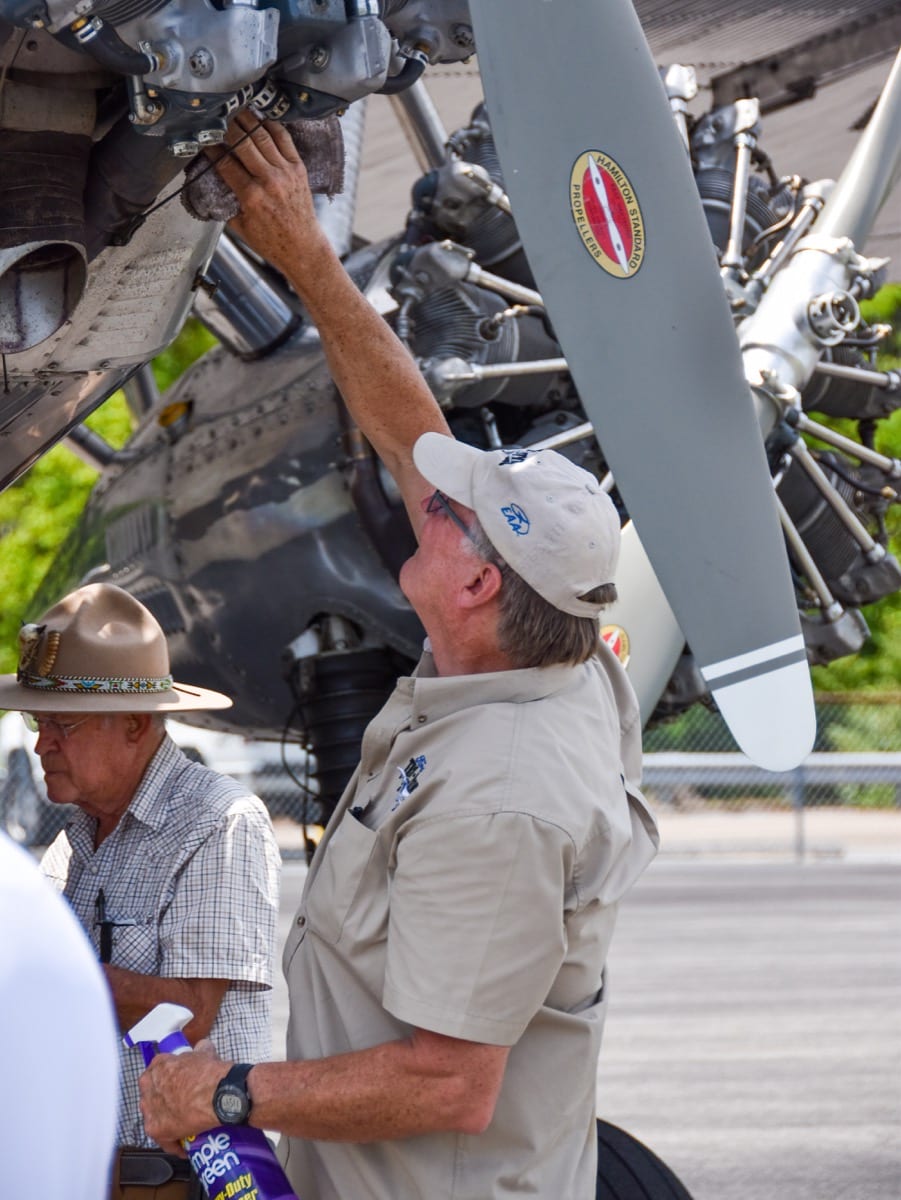 When asked what it takes to fly the Ford, Bill explains that all pilots chosen for the program have experience in multi-engine tailwheel aircraft. The Beech 18, Lockheed Electra, and DC-3 are natural stepping stones. Upon completing basic maneuvers training, a new pilot goes on the road with a check airman to acquire the 100 right-seat takeoffs and landings needed to qualify as co-pilot. From there, time and experience will lead to a left-seat checkout and the ability to take the plane on tour solo.
According to Bill and tour coordinator Sherry Finkler, the biggest reward for their efforts is the joy in their passengers' eyes and the memories some share. They have hosted former smoke jumpers who last flew on a Ford when on their way to battle a forest fire. Some folks show up with photos of their parents or grandparents posing proudly before a Tri-Motor airliner. And there's nothing to compare to the excitement shared by a passenger taking their first-ever airplane ride…a flight they will not soon forget.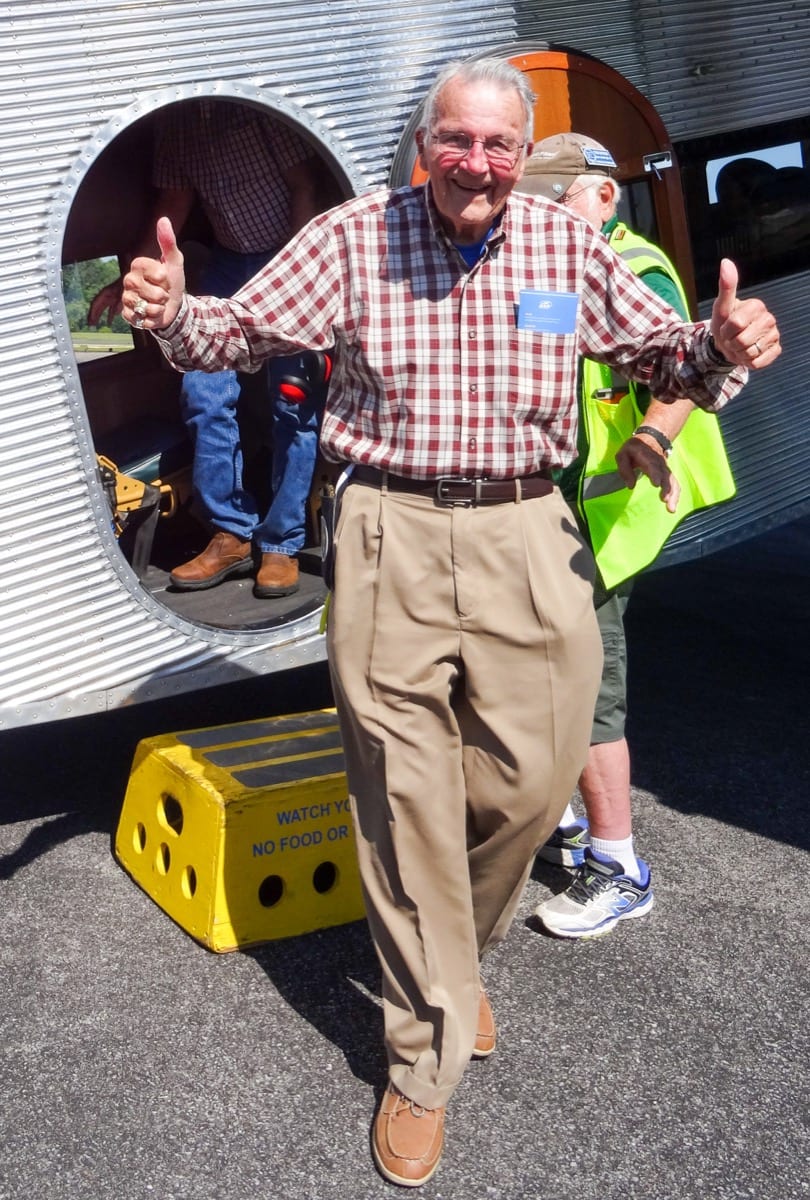 The Ford Tri-Motor tour will continue through 2021, with a week-long appearance at EAA AirVenture on July 26 through Aug. 1.