Q: I have a less than 500 hour TTSN (Total Time Since New) injected Lycoming with a horizontal cold air sump that was taken apart for a prop strike. The crank was changed, new bearings were installed with all new gaskets, and the crank case was sent in for inspection and repair, if necessary.
At startup engine oil pressure will eventually come up to 25 or 30 psi at or below 1000 rpm. If I run it up to 1700 or so the Hartzell prop will cycle, but the oil pressure will drop. Above 1500 or so rpm oil pressure will continue to drop until rpm is reduced, then it will gradually come back up a bit.
I removed the restrictor fitting at the accessory case with no change. I removed the pressure relieve valve looking for trouble there and all looks fine. I screwed the pressure valve in 30 or so flats with no change. I installed a mechanical gauge I know to be accurate out of my Super Cub and sure as can be the oil pressure is 30 psi cold below 1000 rpm and advancing the throttle causes a immediate drop that continues, maybe to 0.
I drained the sump and removed the pickup screen from the rear of the sump and it is perfectly clean.
I then put five quarts of Aeroshell 100 in where 20/50 X/C was, expecting a pressure increase with the thicker oil and it will only make 10 psi cold without a restrictor in the line. To me this indicates the problem is likely on the suction side sucking air.
I hate tearing this engine down only to find something silly on the outside like B and C filter housing or an improper or torn gasket.
Dave Hartman
Miles City, Montana

A: Dave this is a very interesting situation. At first, I was somewhat of a loss to come up with a quick answer.
However, after reading your email a second time, a light came on in this old fella's brain. In the latest "Tips & Tricks from our readers," there was a response to one of my troubleshooting articles that included something you may want to investigate.
The response came from a reader who was having high oil temperature problems and after reading his findings, I thought it may be the same issue causing your oil pressure problems.
After reading that your engine had gone through a complete engine disassembly and inspection for a prop strike and at reassembly, using a replacement crankshaft, new bearings, and all new gaskets, that's when the light came on.
I remember years ago while I was still working on the assembly line at Lycoming, I inadvertently installed the gasket that goes between the accessory housing and the oil filter adapter incorrectly, just as was mentioned in the "Tips & Tricks" article. Once the engine was put on the test stand and started, it was observed that the oil pressure was not within specifications and troubleshooting discovered my error. Once the gasket was properly installed, normal engine oil pressure was attained. The end result was that I received my first and only "warning slip" from the Quality department, which really had a humbling effect on me for the rest of my career.
So, my thought is since we know all new gaskets were used during the reassembly, I'm just wondering if we may have come upon something that one of our readers brought to my attention. Take a look at the pictures provided showing the correct and incorrect gasket installation.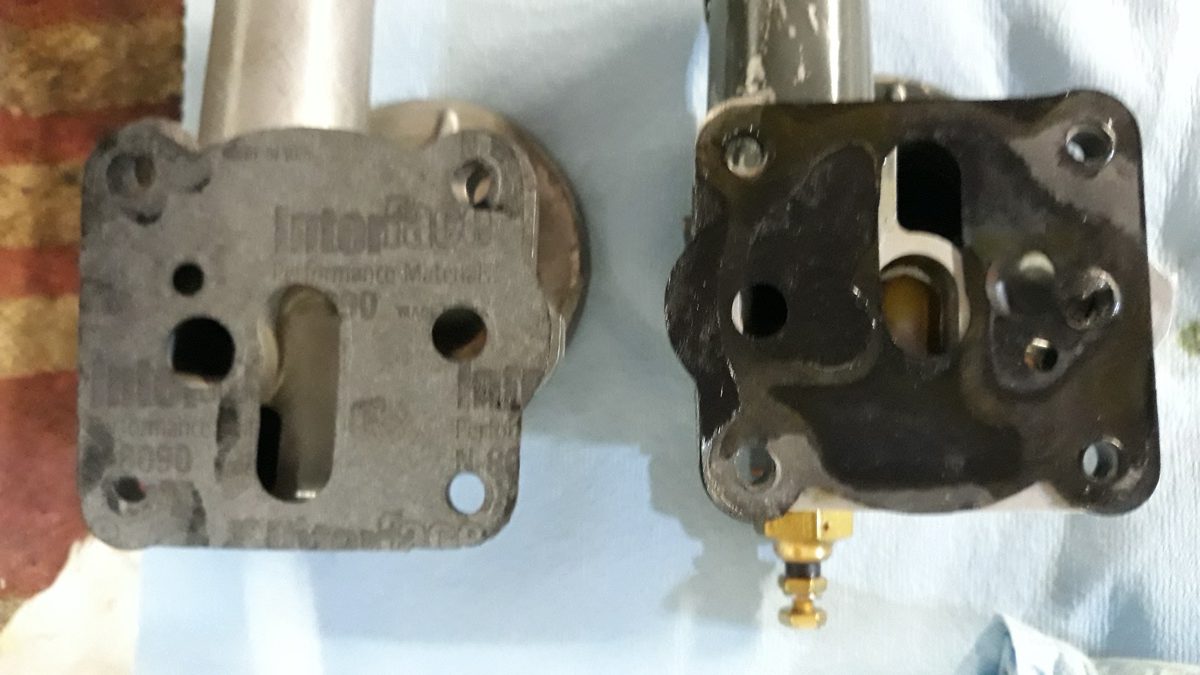 I have also done a little research and when the B&C Oil Filter Adapter P/N BC700-1 is installed you must use their specific gasket part number, which is stamped on the housing. That part number is 700-302-1. Could it be a possibility that the improper gasket was used during engine reassembly?
I have one other thought and that is, if push comes to shove, you may want to consider reviewing the Lycoming Service Instruction 1462A, which is available at the company's website.
Dave, I've given this my best shot and may not have hit the "mark," but it's something to consider. Thanks again for contacting me and I hope further troubleshooting on your behalf will uncover the problem.