Following last year's COVID-19 related hiatus, the annual Wings Over Camarillo airshow returns for its 40th anniversary show, Aug. 21-22, 2021, at Camarillo Airport (KCMA) in California.
The theme for this year's event is "Honoring Our Healthcare Heroes," according to officials with the Camarillo Wings Association.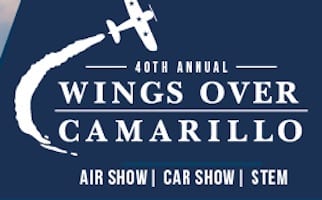 The event will feature aerial performances, classic cars, food trucks, craft beer, a STEM pavilion, and a Veterans Hangar. The historic 40th anniversary of the World War II tribute will also include a recreation of wartime air combat with pyrotechnics of fire and controlled explosions. Military aircraft, past and present, also will be on display.
All tickets sales are online, officials said, noting there will be no tickets sales at the gates.
The non-profit Camarillo Wings Association produces the annual airshow in collaboration with the Commemorative Air Force Southern California Wing, Experimental Aircraft Association Chapter 723, Ventura County Ninety-Nines, and the Ventura County Department of Airports. Since 2010, the Camarillo Wings Association has donated more than $431,000 to local non-profits, promoting youth in science and aviation.