Experts will host a live event discussing the future of at-home flight simulation July 24, 2021, at 4 p.m. Eastern time.
Featuring video panelists from Aerosoft, HeliSimmer.com, Hype Performance Group, Orbx, Parallel 42, and TFDi Design, the 90-minute livestream will focus on how the release of Microsoft Flight Simulator last year on desktop and console has changed the flight sim community, and what the future of home flight simulation looks like.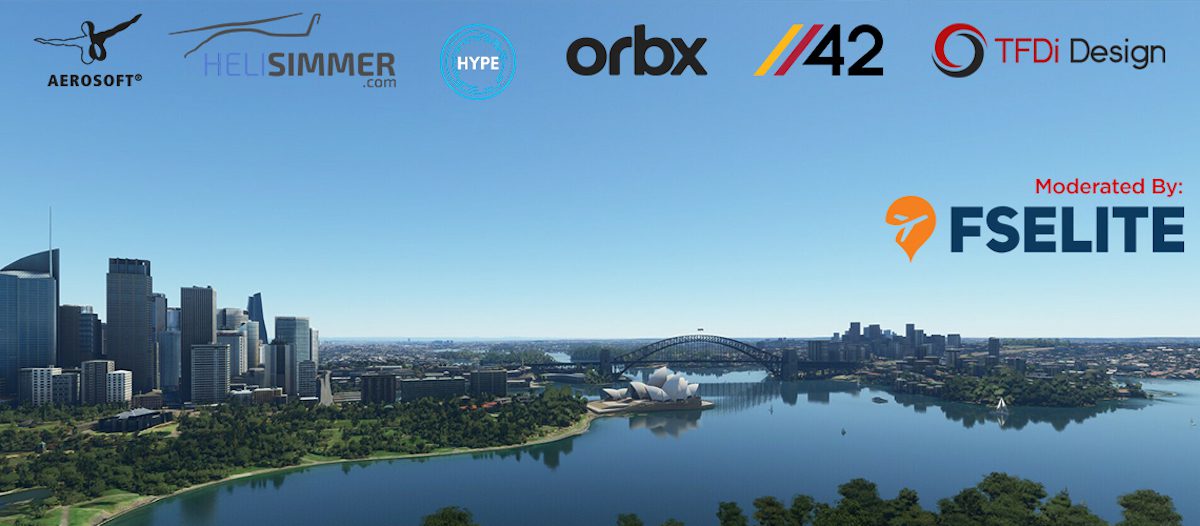 The panel will answer questions like:
Submitted by FSMagazin: "Do you plan to move development exclusively to Microsoft Flight Simulator?"
Submitted by Captain Bob: "How do you think having a flight simulator on console will change our flight simulation community?"
Submitted by FlightSimPro: "What is your organization's focus over the next six months — what new products can we expect?"
The event is free and open to all pilots and flight simmers. The livestream can be watched via Flight Simulation Association, on YouTube, or with your favorite livestreamer. 
Win prizes
Everyone participating live will have the chance to win prizes donated by Aerosoft, Just Flight, Milviz, Orbx, Honeycomb Aeronautical, Hype Performance Group, NZA Simulations, and TFDi Design. There will be multiple prize draws conducted live during the stream, including the grand prize: A Honeycomb ALPHA Yoke.
Watch with your favorite content creators
Content creators from across the community will host "watch parties" on their channels. You'll be able to catch the livestream with Aus Flight Simmer, Captain Bob – Flight Simulation, Chewwy94, Moosestaffa, SimFlightPro, SizzlingPopcorn, and twotonemurphy. Several developers will also be hosting a "simulcast" on their social channels and you can also watch through Flight Simulation Association and on YouTube.