"It's great to be back" was an often-repeated comment at EAA AirVenture Oshkosh 2021 as the annual event celebrating all forms of aviation resumed after a one year ground hold due to the pandemic.
"I've never seen so many happy people," added a long-time attendee as he watched the crowds stream in.
Although numerous hand sanitizing stations were available and a few people wore masks, the week-long summer camp for aviators appeared normal in every way.
"It certainly ended up being a week that was beyond our expectations, but met our wildest dreams," said Jack Pelton, Experimental Aircraft Association (EAA) CEO at the conclusion of the show.
While the event is too large and diverse to cover in just a few pages, here are some highlights from my reporter's notebook: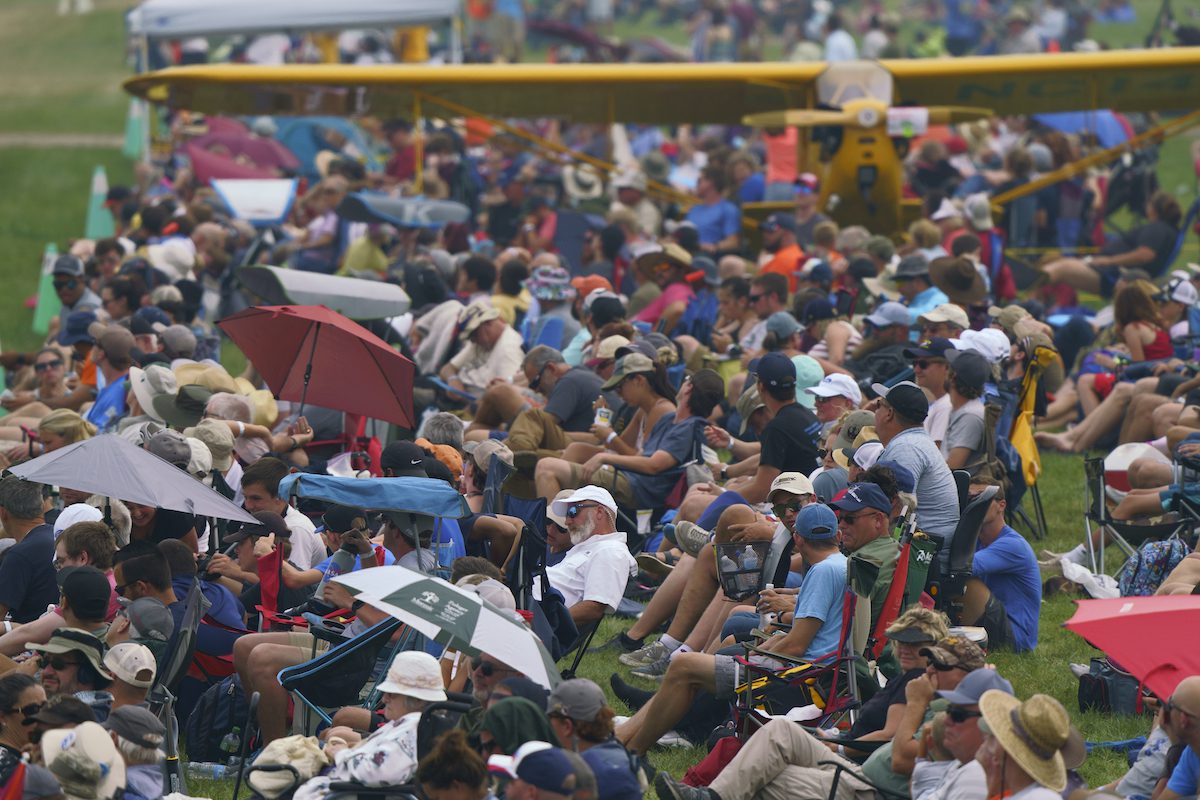 Attendance
The first hint that this AirVenture would be a well-attended event came from the announcement that almost 8,000 airplanes (double the 2019 number) arrived during the weekend before the show officially started on Monday, July 26. This included mass arrivals of Bonanzas, Mooneys and Cessnas, which were parked together in reserved sections of the North 40 campground.
The South 40 campground extended so far in that direction that it was jokingly referred to as being in Fond du Lac, Oshkosh's neighboring city to the south.
The second confirmation came from the 30-minute traffic jam we experienced while attempting to park on the grounds at 7 a.m. on opening day.
Weather
After attending AirVenture for more than 40 years, I've come to expect at least one rainy day during the week. However, a large area of thunderstorms forecast to arrive late Wednesday night got everyone's special attention because of the prediction for high winds, hail, and tornadoes.
The Wednesday night air show was rescheduled for Thursday, and with literally billions of dollars of aircraft on the ground at Oshkosh and surrounding airports, owners and pilots scrambled to decide what to do. Many had no choice but to trust God and insurance policies to see them through, but nothing can replace the years of sweat equity invested in many of the homebuilt and restored aircraft.
On Wednesday afternoon, FlightAware showed a mass exodus of airplanes to the south and east as many pilots ended their AirVenture experience early and ran from the storm.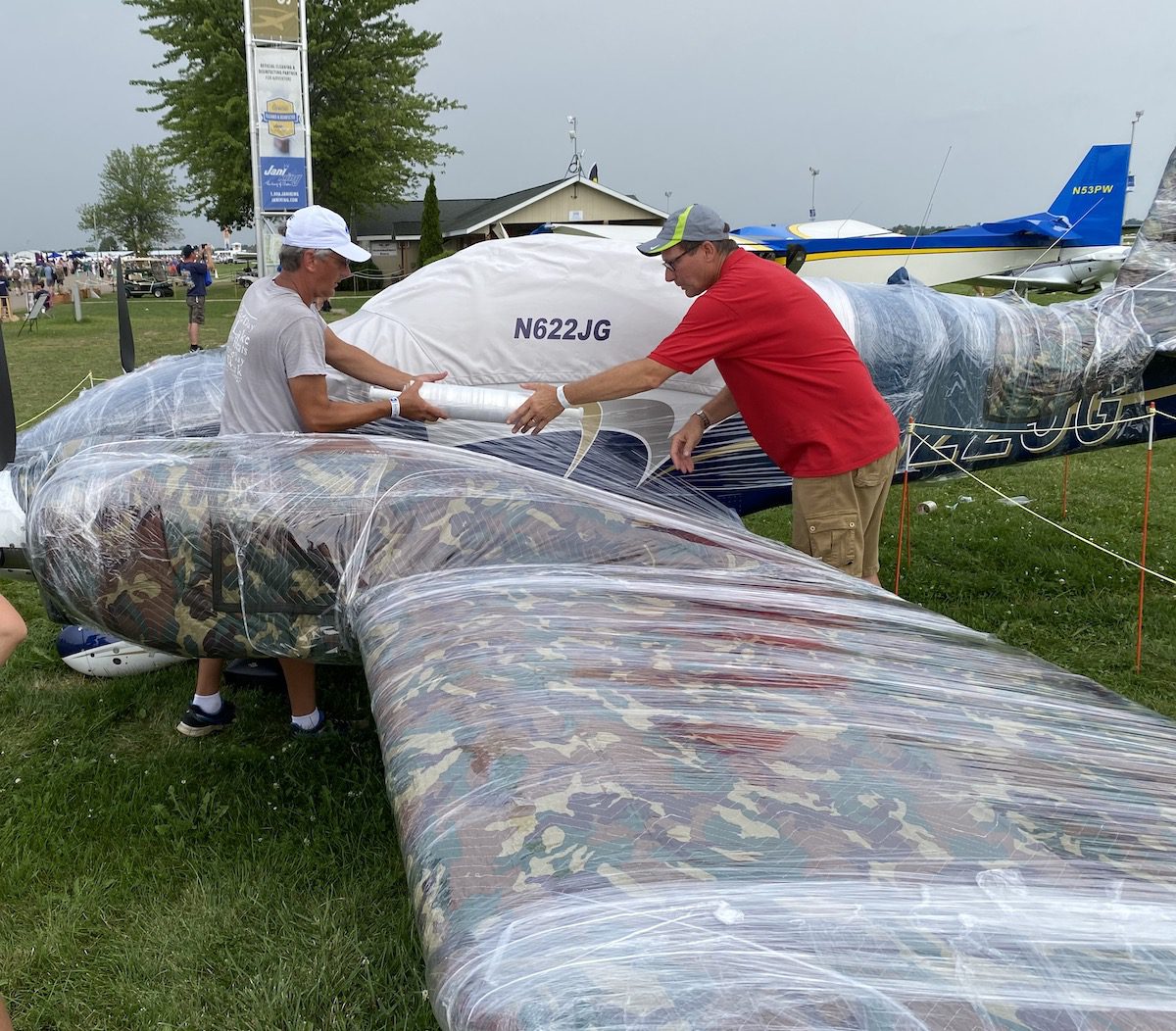 Others decided to ride it out and storm preparations included hours spent doubling tie-downs and wrapping exposed surfaces with whatever materials could be obtained to protect them from hail damage, including cardboard, bubble wrap, carpet padding, and blankets.
To EAA's credit, association officials were on top of the situation and announcements over the campground PA system offered the opportunity to seek shelter in the EAA Aviation Museum. Approximately 2,000 campers evacuated there until the storm danger passed between 1 and 2 a.m. Thursday.
Fortunately for AirVenture, the worst storms missed Oshkosh. However, two tornadoes were reported in the area and Ripon, a well-known nearby reporting point for Oshkosh VFR arrivals, suffered extensive storm damage.
Aircraft
A highlight of the week was seeing "Scrappy," the Cub-like bush plane on steroids built in Utah over the past two years by Mike Patey, who documented his project in a series of YouTube videos. The plane boasts a 600-hp, 8-cylinder Lycoming engine and a unique leading edge slat system to enhance STOL performance.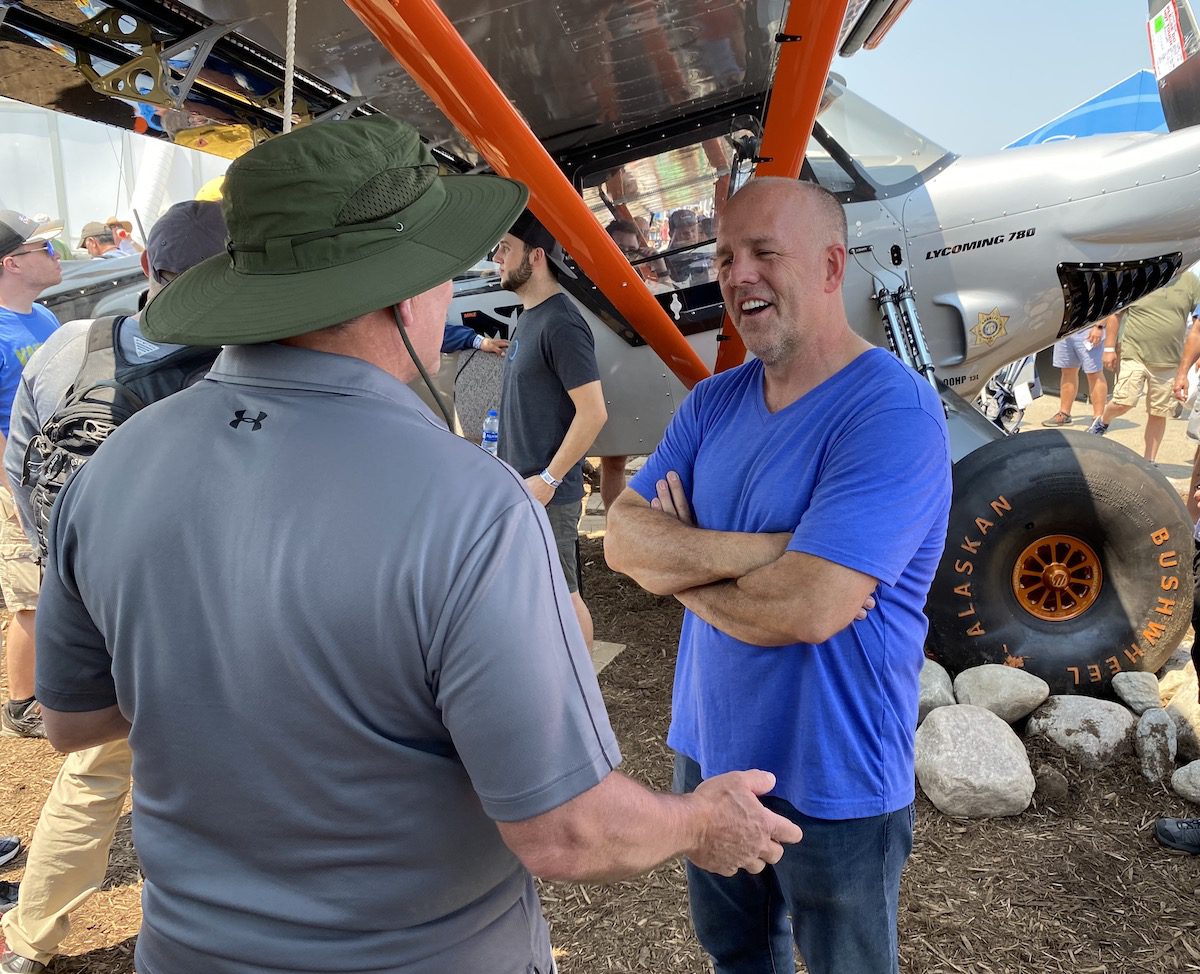 Other aircraft that caught my eye included an RV-6A that had been converted from a single to a twin with Corvair engines by Jim Tomaszewski. (Look for an article on that plane in a future post.)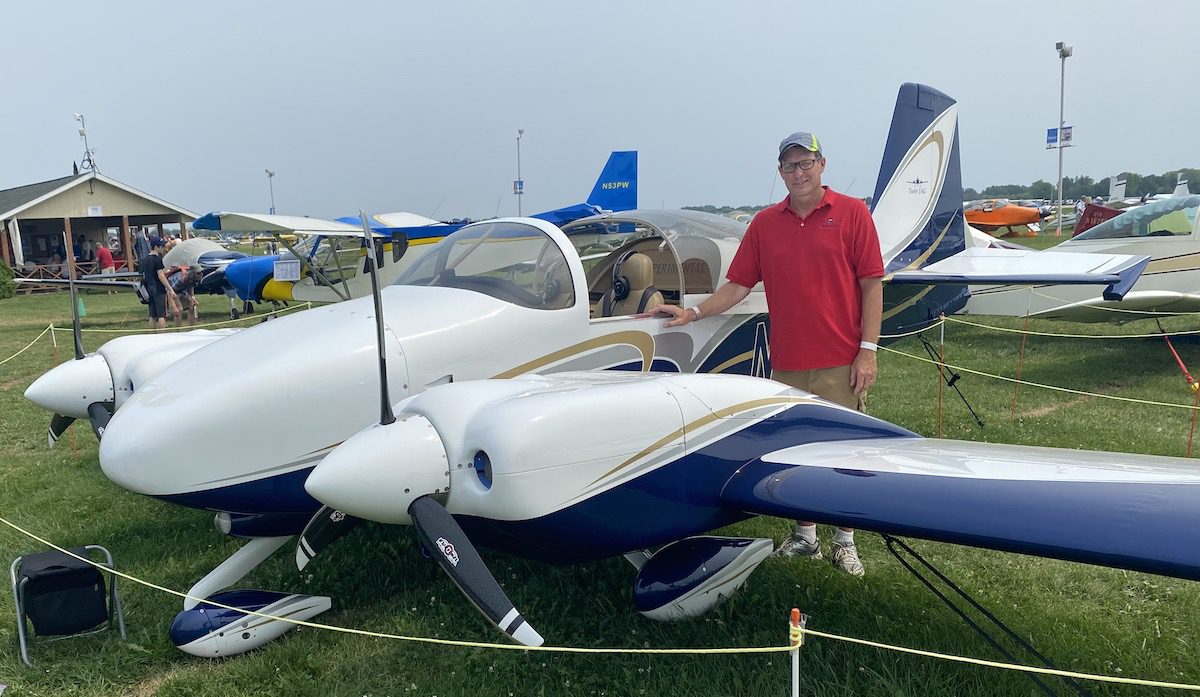 STOL demo
The twilight STOL demo held several evenings during the fly-in at the ultralight strip drew standing-room-only crowds.
Steve Henry's highly modified Highlander, with a screaming 300-hp Yamaha engine, has dominated STOL competitions in the recent past, but this year Jason Busat showed up with a Rans that was equipped with a high-revving Yamaha that gave Henry some competition. Austin Clemens, 18, showed up with a Husky equipped with a reversing prop that the pilot used to shorten his landing roll.
At the conclusion of the event, the Goodyear Blimp flew overhead and appeared to be setting up for a touch and go on the grass strip. It did not land because space was tight and the winds picked up, but it could have easily won the STOL competition had the pilots succeeded.
Warbirds
This was the 20th year for AirVenture's popular Warbirds in Review series of presentations featuring aircraft and interviews with owners and often pilots who flew them in combat.
The Dakota Territory Air Museum displayed its beautiful pair of British fighters, a Hawker Hurricane and Supermarine Spitfire. Both planes flew in the air show.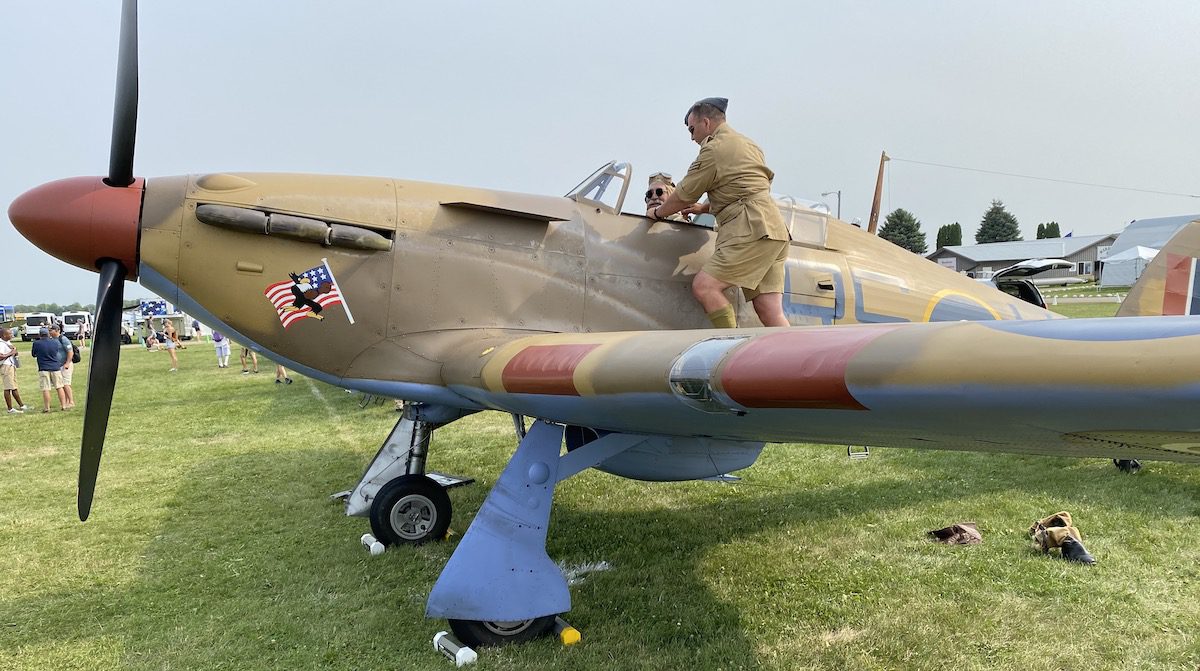 Another Warbirds in Review highlight was the interview of Don McPherson, who flew Grumman F6F Hellcats during World War II. Evan Fagen of Fagen Fighters World War II Museum honored the ace by displaying the museum's newly-restored Hellcat painted to match the one he flew in the Pacific theater. McPherson told some great war stories, and we can all hope to be as sharp as he is at 99 years of age.
Warbirds in Review presentations are available at the EAA Warbirds of America YouTube channel and at Warbirds-EAA.org.