"The wait is over" — the motto of EAA AirVenture Oshkosh 2021 — was more than accurate, let me tell you.
After a year of canceled air shows thanks to the pandemic, the gates to Oshkosh opened July 26, welcoming all who cherish and celebrate the freedom of aviation. And there we were just as well, only a small fraction of a wonderful aviation community — a bee hive that formed on Wittman Regional Airport (KOSH) once again and buzzing to the max.
"Set your alarm clock for 7 a.m. tomorrow," Jimmy the Squirrel announced while waving two tickets in the air. "Copy," I answered cheerfully and started hopping around like a happy bunny. In less than 12 hours we were scheduled to hop a ride in the Experimental Aircraft Association's "Berlin Express" B-25 bomber.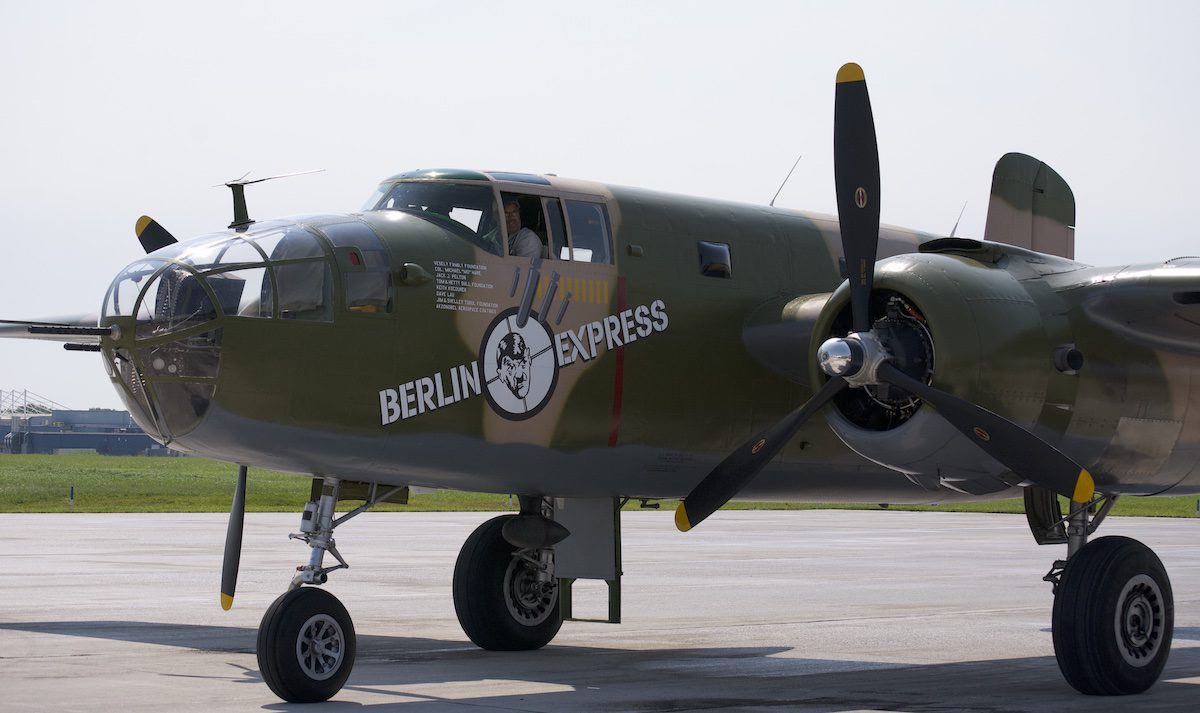 My alarm did not even have to go off as we both woke up to the sound of heavy rain. It was pouring. Not sure if we were still a go, we went to the designated point anyway to find out if we were rescheduled or moved to another day. Thankfully, the weather was moving rapidly and we were given a new departure time. Thank you, mighty universe!
We were about to check off another epic "once in a lifetime" experience. Suddenly, I felt overwhelmed as I could not believe how blessed we were. Never in my life could I have ever imagined I would be sitting inside a real B-25 bomber with a fantastic crew behind the controls and experiencing one of the aircraft that participated in the fight for freedom.
I remember well how my Dad used to collect warbird models and the B-25 was one of them. A tiny and yet detailed replica of the B-25 in my Dad's impressive collection I used to look at when I was a kid was now standing in front of us as real as she could get and we were about to board her. My goosebump meter set a new record high.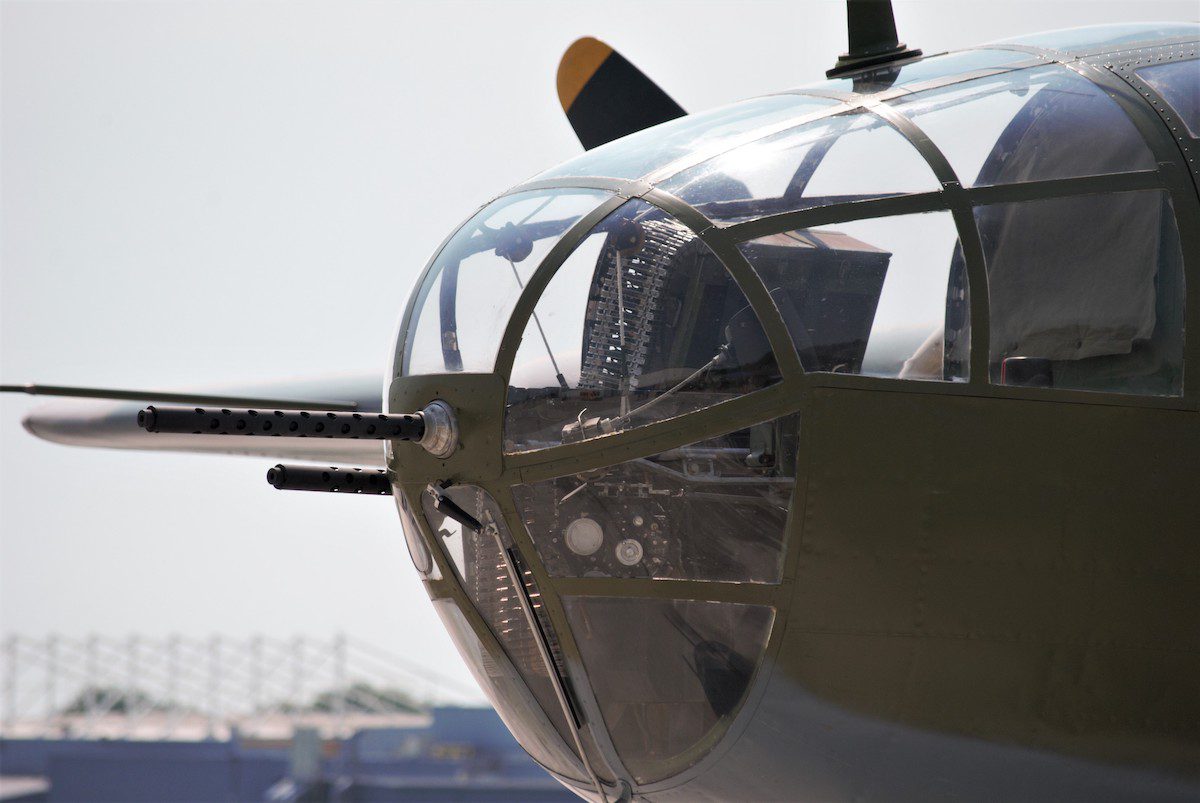 After getting a safety briefing and an introduction to the aircraft, we hopped in and let the crew do their magic. Seven passengers plus a crew of three, we departed from Appleton International Airport (KATW), just up the highway from Oshkosh, for a 30-minute flight.
As instructed on the ground during the briefing, after receiving a thumbs up from a crew member we could unbuckle and move around the aircraft to check out the insides.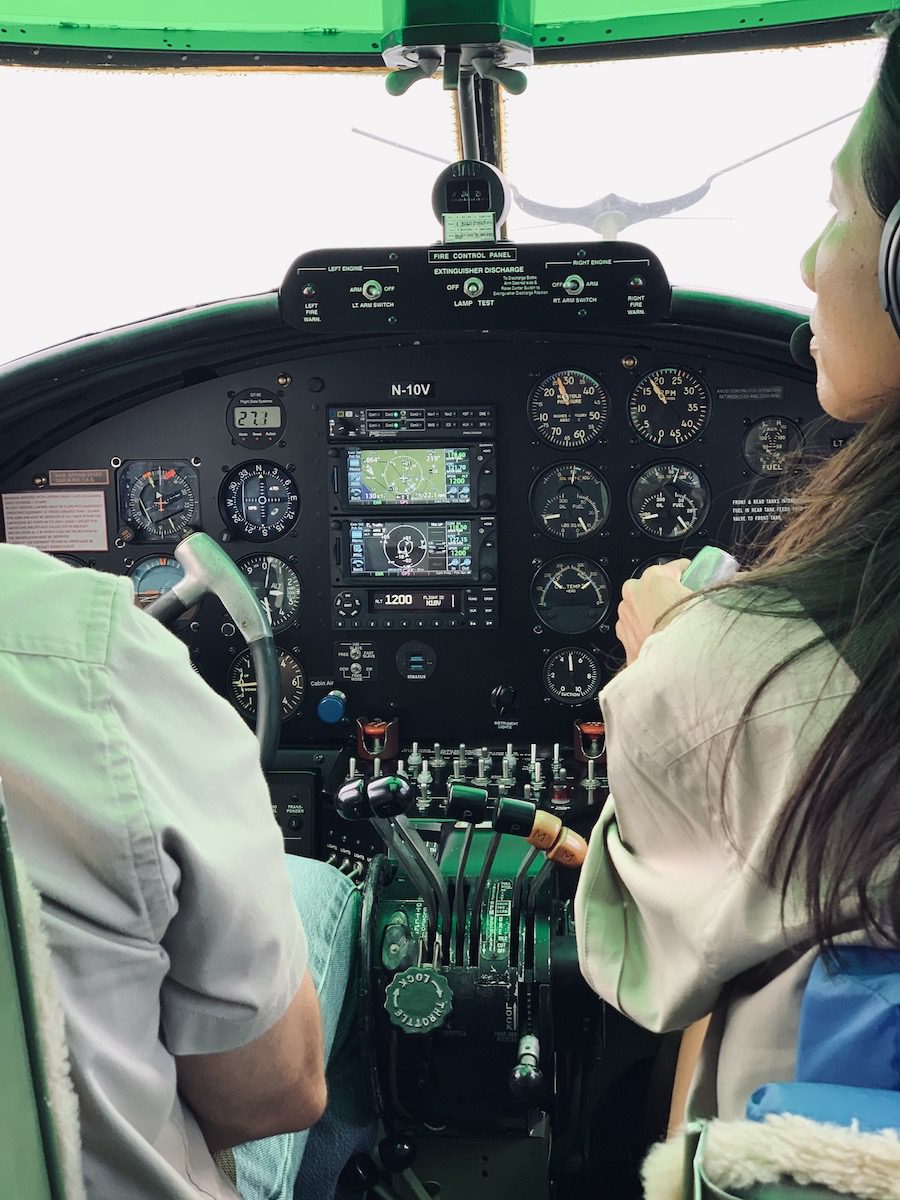 While exploring, we all made sure everyone got to the bombardier's position in the nose and tail gunner's station in the back of the bird.
Mind you, the twin-engine medium bomber B-25 is a military aircraft, therefore expect a bit rugged, but pretty cool environment.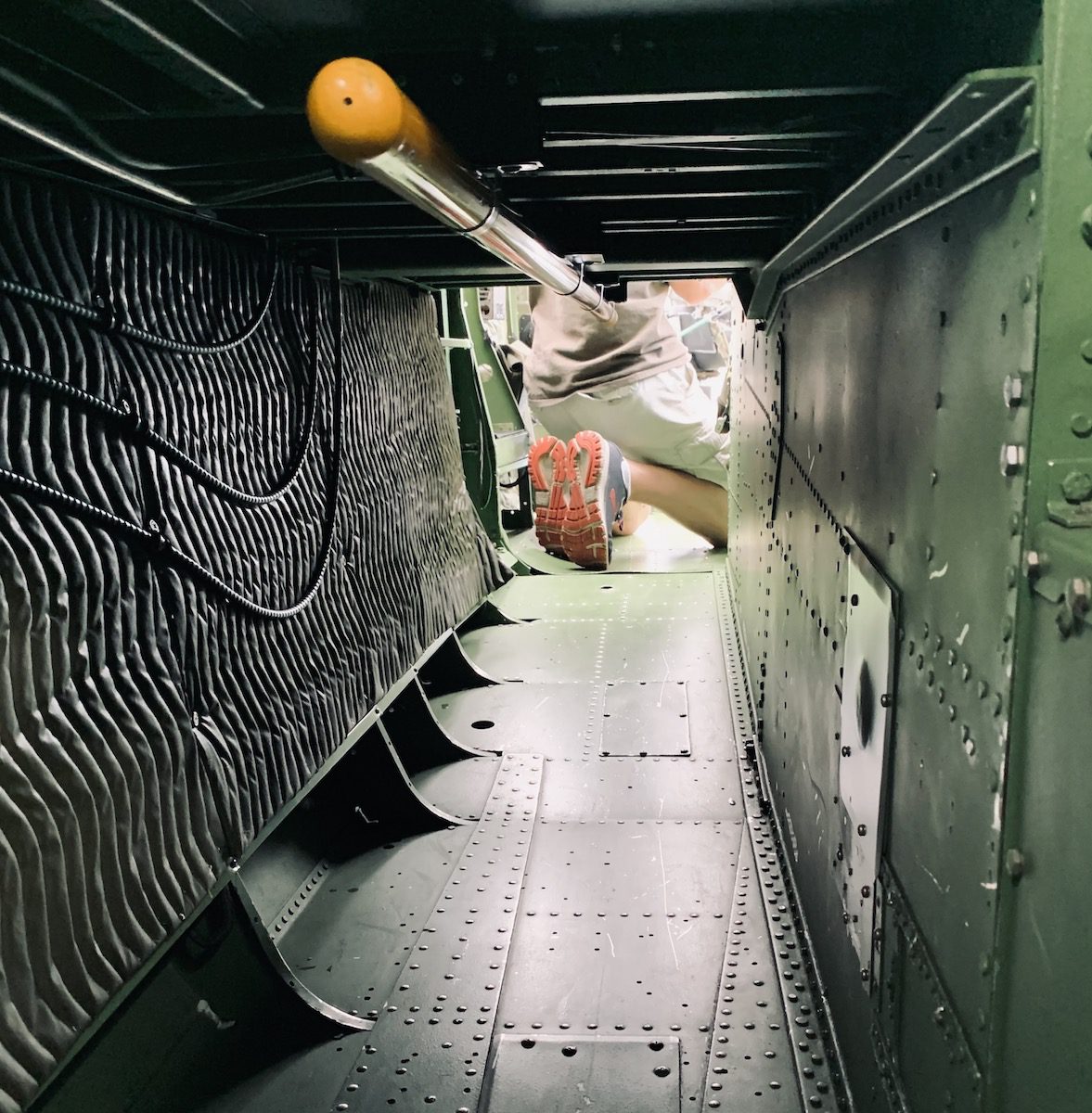 To get to the nose, you need to slide through a narrow tunnel. Not to worry — if I could do it, you could do it as well. You lie on your back, head first, grab a yellow rail handle above your head, and slide until you reach the nose.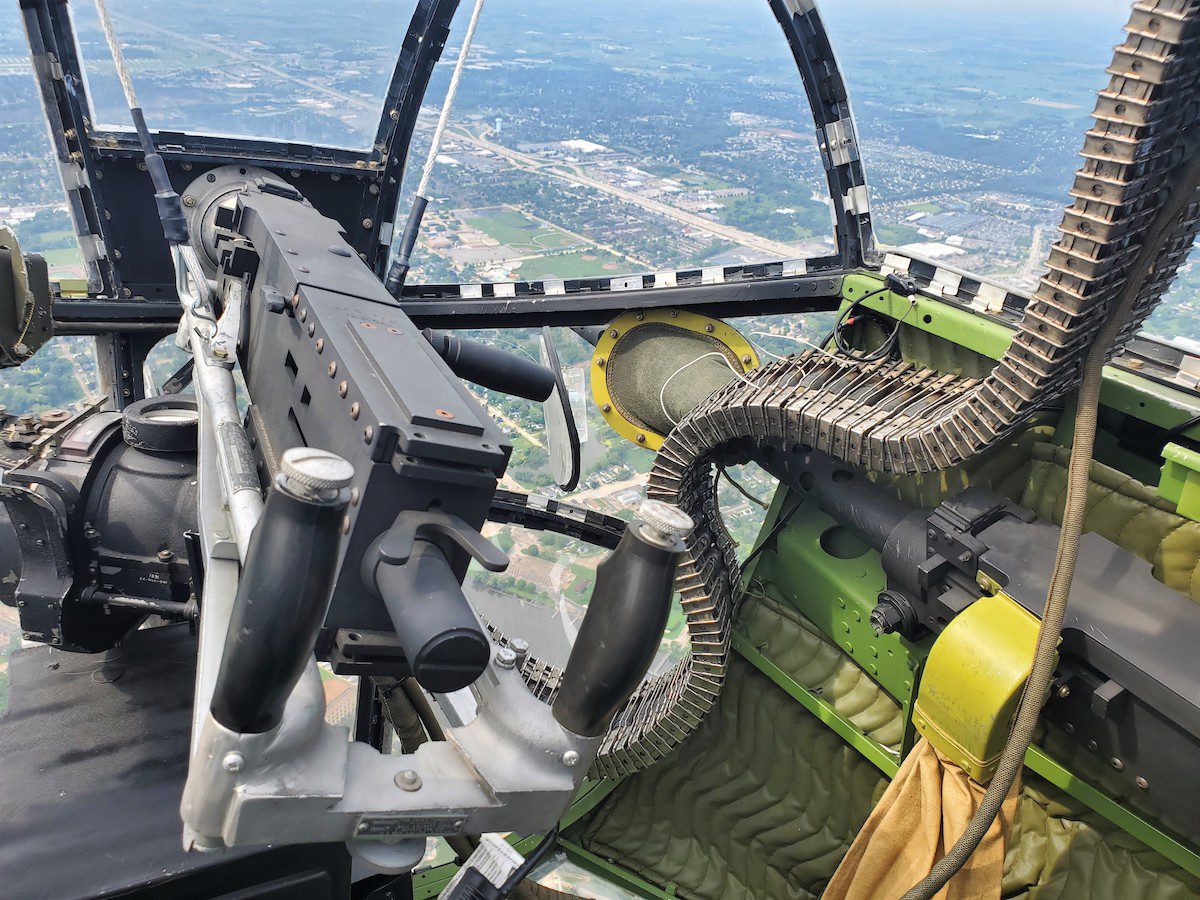 The view from the bombardier's position gives the word "view" a new meaning. Even though I only had a few minutes so we all could take turns, time stopped for me there. I was inside of my Dad's B-25 model!
But this one was real, in flight, and somehow I was there staring at the blue sky through the windows while observing a well-preserved machine gun with all kinds of switches, steam gauge instruments, and military instructions.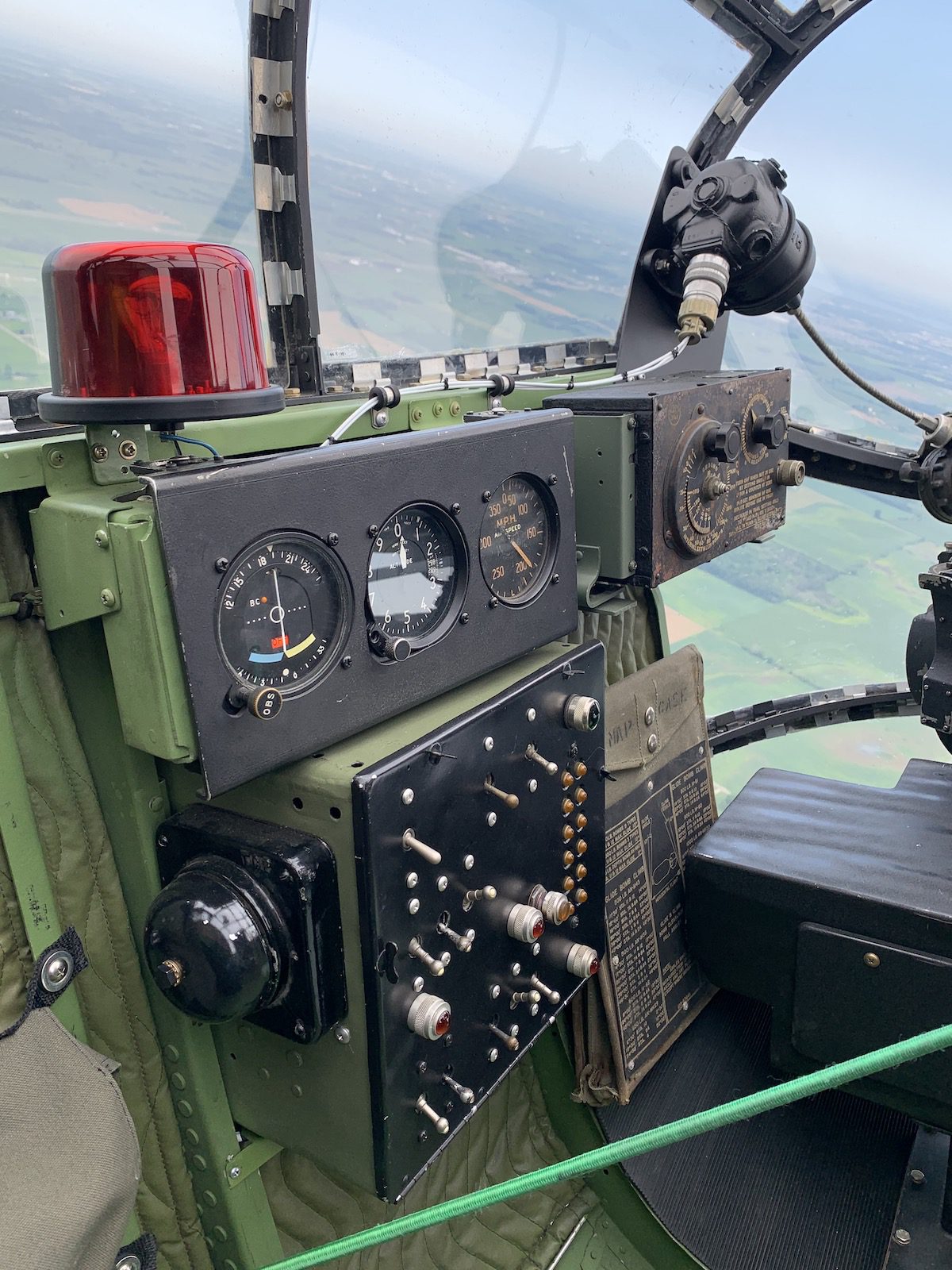 The wind was blowing from everywhere, powerful twin cyclone 14-cylinder radial engines were roaring, and it felt like the spirit of aviation gave me a big awesome slap right to my soul.
Then it was time to lie down again and slide back to let another passenger peek in.
Next: The tail guns. The pathway there was easier. I only had to go on my hands and knees and move through a slightly wider tunnel leading to the tail. The small encapsulated area at the end was equipped with a minimalistic seat with knee holders and a window in front of it.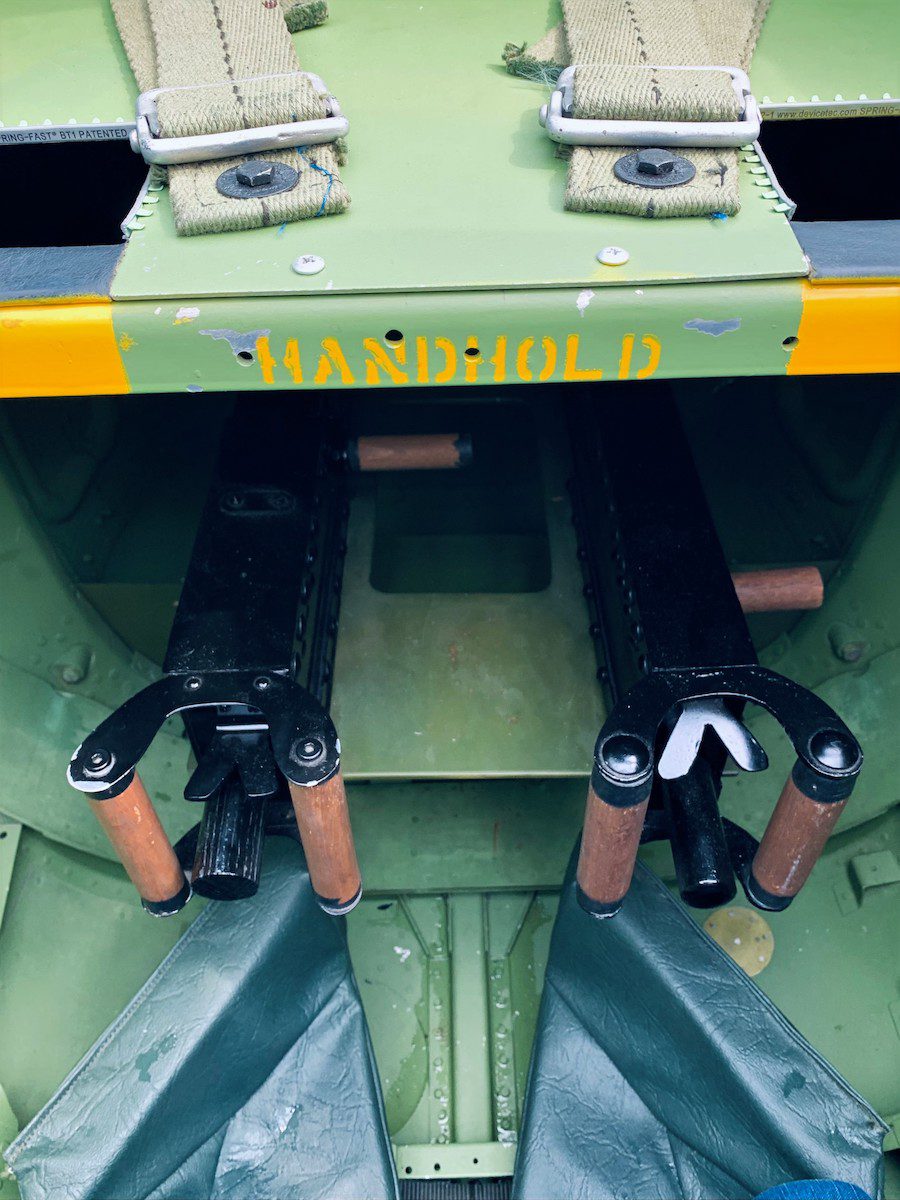 I was guessing that the tail gunner must have been sitting on his knees just like I was while holding the handles connected to the guns that were sticking out from the airplane. Imagine being in an active war zone with bullets flying everywhere, perhaps flying through turbulent air, but you still needed to aim with precision. I don't think we celebrate those brave men and women enough.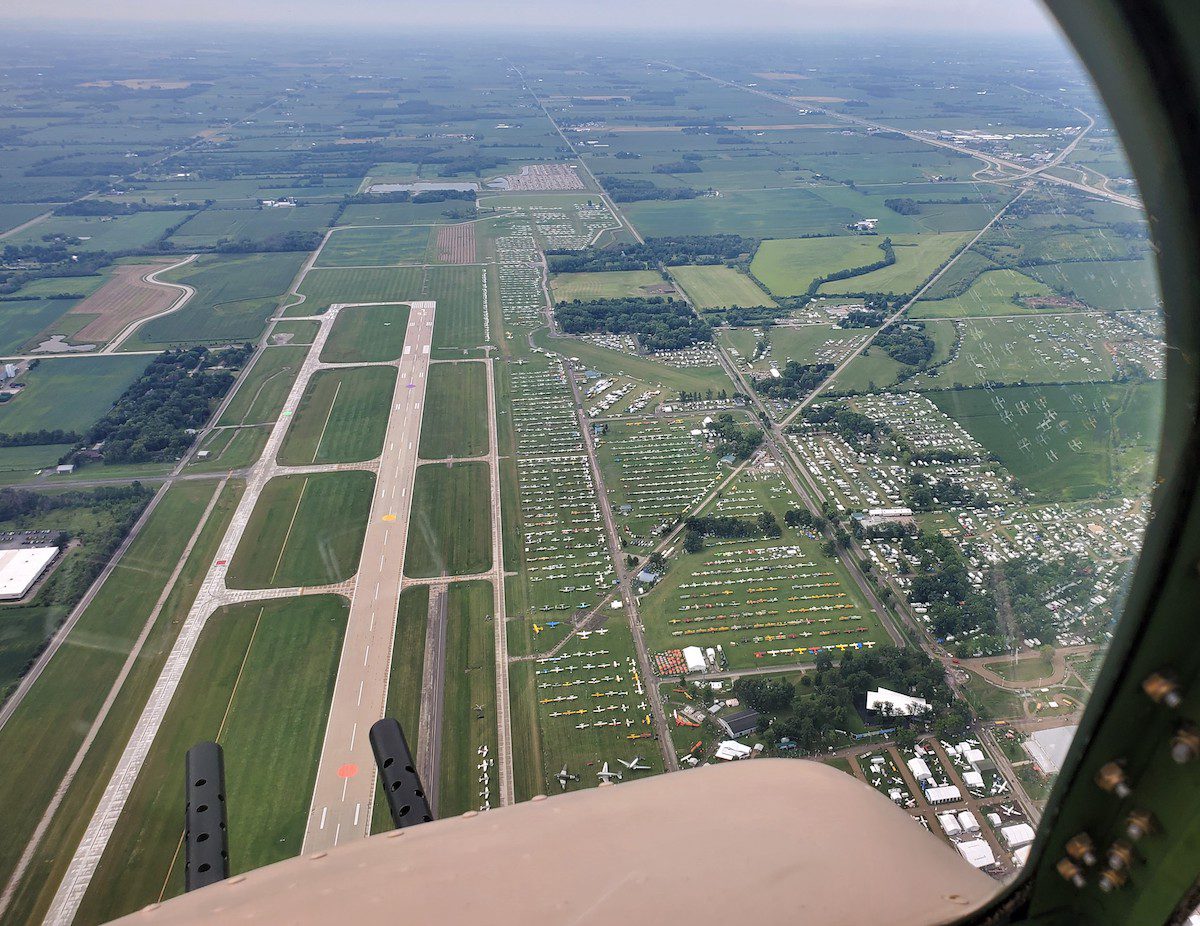 On my way back to the center of the aircraft I sat in one of the window seats so I could watch the radial engines with those massive propellers go. I stopped counting how many times my jaw dropped in awe.
While looking around, a wonderful thing caught my attention — Jimmy and all the other passengers had sparks in their eyes, they were smiling at each other, and were sharing a genuine excitement that usually only children display so innocently and so well.
As I was getting all sentimental, someone tapped on my shoulder. I turned around and there it was — a thumbs down gesture from the crew. Time to sit down and buckle up for landing.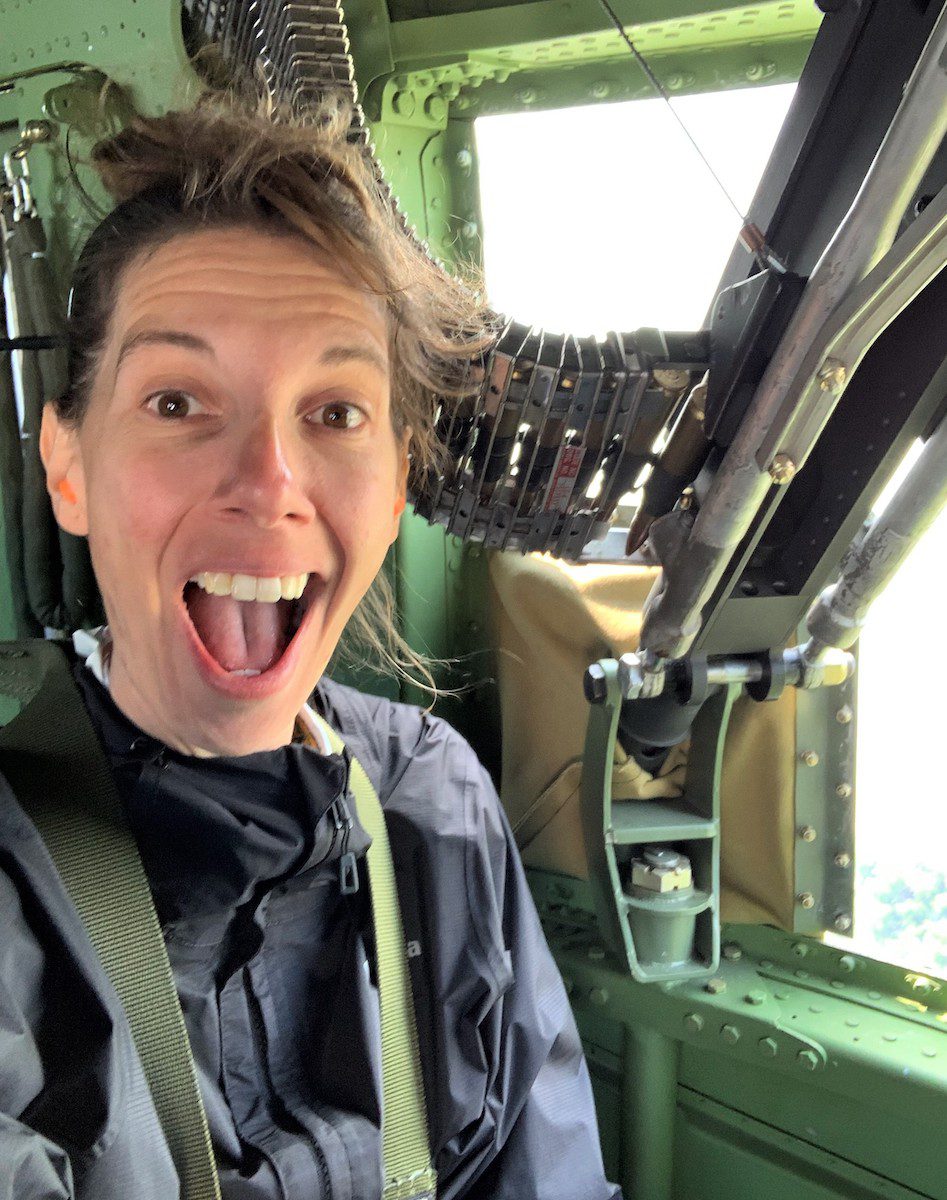 As I left the "Berlin Express," I had only the utmost respect for the EAA professionals who do an amazing job keeping the warbirds flying. Thanks to all their efforts, this B-25 does not sit in the museum anymore, it lives and keeps promoting the spirit of aviation (I am pretty sure we all received an immense dose of it up there).
And imagine, these aviators and aviation professionals volunteer to do all this so people like me, Jimmy, and others can experience what we did.
All money paid for the tickets ($360 if you are an EAA member, $400 if you aren't) go straight to maintenance of the bird. If this is not pure awesomeness, then I do not know what is.
This is one of the reasons I fell in love with general aviation in the United States. No one else in this world celebrates the freedom of flying as genuinely as all the good people in GA in the USA.