In October 2021 the FAA announced it has "more than 100 aging control towers at regional and municipal airports across the United States that will eventually need to be replaced."
Even U.S. Transportation Secretary Pete Buttigieg weighed in, saying, "For communities large and small, the air traffic control tower is an icon."
Air traffic control towers as community icons? Really?
I wonder if the communities that surround California's Reid-Hillview Airport (KRHV) look at their airport's tower as a community icon. But I digress.
Apparently form is more important than function. That October announcment failed to mention remote or digital towers.
Instead, with this new design search, the FAA wants to develop a standardized design for towers that will:
Meet operational and cost requirements
Maximize energy efficiency
Be easy to modify according to height needs
Be rapidly constructed
Apparently no one (or not the right someones at the FAA and DOT) recall that back in 2018 Congress authorized the FAA to look at remote or digital towers as an alternative to the traditional control tower.
Today, two U.S. airports have operational remote towers: Leesburg Executive Airport (KJYO) in Virginia and Fort Collins-Loveland Municipal Airport (KFNL) in Colorado.
The tower in Colorado is in the proverbial holding pattern. The remote tower was activated in November 2018 after being greenlighted in 2016.
Jason Licon, KFNL's Airport Director, and Dave Ulane, Colorado DOT, Aeronautics Director told me, "the flexibility of remote towers is tremendous. It allows airports greater opportunities for development. With a traditional tower, line of site will forever be an issue. It will impact development. Cameras can be moved. Traditional towers, not so much."
And yet, they wait.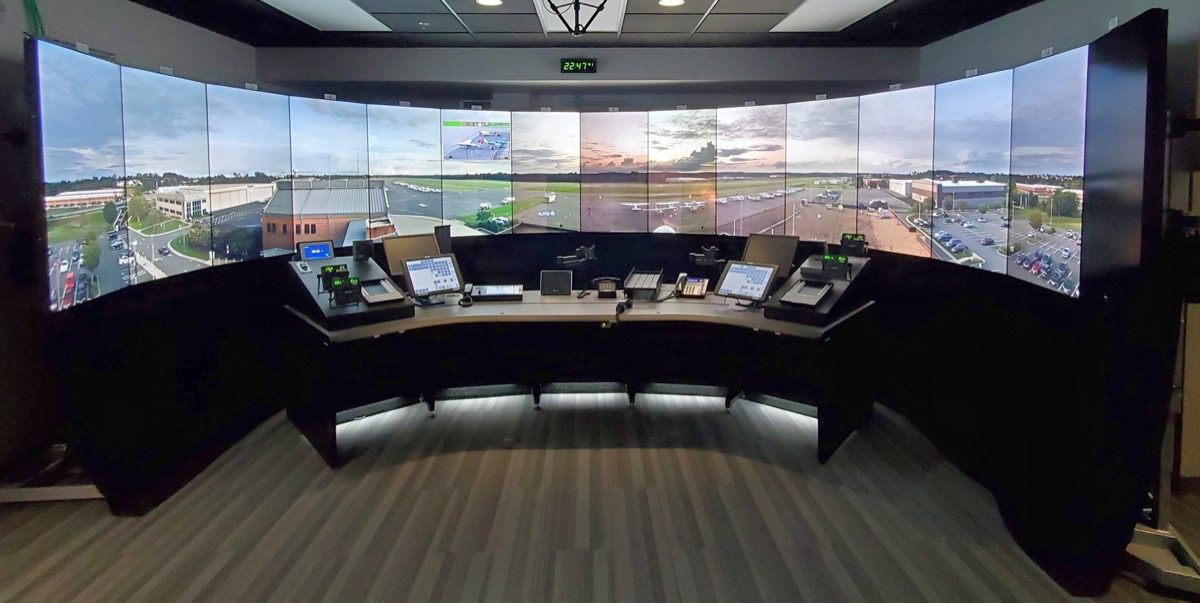 More than 1,500 miles east in Leesburg, Virginia, the first operational remote control tower reached a milestone of sorts in November.
"More than five years of FAA formal evaluations and safety panels led to an initial operational phase, during which controllers safely managed more than 75,000 operations at Leesburg," according to Saab officials.
A Nov. 22, 2021, Reason Foundation Aviation Policy Newsletter by Robert Poole offers a bit more detail.
"As I was writing this article, I learned that FAA has issued an 'Operational Viability Decision' on the Saab Remote Tower System at Leesburg, authorizing it to continue managing traffic there. This is not official 'certification' of the system, but it triggers the type certification process between Saab and FAA. Once that is done (no time frame was announced), the system will be approved as a non-federal system within the National Airspace System. Former FAA Chief Counsel Sandy Murdock, in JDA Journal, asks the obvious question: 'Why Is It Taking So Long for the KYJO Saab Remote Tower Test by the FAA?'"
Why is it taking so long? Because it is the FAA.
When I put myself in the position of an FAA staffer who has authority to move the remote tower program forward, the Boeing 737 MAX crashes come to mind. As we are learning, the FAA delegated a tremendous amount of power to Boeing in the development of the MAX.
While delegation authority isn't new, the broadness of that program's authority was. And while remote towers are, at the end of 2021, not exactly new, they are when compared to traditional control towers. At least in the United States.
Add a pandemic into the mix and the FAA has multiple ready reasons to slow its roll.
The idea of replacing more than 100 aging traditional control towers with more than 100 new traditional control towers is frustrating to me.
We can see a path: It is remote towers. And that path is ahead of us. That path will allow us to put more towers at more airports, which will ultimately be a boon for operational safety.
Unless you are the FAA. In that case, the future is behind us.
Sad.