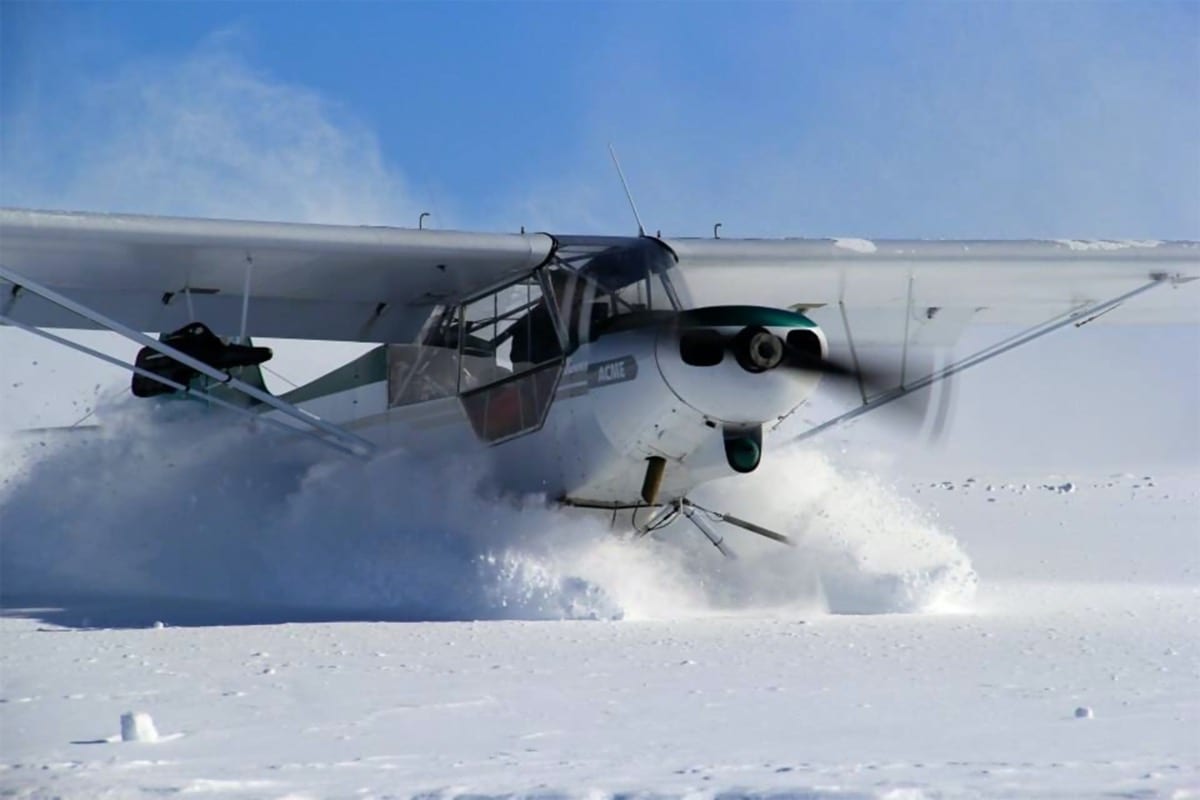 Winter flying is officially here, which brings new challenges. It's also brought a lot of articles from those in the general aviation community offering tips to consider when the temperatures plunge.
For instance, in Sporty's Student Pilot News, Bret Koebbe, vice president of Sporty's Academy, offers seven tips, including one that most would consider common sense, but still too important to leave off a list:
Always carry winter weather gear
"I can't stress enough the importance of carrying cold weather gear when the temperature gets below freezing," Koebbe notes. "Most modern training airplanes provide a comfortable, warm cabin up in the air, even as the temperature approaches 0° F outside. This can cause a false sense of security and lead you into thinking that you may not need the extra clothing layers, gloves, hats, etc. But you have to always be prepared for an emergency landing, which could leave you in cold conditions for hours or even days."
"And the most important piece of cold weather gear? A cell phone of course."
Our friends at Boldmethod recently released their own list of "6 of the Best Winter Flying Tips." No. 6 could help you prevent an accident:
Clean the frost off your plane before you go
"Because frost disrupts airflow over your entire aircraft, it can increase drag by up to 40%, and decrease lift by up to 30%. In the past 10 years, there have been over 30 general aviation accidents related to aircraft taking off with frost. Each one could have been prevented by removing frost from the airplane."
Gleim Aviation offers a variety of cold weather tips, including one that could save your engine:
Be patient, allow the engine to warm up
"The engine will require more time to warm up in the cold. Be patient and allow the engine temperatures to rise to acceptable limits before departing. The aircraft manual will have the appropriate RPM to set the engine to during this warm-up. It is especially critical to know the nuances between different aircraft that you fly. You may operate an aircraft with a Lycoming or Continental engine that requires a warm up RPM of 1,000 to 1,200, however, a Rotax engine may require 1,800 to 2,000 RPM. Examine the oil pressure and temperature indications during this process and ensure you do not exceed the limits. Under no circumstances should you depart until the engine has sufficiently warmed up."
The Aircraft Owners and Pilots Association has web page devoted to Cold Weather Operations, with a long list of tips, along with links to more resources. The list covers everything from winterizing your aircraft, to ensuring safe operations during winter flights, to what to do if you encounter icing. One of the tips under icing covers stalls:
Be prepared for a stall or abrupt loss of lift
"A conventional wing stall calls for adding power and lowering the nose," AOPA officials advise.
"A tailplane stall however, or stall of the elevator or stabilator, calls for a completely different recovery procedure," they continue. "Most often preceded by a lightening of pitch feel, pitch oscillations, or an uncommanded lowering of the nose, tailplane stalls require that you pull aft on the control yoke and reduce power. That's because horizontal stabilizers and stabilators generate negative lift, which acts in a direction opposite to the wings' lift. High power settings, high airspeeds, and extended flaps all increase a tailplane's angle of attack. Raising the nose lowers the tailplane angle of attack, and breaks the stall."
The FAA has several resources available to pilots on winter flying, including these tips from the FAA Safety Team, which note that: "Winter flying is not particularly hazardous if the pilot will use a little extra caution and exercise good judgment in analyzing weather situations."
The 11 pages of tips include everything from preparing your aircraft for winter flying to your takeoff and landing, as well as survival tips if you crash in the winter:
After a crash landing, it is best to leave the aircraft as soon as possible
"Take time to analyze the situation and help others. Take care of any injuries first. Stay away from the aircraft until all gasoline fumes are gone. Sit down and think. Keep in mind that survival is 80% mental, 10% equipment, and 10% skills. Since mental factors are the number one problem, establish a goal to conquer regardless of the consequences. Don't have 'give-up-itis' or a 'do-nothing attitude.' Don't run off without taking time to think out each problem. Don't imagine things that are not there."
Share Your Tips
How about you? Do you have any cold weather tips you can share with our other readers? Put them in the comments below.