MyGoFlight CEO Charles Schneider was in a plane crash on Dec. 16, 2021, and later died at the UT Medical Center in Nashville.
On Dec. 17 I received a call from United Parcel Service that a package sent to me from MyGoFlight was undeliverable as addressed.
I had no idea this package was coming as I hadn't ordered anything from MyGoFlight. After a handful of attempts to redirect the package to a proper address, I learned it was being held at an area UPS facility.
Long story sorta-short, Jack, my 16-year-old son, and I left our house on Dec. 20 after I wrapped work up for the day, in search of this undeliverable package.
We drove to the address provided by UPS. It turned out to be an apartment complex.
I then changed the city from Tacoma to Fife, but left the street information unchanged. That directed us to a new, unfamiliar location.
Finally, nearly an hour after leaving the house, we arrived at a huge UPS station and walked into the Customer Center.
The clerks, with not much to do at that moment, jumped to the task. All three of them.
Multiple dashes into the warehouse proved unfruitful.
At last, one of the clerks discovered the package had just been re-addressed and was being re-sorted for delivery. Why and how that occurred they could not explain. They showed me the new address, but I did not recognize it as it was in a town 45 minutes away from my home.
As one of the clerks headed off to the other side of the nearly 1-million-square-foot building in search of the package, Jack and I stood in the customer center making idle conversation with one another and the clerks at the desk.
A lady asked Jack about his sweatshirt. Did CWA stand for Charles Wright Academy, she asked? Yes, it does, Jack replied. He's a 10th grader there. She asked if he knew a particular 11th grader. He did.
One of the clerks mentioned the package was one pound. Jack guessed it would be a pen.
Finally, someone returned with the package. I took one look and said, "Water bottle."
We finished the paperwork with the clerk and left, wishing all a Happy Christmas.
As we drove away Jack opened the package. I was right. It was a water bottle.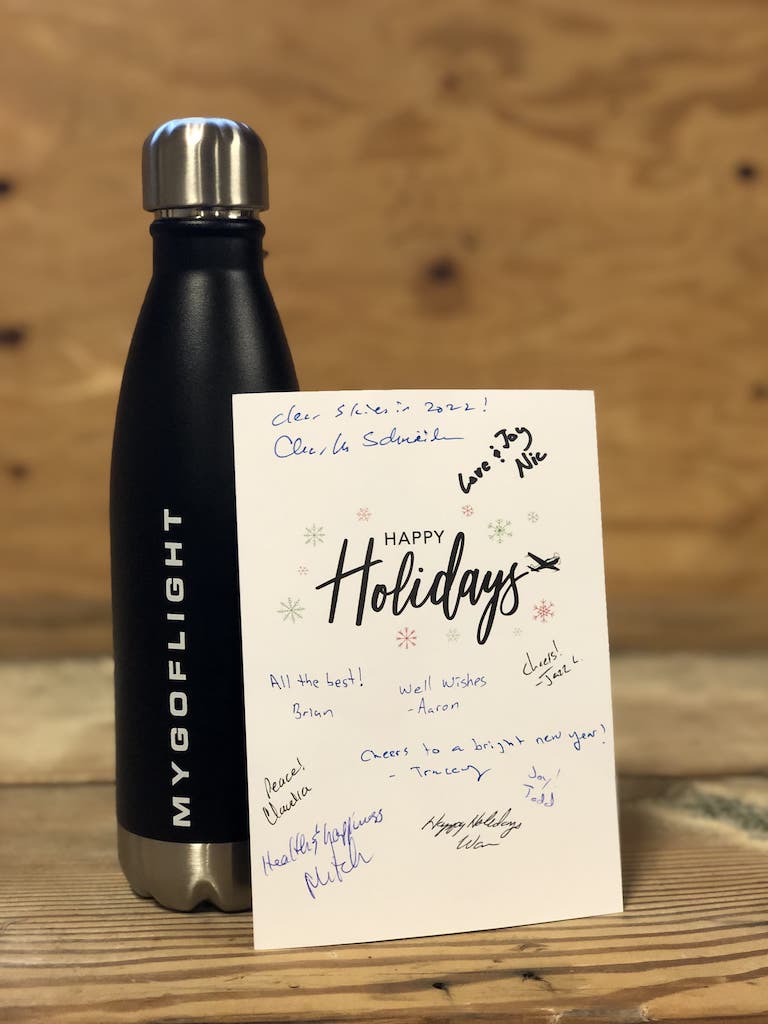 Along with the water bottle was a card. On one side was the MyGoFlight logo with some snowflakes. On the reverse was the printed inscription "Happy Holidays." On that side are handwritten notes from 10 MyGoFlight employees.
Right at the top it reads, "Clear skies in 2022, Charles Schneider."
I am certain I am not the only one who received such a package.
And while a branded water bottle is but a simple memento, this one means more to me now.
I've placed the water bottle and card on a book shelf near my desk. From now on, I'll get to re-live the memory of Jack and I as we searched for this package.
I don't believe it is possible to fully flight plan our entire life all the way to the end. We just don't know what is coming around the next corner.
It won't be today or tomorrow, but I hope for Charlie's family and those at MyGoFlight, the skies will soon become a bit clearer.
Godspeed Charlie.