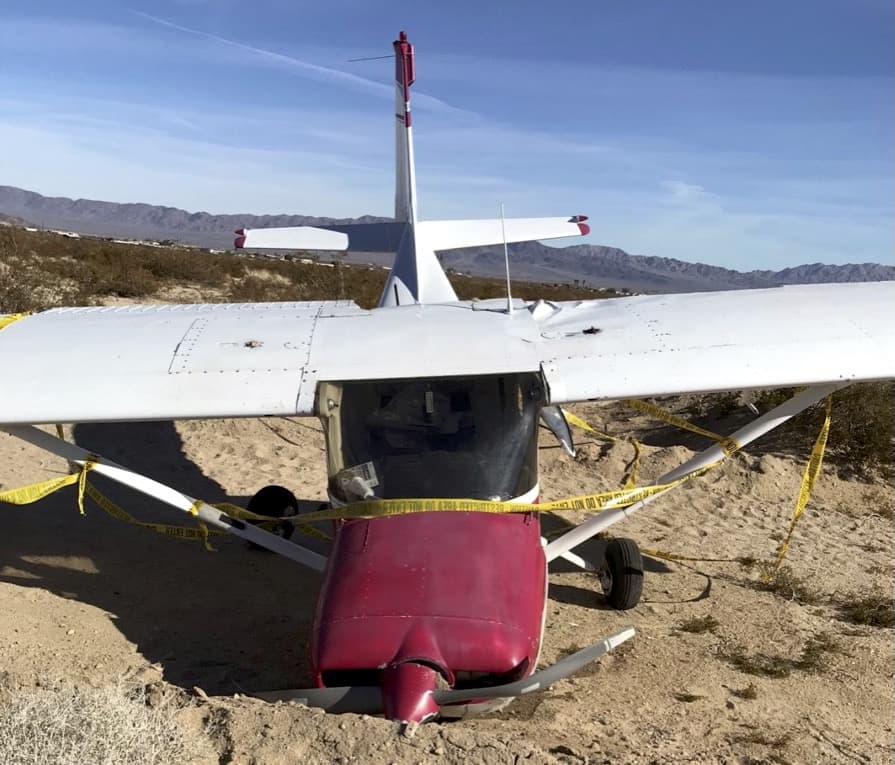 The pilot reported that upon arrival at the airport in Twentynine Palms, California, after dark, he attempted to activate the pilot-controlled lights by keying the mike seven times. He waited a short period and repeated the process two more times, but the runway lights did not turn on.
He circled the area to try to locate the airport, but was unsuccessful. He was now low on fuel, so he began to look for a place to make a precautionary landing. The Cessna 150 landed on a dirt road. During the landing rollout, the nose landing gear separated, and the left wing was substantially damaged.

The pilot reported that there were no mechanical malfunctions or failures with the airplane that would have precluded normal operation.
The FAA Airport Facility Directory identified that medium intensity runway lights were available at the airport. To activate the pilot-controlled lighting, the pilot is to key the mike five times in five seconds for medium or lower intensity lights. The pilot reported that he did not check what the proper procedures were for operating the pilot-controlled lighting for the runway.

Airport personnel performed a check of the pilot-controlled lighting system the following day and reported that there were no malfunctions with the system.
Probable Cause: The pilot's poor preflight planning, during which he failed to verify the proper procedure to activate the runway lights; his inability to locate the airport without lighting; and the airplane's subsequent low-fuel state as he circled looking for the airport, which necessitated a precautionary off-airport landing, during which the nose landing gear separated.
To download the final report. Click here. This will trigger a PDF download to your device.
This January 2020 accident report is provided by the National Transportation Safety Board. Published as an educational tool, it is intended to help pilots learn from the misfortunes of others.