The latest FAA Airplane Flying Handbook includes, for the first time, a chapter on aircraft energy management.
Collaborating with the FAA on that chapter was Dr. Juan Merkt, an associate professor of aeronautical science at Embry-Riddle Aeronautical University.
The chapter offers an in-depth explanation of the factors affecting an airplane's energy use, emphasizing that energy management awareness is key to aviation safety, according to Merkt.
"Every pilot is an energy manager — managing energy in the form of altitude and airspeed from takeoff to landing," he said. "Proper energy management is essential for performing any maneuver, as well as for attaining and maintaining desired vertical flightpath and airspeed profiles in everyday flying."
"Mistakes in managing the airplane's energy state can be deadly," according to the FAA handbook. "Mismanagement of mechanical energy (altitude and/or airspeed) is a contributing factor to the three most common types of fatal accidents in aviation: Loss of control in-flight (LOC-I), controlled flight into terrain (CFIT), and approach-and-landing accidents."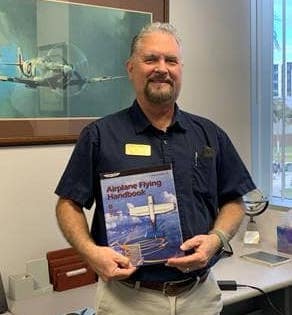 Merkt, who created a course called "Safety Principles of Aircraft Energy Management" at Embry-Riddle, added he would like aircraft energy management to be incorporated into pilot training to help improve both safety and efficiency.
"Despite their impact on safety and economy, energy management skills are not adequately taught or evaluated in civilian pilot training," Merkt said, pointing out that in-flight energy crises can lead to fatal accidents.
He added that as the aviation industry heads into a surge of pilot hiring, most new pilots will come not from the military, where pilots are trained in energy management skills, but from civilian training programs.
Meanwhile, a focus on energy efficiency is also a "first step toward embracing principles of sustainability," he said.
Merkt is also involved in an FAA-sponsored research project with colleagues from Florida Institute of Technology and Georgia Tech that explores the energy requirements for certification of electric aircraft with vertical takeoff and landing capabilities.