The NTSB has released an Aviation Investigation Report (AIR-22-03) urging the FAA to address safety issues relating to common traffic advisory frequencies (CTAF) in Alaska.
The recommendations come after an NTSB investigation into a midair collision involving a deHavilland DHC-2 and a Piper PA-12 that occurred on July 31, 2020, near Soldotna, Alaska. The pilot and five passengers on the DHC-2 were killed in the collision, as was the pilot on the PA-12.
What You Should Know
The PA-12's departure location did not have an air traffic control tower. As a result, communication among aircraft departing Soldotna Airport (SXQ) and aircraft transitioning the area was via the CTAF of 122.5 MHz, which was published on the visual flight rules sectional chart and FAA chart supplement for the area.
Because both airplanes were operating in uncontrolled airspace, it was the responsibility of both pilots to see-and-avoid any aircraft flying in their vicinity and maintain separation from them.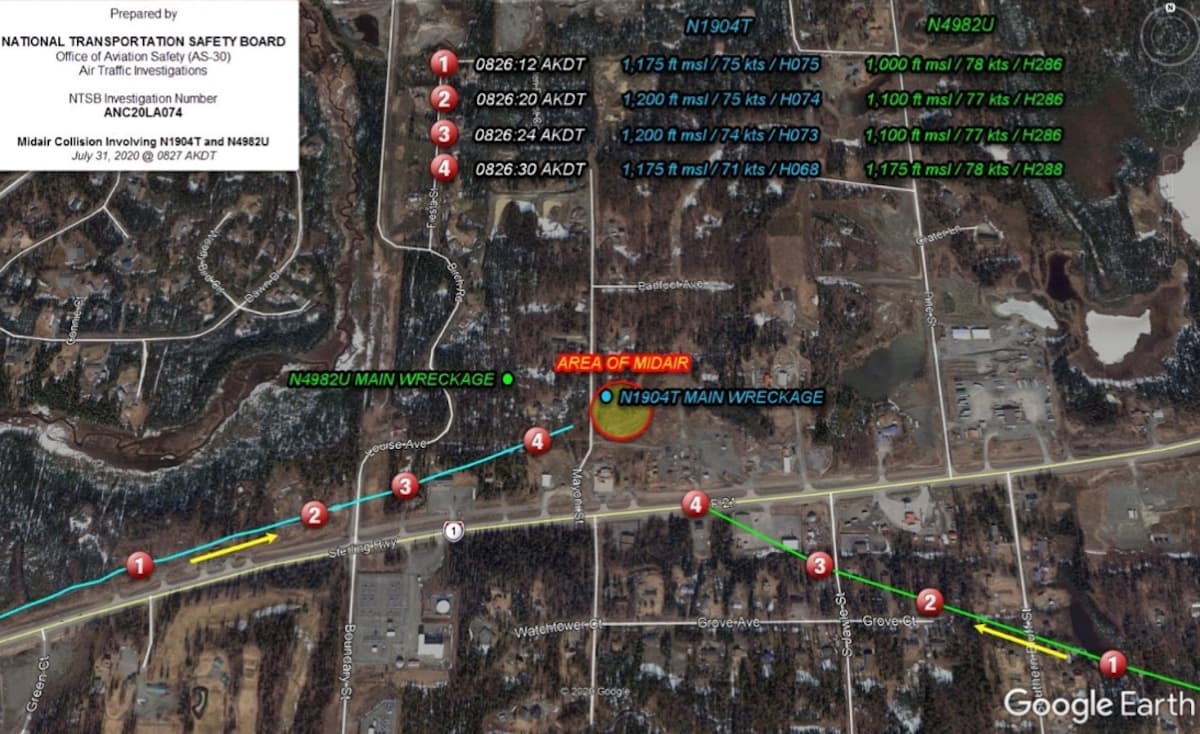 NTSB investigators said they "concluded that, without a requirement that pilots report their positions on the designated CTAF frequency when operating in CTAF areas, pilots may remain unaware of the presence of other airplanes even though a method of communications exists."
This means, officials say, that the benefits of establishing CTAF areas "are not fully recognized."
The NTSB recommended that the FAA require all pilots to monitor and communicate their positions on the designated CTAF when entering and exiting dedicated CTAF areas throughout Alaska, as well as near established reporting points and airport traffic patterns within the CTAF area, unless already communicating with air traffic control.
NTSB officials also asked the FAA to establish additional CTAF areas in locations throughout Alaska at a high risk of midair collisions, designate one frequency that is associated with all non-towered airports within the geographical boundaries of these CTAF areas, and define mandatory position reporting locations and reporting requirements within these areas.
The prevention of midair collisions, especially in Alaska, has been a focus for the NTSB and the aviation industry for many years. Between 2005 to 2020, 14 midair collisions occurred in Alaska, 12 of which occurred in uncontrolled airspace. These midair collisions resulted in 35 fatalities and 15 serious injuries.
You can read the full Aviation Investigation Report at NTSB.gov.