Avionics sales in the first three months of 2022 topped $634 million, an 11.6% increase from the $568 million sold the same time last year.
What's even better is that first-quarter sales increased 4.8% from the fourth quarter of 2021, marking the seventh consecutive quarter of increasing sales, according to the latest Avionics Market Report from the Aircraft Electronics Association.
The increase in sales was driven by a 34.6% increase in forward-fit sales compared to the same time a year ago.
The more than $354 million in forward-fit sales was the largest sales total in that category since the third quarter of 2019 when more than $366 million in forward-fit sales were reported.
"This quarter's report is unique in the fact that year-over-year forward-fit sales jumped 34.6%, which coincides with increased airplane deliveries, and we simultaneously saw year-over-year retrofit sales decline 8.3%," said AEA President and CEO Mike Adamson.
Of the more than $634 million in first-quarter 2022 sales, 44.2% came from the retrofit market (avionics equipment installed after original production), while forward-fit sales (avionics equipment installed by airframe manufacturers during original production) amounted to 55.8%.
According to the companies that separated their total sales figures between North America (U.S. and Canada) and other international markets, 72.7% of the first-quarter sales volume occurred in North America, while 27.3% took place in other markets, AEA officials report.
The dollar amount reported (using net sales price, not manufacturer's suggested retail price) includes all business and general aviation aircraft electronic sales, including all component and accessories in cockpit, cabin, software upgrades, portables, certified and noncertified aircraft electronics; all hardware (tip to tail); batteries; and chargeable product upgrades. The amount does not include repairs and overhauls, extended warranty, or subscription services.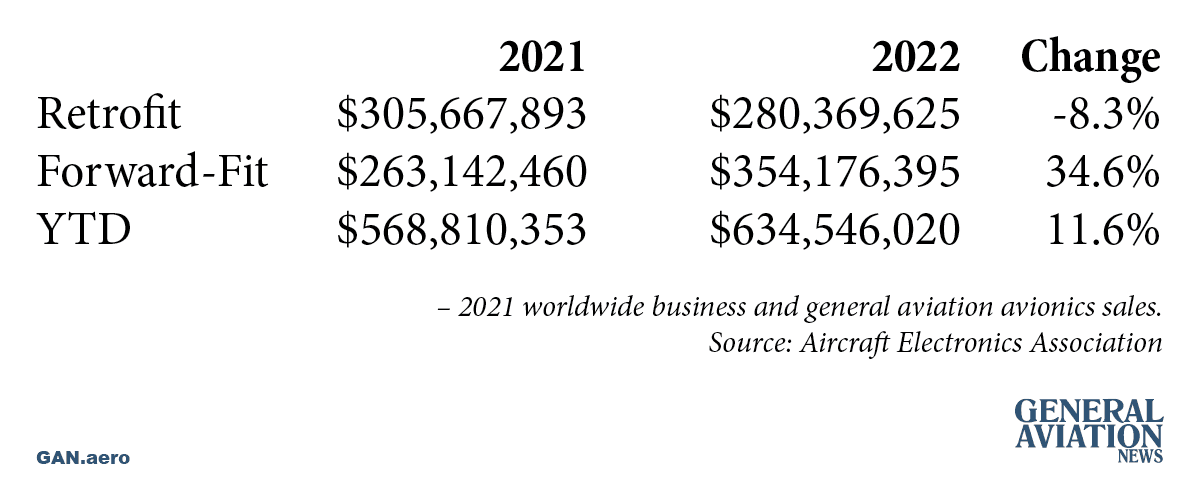 To ensure confidentiality, the participating manufacturing companies submit their sales figures to an independent third-party firm retained to produce the AEA Avionics Market Report. The companies currently participating in the report include:
ACR Artex
ALTO Aviation
Anodyne Electronics Manufacturing Corp.
Appareo
Aspen Avionics
BendixKing
Blue Avionics
Collins Aerospace
FreeFlight Systems
Garmin
Genesys Aerosystems
Gogo Business Aviation
Honeywell Business & General Aviation
Jupiter Avionics
L3Harris Technologies
Mid-Continent Instruments and Avionics
PS Engineering
Sandel Avionics
Sandia Aerospace
Shadin Avionics
Trig Avionics
Universal Avionics, an Elbit Systems Co.
More information about the AEA Avionics Market Report is available at AEA.net/MarketReport.