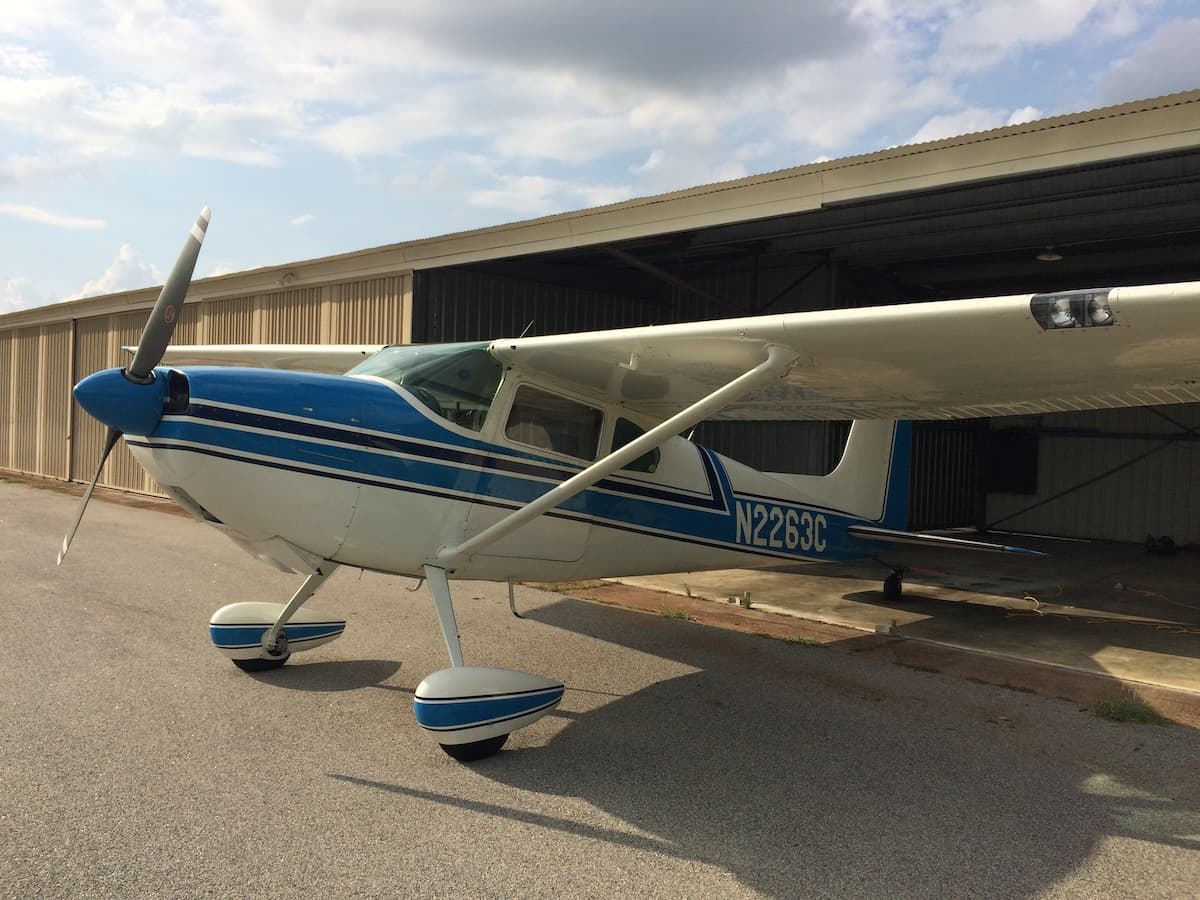 It is approximately 850 miles direct from West Bend Municipal Airport (KETB) in Wisconsin, near Oshkosh, to my home airport, Marion County Airport (KMAO) in South Carolina.
That was my planned route on Friday, July 29, after four days at EAA AirVenture Oshkosh 2022. But the weather changed things drastically.
Instead of a nearly straight shot across the Appalachian Mountains, I ended up on a cross country that would not end, stretching almost 1,300 miles down through Illinois, Kentucky, Tennessee, and finally dipping into Mississippi before I could turn homeward.
For the better part of two days fellow pilot John Jordan and I futilely kept looking east, envisioning an end run in my Cessna 180 around a nasty storm front that eventually, tragically battered thousands of Kentuckians.
To get home we completed a dogleg extraordinaire, descending from the Great Lakes to Mississippi, then turning hard east. We didn't go around the weather so much as simply fly south until we ran into another system coming from the Gulf of Mexico.
When we lifted off under a clear sky from KETB optimism reigned despite the gathering storm already predicted to eventually bar most of the VFR crossing points through the mountains later that day.
My flying partner for the trip, John Jordan, is an amiable Palmetto State physician and accomplished Piper Arrow driver. Our aircraft was N2263C, a 1953 Skywagon I have owned for the past three years. And we were on visual flight rules with flight following whenever possible.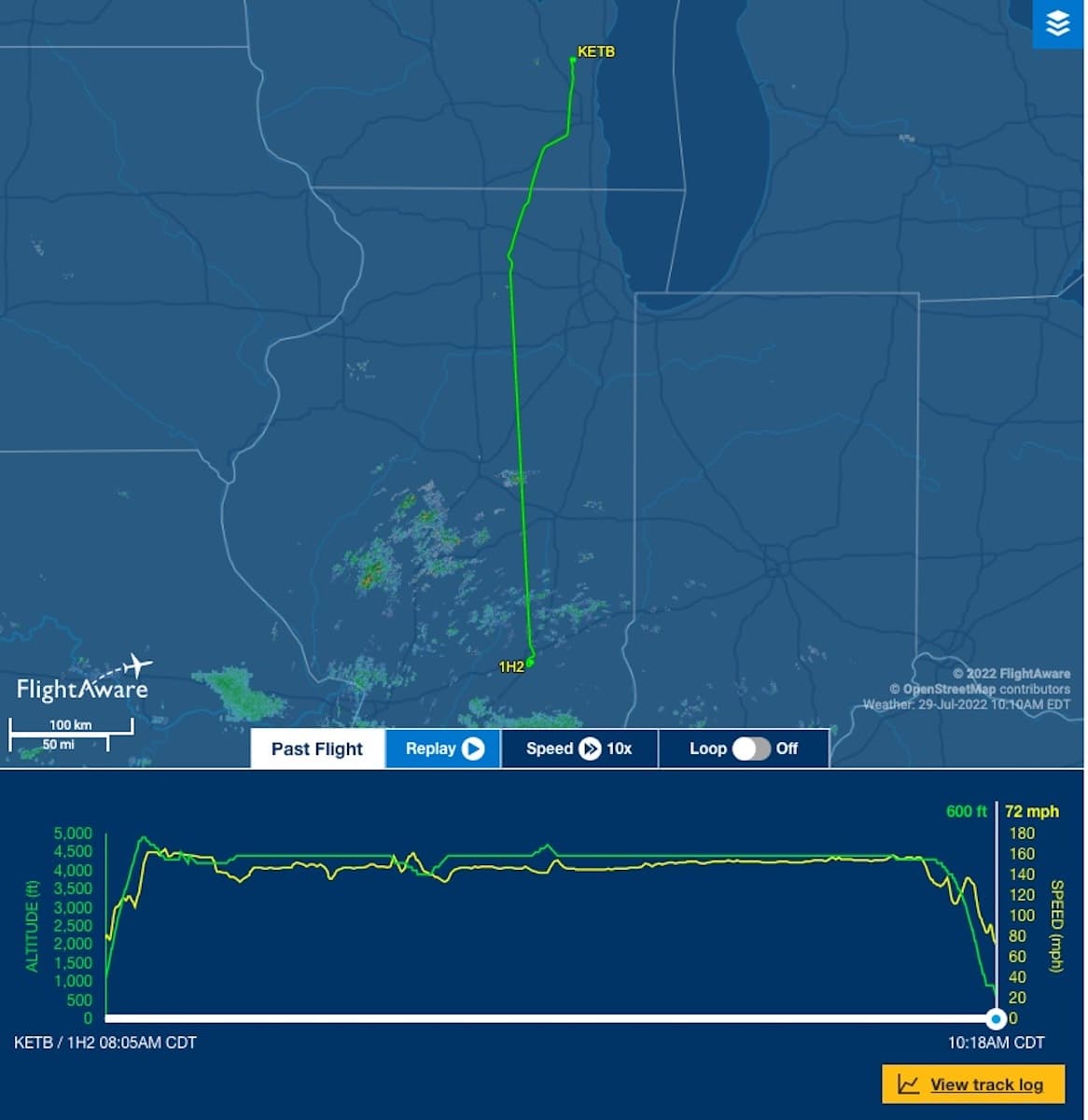 Repeated consultations with the weather briefers Thursday night revealed there was no easy way home via the north. There were, however, still openings to the south. The initial two hours down into Illinois were picture perfect. The first stop was Effingham County Memorial Airport (1H2) in Illinois, 2 hours, 13 minutes and 324 miles from West Bend. However, our center controller warned we would soon encounter the storm system moving rapidly into Kentucky.
About 30 minutes out of Effingham, the ceiling began to come down. And 10 minutes before the Kentucky border we backtracked to get under a solidifying layer of cloud cover at 2,500 feet. Although I am instrument-rated my aircraft is not IFR certified, so we remained VFR.
The second leg came to an end on the Illinois-Kentucky border after 66 minutes when our then 2,000-foot ceiling precipitously dropped to 1,000 in just one minute. We circled back again, descended over farmland, and located Metropolis Municipal Airport (M30) in Illinois, five miles distant.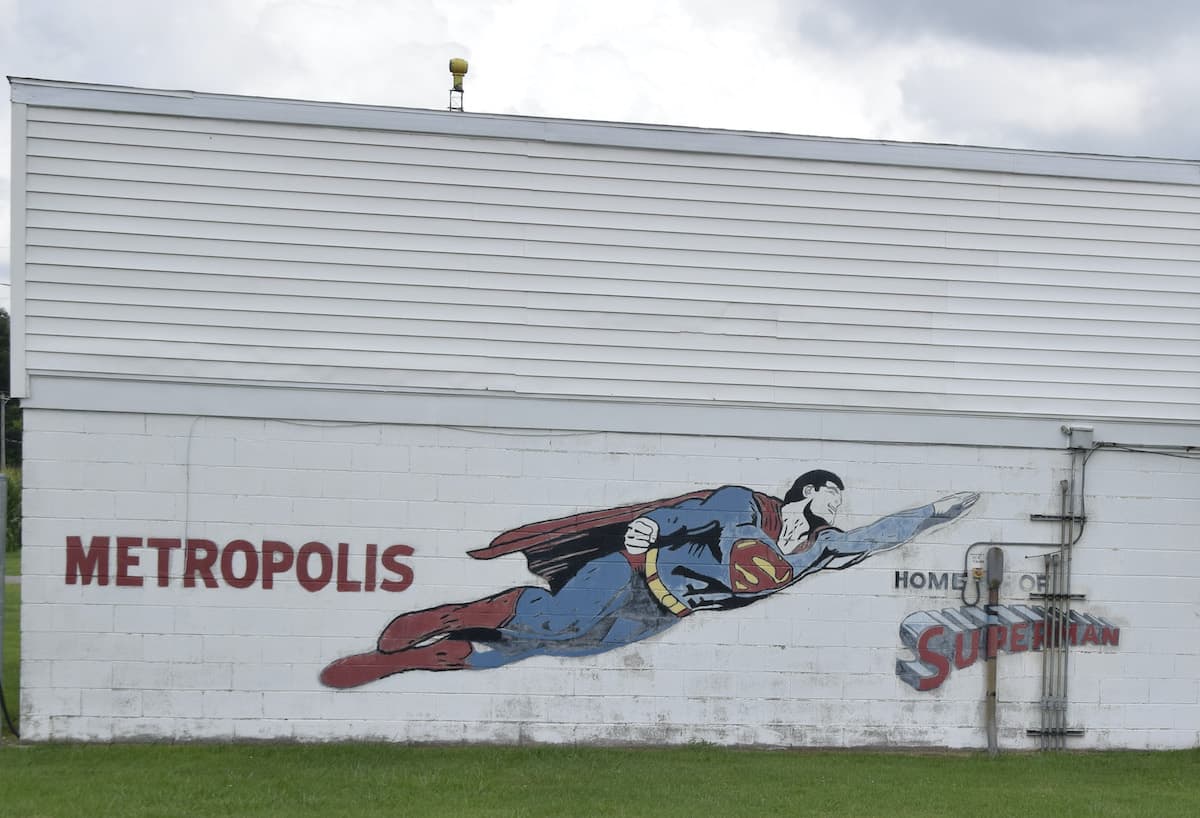 Upon landing we were greeted by a color mural of Superman adorning the front wall of the little cinder block airport office and waiting room. We had unknowingly arrived at the fictional home of the Man of Steel.
I taxied to a tie-down in front of the building and before we could shut down St. Louis Center came on the 122.8 common traffic frequency.
"Two, two, six three Charlie, St. Louis Center," a voice called out.
I answered.
They just wanted to be sure we were okay, considering the weather ahead.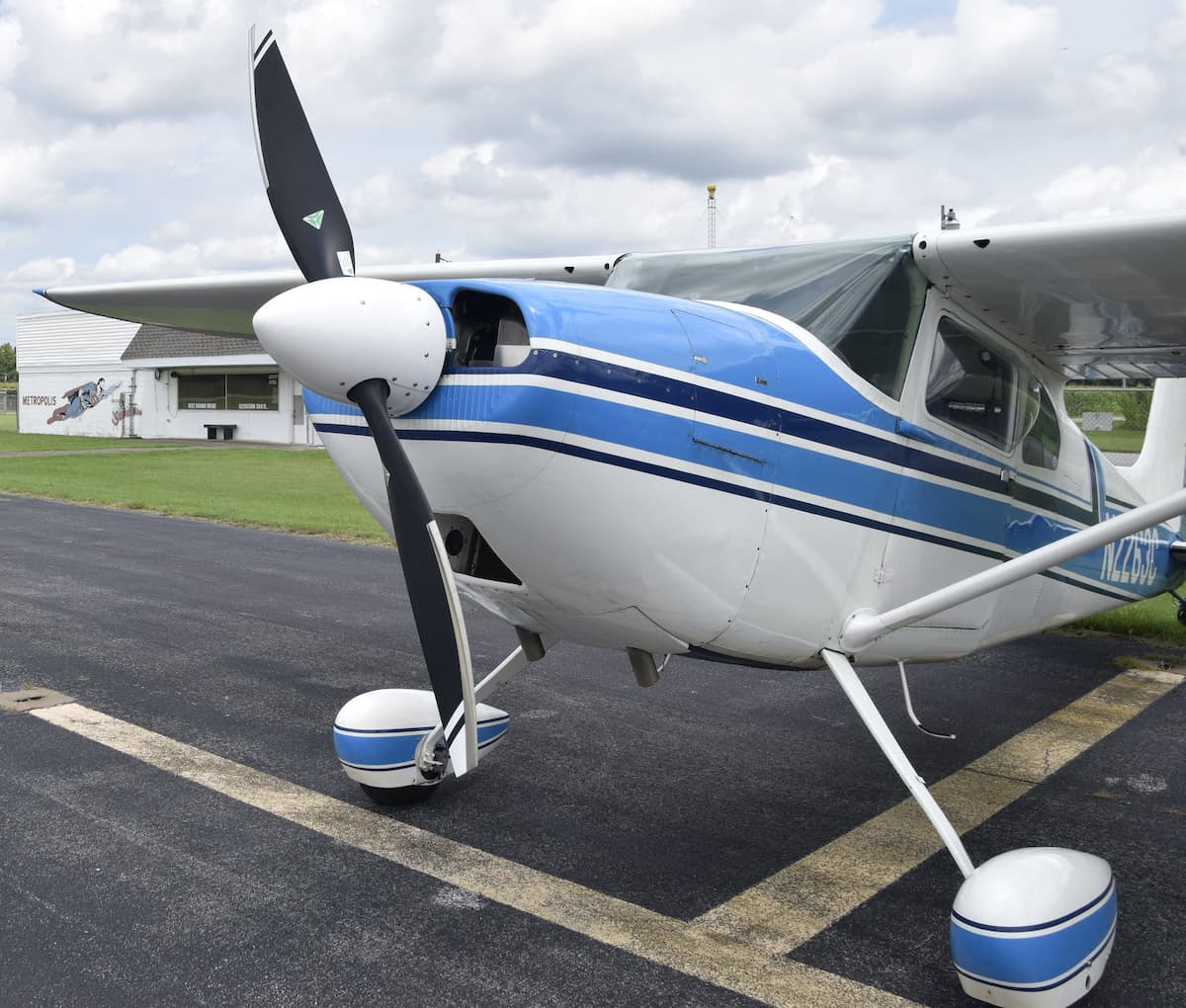 During our four-hour stop the forecast remained unchanged. That day, there would almost certainly be no VFR dash through the mountains for anyone in Georgia, the Carolinas, or southern Virginia.
Conditions south toward Biloxi, Mississippi, would improve in the mid-afternoon and hold until nightfall. And the forecast for the following day for Starkville, Mississippi, where I have friends, was promising. Our best choice was to move on when the ceiling lifted and get through converging lines of thunderstorms about an hour away before the gap closed.
Leaving Metropolis, we crossed over the Ohio River near Paducah, Kentucky, and made a zig here and a zag there to avoid clouds, encountered light rain multiple times, blinked hard at jagged lightning flashing to the west, and finally scooted between imposing, facing walls of rain in northern Mississippi.
Just like that, we had clear skies again. Behind us, the gap we crossed through was closing quickly, eventually walling up one of the last openings for VFR traffic across the mountains.
Before leaving Metropolis I made two phone calls. The first was to the owner of Oktibbeha Airport (M51), a grass airport outside Starkville, the second to an old friend in the city. Both welcomed our unexpected visit, but warned we needed to arrive before a predicted lightning storm forecast shortly after 8 p.m. That was just one more sprinkle of spice into an already well-seasoned flying day.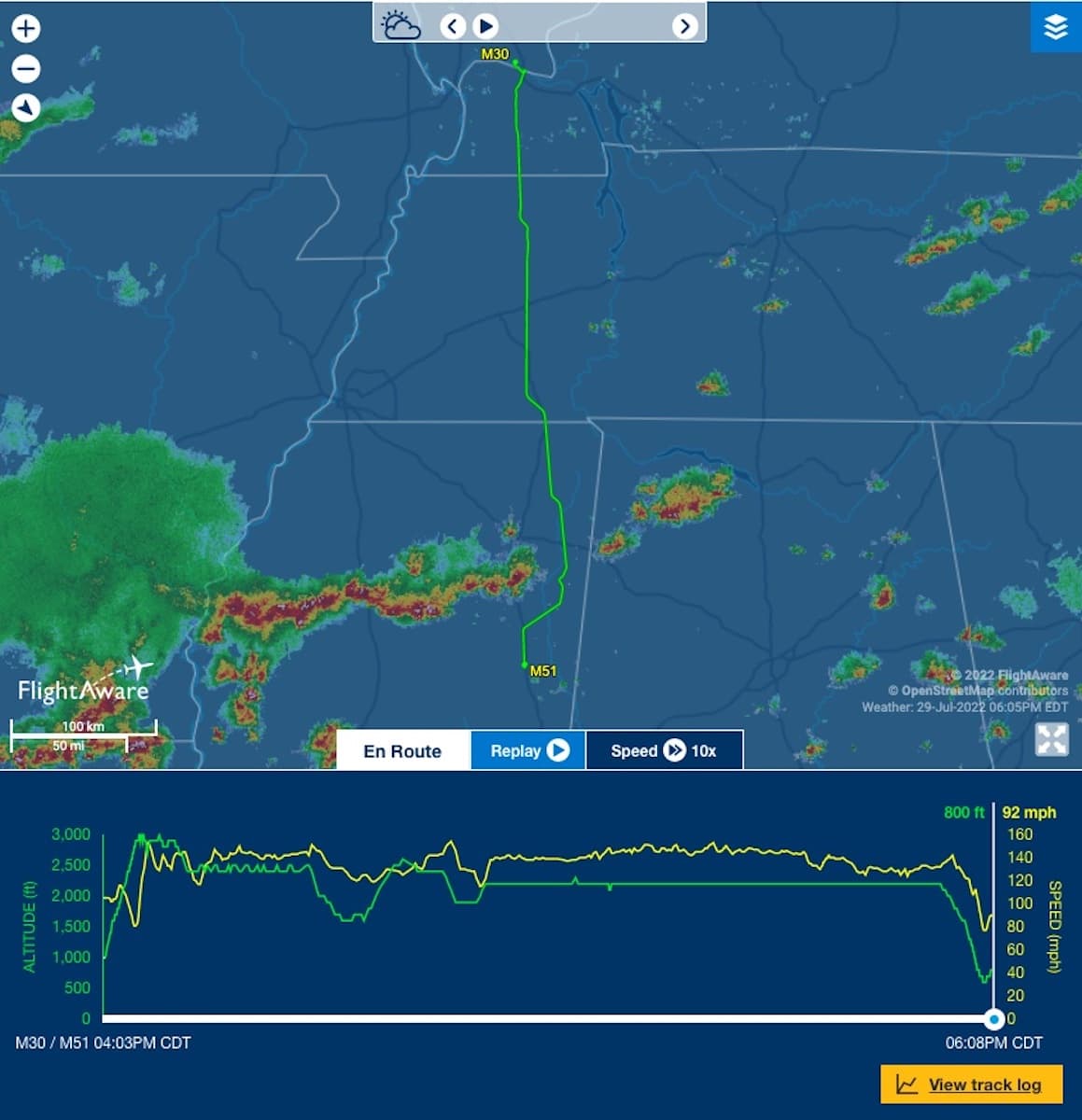 We landed on the lush grass of M51 two hours and five minutes after departure from Metropolis and pushed the plane under a hangar shed at the field, which is also known as Camp's Farm. The rolling farm, complete with two sod runways and an old barracks building, was a World War II military pilot training base. Airport owner Doug Camp, grandson of the flight instructor who trained those military aviators, flies corporate assignments and also leads humanitarian missions to Central America. Old friends from my flying days in Germany, Karol and Dale Peyton, picked us up, fed us and provided overnight accommodations.
Saturday morning dawned beautiful and clear. But upon arrival at the farm, we discovered an ominous trail of black ants climbing the left landing gear before disappearing under the door. Hundreds of them spread out over our gear and the cockpit interior. I hastily emptied most of a borrowed can of insect killer on the carpet, our bags, and even the seats of the plane. That worked.
At Atlanta we intended to fly around the eastern side of the Class B outer ring until reaching an inviting, wide opening of blue sky between towering, cumulonimbus clouds (CBs). However, when we got closer the opening turned out to be a massive sucker canyon of sorts. It was an oddly blue-tinted CB just waiting for someone to fly into. Our sudden course reversal prompted a questioning call from flight following. We stated our intentions to skirt Class B to the north and fuel in Jackson, Georgia, before the final push to Marion.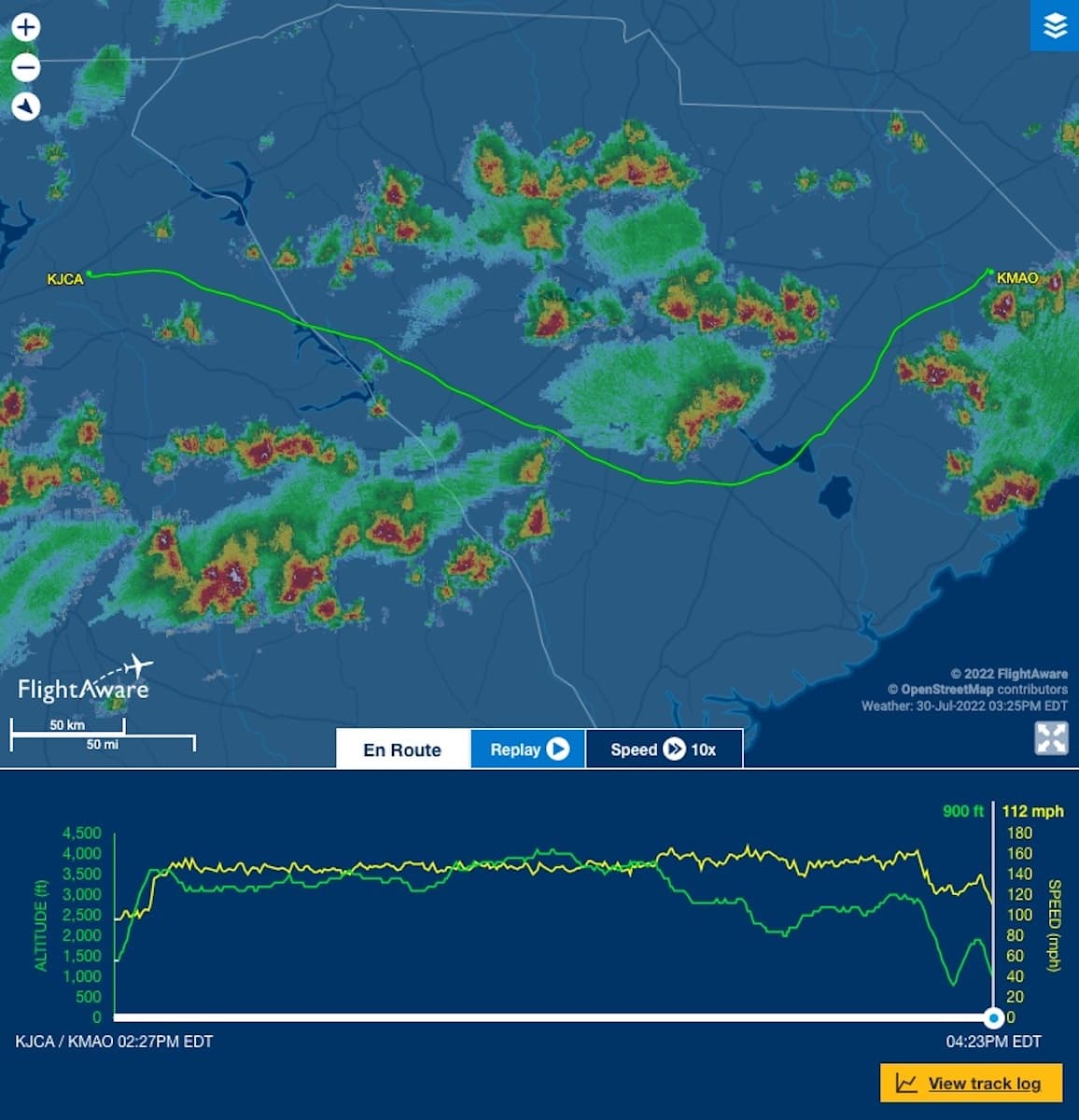 It should have been 242 miles direct from Jackson County Airport (KJCA) in Jefferson, Georgia, to Marion. But as the line of mammoth CBs and green, yellow, orange, and red blobs on the weather screen grew by the minute, it was obvious direct was not in the cards. Our options were to fly almost to Charlotte to get around the weather on the north side of Columbia, South Carolina, or head toward Charleston before curving around on the south side. We chose Charleston.
Over Commerce, Georgia, we diverted to avoid heavy rain, crossed through light drizzle that lubricated the bug splatter on the windscreen, watched descending bolts of lightning on the southwest side of the McCormick County Airport (S19) in McCormick, South Carolina, and kept on flying indirectly toward Marion.
Southeast of Orangeburg we witnessed the worst weather of the trip as a 10-mile-long curtain of soot black clouds was repeatedly illuminated from the inside by repeated lightning discharges.
After Orangeburg, it appeared we had a trouble-free shot home until our ADS-B weather showed two heavy, converging concentrations of rain on opposite sides of Florence, a half hour ahead. By the time we passed through the opening, it had narrowed considerably.
In the pattern at KMAO, we were lucky the prevailing wind favored Runway 22 because heavy rain and a substantial patch of red showed up on the weather screen and more emphatically out our windscreen along the approach path for Runway 4.
On the ground, moving in quickstep, we had the plane in the hangar within 10 minutes of arrival. Not long afterwards, a torrent rivaling the intensity of a tropical downpour thundered onto the corrugated steel roof of the hangar and continued for half an hour.
That last touch of weather seemed a fitting conclusion to the cross country that would never end. Until it did.
Flight stats
For the dogleg route we flew 1,238 statute miles in 12.5 hours.
Altogether in a week of flying from Marion to Granite Falls Municipal Airport (KGDB) in Minnesota, the headquarters of the Fagen Fighters WWII Museum, to West Bend for AirVenture and finally back to Marion, we covered 2,660 miles in 25.1 hours.
Our total fuel burn was 228 gallons and the bills totaled $1,627.91 for an average of $7.14 per gallon, including tax.