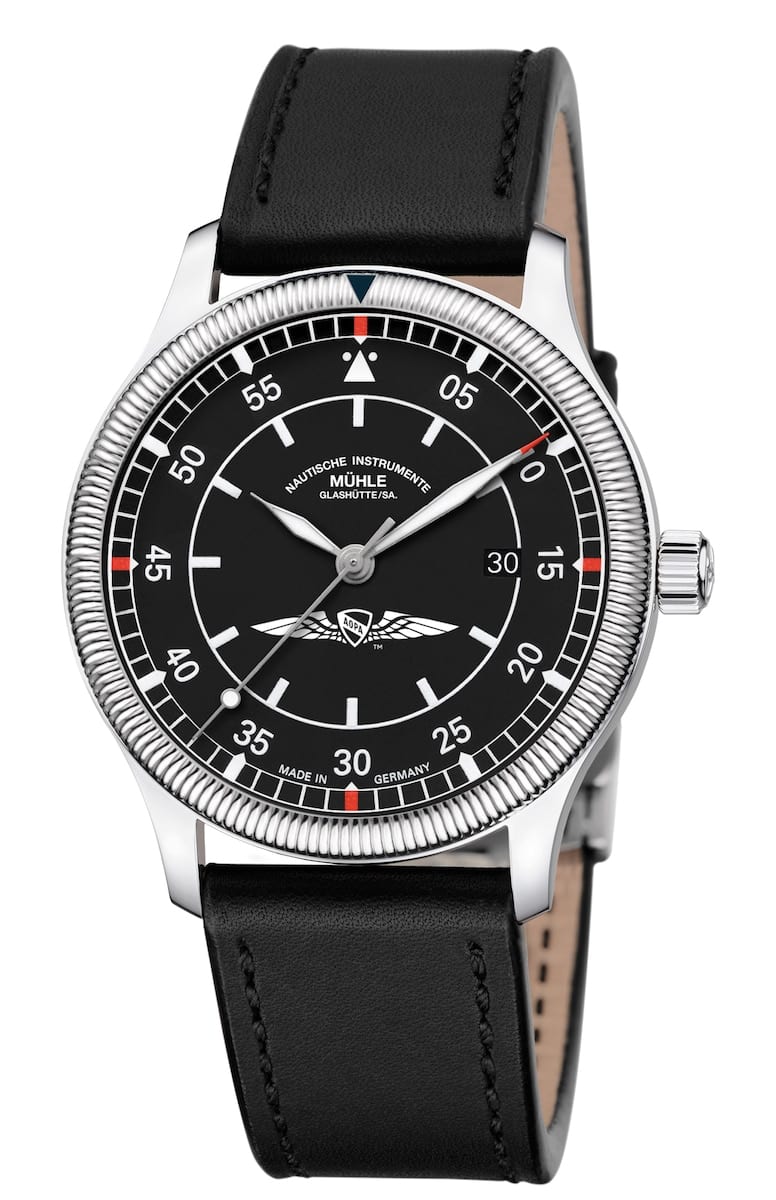 Linda, an FBO employee in California, writes: What can you tell me about pilot's watches? It seems like all the pilots I see — especially the men — wear HUGE watches. Is this something they actually need? Or is it a style thing? And are they as expensive as they look?
The answers to your questions are: No, yes, and maybe.
But I'm guessing you'd like a little more detail, huh.
Let me start with function. At one time in the past, a timepiece was an indispensable navigational tool for aviators, and pilot's watches go back to nearly the dawn of aviation.
In fact, the very first one was made by Louis Cartier in 1904 for celebrity pioneer aeronaut and aviator Alberto Santos-Dumont.
The exact story of how this came about is a bit muddled, with quite a bit of variation in the historical accounts, but the gist of it was that Santos-Dumont found it hard to check his pocket watch while flying his airships. Some say Santos-Dumont complained to Cartier about this at a party in Paris. Others say Santos-Dumont commissioned a solution. But either way, the famous watch-maker crafted a square-shaped wrist-worn timepiece for Santos-Dumont, who was so taken with it that he took to wearing it all the time, not just while flying.
Now, you need to understand that, at that time, wrist watches were largely fashion accessories for well-dressed and well-heeled ladies. They were a form of jewelry, nothing more, and there just weren't wrist watches for men. Men used pocket watches.
Santos-Dumont changed that. He was an international celebrity in a way that's hard to grasp in the modern imagination. Hardly a newspaper (the internet of its day) didn't appear without his photo in it somewhere, and people started asking: What is that on his wrist? Only, you know, those being more genteel times, they probably said something more stuffy and respectable like, "I say, old chap, what do you propose could possibly be on that fine gentleman's wrist?"
Anyway, it wasn't long before wrist watches for men took off. But while Cartier and Santos-Dumont launched the fashionable wrist watch for men — and in fact, the "Santos Watch" is still made by Cartier today — oddly, the idea didn't take off with other pilots.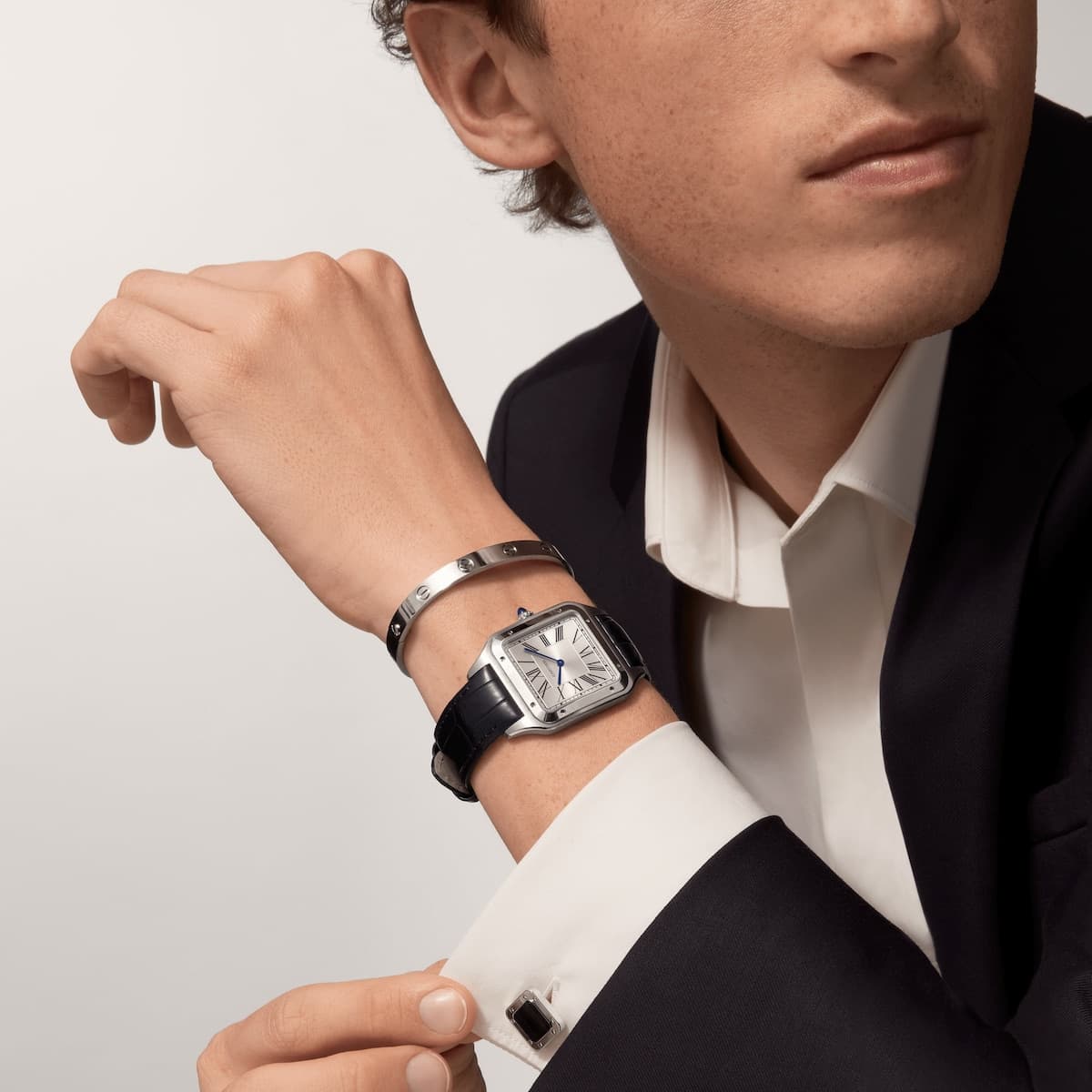 Instead, panel-mounted pocket watches ruled the skies and cockpits up to and through World War I. But at the close of the war, in what might be one of the first successful deployments of a celebrity product placement, the Hamilton watch company gave all the early airmail pilots wrist watches, and it wasn't long before other pilots began ditching the panel watch for the wrist watch. Whether it was a matter of admiring the utility or a matter of admiring the look, I'll leave for you to decide.
Hamilton makes pilot watches to this day, including 2018's maddeningly-complex X-wind, that features a wind drift calculator — some truly serious engineering which I doubt anyone has ever seriously used in a cockpit — because, to answer the "need" part of your question, with all the other innovations in aviation, a watch is no longer needed to fly an airplane. Frankly, it's now just part of the unofficial uniform of the trade, like the sunglasses and the leather jacket. Yeah. It's all about style nowadays.
Now, as to size. You mentioned that the watches you see are HUGE. It's true that modern aviator watches tend toward the extreme outer envelope of both diameter and thickness in the wrist watch ecosystem. But, ironically, the original Cartier watch was actually pretty small. So what supersized the pilot's watch?
Well, Santos-Dumont was a gentleman flying early airships and the slowest of heavier than air aircraft. His watch was appropriate for both his needs and his wardrobe. But as aviation rapidly advanced, so did speed and exposure to the elements.
With the advent of commercial and military aviation, not only were aircraft faster, but pilots also had to fly to fulfill the post office's mission, "Neither snow nor rain nor heat nor gloom of night stays these couriers from the swift completion of their appointed rounds."
That required a change of wardrobe for pilots. The gentleman's hat was replaced by the leather helmet. The suit coat by the flight suit. Bare hands hid in heavy gloves. And the pilot's watch, too, evolved to match.
One of the first truly HUGE pilot's watches is the Longines Hour Angle Watch, an aviator's timepiece designed by none other than Charles A. Lindberg. At 47.5 mm, it's roughly the diameter of a small pizza. OK, that's an exaggeration, but it's much larger than even the largest of most modern wrist bling, even the aviation variety. And it was thick, too, a full 16.3 mm. The massive watch, at nearly four-and-a-half ounces, can affect weight and balance. At least the weight and balance of your wrist. That's THREE TIMES the weight of an Apple Watch, for crying out loud.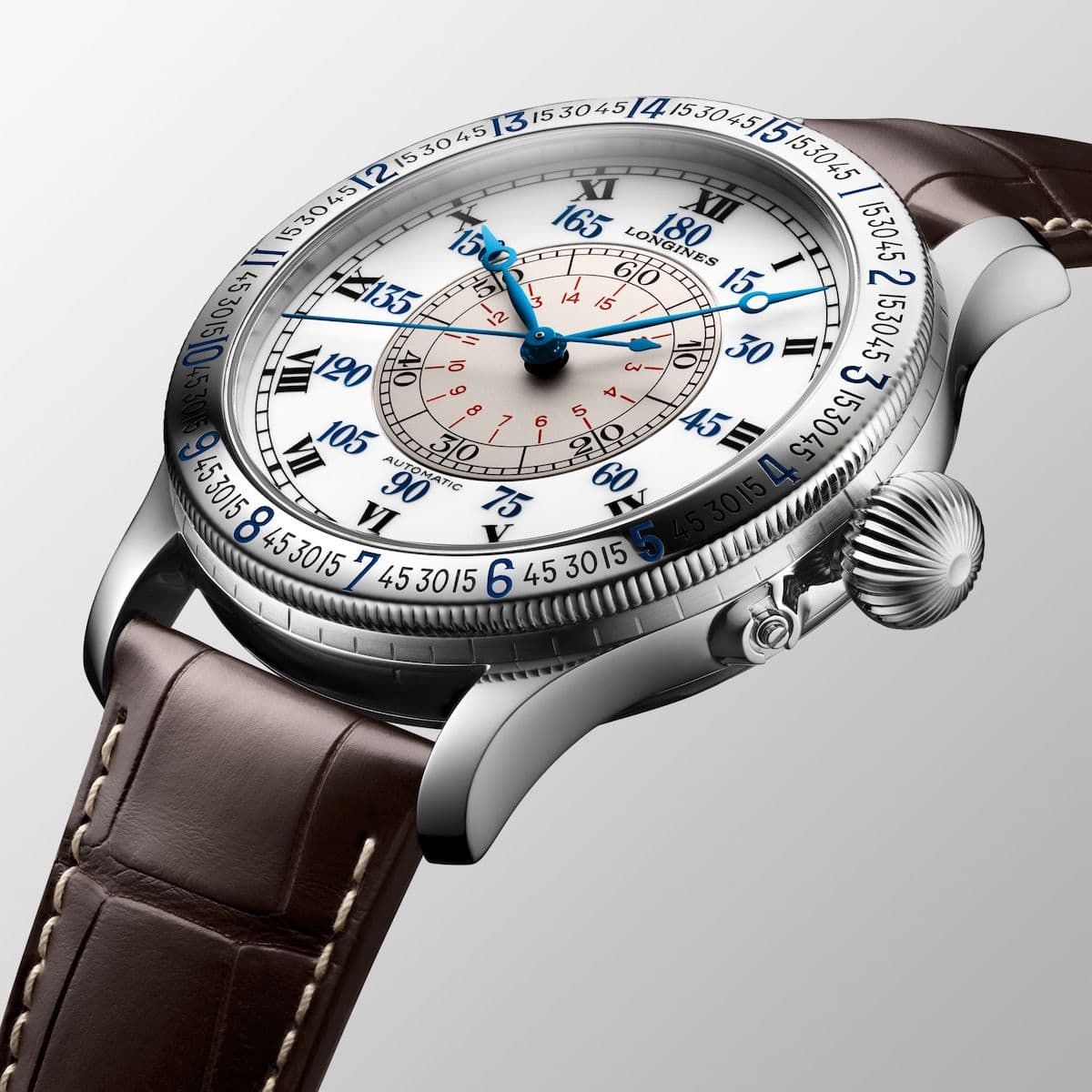 What's up with that? Lindberg doesn't seem like a guy who had to compensate for anything. Well, it was all about function.
Part of the large size made it easier to see in airplanes that required keeping your hands on the controls at all times plus, at that time, with the open cockpit, a wrist watch wasn't really worn on the wrist. Well, not like we think of it anyway. It was worn on top of the flight suit's thick, insulated cuff. That's also why the Angle Hour has such a crazy-big crown — so you can wind it with your gloves on.
Luckily, pilot's watches shrunk a bit after that, but they are still large, and that's probably more about traditional style than function, even when pilot's watches still had function.
So let's talk about price. The good folks at Timex make a number of pilot-themed watches for around $50. Really nice aviator watches, often featuring multi-dial chronometers, tend to run $500 to $1,000, but you can spend much, much more.
The Breitling 1959 Edition Navitimer with Aircraft Owners and Pilots Association (AOPA) wings on the face costs $39,500. Oh, plus another $550 for the alligator strap. Well, why not, if you're spending that much on a watch?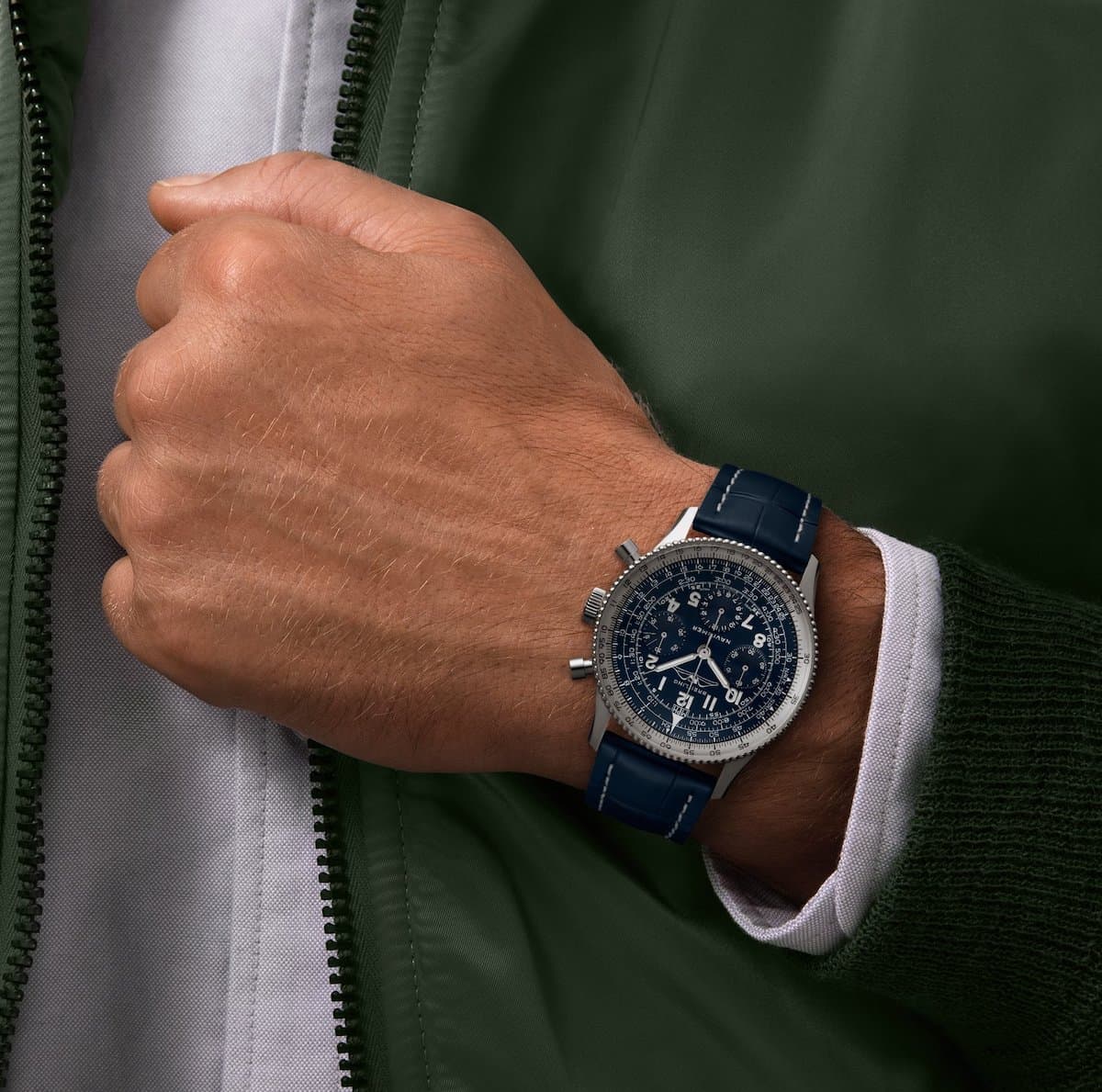 Yeah. My entire airplane didn't cost that much.
Why would anyone spend that much on a watch? For the same reason some men wear Rolex watches: It makes a statement about their wealth which, for many people, equates to status and success. Or it can, if people know what they are looking at.
I have two pilot's watches. My daily-use watch is an old Citizen Promaster Ironhawk. My dress watch is a Hamilton Khaki Air Race, the Red Bull Air Race Edition.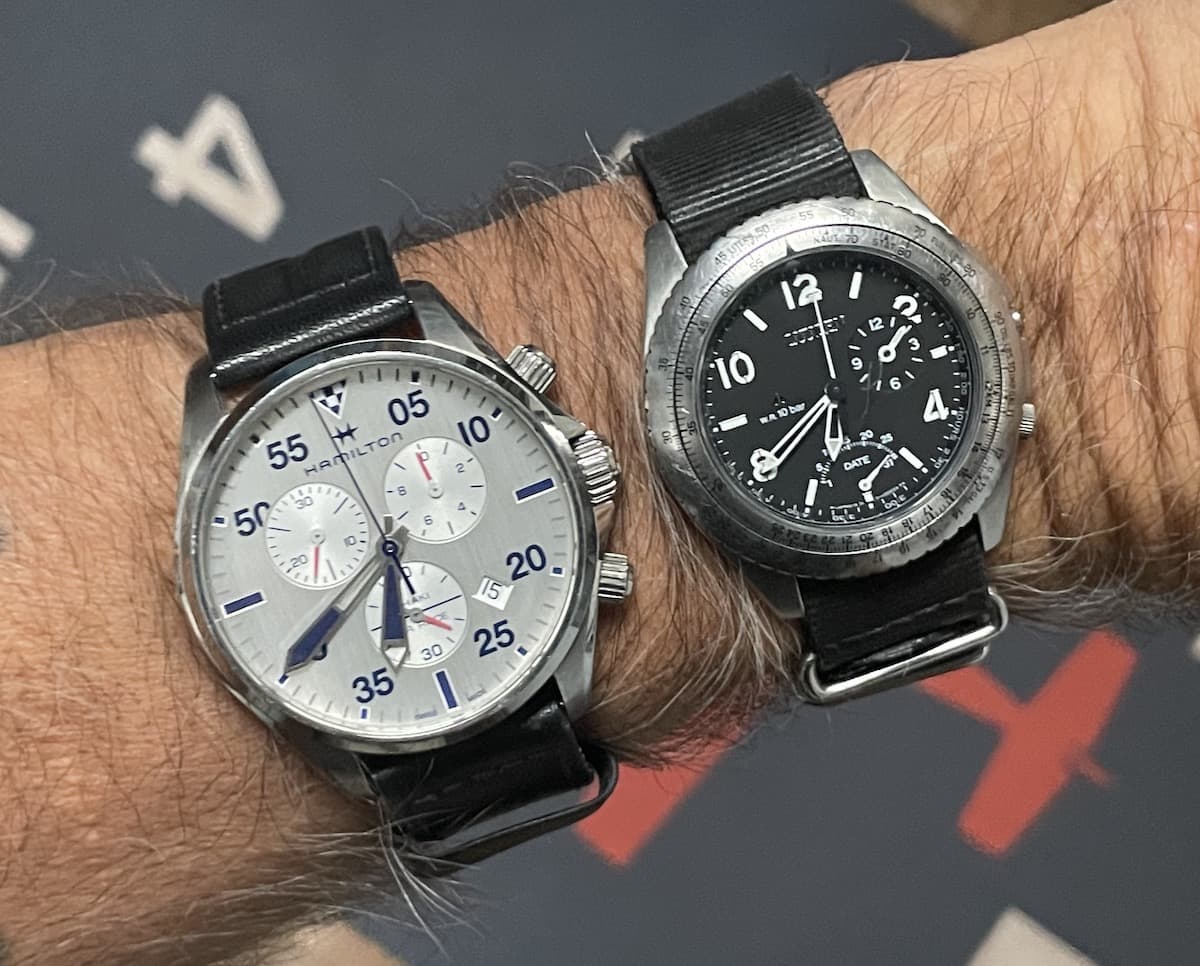 The Citizen is an unusual pilot's watch: Even though it has a fully functional E6B circular slide rule around the crown, it's a very normal size watch, and thin to boot, which suits my rather skinny wrist nicely. It's probably counterfeit, as I don't recall paying much for it, and in researching this column, I noted that most of the Promasters cost more than I would have paid for a watch at the time I bought it. But it keeps time well.
Do I use the watch's E6B? Nah. But I don't use a stand-alone E6B either. The truth is that I bought the watch because I liked the look of it.
My dress watch, the Hamilton, is bigger, thicker, and heavier. I once had a guy who ran a large auto dealership ask me if "it was one of those expensive pilot's watches." I didn't know how to respond. What does the manager of a large auto dealership think is expensive? I bought the Hamilton at the nadir of its value — after the Red Bull Air Races were canceled, but before stuff like this became collectable. I think it was about $500, so less than a modern Garmin watch, but quite a bit more than a decent Timex. I responded with a lame, "it's middle of the road." If I had been wearing a Timex and told the guy it was expensive, he wouldn't have known the difference.
But some people do know what the various pilot watches cost: Other pilots. And to be honest, I bought the Hamilton not for its looks (although I do find it a handsome watch), but rather for the look it gave me. I bought the watch to impress my students. And it worked.