The number of mid-air collisions in recent months has led the FAA to update its Advisory Circular regarding the pilot's role in collision avoidance.
The new AC, released Oct. 22, 2022, replaces one from June 2016, with updates regarding additional information regarding pilot actions, procedures, Notices to Air Missions (NOTAM), and aircraft technology to mitigate the risk of a pilot causing or being involved in a ground collision, in-flight collision, or near mid-air collision (NMAC).
"This AC is issued to assist pilots with their regulatory obligation to see and avoid other aircraft," FAA officials say in the AC's introduction. "Specifically, this AC looks to alert pilots to human contributors to midair collisions and NMAC, and recommend improvements to pilot education, operating practices, procedures, and improved scanning techniques to reduce midair conflicts."
"The most advanced piece of flight equipment in any aircraft is the human eye," FAA officials say. "Since the number one cause of midair collisions is the failure to adhere to the see-and-avoid concept, efficient use of visual techniques and knowledge of the eye's limitations will help pilots avoid collisions."
The AC notes that your vision is influenced by a variety of factors, such as:
Atmospheric conditions
Glare
Lighting
Windshield deterioration and distortion
Aircraft design
Cabin temperature
Oxygen supply (particularly at night), and
Acceleration forces.
Additionally, a pilot's vision is influenced by some characteristics of the objects you are viewing, including:
Your distance from the object.
The size, shape, and movement of the object.
The amount of light reflected by the object.
The object's contrast with the surrounding environment.
One inherent problem with the eye is the time required for accommodation or refocusing, the AC points out.
"It takes 1 to 2 seconds for eyes to refocus from something up close, like a dark instrument panel 2 feet away, to a bright landmark or aircraft 1 mile away," it continues.
This delay is significant, when the FAA estimates it takes 12.5 seconds to identify, react, and avoid a midair collision.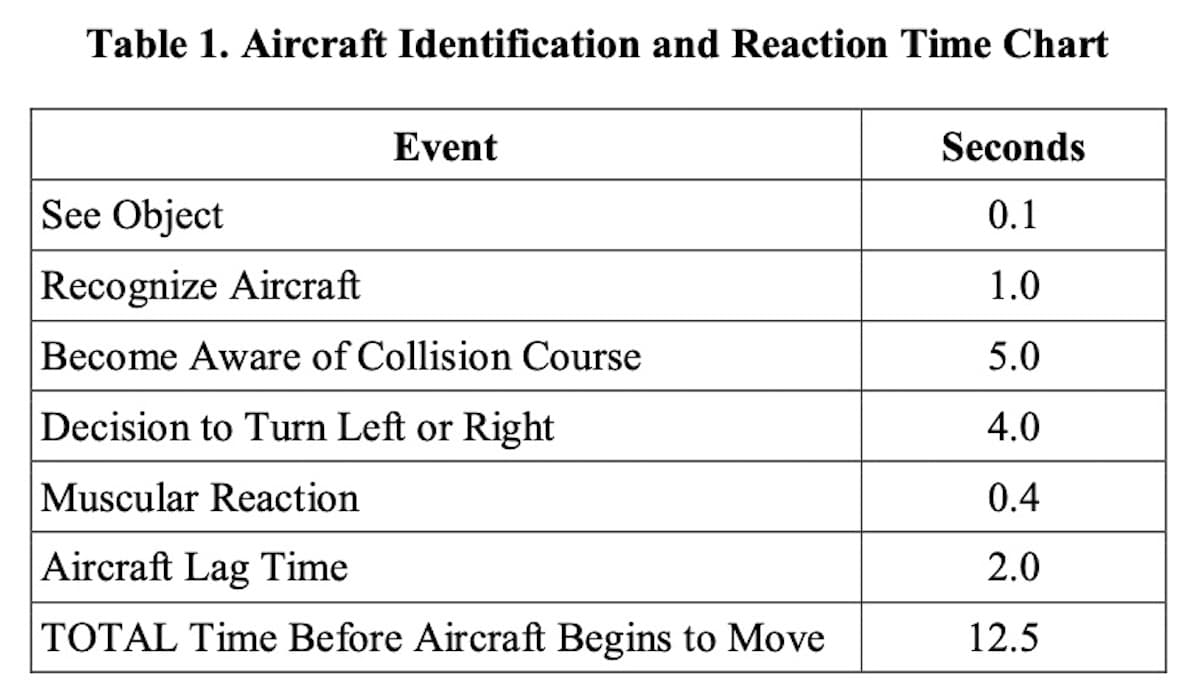 The AC also discuses other issues with vision and reaction time, including:
Empty-Field Myopia. If there is little or nothing to focus on, the eyes tend to not focus. This usually occurs on vague colorless days above a haze or cloud layer when no distinct horizon is visible.
Binocular Vision: Binocular vision means using two eyes with overlapping fields of view, allowing good perception of depth. Binocular vision and our perception can be affected when an object is visible to only one eye but hidden from the other by a windshield post or other object, for example. That makes it essential for pilots to move their heads, not just their eyes, when scanning around obstructions.
Narrow Field of Vision/Tunnel Vision. Another inherent problem with human vision is the narrow field of vision/tunnel vision phenomenon. Although our eyes accept light rays from an arc of nearly 200°, they can only focus on and classify an object within a relatively narrow area of approximately 10° to 15° degrees. As a result, the eye cannot accurately identify what is happening in the distance when experiencing tunnel vision or narrow field of vision, even when the eye senses movement by its peripheral vision. That leads pilots to not believe what they see out of the corner of their eyes.
The Blossom Effect: In aviation, the "blossom effect" refers to the visual phenomenon where two aircraft on a collision course will appear to be virtually motionless to each other. The other aircraft will remain in a seemingly stationary position, without appearing to move or grow in size for a relatively long time, and then suddenly bloom into a huge mass filling one of the windows. Given that we need motion or contrast to attract our eyes' attention, this effect becomes a frightening factor when you realize that a large bug smear or dirty spot on the windshield can hide a converging plane until it is too close to be avoided.
Tips
The AC also offers a myriad of tips on staying safe during airport ground operations, operations at non-towered airports, formation flights, training, and effective scanning techniques during flight.
"Effective scanning is accomplished with a series of short, regularly spaced eye movements that bring successive areas of the sky into the central visual field," it advises. "Each movement should not exceed 10° and each area should be observed for at least 1 second to enable detection. Although most pilots seem to prefer horizontal back-and-forth eye movements, each pilot should develop a scanning pattern that is most comfortable and then adhere to it to ensure optimum scanning."

Pilots can compensate for blind spots and enhance identifying other aircraft in a climb by adjusting the aircraft's pitch attitude to improve visibility over the nose of the aircraft (which optimizes your scanning for traffic ahead).
When in level cruise or descending, execute gentle shallow bank turns left and right for a clear view of traffic ahead and from either side.
Scan the rear of the aircraft by scanning from behind the right wing through the windscreen to the back of the left wing.
In the traffic pattern, the FAA recommends that pilots continue to scan for other aircraft and check blind spots caused by fixed aircraft structures, such as doorposts and wings.
High-wing airplanes have restricted visibility above, while low-wing airplanes have limited visibility below. The worst-case scenario is a low-wing airplane flying above a high-wing airplane.
Banking from time to time can uncover blind spots. The pilot should also occasionally look to the rear of the airplane to check for other aircraft.
You can read the entire AC below.