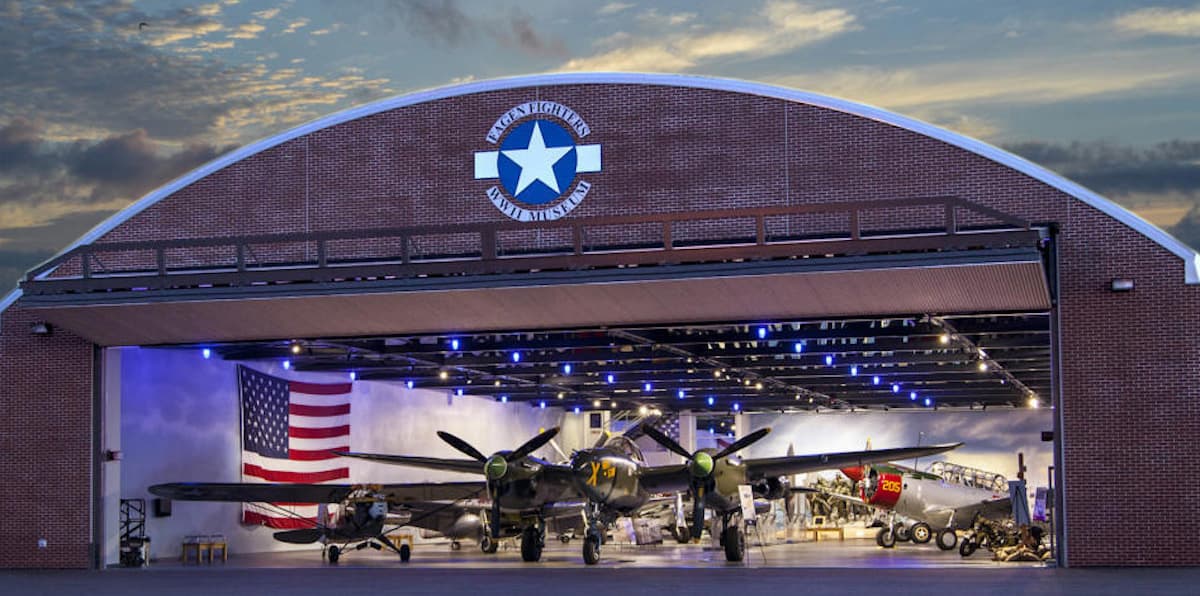 In 2010 Minnesota businessman and aviator Ron Fagen and his wife Diane set out to honor the military service of American veterans by establishing an aviation museum dedicated to preserving history, promoting patriotism, and inspiring the future.
Today, the Fagen Fighters WWII Museum is recognized as one of the most unique collections of flying military aircraft anywhere.
The museum is housed in three large hangars directly alongside Granite Falls Municipal/Lenzen-Roe-Fagen Memorial Airport (KGDB) in Minnesota.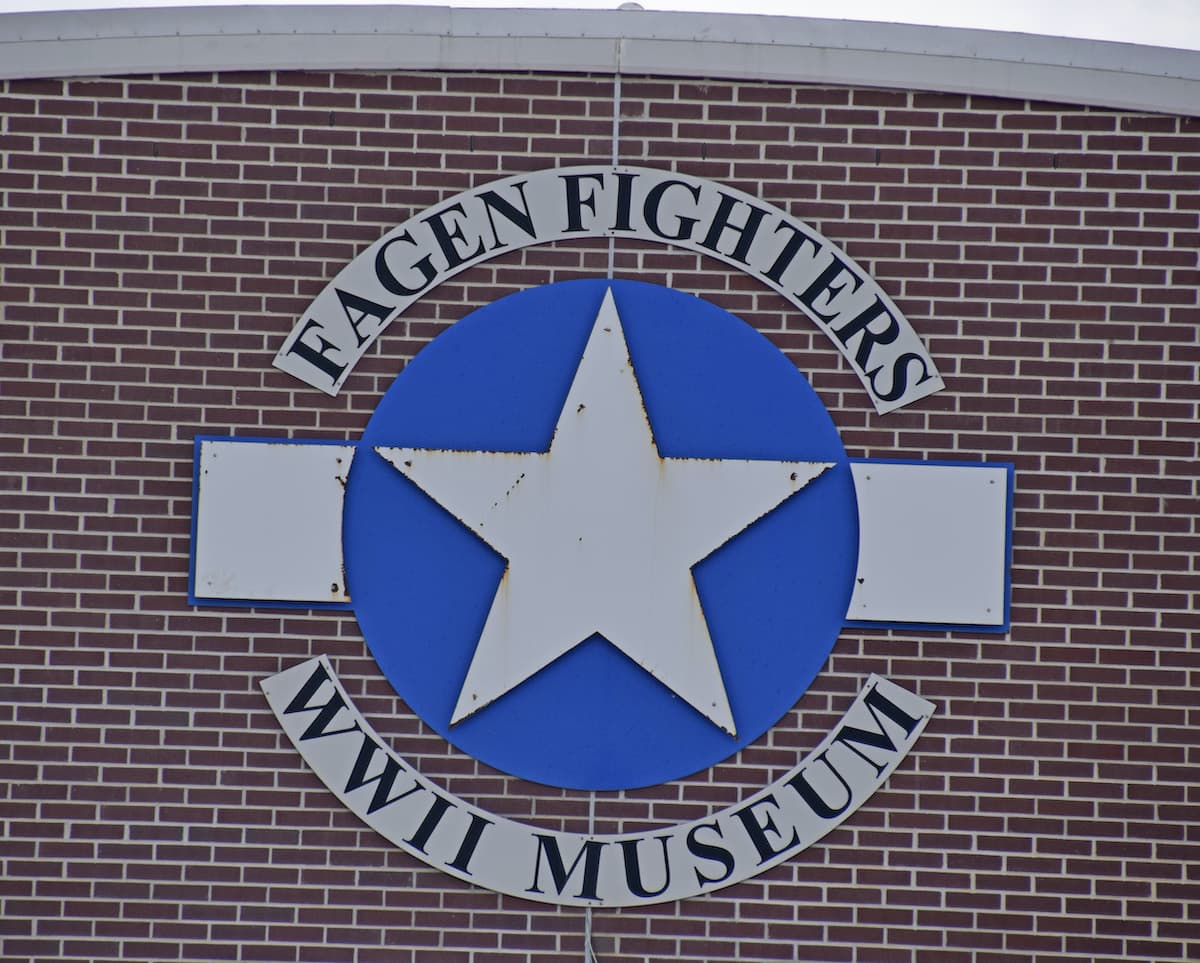 The museum entrance is in the Trainer Hangar, where restored World War II training aircraft and ground equipment are on display. This hangar features a Fairchild PT-19, Ryan PT-22, Fairchild PT-26, Vultee BT-13, and a Marine SNJ4, plus a World War I era JN-4 Jenny. All are fully operational.
A rare Waco CG4A glider and Laister-Kauffman TG-4A glider are also on display.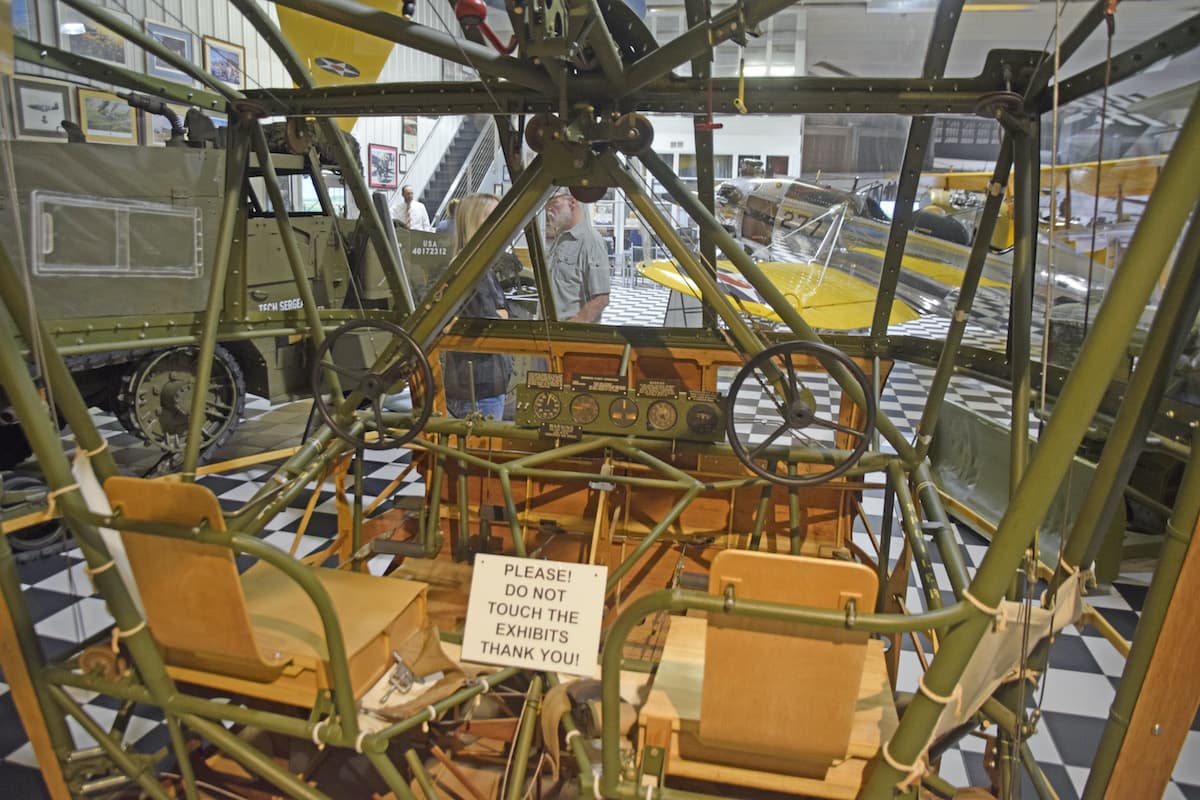 A walkway separates the Trainer Hangar from the Maintenance Hangar/Shop which, although not part of the museum, has a second-floor observation deck giving visitors a glimpse into the maintenance and restoration of Fagen Fighters Warbirds.
"My first restoration was in 1977 when we restored an L-2 Taylorcraft that has been in our family forever," Ron Fagen said. "In the early 2000s Fagen Fighters Restoration was formed and to this date has completed seven restoration projects."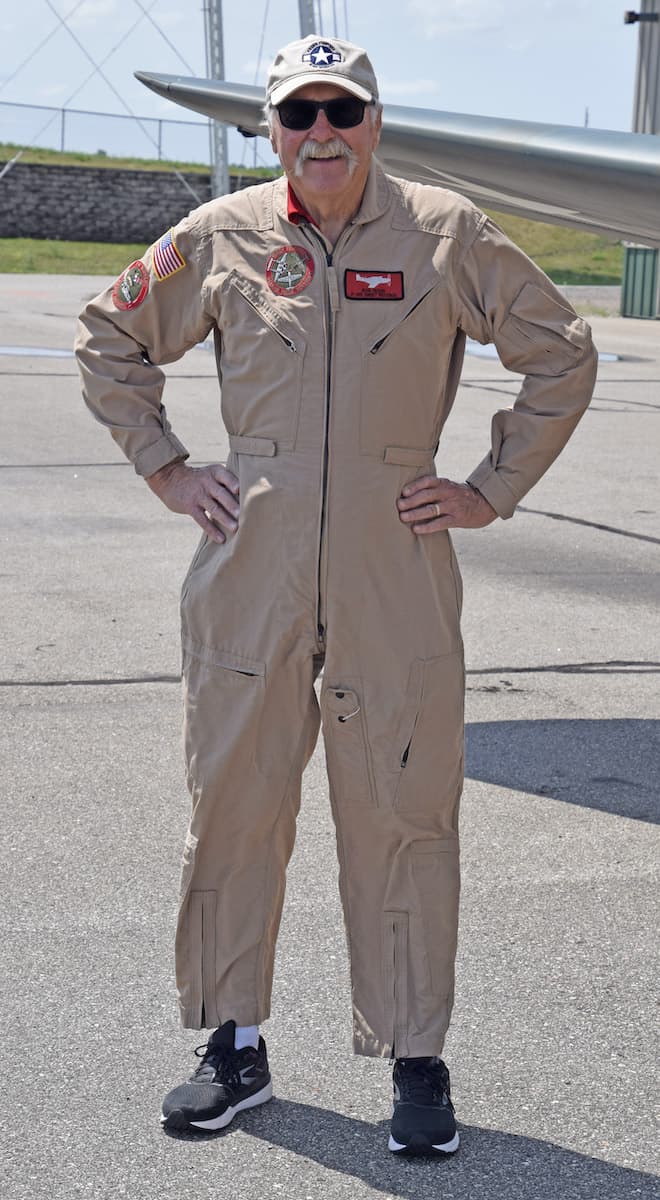 "We are proud of our dedicated staff of restorers," he continued. "We own four P-40s, two Mustangs, and a TBM project for restoration. Plus, we have something unique that came out of Russia two years ago. That's a Focke-Wulf 190 that was recovered from a lake. The battery is still in it and the markings are still legible."
Two ongoing projects, a P-40E and a Hell Diver SB2C-5, are well into their restorations.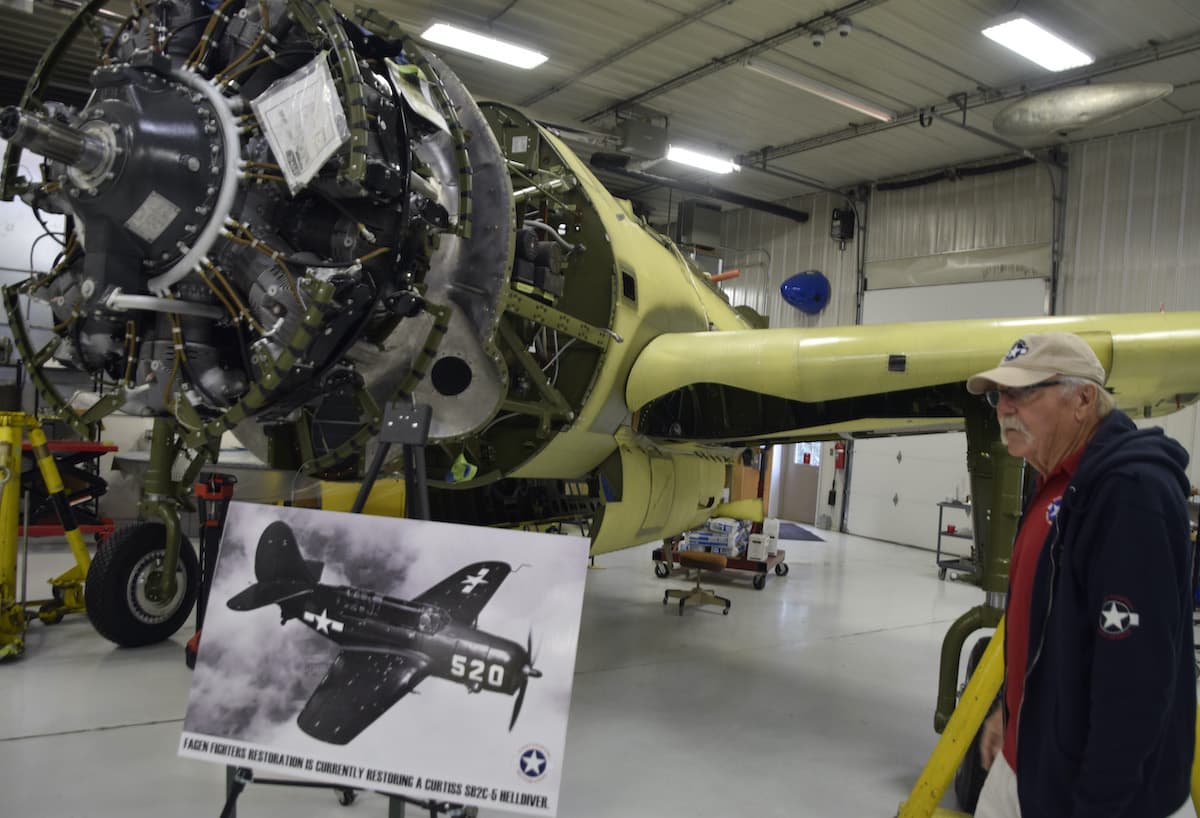 The Fighter Hangar, built in 2011, holds the Fagen Fighters collection of some of the most celebrated aircraft flown by U.S. pilots in World War II.
The restored, airworthy fighters include the P-51D "Twilight Tear," P-51D "Sweet Revenge," P-38J "Scat III," P40K "Aleutian Tiger," and F6F Hellcat "Death 'N Destruction."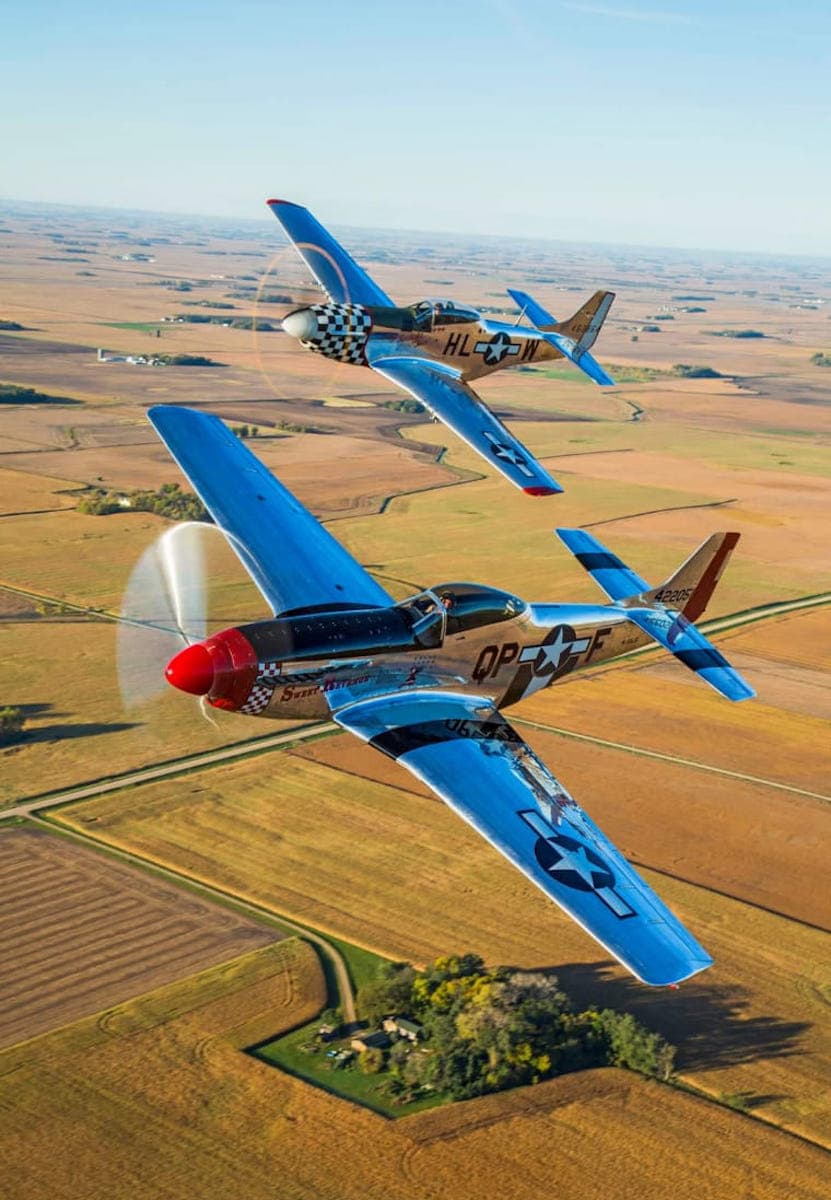 An eye-catching exhibit in this hangar features a Utah Beach Higgins boat landing craft on D-Day. The bronze sculptures of the soldiers charging ashore include one of Ron's father Ray, a 4th Infantry Division soldier leading his fellow squad members.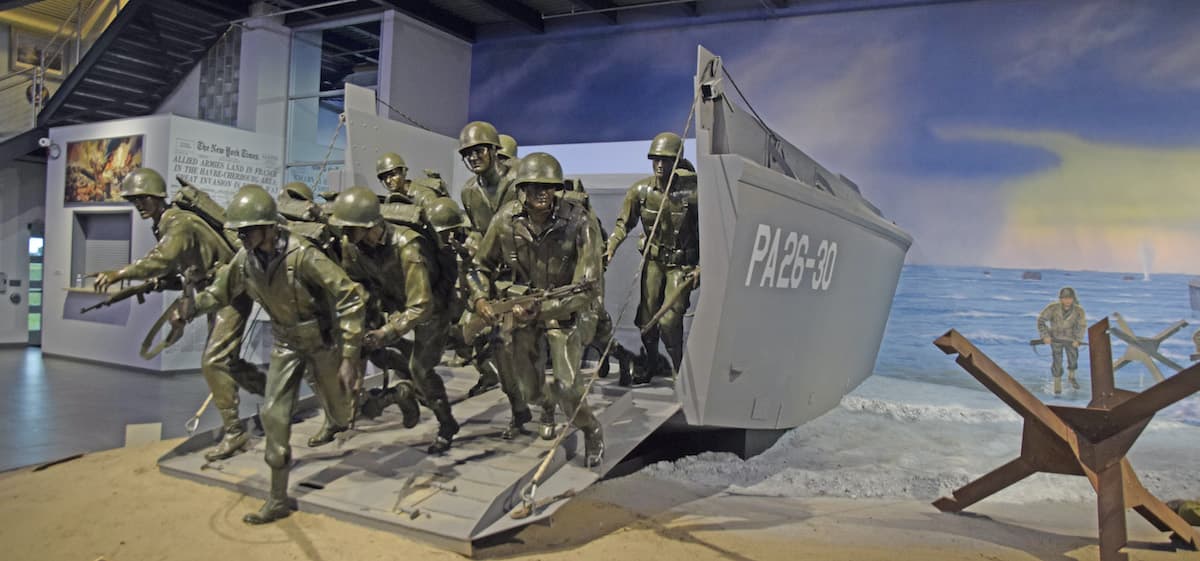 This hangar also includes a second-floor World War II library.
The 357th Fighter Group Quonset briefing room between the Fighter and Bomber hangars recalls the exploits of this celebrated unit and features a statue of Col. C.E. "Bud" Anderson. He and fellow aviation legend Chuck Yeager flew for the 357th.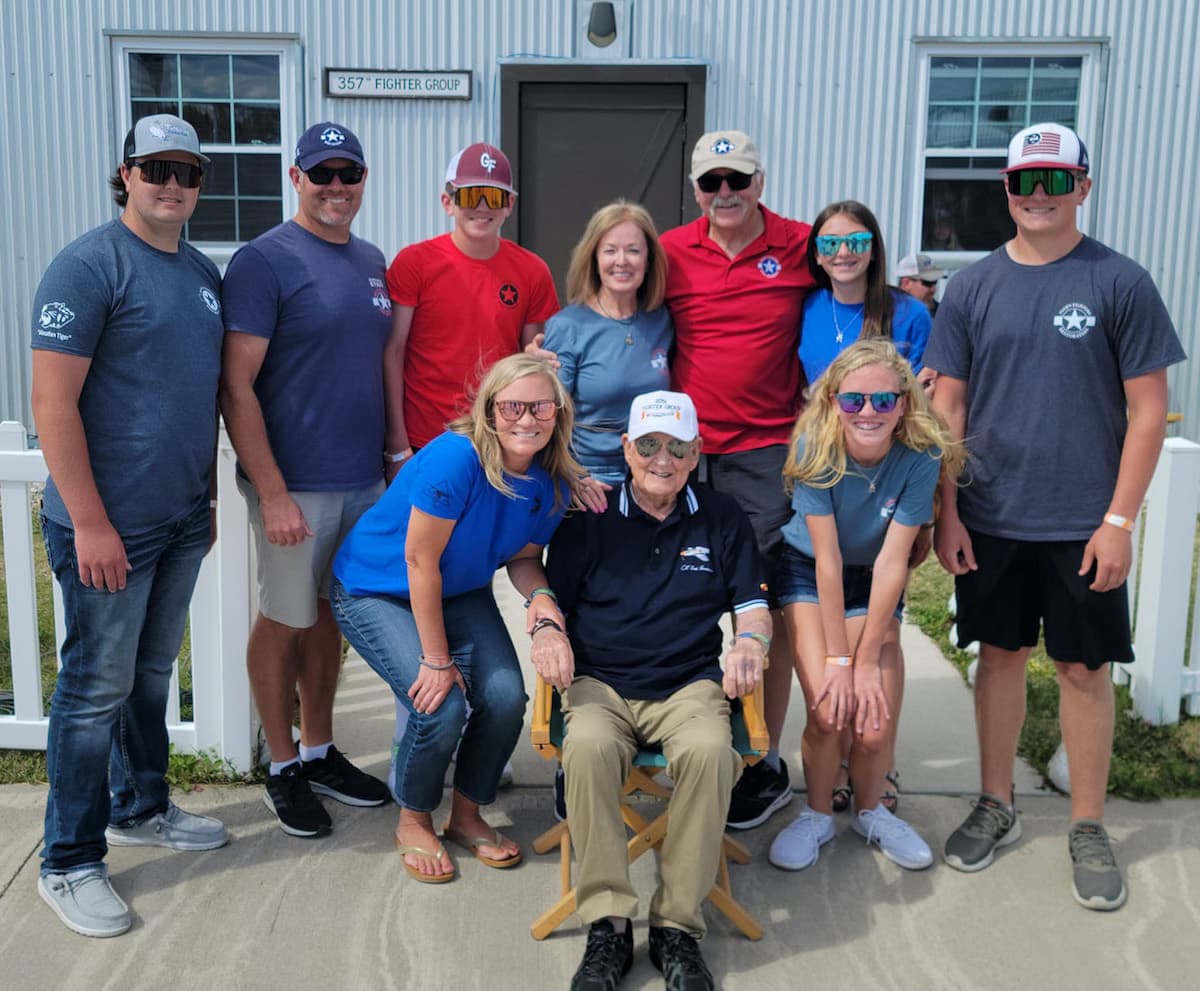 The Bomber Hangar, built in 2015, is home to "Paper Doll," a B-25-J-2 Mitchell bomber.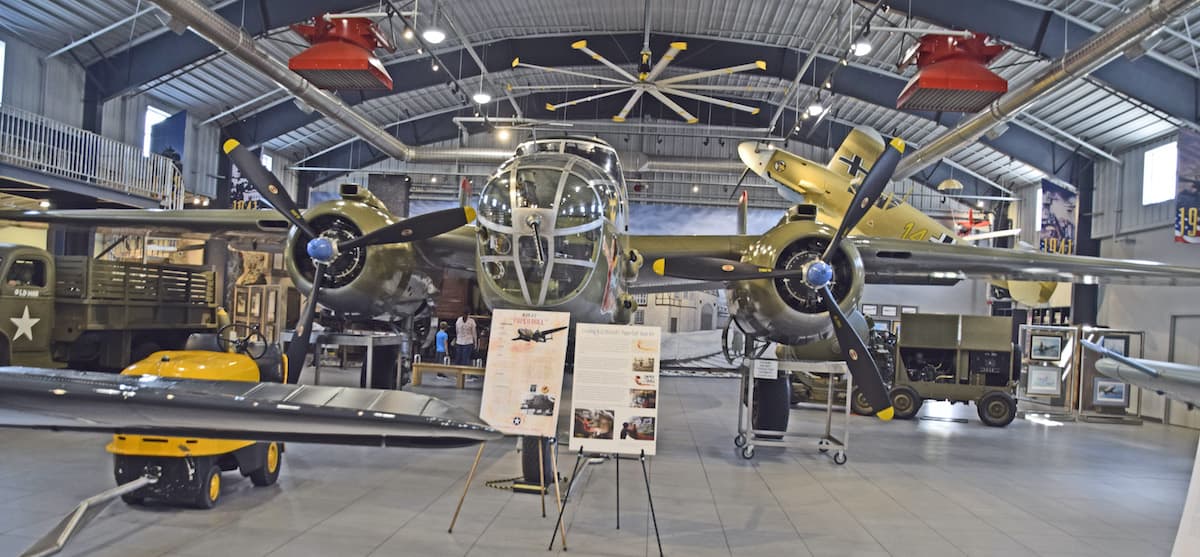 Also on display are an FM-2 Wildcat and a Japanese Zero.
A somber exhibit features a World War II German railway boxcar with life-sized figures being herded aboard, poignantly reminding visitors of the more than 6 million victims of the Holocaust. On the other side of the rail wagon downed American airmen exit the door for the march to a Prisoner of War camp.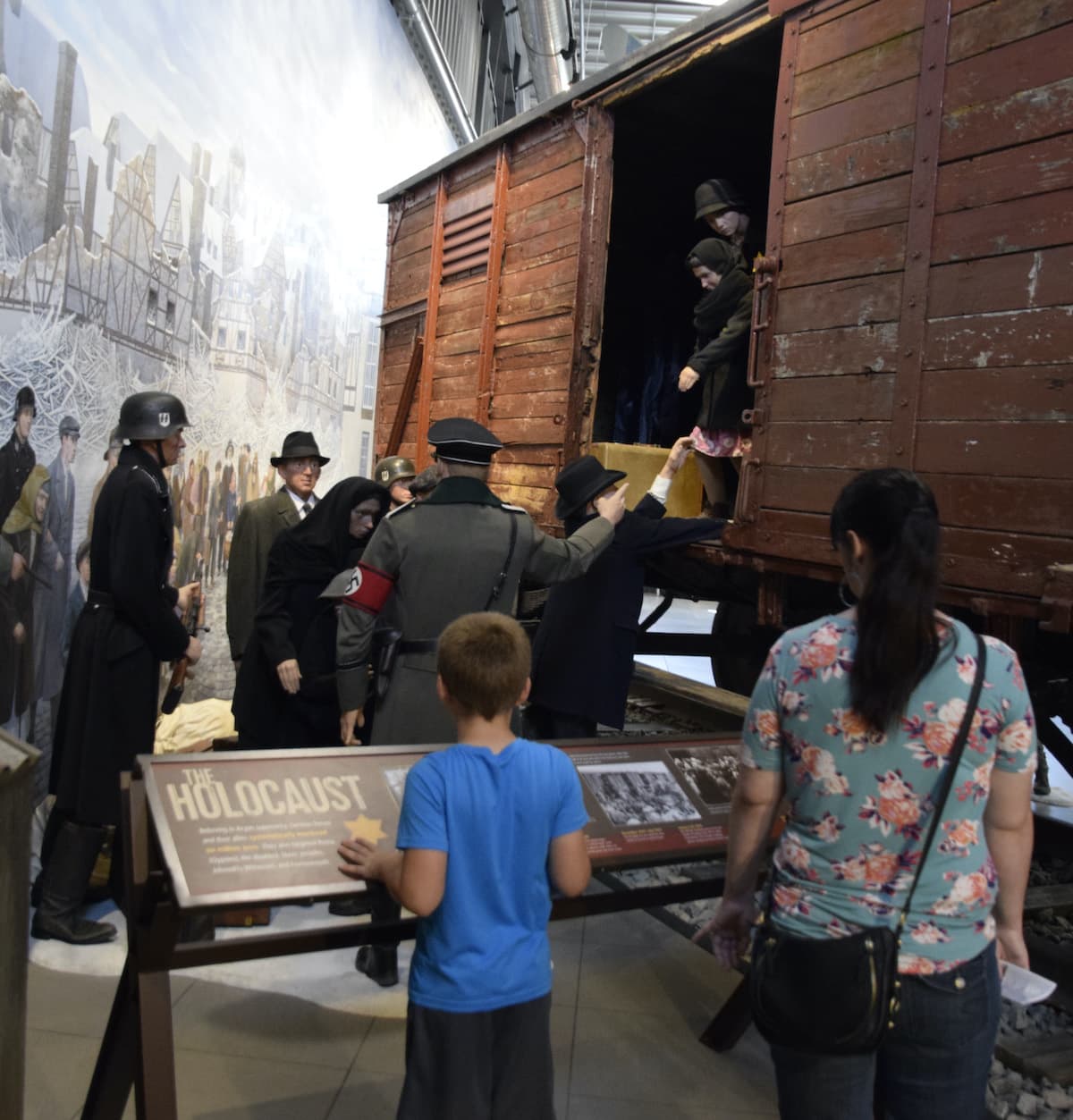 Exhibit cases line the outer walls with rare World War II artifacts.
Dozens of additional displays, art exhibits, and the Voices of Valor Theater featuring veteran interviews are found at the museum, as well as a number of military vehicles, including a WC-55 Tank Buster, a WC54 Dodge ambulance, Gen. Omar Bradley's Willys MB Jeep, a Ford G-P Jeep, M16 Half Track, a Cushman Scooter, a Sherman Tank and a military construction bulldozer.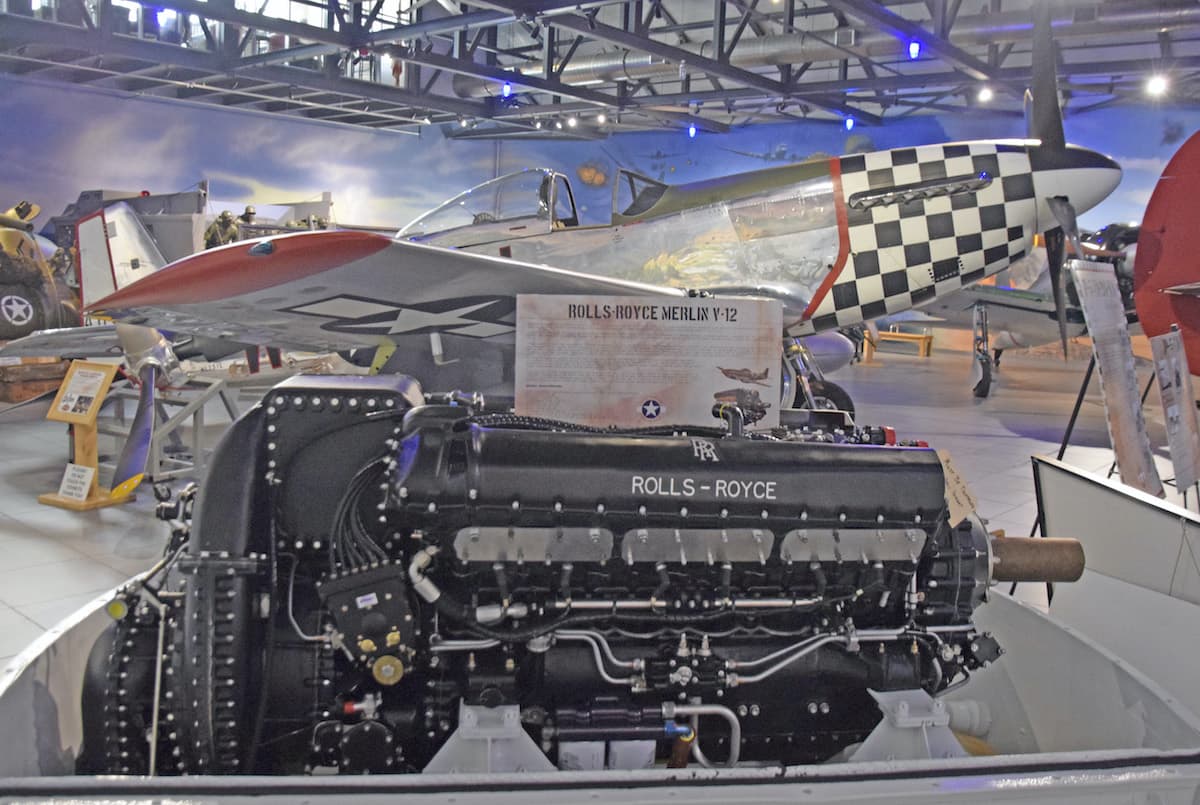 The museum hosts the Ray Fagen Memorial Airshow every three or four years.
"This year on June 18 we had over 10,000 in our audience," Ron Fagen said when I visited the museum in 2022. "We put on a World War II airshow and turned the place into a World War II base for one day."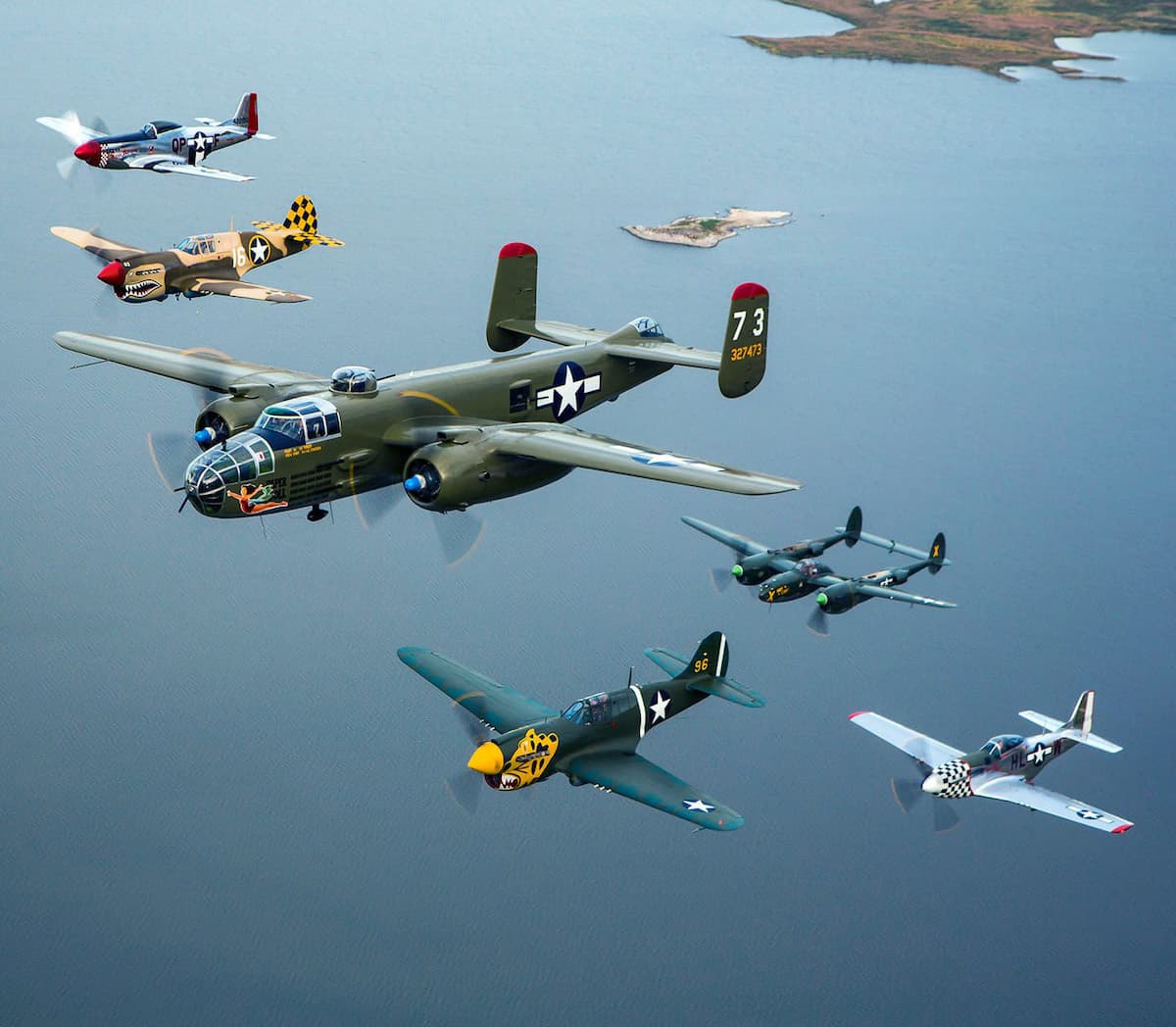 The Fagen family are all involved in the museum operation. Ron keeps an eye on the restoration projects and test flies some of the warbirds. Diane is the museum director. One son, Evan, is the museum's Chief Pilot, and the Fagens' other son Aaron is involved with the ground vehicles. Ron proudly reports that several grandchildren have taken an interest in flying and the museum activities.
Museum hours are 10 a.m. until 4 p.m. Tuesday through Saturday. Admission is free for children 9 and under, 10-17 $5, Adults $10, Family $20, and active duty military $5. For those flying in, there is a 4,400 by 75-foot runway (15-33) and a 3,400-foot grass airfield at the end of Runway 15.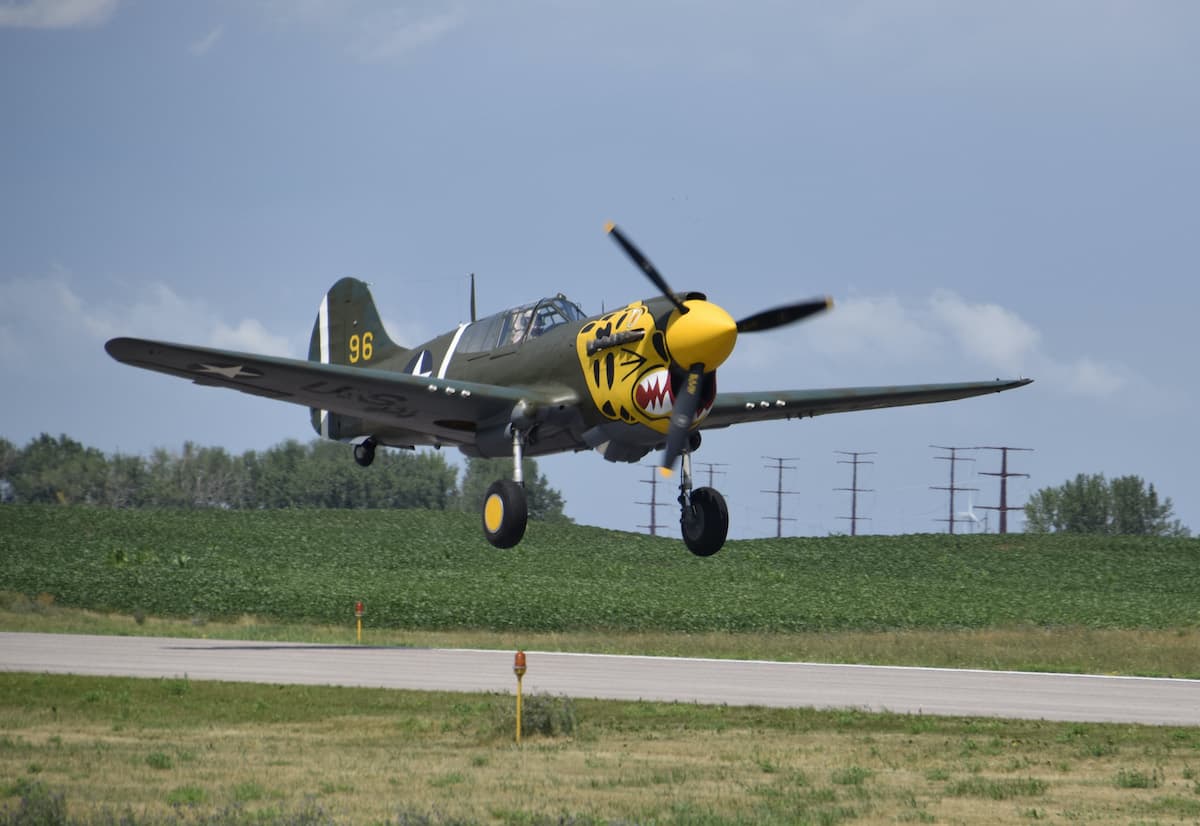 For visiting pilots a separate airport terminal/office adjacent to the main museum building is accessible at any time. There you can sign out a crew car for a short-term visit to the town of 2,900 residents or just drive two miles up the road to the Edge of the Prairie casino, gas station, and restaurant.
For more information: FagenFightersWWIIMuseum.org