By CYNTHIA DOLL
I don't recall how old I was, but I was short and couldn't see much. Dad buckled me into the airplane. He talked into a microphone on a cord he held in his hand. He paused, listened, and said something back, but I couldn't hear what. I don't remember being scared, but I do remember being curious and excited.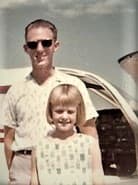 Then he yelled out the little window: "CLEAR!" There was a shudder and all the little instruments shook and jumped, little needles settling down from the vibration and pointing at their marks. The propeller altered into a transparent disk, thundering with power, restless to go. And I was hooked.
In those years after Dad started flying again, we went amazing places — Carlsbad Caverns, New Mexico, Canyon Lands in Moab, the Grand Canyon — the landscape dramatic in ways I could never have predicted from the ground.
My perspective changed. My world expanded. I knew what a privilege it was to see things from the air.
I was determined I would fly myself one day — and I did.
Learning to fly was magical. I started when I was 19 and lessons usually began in the dark. I shivered through preflight, even in the predawn winter of Phoenix.
By the time the sun rose golden over the desert, I was out turning and banking over fields, leveling off at points on a road, falling from altitude in practiced spins.
Night practice over the city was reminiscent of a Disneyland ride, a billion points of light in the darkness on our way to never-never land.
My instructor, Hal, smoked a pipe, and I will forever picture him sitting calmly beside me, pipe casually held, giving me pointers, listening with me to the control tower and other aircraft.
When it came time to solo I floated. With the seat beside me empty, I could not imagine anything more thrilling.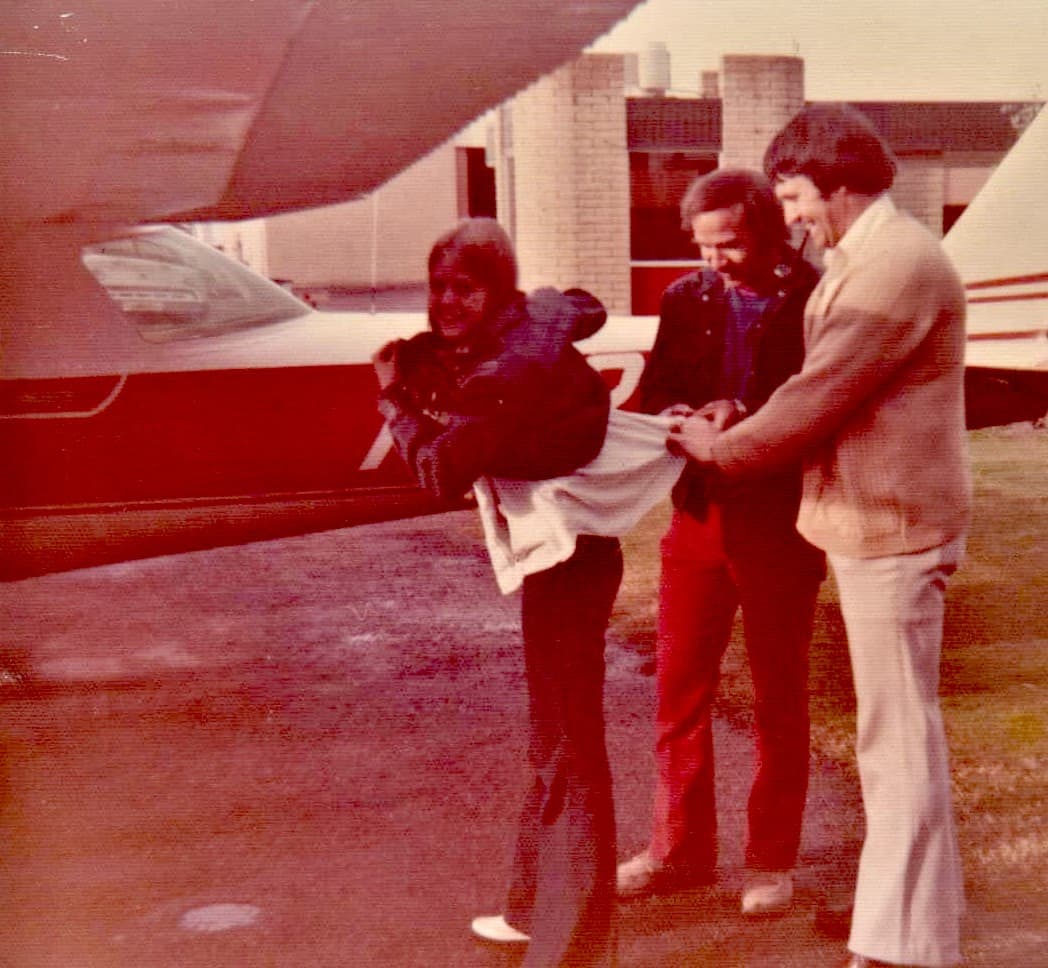 My days of flying over the desert revealed inaccessible, improbable places. I was able to explore thoroughly from the air the Superstition Mountain Wilderness area, with Weaver's Needle casting shadows where I had never ventured on foot.
I circled and banked, watching for Spanish padres, bands of Apaches, and lost mines filled with legendary gold. Somewhere below me they all had been, the landscape seemingly untouched since that long ago time.
The giant caldera spreads for miles, with changes in elevation and changes in geology with a diversity ranging from igneous rock to granite. The precipices, canyons, and striations of rock range in colors from lavender and ochre to deep blue and dense green, unexpected in such a fortress rising from a desolate floor of desert dotted only with creosote and cactus.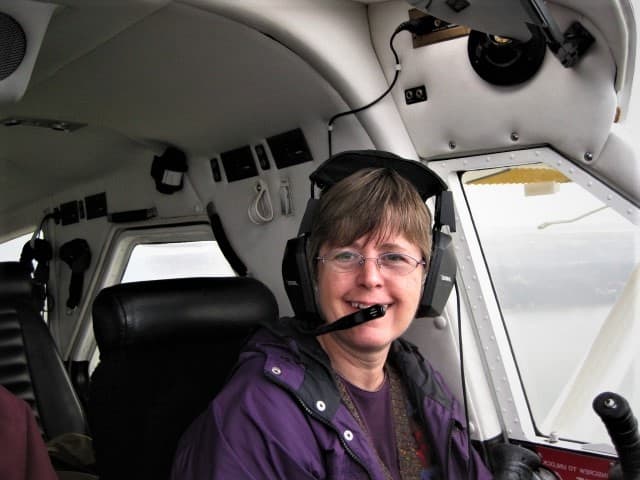 I have been lucky that my circle of friends has always included pilots. I have been upside down in a World War II trainer and in a brand-new biplane, both times on purpose.
One friend had a jet helicopter and I flew to the bottom of the Grand Canyon via his Jet Ranger to Supai, where an ancient tribe of Indians still make their home, a small pocket of green bordered by a turquoise river.
Stained with desert varnish, the corrugated cliffs surrounding them stand like bastions baking in the sun. Flying in and out of the village, the helicopter swept an incongruous shadow over the ancient strata of tan, gold, and umber.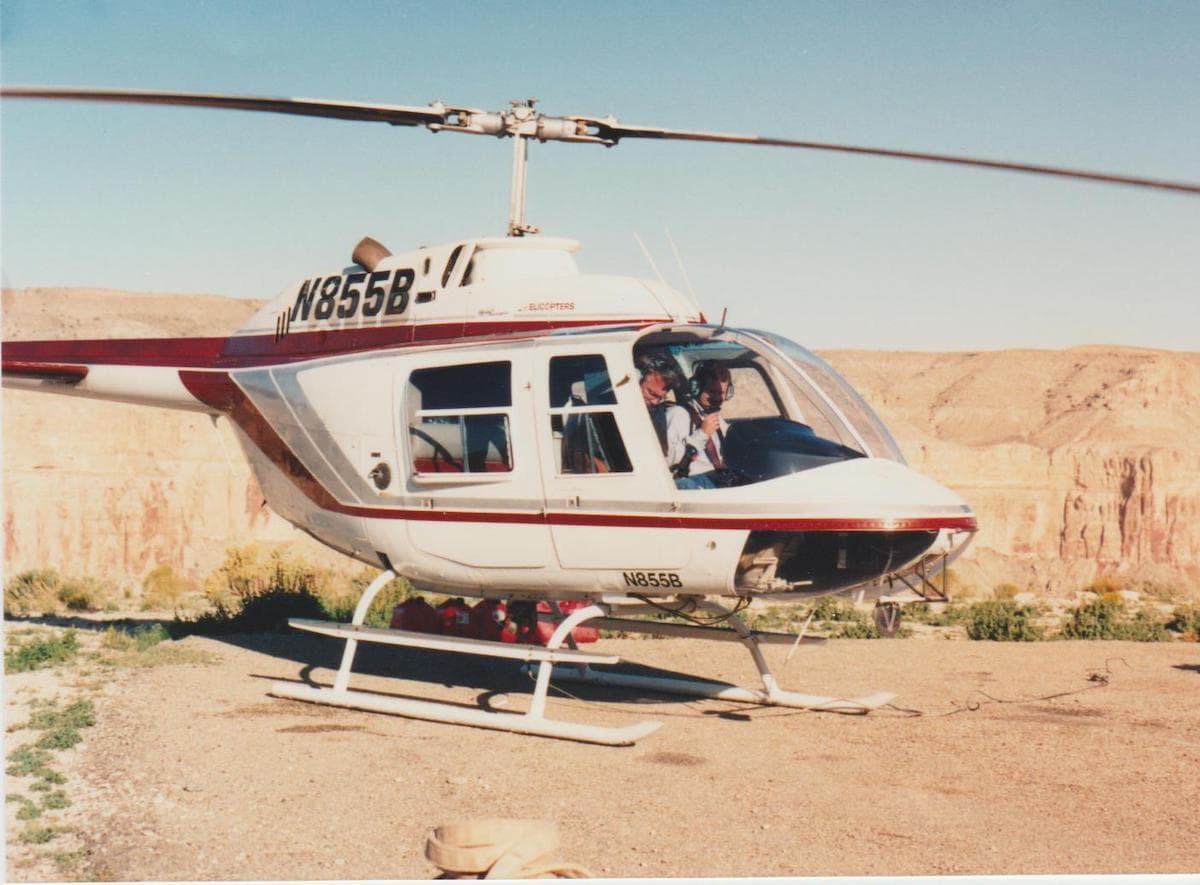 The canyon's layers have colorful names as well — Kaibab limestone, Coconino sandstone, and Hermit shale — each one a shelf of time.
Though sheltered from the modern world, many Supai residents have taken helicopter flights, for medical reasons or family events. The delivery of their mail by mules is as routine as the beat of rotors overhead.
With moving and the scattering of old friends, I missed flying for years, a hobby that became too costly for my income. I found new interests, though, keeping in touch with flying buddies, living vicariously through their adventures.
Now living in the mountains of Montana I have been providentially returned to the world of flying, having met a new circle of like-minded, sky-driven friends.
Ground bound all these years, exploring on foot and reveling in what I see, I have been giddy with the Montana I see from the air, the glacial peaks of the Mission Mountains, the vastness of the Bitterroots.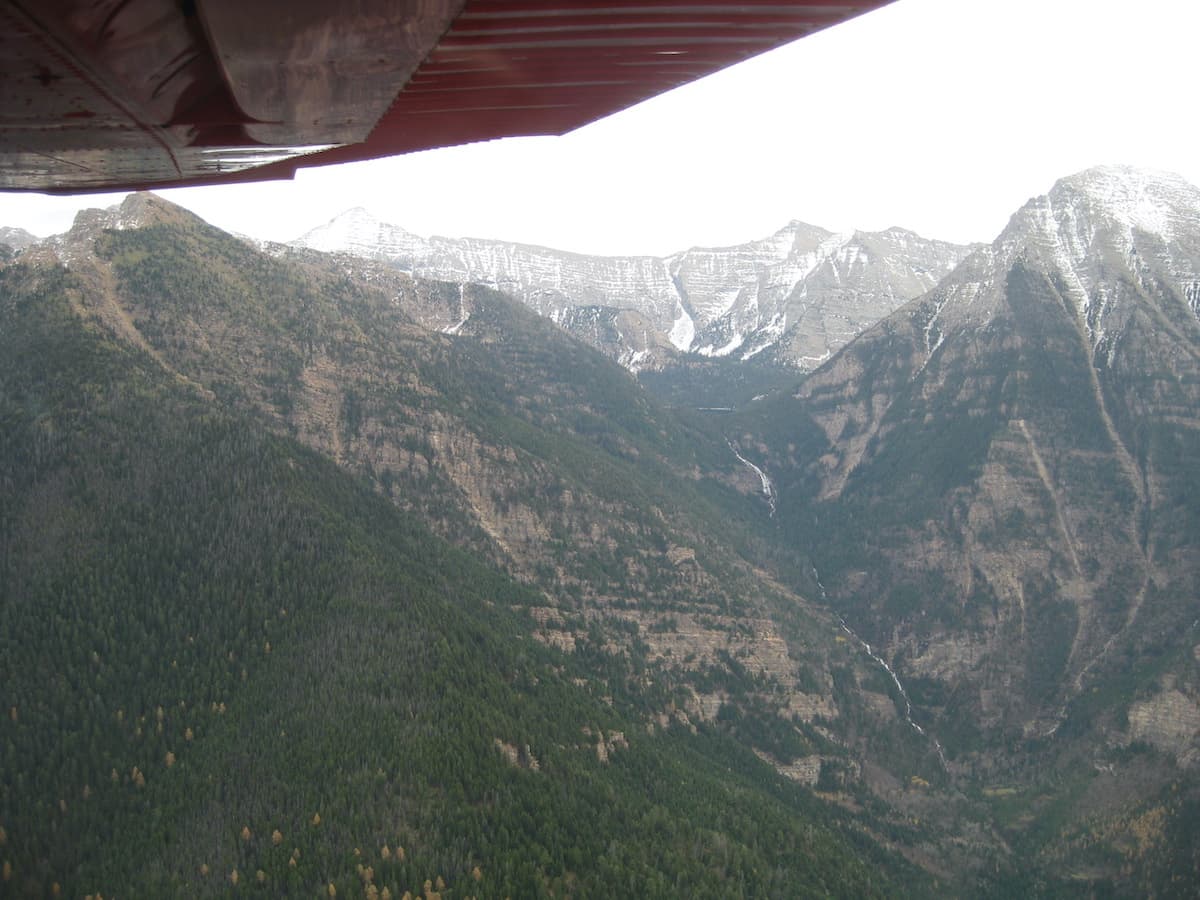 Everything I've studied on a map has been given a new twist. Mountains skirt the edges of the valleys like muscles, flexed and bunched. Granite walls, creased and carved, divide the continent. Mountain men and Indians tribes knew good country when they saw it.
One day we went out scouting for elk from the air. To me it seemed like a marvelous excuse to see some beautiful country, new snow and fresh drifts tucked into remote valleys. A hundred drainages emptied into the dry valleys, the braided streams like fly-away tresses.
After all that sightseeing, we landed on a frontage road along I-15 and walked into the town of Lima for breakfast. No one seemed to think this was unusual, except for me.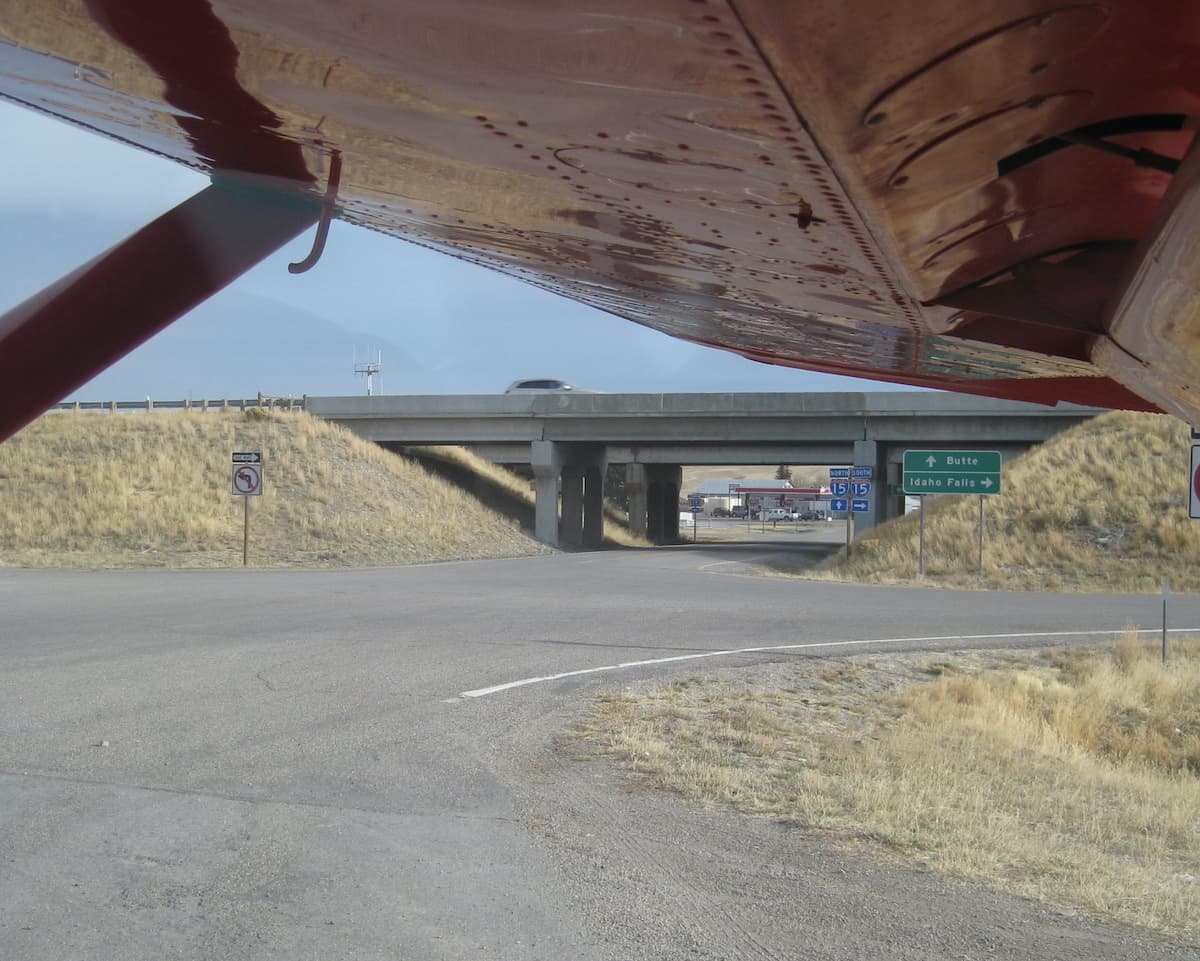 After a typical Montana breakfast, sharing an old diner with local townspeople and visiting hunters in camouflage, we walked back under the freeway to the plane.
I hope this kind of casual adventure will become routine for me.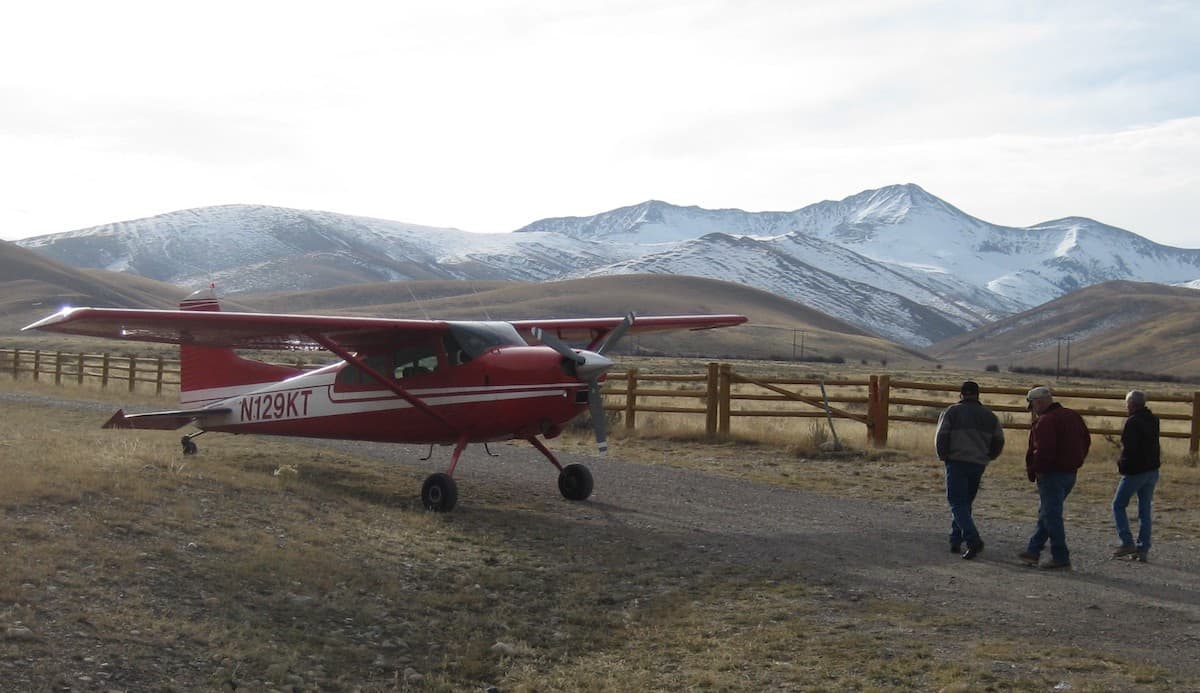 I was grinning as we took off heading north over the foothills. As it was in the beginning, I am never scared, but always curious and excited.