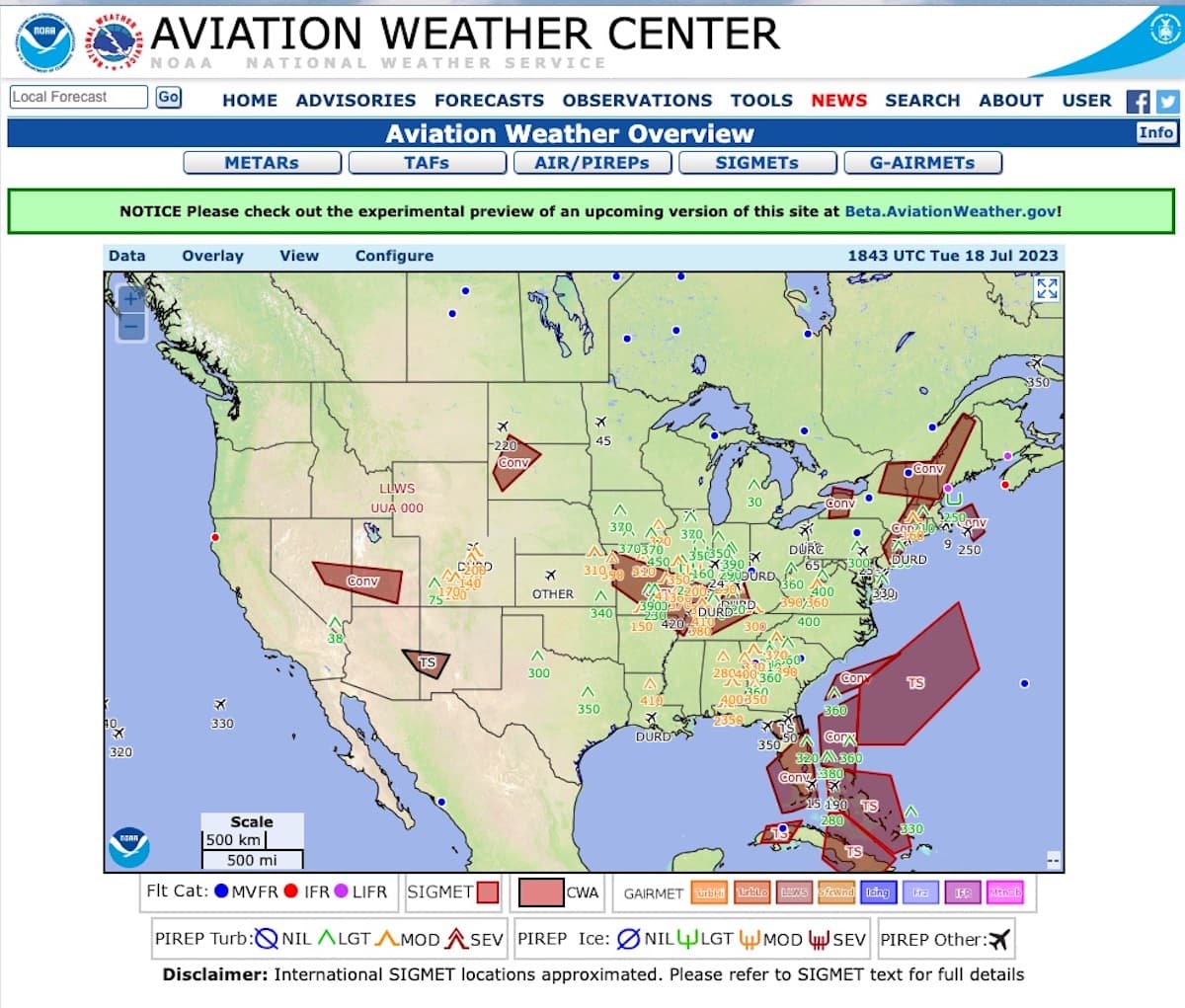 A June 2023 research project published by the University of Reading in the United Kingdom and the American Geophysical Union revealed significant increases in clear air turbulence (CAT) over the past 40 years, an ominous indication of what's likely to come in the future.
Study co-author Dr. Paul Williams noted the largest increases were over the United States and the North Atlantic, with a 55% increase in severe or greater CAT in 2020 compared to 1979.
Those changing weather patterns create a greater risk for turbulent skies for all aviation, including general and business aviation.
That's why officials with the National Business Aviation Association (NBAA) advise pilots to use the latest tools available to predict areas of turbulence.
One resource is the Aviation Weather Center (AWC) operated by the National Oceanic and Atmospheric Administration (NOAA) and National Weather Service (NWS). AviationWeather.gov offers a wealth of weather information, including convective forecasts and an interactive Flight Path Tool that disseminates all weather products available for a given route, NBAA officials report.
"We've made tremendous advances over just the past few years, thanks to improved weather forecast models with more data going into [them] and better understanding of the science in these models," said Jennifer Stroozas, warning coordination meteorologist for the Aviation Weather Center. "That results in better forecast information across the board, including when evaluating the potential for turbulent conditions."
One result of this effort is the Graphical Turbulence Guidance tool that lists SIGMETs (significant meteorological hazards) for turbulence and pilot reports in both graphic and text formats, ranging from 1,000 feet above ground level up to 50,000 feet.
Graphical airman's meteorological information, or G-AIRMETs, provide greater understanding not only of areas with predicted turbulence, but also the mechanical factors that drive such forecasts.
"We've definitely seen improved NOAA and NWS forecasts over the past decade through use of ensemble prediction tools and more data," said Dean Snell, manager of NBAA Air Traffic Services at the FAA's Air Traffic Control System Command Center (ATCSCC) in Warrenton, Virginia. "They're able to take that information and assemble it in new, more accurate products that provide better predictions."
What Causes Turbulence?
Turbulence occurs with rapid variations in wind speed and altitude, creating wind shear.
"Those can be quite large," said Williams, who is a professor of atmospheric science in the Department of Meteorology at University of Reading in the United Kingdom. "In scale, we're looking for rapid variations in wind speed and altitude that create wind shear."
"You must understand that air is a fluid, just not one as thick as water," added Jeff Wofford, former chair of the NBAA Safety Committee. "A river might be nice, smooth and calm, or you might encounter 'rapids' that make the current choppy and bumpy."
"The exact same thing happens with the air," he continued. "As wind speed increases, and it goes over topographic obstacles like mountains, things get stirred up and that causes eddies and turbulence. Especially in the Rockies during wintertime, you get into mountain wave situations even up at 35,000 feet."
A relatively new method to forecast turbulence involves tracking eddy dissipation rates that stimulate turbulence.
"These are little swirling air currents or vortices that are about 200 meters in length," Williams said.
While current atmospheric models offer a typical resolution of a few kilometers in a three-dimensional mesh, Williams noted these still capture the processes that generate turbulence.
"Once we know where the wind shear is from the forecasting model, we have a set of equations we can use to figure out the turbulence," he said.
Clear air turbulence (CAT) poses further challenges.
"Thermal CAT is difficult to predict as it's on the microclimate scale," Stroozas said. "Other clear air turbulence is associated with a jet stream, which is more prominent in the wintertime. While we can't see it, we know that changes in wind speed and direction cause it, and we have models to give us an idea where that may be."
Back to Basics
While technological improvements have driven advances in predicting turbulence, Stroozas noted that traditional tools like radar, satellite observations, and PIREPs remain at the heart of all aviation weather forecasts.
"We're able to better drill down on certain areas, and the different algorithms that are now available allow us to watch for different signals to what's happening as the weather of the day unfolds," she said. "There's also a variety of different weather models that are available to aviation weather forecasters to try to detect some of these signals out in the future, including forecast models specifically for turbulence."
Those improved forecasts are most welcome for pilots.
"When I did my PhD on turbulence 20 years ago, pilots told me they simply ignored the turbulence forecasts because they were so often wrong," Williams said. "They were about 60% accurate back then; now we're closer to 85%."
The NBAA's Wofford urges pilots to remember the basics from their earliest days of flight training.
"Get a good weather briefing," he said. "If you're doing a self-briefing, look at all the charts and understand what you're dealing with for that particular flight."
"The most important tool we have is a Mark One-model eyeball," Wofford added, referring to the old military term for using your eyes. "If you take a proactive stance versus reactive, you're going to be a lot better off."
According to NBAA officials, the Aviation Weather Center recently launched an experimental trial version of its improved AWC resource that offers an even more informative and easy-to-use interface. You can check it out at Beta.AviationWeather.gov.