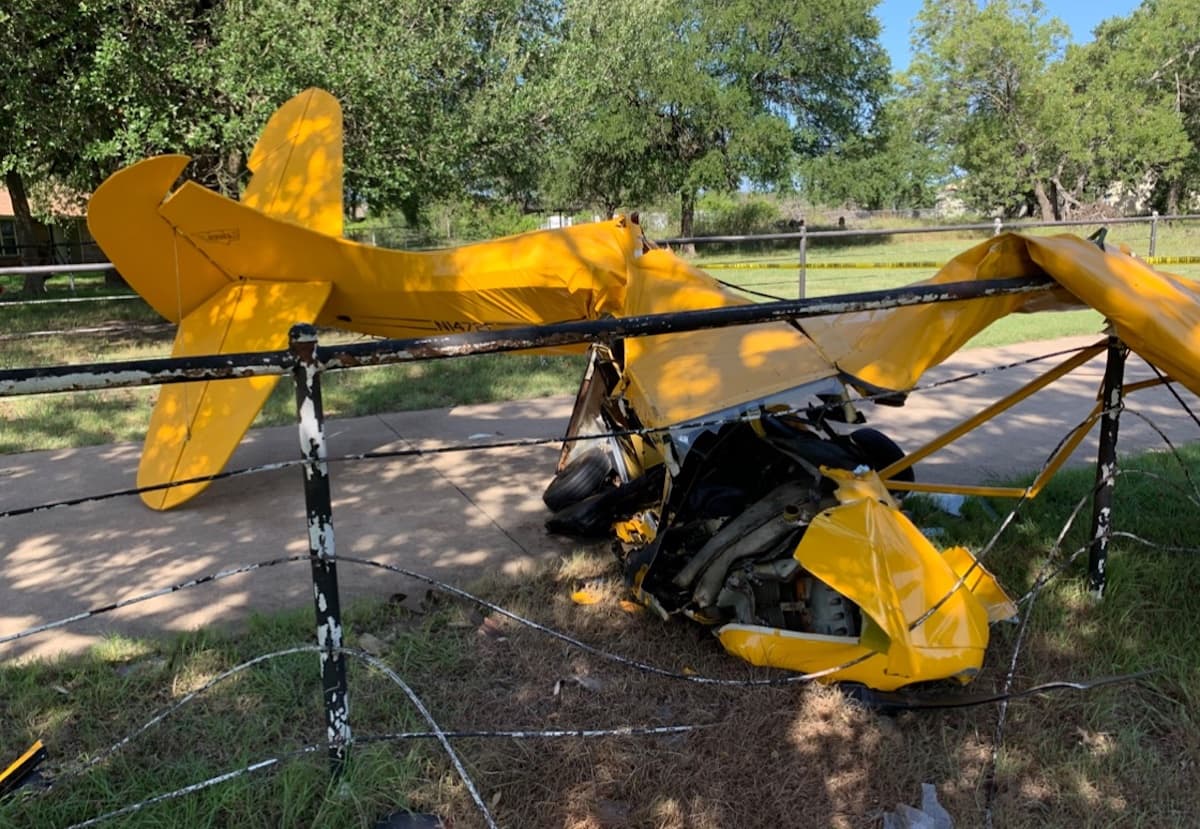 According to the manager of Flying Oaks Airport (2TE2), in Fort Worth, Texas, the pilot was going to conduct a local flight with his son in the Aeronca 7AC. The pilot was seated in the rear seat, and his son was in the front seat.
Multiple witnesses saw the airplane take off from Runway 15. One witness, a flight instructor, reported that, during the initial takeoff roll, the airplane became "out of control" and "almost ground looped."
He described the subsequent takeoff roll as "extra-long" and stated that the airplane "appeared to get slow" during the initial climb. He reported that the airplane started a "roll to the right," the left wing "fell," and the airplane stalled and entered a spin about 100 feet above ground level (AGL).
A second witness reported that, during the takeoff, the airplane appeared to be "barely climbing." Near the end of the runway, about 100 feet AGL, he observed a "strong right yaw," followed by a gradual left turn. The pilot appeared to lower the nose, then the airplane "rolled hard left," and entered a spin.
The airplane came to rest about 1,100 feet southeast of the departure end of Runway 15. The airplane sustained substantial damage to the fuselage and both wings. Both the pilot and his son died in the crash.
The ATP-rated pilot purchased the airplane in May 2021, just three months before the accident.
Utilizing the airplane's weight and balance records and the weights of the two occupants, weight and balance values were calculated by the accident investigators, who found that at the time of departure, the airplane was 225.6 pounds over the maximum gross weight, while the center of gravity was within limitations.
The airplane, which had flight controls at both positions, only had flight instruments for the front seat. The airplane was not equipped with flaps, a stall warning system, or an angleofattack indicator, investigators noted.
Probable Cause: The pilot's exceedance of the airplane's critical angle of attack during the initial climb, which resulted in an aerodynamic stall. Contributing to the accident was the pilot's inadequate preflight planning, which resulted in an exceedance of the airplane's weight and balance limitations and decreased takeoff performance.
To download the final report. Click here. This will trigger a PDF download to your device.
This August 2021 accident report is provided by the National Transportation Safety Board. Published as an educational tool, it is intended to help pilots learn from the misfortunes of others.