Sammi, a student pilot in Arizona, writes: Next door to my flight school is a ritzy FBO (where I score my morning coffee) that has one of those electric maps in the lobby with colored lights that show the flight conditions across the nation — green for VFR, blue for MVFR, red for IFR, and magenta for LIFR. So cool and so beautiful! But…also so confusing. Uncle Google gave me the ceilings and vis'es for the various flight conditions, but I can't seem to find them in the regs. What's the story here?
That's an awesome question! But before I can answer it, we need to take a quick dive into definitions to make sure everyone is on the same flight plan. Tighten your seatbelts and shoulder harnesses, everyone, here we go…
There are two types of flying: Visual and instrument.
Visual is just like it sounds: You look out the windscreen and fly the airplane. To do that successfully, you need to be able to see stuff, like the ground and other airplanes, so to legally fly visually, there are established cloud ceilings and horizontal visibility requirements. These requirements are called Visual Flight Rules or VFR for short.
Instrument flight is using technology (and skill with that technology) to control the airplane using instrumentation in the cockpit. The conditions that require instrument flight are called Instrument Flight Rules or IFR.
Flying instrument, by the way, requires the pilot to have a specific certification and the plane has to have specific equipment. So if either the pilot or the airplane isn't instrument qualified, flights have to be limited to VFR conditions.
The M in MVFR stands for "marginal." So MVFR means that the sky conditions are OK for visual flight, but juuuuuuust barely.
Meanwhile, the L in LIFR stands for "low," which means that the sky conditions are not only instrument, but on the crazy loooooow end of that spectrum.
Each of these four sky conditions has a color associated with them and a variety of aviation weather products put a colored dot at an airport to graphically show the flight conditions at a glance.
You can find those on maps at the Aviation Weather Center, as an optional layer on most EFB apps, and on the cool and beautiful maps you mentioned, which are called METARmaps because the data that drives all these colors comes from a weather product called a METAR. That, in turn, stands for METeorological Aerodrome Report, which is the modern, high-tech equivalent of looking out the window to see what the weather is.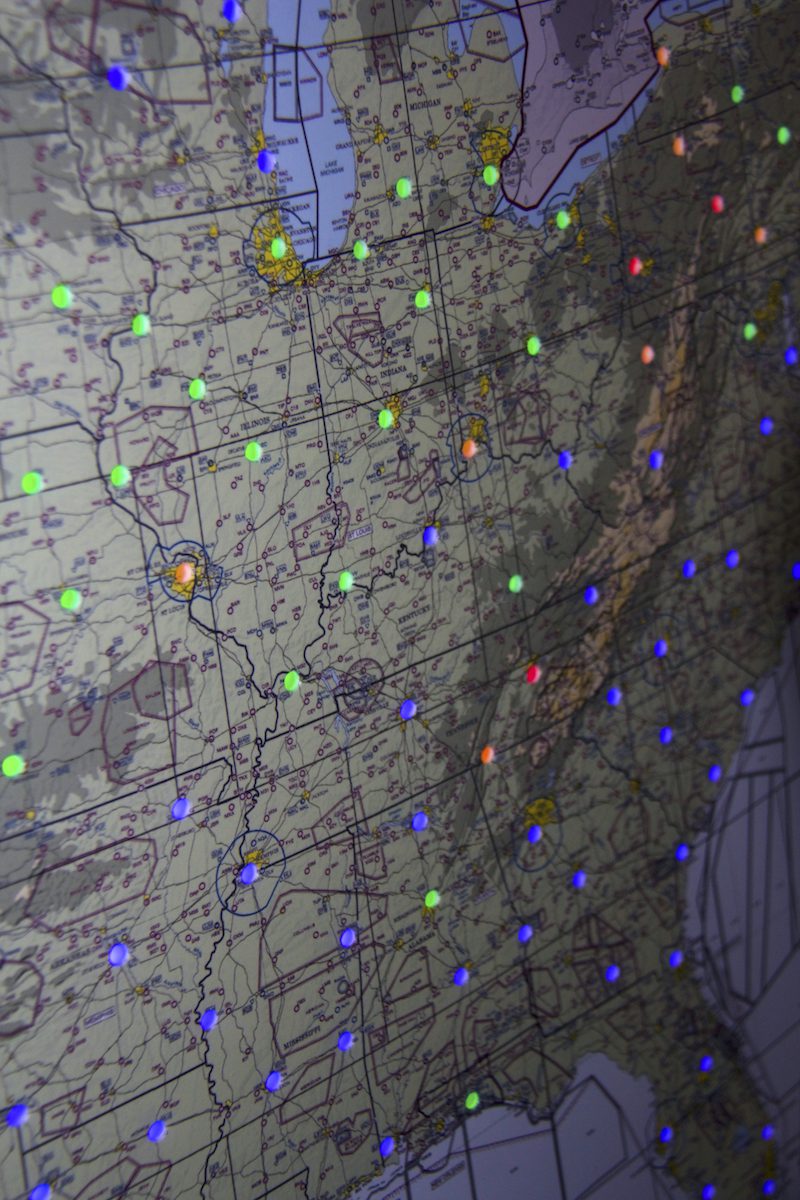 OK, now we'll level off and fly direct to your question.
The reason you can't find these four sky condition categories in the regulations is that while we pilots have come to recognize the four categories, the regs only recognize two: VFR and IFR.
And to make things even more complicated, only one of these two is spelled out in the regs, which is VFR. If the conditions are less than VFR, by default, they are IFR. The VFR minimums, and the by-default IFR regs, are found at 14 CFR § 91.155.
So, while we all talk about things like MVFR, it doesn't exist. Not, at least, in the regulatory sense. MVFR is just part of VFR in the regs, and LIFR is just part of IFR in the regs. That's why you couldn't find them.
So where did they come from?
The secret here is that we are using weather products as a proxy for regulatory flight conditions.
Check out AIM 7-1-7, which talks about a weather product called the Categorical Outlook.
Look familiar? Hello, LIFR! Hello, MVFR!
Yes, the Categorical Outlook is the source of the color-coded flight condition classification scheme, which by the way, is broken down like this.
VFR: Ceiling > 3,000′ and Visibility > 5 miles
MVFR: Ceiling 1,000′-3,000′ and/or Visibility 3-5 miles
IFR: Ceiling 500′ to < 1,000′ and/or Visibility 1 mile to < 3 miles
LIFR: Ceiling < 500′ and/or Visibility < 1 mile
Of course, you'll notice that this doesn't really match up with the regulatory weather minimums laid out in 14 CFR § 91.155, and that's because the METAR colors are airspace agnostic.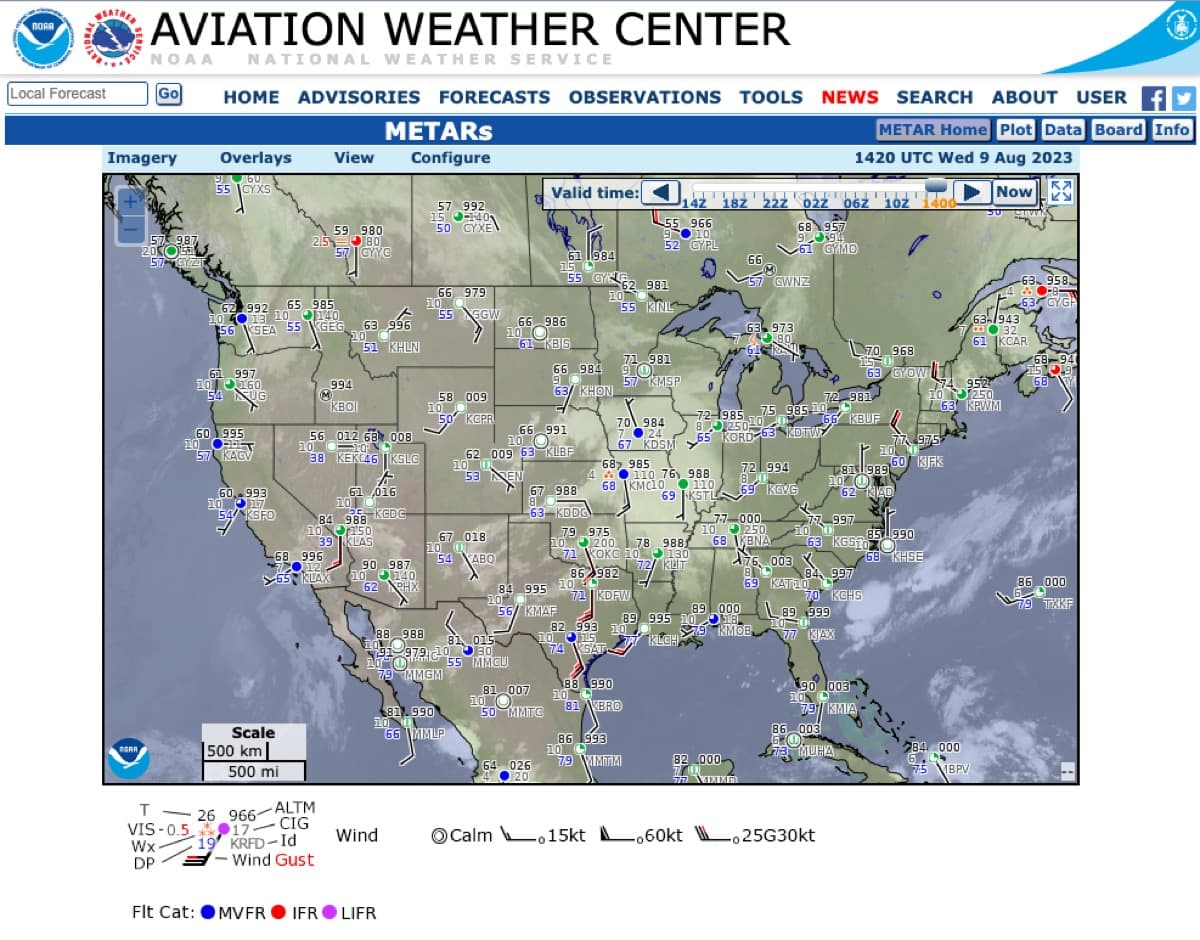 Unlike the regulatory VFR weather minimums, which are different for various flavors of airspace, the METAR color coding is universally the same, regardless of the airspace of the airport.
Most of the time it doesn't matter, but for instance, if you are in Golf airspace, you can be "street legal" for VFR flight with one mile vis, but this would give you a red light on your METAR map.
Which, actually, is OK, because if you are flying VFR in one mile vis you are flying where angels fear to tread, so a red-light reminder isn't a bad way to make you stop and think.
Now, the Categorical Outlook is actually a forecast product, while METARs are reports.
Reminder: A weather report describes the current weather at the time of the observation, while a forecast is what a meteorologist — using a Cray SuperComputer and an Ouija Board — thinks the weather will do next.
So our METAR overlays and maps have really just hijacked the forecast classification scheme and used it to parse real-world observations to a finer level than the black and white VFR vs. IFR classification scheme.
Yeah.
We are using data from real-time reporting, sorting it using a forecast model, then using that as a crude representation of the regulations — both sliced more thinly, but expressed more broadly.
No wonder you were confused.
This is why it takes so long to become a pilot. Just sayin'.
That said, I find the colored dots and lights hugely useful for myself as a pilot and critical for student pilots.
When you consider that the difference between legal VFR and IFR can — literally — be one foot, I think it's great that we have a way of saying, "yeah, it's legal, but…"
So M and L helps us be alert to the fact we are at the sketchier side of legal, and I think that's critical to good aeronautical decision making when thinking about weather.
Who invented the METARs as Categorical Outlooks as a flight rules scheme? I wish I knew. But I don't and I haven't been able to figure it out. Chime in, readers, if you know something!
I suspect it was the industry (like Garmin, Foreflight, or SkyVector) rather than the government (National Weather Service or the FAA) but, like I said, I don't know for sure.
But one thing I do know is that our colored dots and four flight conditions are now universal. They are the law of the land. Not, just, you know, the law itself.