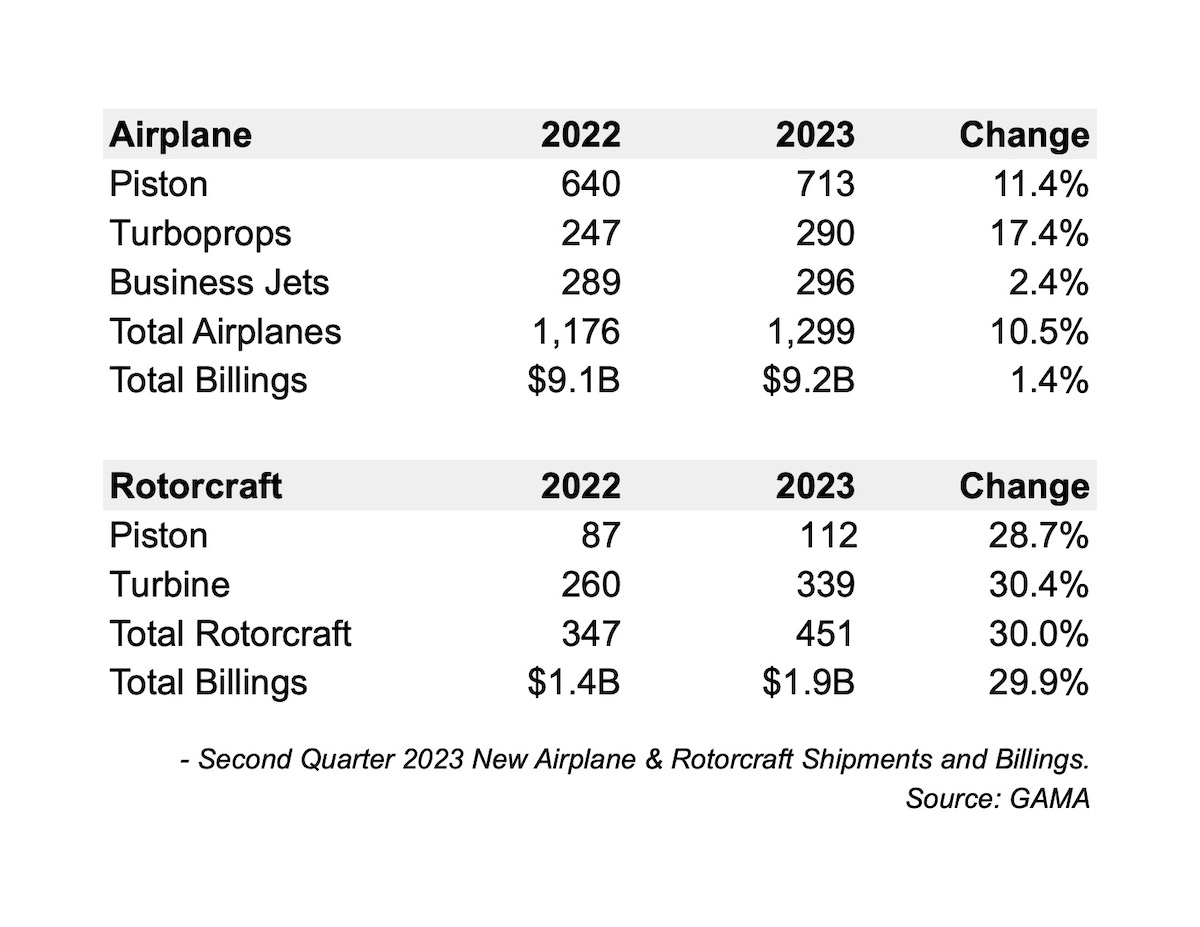 Aircraft deliveries across all segments increased during the first six months of 2023, according to the latest figures from the General Aviation Manufacturers Association (GAMA).
Even better, the overall value of aircraft shipments also increased, according to the association's second quarter 2023 General Aviation Aircraft Shipment and Billing Report.
Aircraft shipments through the second quarter of 2023, when compared to the same period in 2022, saw piston airplanes increase 11.4% with 713 delivered, turboprops increase 17.4% to 290, and business jets increase 2.4% to 296.
The value of airplane deliveries through the second quarter of 2023 was $9.2 billion, an increase of 1.4%.
Helicopter shipments also increased when compared to the first half of 2022, the report shows. Piston helicopter deliveries increased 28.7% to 112 and turbine helicopter deliveries increased 30.4% to 339.
The value of helicopter deliveries increased 29.9% to $1.9 billion.
"The growth of our industry remains strong as manufacturers continue to deliver and take orders for new aircraft," said Pete Bunce, GAMA president and CEO.
But for that to continue, he said it is "imperative that we have stability, accountability, and sound direction from regulatory authorities, particularly in the United States."
"Not only does the FAA need an effective permanent leader during this transformative time for aviation, but the agency is in the process of being reauthorized by Congress," he said. "We are encouraged by the bipartisanship we have seen throughout the legislative process and hope that the momentum to finalize an FAA reauthorization bill continues to build so that the agency can enhance its ability to deliver critical activities that promote safety, innovation and efficient promulgation of rules, policy and guidance that preserve global aerospace leadership."
The FAA has been without a permanent administrator since March 2022, when Stephen Dickson stepped down midway through his five-year term. Acting Administrator Billy Nolen left the agency in April 2023, when Polly Trottenberg was named as acting administrator.
According to provisions in the law that governs presidential appointees, Trottenberg will have to step down as acting administrator Oct. 25, 2023. If the president and Senate have not confirmed a new administrator by then, Katie Thomson, the agency's deputy administrator, will become the acting administrator.
Meanwhile while the House of Representatives has approved a five-year FAA reauthorization, the Senate has yet to take action, with a deadline of Sept. 30, 2023, looming. That's when the FAA's reauthorization expires.