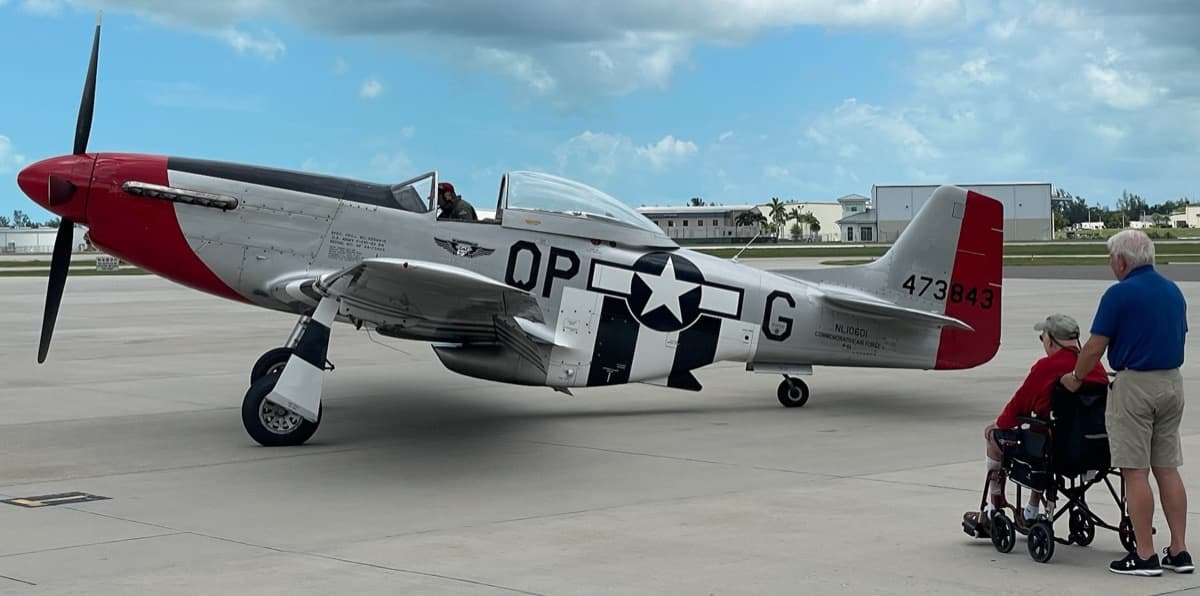 PEACHTREE CITY, Georgia — Officials with the Commemorative Air Force Airbase Georgia flew its P-51 Mustang fighter to Florida recently to help surprise a World War II veteran and former P-51 pilot who was celebrating his 100th birthday.
Bill MacClarence, or Mac, flew Mustangs out of Fowlmere, England, with the 339th Fighter Group in 1944-1945 at the age of 21.
While a small group of friends and family gathered at the general aviation terminal at Naples Municipal Airport (KAPF), MacClarence had no idea what was about to pull up on the tarmac. The sound of the engine was unmistakable for this seasoned veteran, and he was delighted to see a P-51 pull up and cut its engine. It was a true visit back in time for the World War II Distinguished Flying Cross recipient.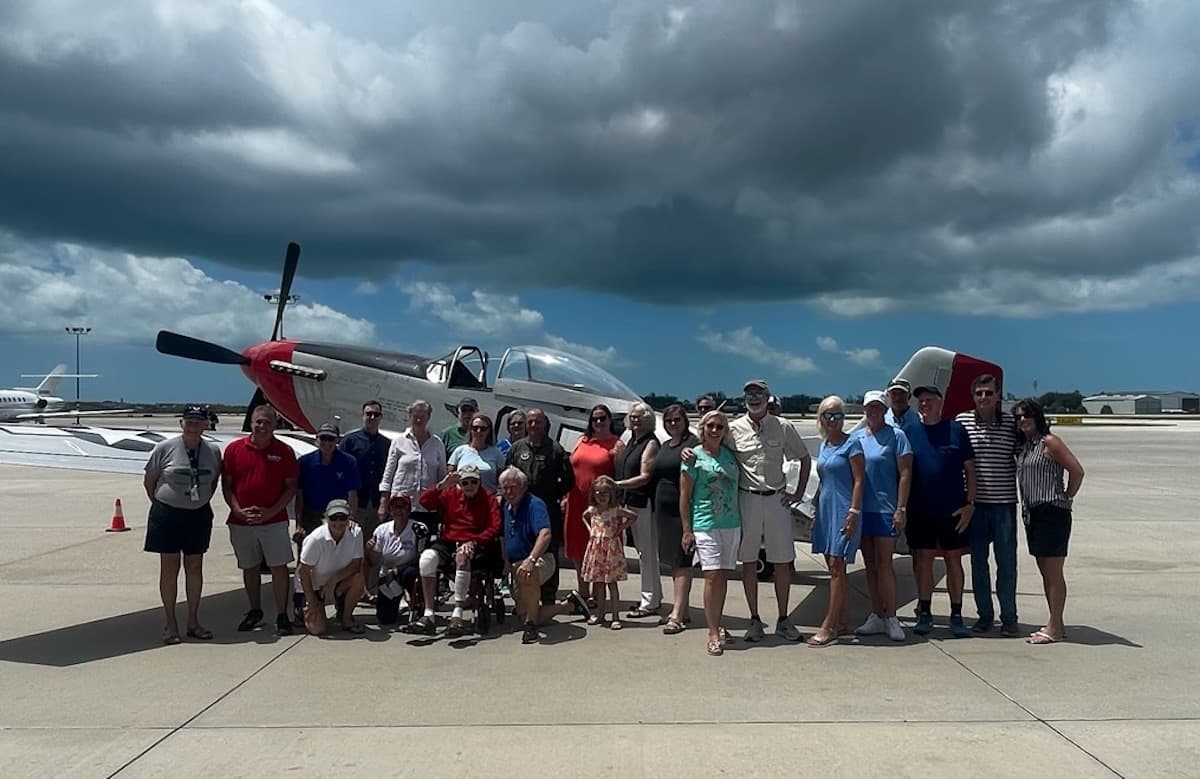 MacClarence was a freshman at Columbia University when he and several students enlisted in 1942, shortly after the Pearl Harbor attack. After training, he was sent to Fowlmere as a replacement P-51 pilot. He became experienced in bomber escort and ground strafing, and even encountered a German Me-262 jet in his P-51, which he named "The Iron Bird."
He ended up flying 36 missions before the end of the war. He returned to earn his degree in engineering from Columbia and worked for General Foods, retiring in Martha's Vineyard, Massachusetts, and Naples.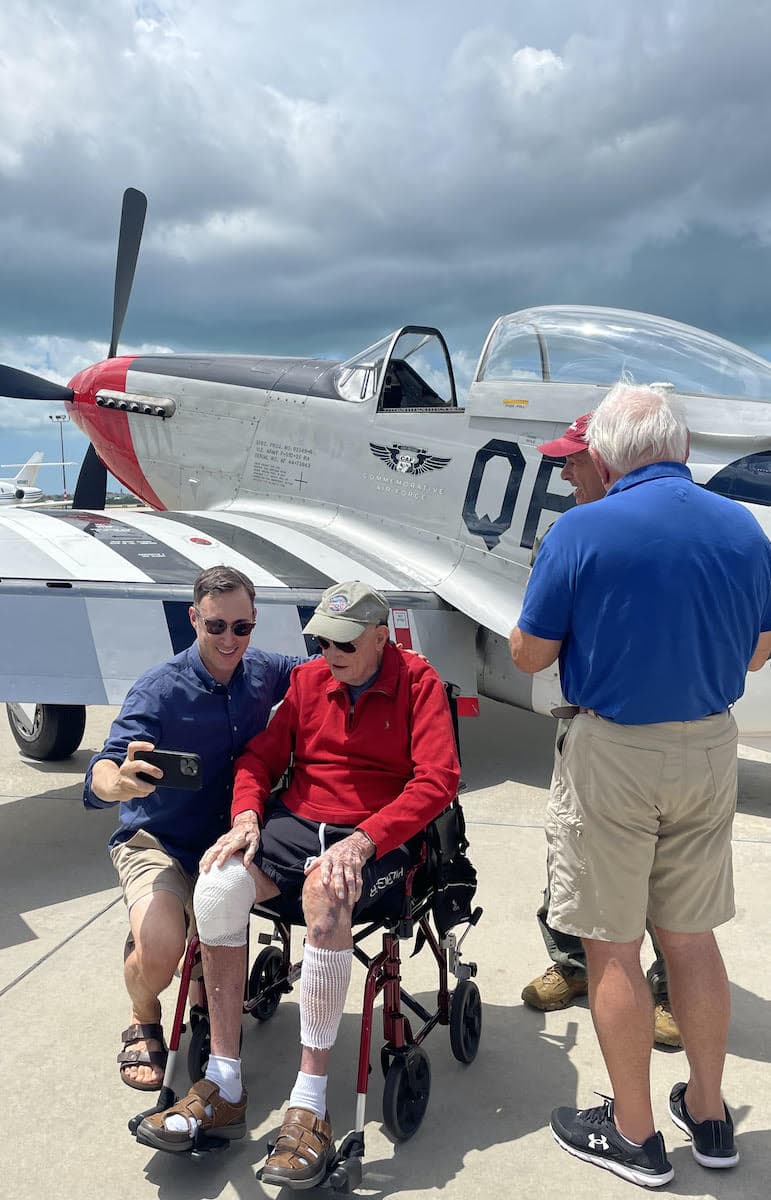 He summed up his wartime experience by telling a writer, "To have had the opportunity to fly a P-51 is probably one of the most memorable experiences any pilot could have."
"One of the key missions of the CAF and Airbase Georgia is to honor those who gave so much to save the world for democracy," said Airbase leader Joel Perkins. "Mac MacClarence is one of the many who deserve to be considered among 'the Greatest Generation.' We were honored to provide this nostalgic memory for such an outstanding veteran and pilot."
CAF Airbase Georgia, founded in 1987, is one of the largest units of the Commemorative Air Force (CAF). The group maintains and flies six vintage military aircraft, including a P-51 Mustang, an FG-1D Corsair, an SBD Dauntless, and a P-63A Kingcobra. The Airbase, composed of more than 500 volunteer members, is a founding partner of the Georgia WWII Heritage Trail launched in 2021.
For more information: AirbaseGeorgia.org.