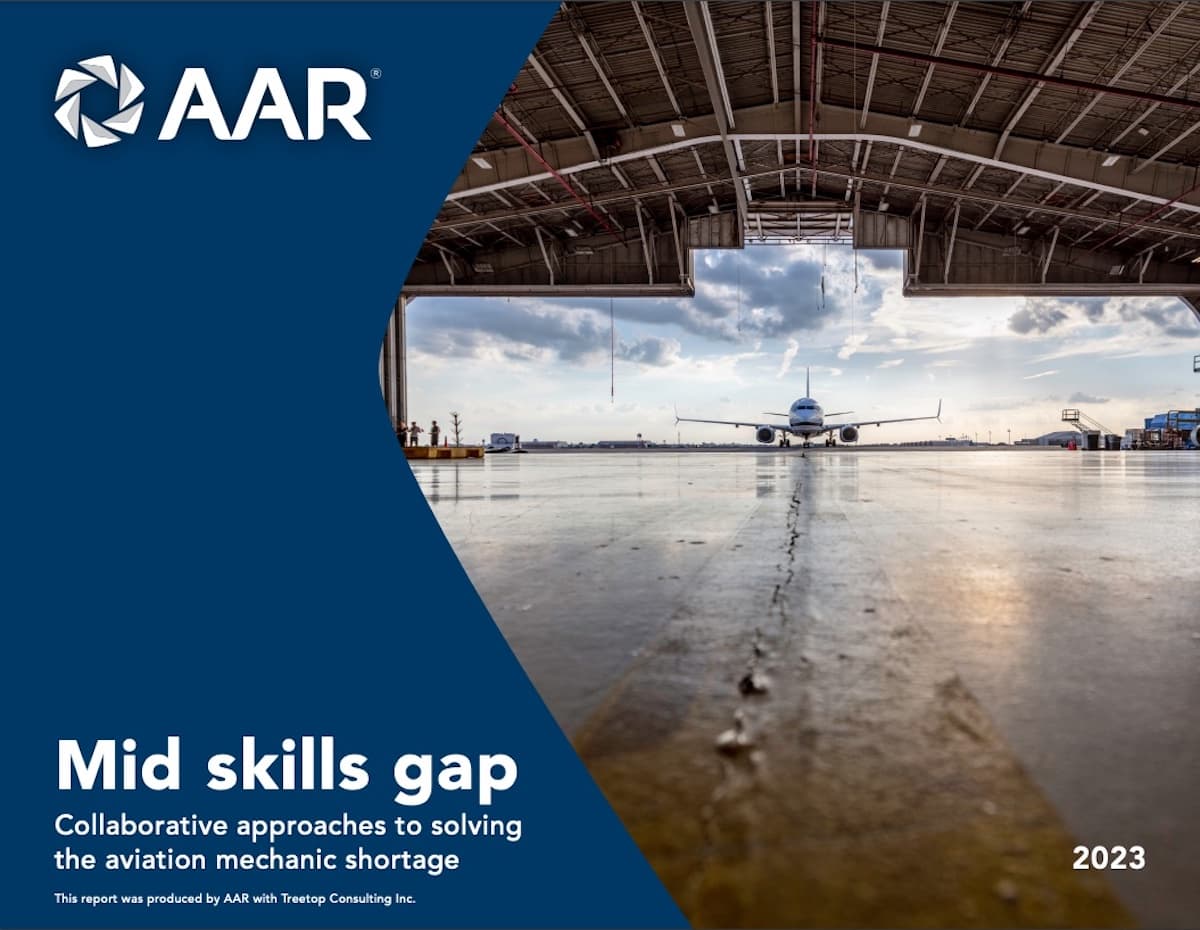 A new report from AAR Corp., a company that provides aviation services to commercial and government operators, MROs, and OEMs, warns that the aircraft mechanic shortage has reached a critical point.
The company's 2023 Mid Skills Gap report urges employers to "break down silos" and collaborate with high schools, colleges, non-profit organzations, and elected officials to expand early access to aviation maintenance curriculum and training.
"Mid skills" describes careers that require industry certifications but not a college degree, including aviation mechanics, according to officials with AAR, which has been putting together the report since 2011.
The 2023 report includes several suggestions to increase the number of aviation mechanics, including:
Work with lawmakers and state agencies, nonprofits and educators to launch a national campaign to raise awareness of aviation careers.
Encourage training programs to teach people with industry experience how to instruct others to build the faculty population.
Ask lawmakers to pass common sense immigration policies that allow aviation companies to recruit talent from abroad to meet demand and keep airplanes flying safely.
Make it easier for veterans to quickly transition their skills to appropriate industry jobs.
Push to eliminate restrictions on AMTs taking the FAA general exam as pilots can do with their written exams. Getting these exams completed early will lead to increased certifications for the industry, officials noted.
Increase training capacity by creating programs to make experienced retirees instructors in education programs.
"These processes won't happen overnight," the report's executive summary states. "There is much work to be done in the coming years. The goal of this report is to show that the challenges ahead can be overcome if industry employers act collaboratively, creatively and, above all, urgently."
"Workforce development is a team effort across industry, education, and government," said John M. Holmes, AAR's Chairman, President and CEO. "Given the forecasted demand for aviation maintenance technicians, these efforts could not come at a better time."
"We have the facilities to grow. We just need the talent," said Ryan Goertzen, AAR's Vice President of Workforce Development. "Companies that invest in training must look to solve the issue not only for themselves, but for the industry."
You can read the entire report here.