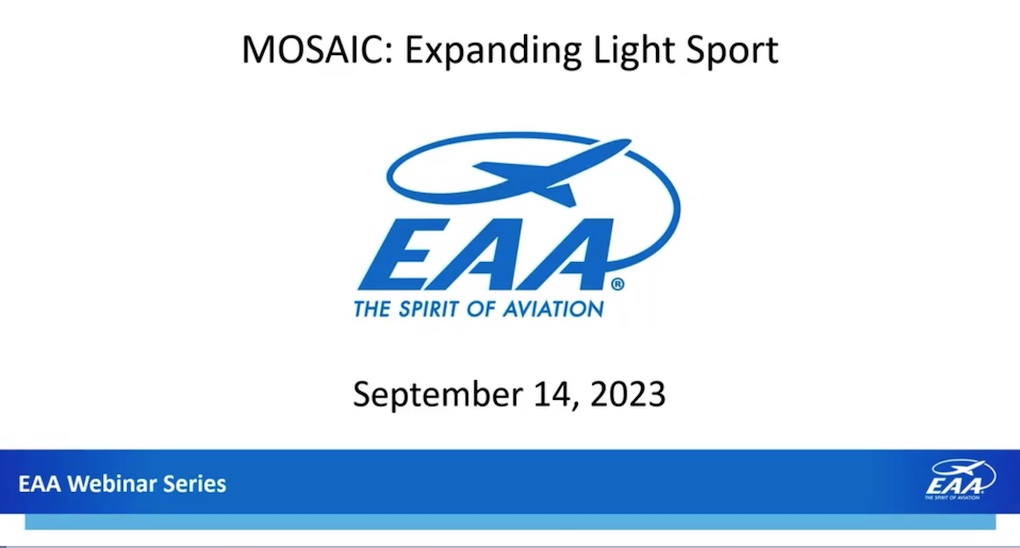 In case you missed it, on July 24, 2023, the FAA published a proposed rule titled "Modernization of Special Airworthiness Certification" to the Federal Register. Known as MOSAIC, the rule is 90 pages in the print version of the Federal Register. This is no easy read.
The comment period closes on Oct. 23, 2023. So far, more than 440 comments have been filed.
If you'd prefer a more palatable option to digest the high points of the proposal, tune in to the recording of the Experimental Aircraft Association (EAA) webinar, "MOSAIC: Expanding Light Sport."
I joined nearly 900 other interested people when I tuned in live on Sept. 14, 2023. As a bonus, I earned one WINGS credit for Knowledge Topic 2 just for watching the 90 minute webinar.
EAA polled attendees on two questions:
Are you a Sport Pilot currently?
10% Trained as Sport Pilot
20% Private or higher certificate but exercising Sport Pilot privileges
55% Exercising the privileges of higher rating
15% Not currently a certificated pilot
Does the aircraft currently flown meet the proposed LSA definition?
72% Yes
20% No
8% Not Sure
Suffice it to say, MOSAIC is a significant evolutionary step forward from the original light sport regulation that is now about 20 years old.
Webinar hosts Tom Charpentier, EAA Government Relations Director, and Rob Hackman, EAA Vice President, Government Affairs, did an admirable job translating government speak into civilian English and answered a number of very specific questions in the webinar's closing 20-plus minutes.
If you have even a passing interest in MOSAIC, I suggest you tune in.