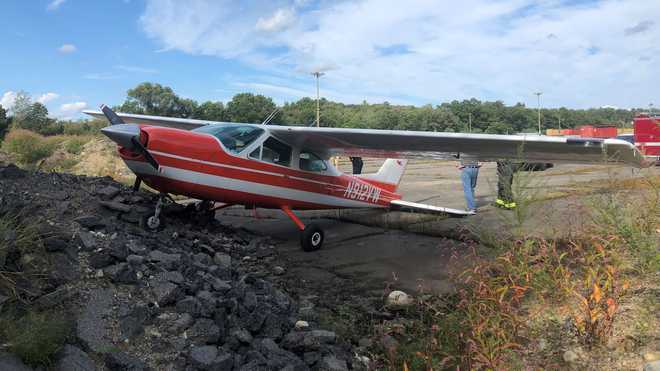 Close but, as they say, no cigar. A mere 6.7 miles from its fuel stop, in the early afternoon of Sept. 11, 2021, the Cessna Cardinal's engine began to sputter. Then, nothing. Total silence.
From 2,800 feet MSL, the pilot glided down to the little town of Ayer, Massachusetts. He touched down on what the local media described as an old railyard, "where train cars used to be unloaded."
If only the yard had been just a few yards longer or, for that matter, the airport just a little closer (it's been said that most of these fuel starvation accidents could be avoided by moving all airports just a little closer), the airplane could have been saved. Instead, the Cardinal smacked into a four-foot-high pile of asphalt chunks at the end of its landing roll.
The pilot walked away from the scene uninjured, but his wallet was not so lucky. Which, as you'll learn, is the irony of this accident.
But I'm getting ahead of myself.
Although pictures of the accident scene seem remarkably serene, with the pretty red and white 1968 Cardinal appearing fully intact — its mains on the pavement and its nose gear resting on a pile of rubble like some sort of airplane-for-sale display at a car lot — the NTSB labeled the damage as substantial.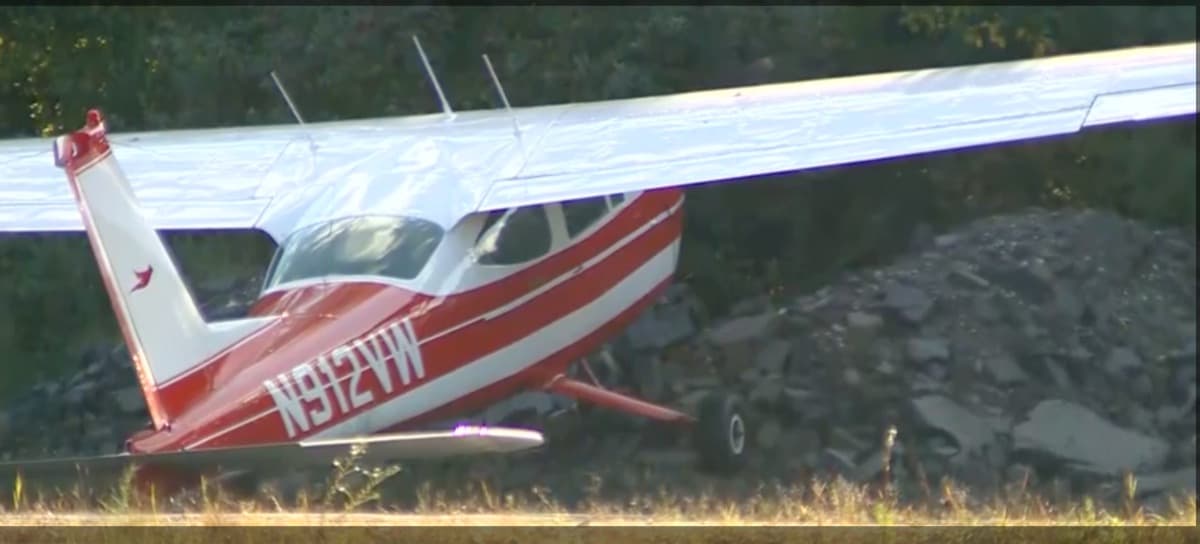 Before the flight
The flight began only 35 nautical miles away, at the privately-owned Intervale Airport (NH86) which, according to its website, is the friendliest neighborhood airport in New Hampshire.
But friendly apparently doesn't include fuel, and the pilot, as he prepared for departure after visiting a family member, "noticed" that he didn't have all that much fuel onboard. His preflight inspection showed that his left fuel tank had only nine gallons of gas. The right was empty.
His home airport was only an hour away, but given his fuel level, he planned an en route fuel stop at Minute Man Air Field (6B6), in Stow, Massachusetts, the airport that needed to be just 6.7 miles closer.
The NTSB
When authorities inspected the airplane in the railyard, they found no usable fuel in the left tank, no usable fuel in the right tank, and no fuel at all in the firewall-mounted fuel strainer. Yup, the pilot ran the airplane plumb out of gas.
But here's the rub: According to the NTSB, "During the investigation it was revealed that the pilot had passed up three other airports during the flight, as the gas was 20 cents per gallon cheaper at his chosen fuel stop."
I'll let you process that for a moment.
Because there's more.
Additionally, the NTSB investigators tells us that the pilot didn't use his Pilot Operating Handbook (POH) for calculating fuel consumption. Instead, he "would deduce his fuel burn by rules of thumb using one single fuel burn number, rather than using the published cruise and range performance that was in the owner's manual."
Oh, but there's still more.
He was also, according to the NTSB Final Report, using a fuel dipstick "from another airplane model that was not calibrated for this airplane" to determine his fuel levels during preflight.
At first blush, quite rightfully, the NTSB threw the book at the pilot with a finding of four personnel issues:
Fuel planning — Pilot;
Preflight inspection — Pilot;
Knowledge of equipment — Pilot; and
Decision-making/judgment — Pilot.
But was that really fair?
The Pilot
The 68-year-old male pilot held a private pilot certificate. He had no instrument rating, and was flying under BasicMed. According to the NTSB's final report on the accident, he had 625 hours in his logbook, 94 of them in the make and model. His last flight review was about a year and a quarter before the accident.
Analysis
Now I confess, when I first read this, I thought it was insane to takeoff with basically a Jerry Can of gas in the wings of an airplane that size. But in fairness to the pilot, let's step back and take a look at the numbers.
PlanePhD lists the Lycoming O-320-powered Cardinal's fuel burn as 8 gallons per hour in cruise. So working the math here… stand by while I whip out my trusty E6-B… OK… I show nine gallons should last the airplane a little over 67 minutes.
Of course, that's not accounting for warm-up, run-up, taxi, and climbout. But just as an intellectual exercise — and ignoring wind for the moment, as we don't have any data on that — with the Cardinal putting along at 117 KIAS, how far could the most optimistic pilot hope to have gotten?
The answer is something like 130 nautical miles. So is a flight of 42 nautical miles unreasonable?
And still ignoring warm-up, run-up, taxi, climbout, and wind, what about §91.151's 30-minute fuel reserve? Going back to that 67 minute E6-B endurance, if we knock off the fuel reserve, we're now down to around 37 minutes of legal flight spanning about 70 miles or so.
Using a "flat" rule of thumb, as the pilot did, it still looks doable (if, albeit, on the bold side for my taste).
Discussion
So while the pilot certainly didn't obey the regulation that requires us to use "all available information" in our preflight planning, I'd be willing to bet that, if he had, it would still have shown a legal squeaker.
But what about using rules of thumb, not data, for preflight planning? Is there a takeaway there? Is this ever acceptable? And if so, what kind of "fudge factor" should you add as a safety margin?
Now, I'm not saying that I'm defending his practice, but the gentleman did have nearly a hundred hours of successful fuel planning in this airplane using his single fuel burn number, so I'm guessing that his number was conservative enough to cover most circumstances.
So, if on paper, it should have worked, why didn't it?
I think it came down to his wrong-airplane dipstick. I don't think he had the nine gallons he thought he had when he took off.

And speaking of gallons, what about passing up perfectly good airports to get to the cheap gas?
Well, if he'd had the fuel on board he thought he had, that would have been OK, too.
But, that said, I do think this accident was caused 100% by economics.
In fact, if I were the NTSB investigator writing the report, I think I would have blamed the accident on the fact that the pilot was cheap. Passing airports with low fuel to get to somewhere gas was 20¢ cheaper was only a small part of the problem.
Being unwilling to spring for the correct fuel stik? That was the lion's share.
A FuelStik for the 25-gal tank version of the 177 like he was flying is, like, $30 at Aircraft Spruce.
But instead, the pilot used a dipstick for another make and model.
I don't know if that was the first link in the accident chain, or the last, but you can't calculate your endurance and range — either directly or via rule of thumb — if you don't know how much fuel you have in the tanks.
The Takeaway
Yeah, I get it, aviation is expensive. A lot of my "disposable" income gets sucked into it, too.
But ya gotta pay to play, and in this business, we need to play safe.
I wonder what the repairs to the airplane cost our cheap pilot? That would depend on his insurance, of course — but given his other spending priorities, I think we can assume his insurance was the cheapest he could get, if he even bothered having any at all.
Regardless, I'm betting the repairs cost more than a FuelStik and quarter tank of 20¢ per gallon more-expensive fuel.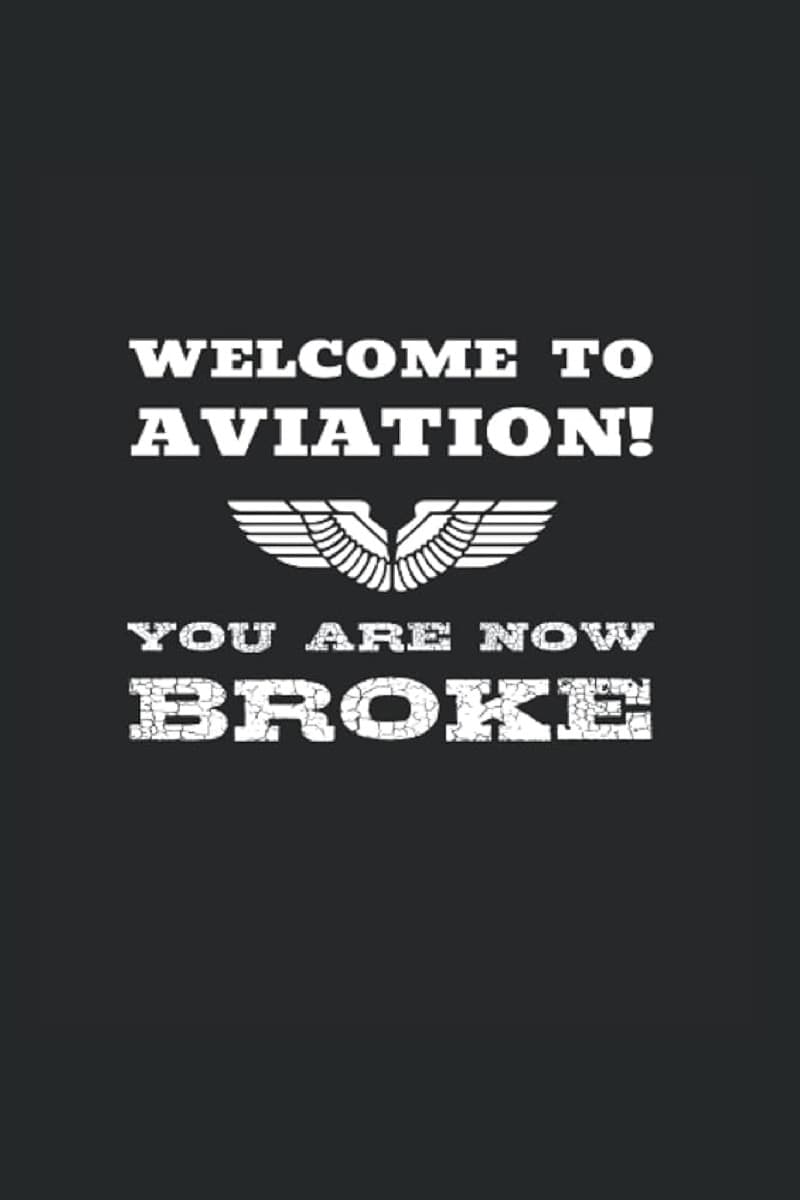 Meanwhile, the airplane is flying again, with FlightAware showing many short hops around New England. We can only hope the pilot has now invested in the proper fuel dipstick.
And for the rest of us? What's our self-improvement takeaway?
You hear a lot about pilots flying here or there for the "cheap gas." But how much does this really save?
I wonder if we need better perspective on cost when it comes to fuel for GA airplanes.
In this case, even filling both wings half full (waaaaaay more than he would have needed to get home) would have only set the pilot back an extra five bucks at the more "expensive" stops.
And if you look at it in percentage terms — instead of dollars and cents — the difference is nearly inconsequential.
I don't know what fuel was running in his area back in 2021 but my Garmin Pilot App is showing an average of about $6.50 in that area for avgas today. Using that as a baseline, and looking at the percentage of that figure that 20¢ represents, it's about 3%.
Is saving 3% worth risking your life for?
Want to read more? Download the NTSB's final report, ERA21LA380, here.