After reading a magazine article back in 2016 on the risk of "hangar rash" damage to the thin, trailing edges of composite propeller blades, David Otero decided — "before even closing the magazine" — to buy covers to protect his new Whirlwind GA200L propeller.
The only problem was, that in scouring the internet, it appeared that nobody made such a thing. So Otero simply went to his workshop and made his own.
He's a hands on kinda guy that way.
He had just finished building his RV-7, and before that, he built hundreds of other airplanes. Literally. He had been a final assembly technician for Eclipse Aircraft, the personal jet manufacturer, before it closed its doors in 2009.
To make covers to protect his propeller blades, he "grabbed some neoprene" and fashioned what was to become the first "BladeSox" set — a pair of close-fitting covers that slid over the prop blades much like socks slide over your feet.
He still has that original prototype in his workshop, but he's now somewhat embarrassed by the quality of the stitching.
BladeSox have come a long way since then.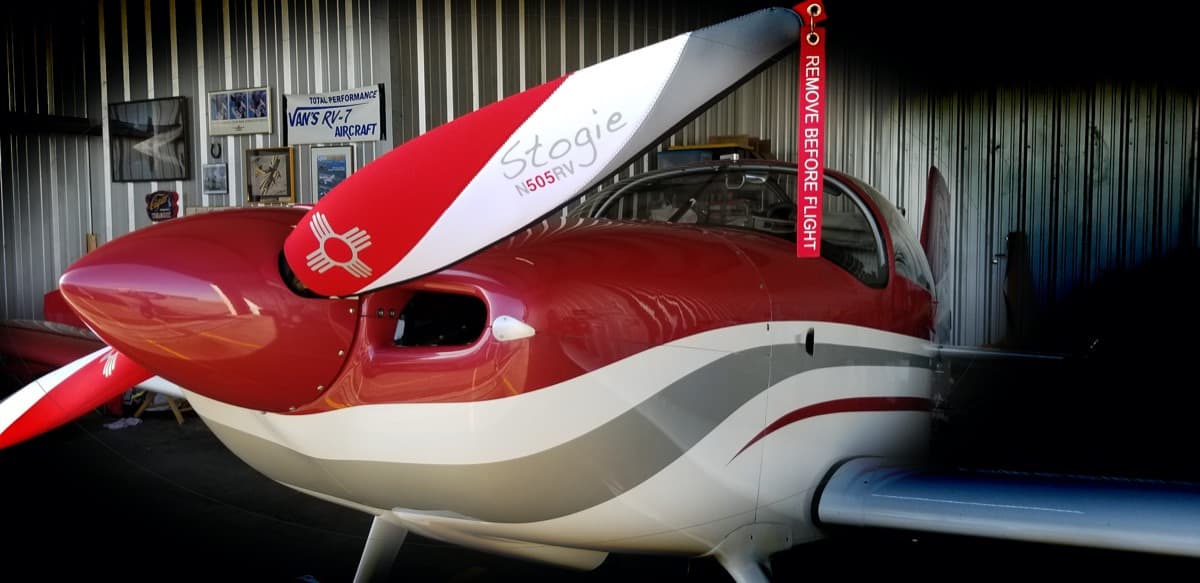 At the time, Otero was enjoying his retirement, and not looking to do much beyond formation flying with New Mexico's Chili Flight, taking kids for their first airplane rides as a Young Eagles pilot, and spending time socializing with the pilot community at the Double Eagle II Airport (KAEG) on Albuquerque, New Mexico's, northwest side. But then his friends saw Otero's blade covers.
And one thing, as they say, led to another. Only this time, the one thing led to a dinner party.
Dinner and a logo
At a 2018 dinner party with friends, as it does with pilot people, the conversation turned to, you guessed it: Airplanes. And airplane talk eventually led to Otero's prop covers, which he had been crafting for friends and airport neighbors for two years.
By evening's end, his buddy Steve Weedeen — a graphics, branding, and marketing professional — had drawn history on a proverbial napkin. The propeller protectors now had a name and a logo.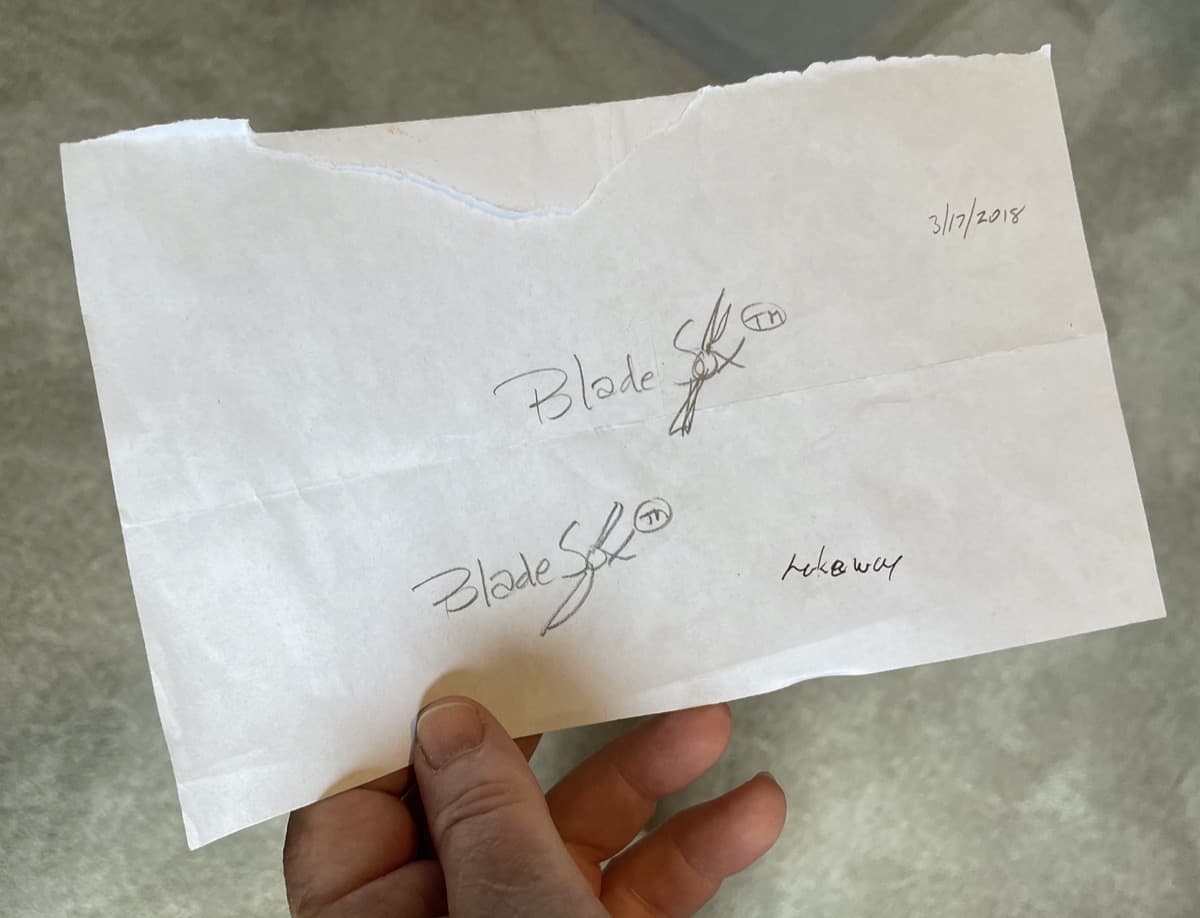 When Otero got home that night, he reserved a URL online and was suddenly out of retirement, and in business for himself.
Hand made, one sock at a time
Fast forward five years. If you want to sox it to your airplane, here's how it works: You download an order form from the BladeSox website, then you get out a tape measure.
The order form guides you through measuring your prop: First the length of one blade, tip to hub, then measures of one-half the circumference at designated intervals — right at the hub, then three-inches out, six-inches out, a foot, 18-inches, two-feet… and so on. Finally, take a snapshot of your prop, showing the tip-shape, and upload the form and the photo.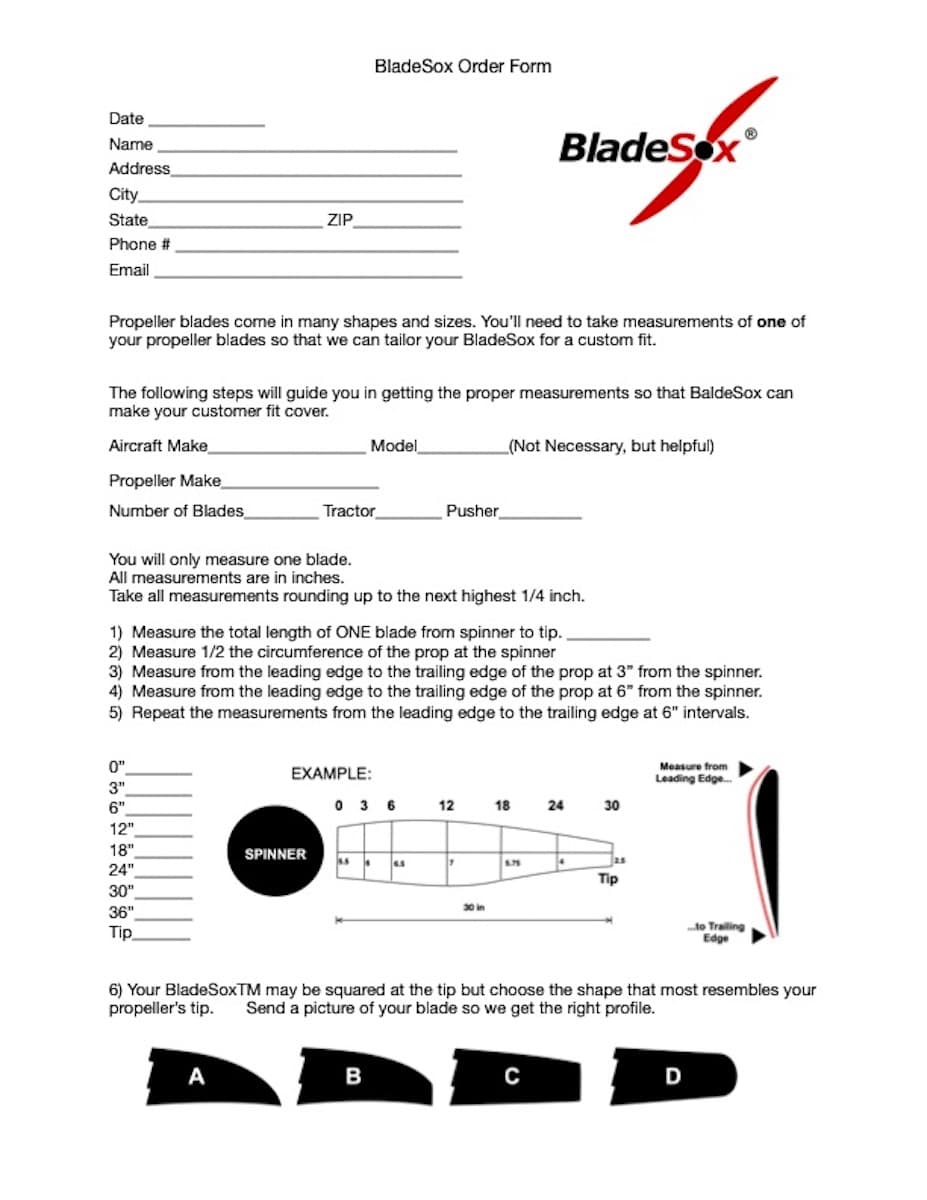 But don't send the company any money. You won't do that until you are satisfied with your socks… errr… soxs. Once complete and ready to ship, Otero sends a picture of the soxs and an invoice.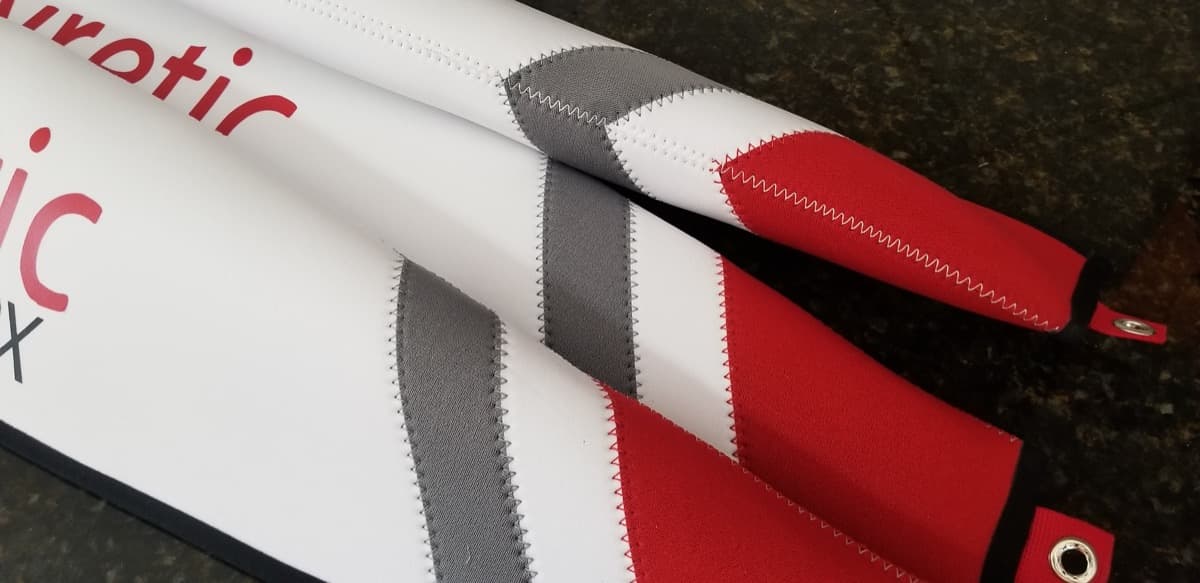 Otero doesn't maintain a database of props, as he says there are just too many to keep track of, with multiple brands, styles, lengths, cords, and tip shapes. Instead, he simply crafts each sox to the specifications of each customer propeller.
To do this, he starts by creating a computer model of the prop, based on the customer measurements and photo. Next, he creates a 100% scale model of the prop's planform, printed on card stock.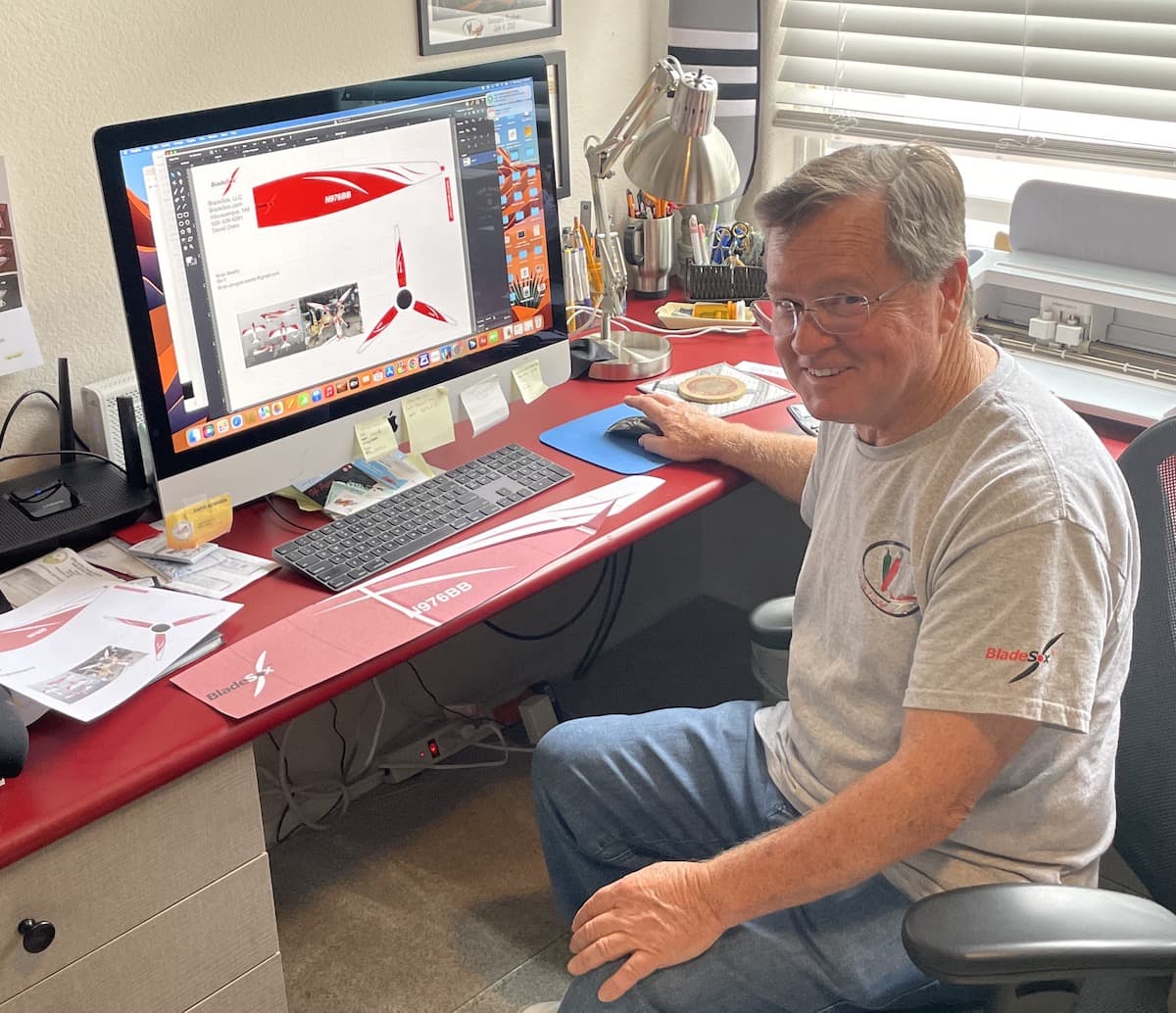 Then it's off to the garage. Literally. The BladeSox factory is shoehorned into the family garage next to his wife's car.
Fortunately, Mrs. O favors a small, sleek ride, not a Hummer.
Otero uses the cardstock pattern to cut pieces of material — a rubberesque laminated neoprene — from 80-inch by 50-inch rolls, which he then sews together to make each sox.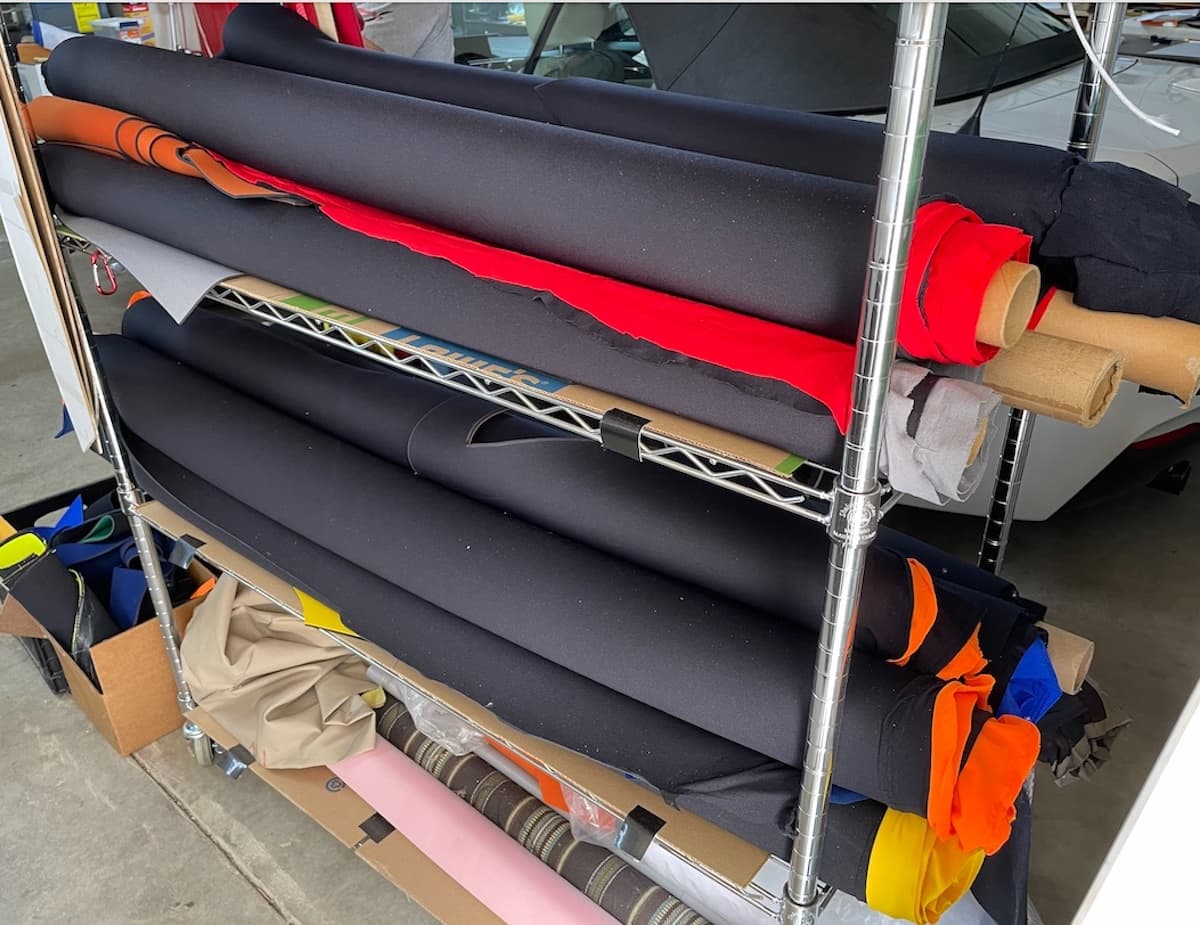 "I cut every single piece by hand," says Otero. "I feel like a tailor."
He says that after experimenting with a number of different materials, he settled on a 3mm-thick neoprene that is bonded on both sides with nylon, which allows the sox to have a "snug" fit while still sliding on and off the blades easily, and doesn't require straps to hold the covers on.
Otero also notes that his design creates a double thickness at the vulnerable trailing edge of the prop.
Of course, that's just the nuts and bolts. It's the creative part that takes the most time.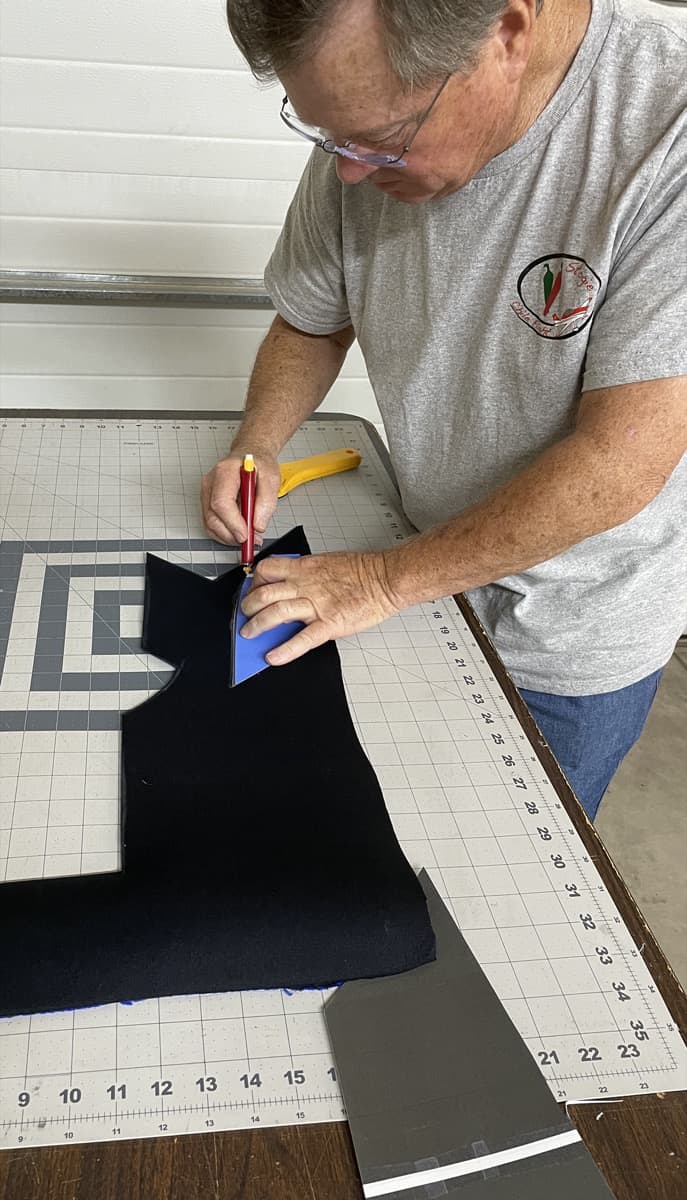 Customization
BladeSoxs come in 11 colors, which can be mixed and matched to make stripes, tips, or even multi-color sox in five different styles.
The goal? To create a set of sox that matches the livery of the airplane. That looks like it belongs.
And with that in mind, each includes custom-printing of either the airplane's N-number, name, model, race number, pilot's callsign, or other text important to the pilot-owner — a simple idea that turned out to be quite the technical challenge.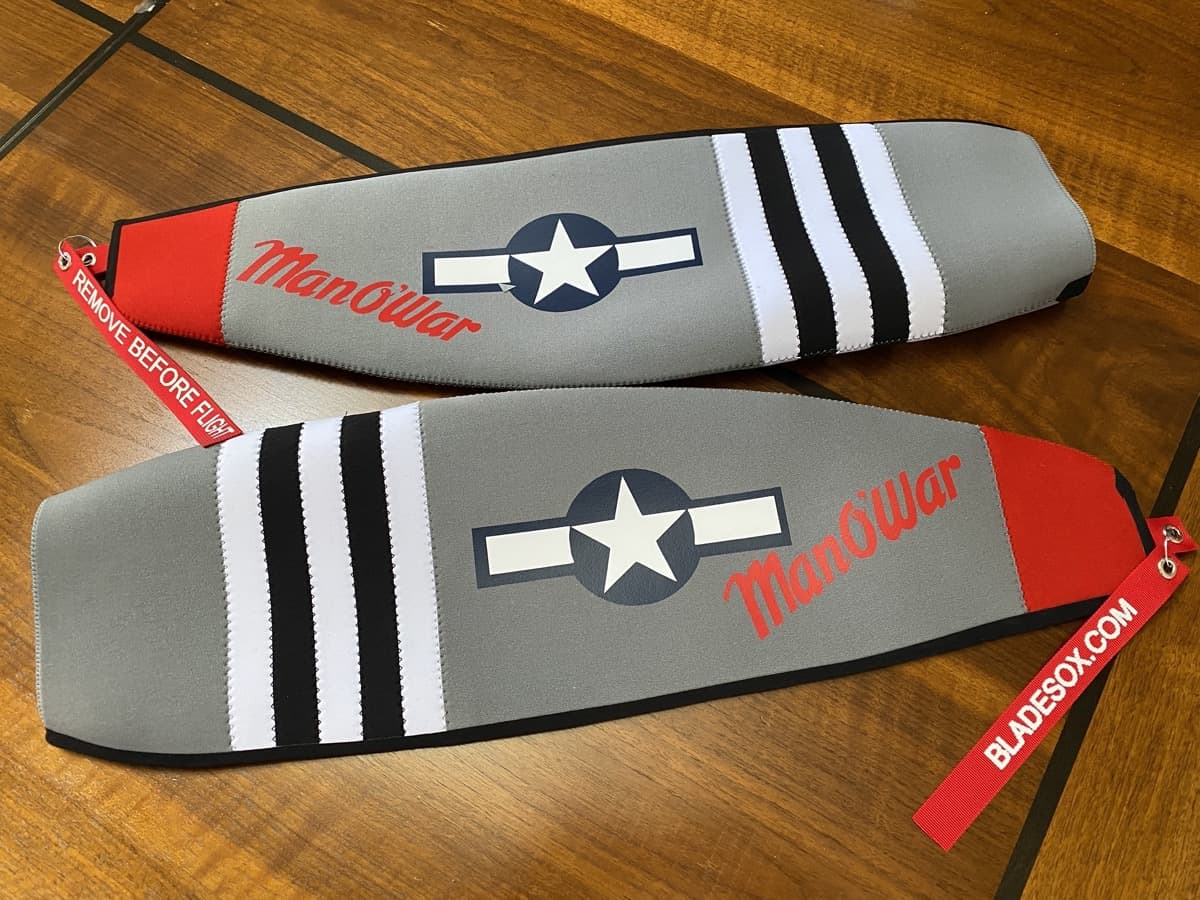 Otero says that neoprene, being a stretchy material, isn't embroidery friendly. He considered silk screening, but that's not a practical approach for one-off custom pieces. In the end, after much experimentation, he settled on iron-on graphics created using a Cricut machine, which also allows him to offer simple logos on fully-customized orders. He's on his second Cricut, and says, "I'm having a blast with that."
He affixes the iron-on graphics to the sox using a simple household iron "my mom was going to throw out." Which is not to say he's imprecise with the cast-off equipment. Otero uses a laser thermometer to ensure the iron's temperature is exactly right before heat-sealing graphics to each sox.
How long does it take to make each set? As long as it takes.
Otero takes pride in the soxs and puts in as much time as needed to make each one good quality. Otero says he enjoys the process and doesn't let himself get rushed. That said, when orders come in, all else goes on hold and he's happily working in his study and garage weekends and evenings to turn orders around, so that most orders are typically ready to ship "a couple of days" after an order is placed.
Otero says that his BladeSox are "not like every other airplane part where you have to wait six months."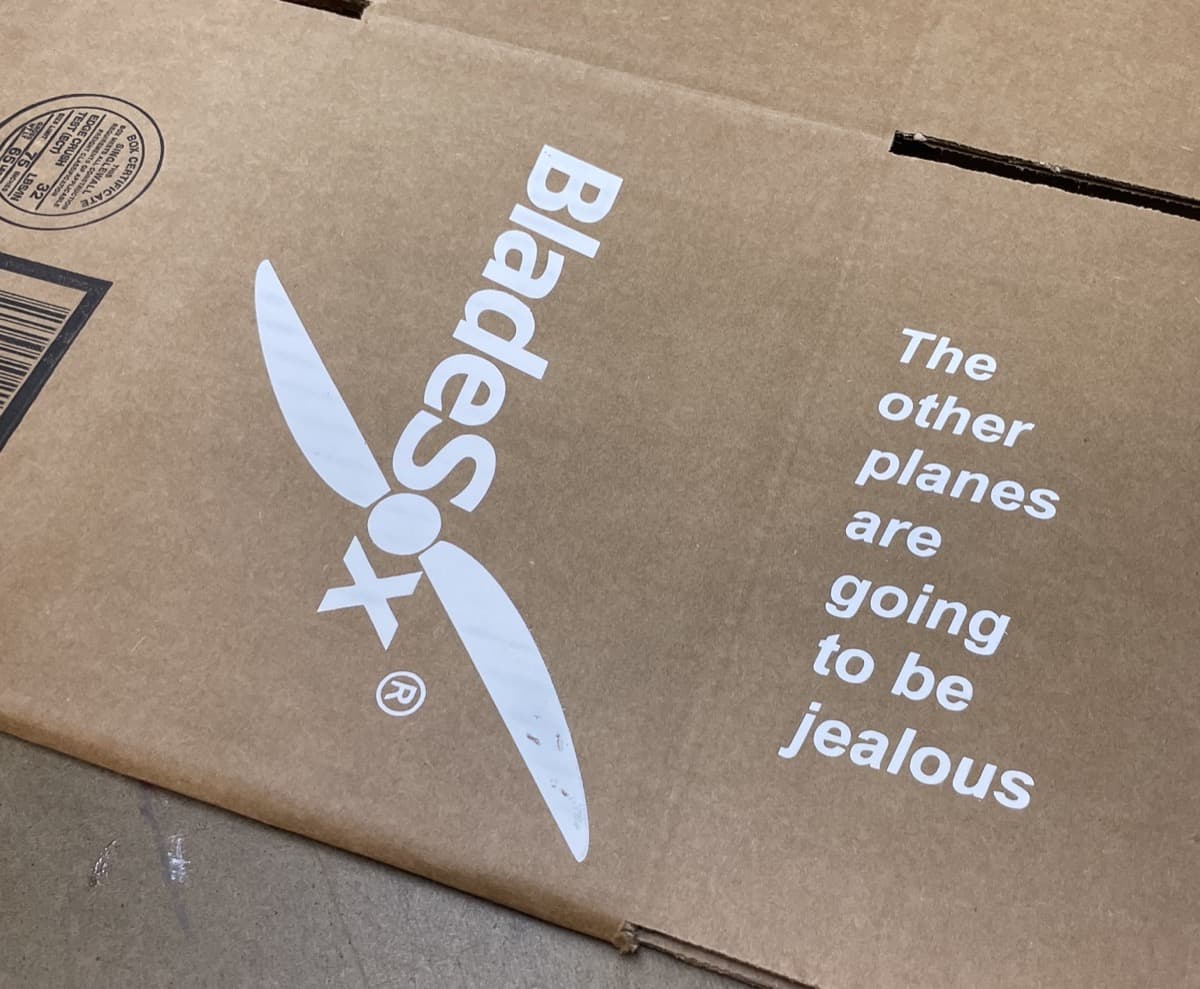 Runway style
While we don't operate off the same kind of runways fashion models use, much to Otero's surprise, his BladeSox are becoming fashionable in a way he never foresaw. He says that while BladeSox, "started off as protection for your propeller," they have increasingly "become a fashion thing."
He's even made BladeSox for metal and wood props, which arguably don't need blade protectors at all.
Otero also finds that, while originally intended to protect against hangar rash, many of his customers carry their soxs with them when they travel, and use them on the ramp. The material that soxs are made of will protect composite props from the sun's UV, but Otero admits that it's a kamikaze act. The soxs themselves, while protecting props out in the sun, will themselves fade.
Not an air race
In the beginning, Otero admits he worried about quality.
"Are these really good enough to sell?" he said he asked himself many times in the first year.
But now, an estimated 150 sets of soxs later, and with BladeSoxs not only shipped around the country, but to Canada, England, France, New Zealand, and Switzerland, he's stopped worrying about that, although he says he's always looking for ways to make his product better.
The company, although having advertised briefly via Facebook, and while supported by a smart-looking website, has grown largely via word of mouth, simply by each satisfied pilot-customer talking to his or her hangar neighbor and through online pilot forums. Which is fine with Otero. He has no desire to become too big, and says he's feeling no pressure to grow the company.
"I like being retired," he says. "I like to fly."
So his goal is simple: To make his passion self supporting. He flies about 100 hours a year in his RV, nearly half of that formation flying. He's also occasionally seen his product on the noses of airplanes when he travels, sometimes meeting his customers in person for the first time.
Currently, he crafts around three sets of socks on a typical week.
"I'm really enjoying it," he says, although sometimes he's amazed by the journey.
After all, he says he started all of this "just for my airplane."
Cost
A set of soxs can range from as little as $258 to as much as $1,000, depending on the size and number of blades, and the degree of customization the customer wants.
Otero says the average set of soxs runs around $350.
For more information: BladeSox.com.