Because flying is cool.
That's the answer to why we publish General Aviation News.
"Cool" is a relative term. What I think is cool may not be cool to you.
But overall, that informal motto has been driving us to produce content unique to us. More times than not, I believe we are succeeding.
How do I know? Because I hear from a good many readers who call to renew their subscriptions and tell me so.
A recent email from a long-time subscriber tells me we're doing pretty well, but from a different point of view.
"Your publication is so good that I think I owe it to you to explain why I'm not renewing. Having turned 80 I've had to sell my beloved Cessna 172 and step away from flying. I love seeing the pictures of all the unique airplanes at the air shows you cover but each issue leaves me feeling melancholy knowing that after 50 years behind the yoke, I'll never again be the sole pilot of an airplane. So thank you for all the hard work you do for the flying community."
I'm sad for this former subscriber, but grateful he took the time to send this email.
General aviation means different things to different people. And while there are challenges aplenty, there are still a lot of really cool things happening…and we plan to share those stories.
And if you have a cool story, let editor Janice Wood know at janice@generalaviationnews.com or 800-426-8538 x3.
Pass 'em on
Another subscriber called to ask why he received a renewal notice after he had already renewed. Turns out, I posted his renewal the day after the next batch of renewal notices had been mailed. It was a case of "They crossed in the mail." 
After sorting that out, he told me how much he enjoys reading General Aviation News and has made it a habit to pass it along to a teenager he knows with the hope of sparking an interest in flying.
While I'm happy he renewed his subscription, I'm thrilled he's passing his copy along for someone else to read.
What do you do with your copy of General Aviation News after you read it? Please consider passing it along.
Shameless plug: If you aren't a subscriber and would like to be, give me a call at 800-426-8538 x2. I'm old school — I still answer my phone if I'm available. If I miss your call, leave me a message and I'll call you back. 
Welcome back Tom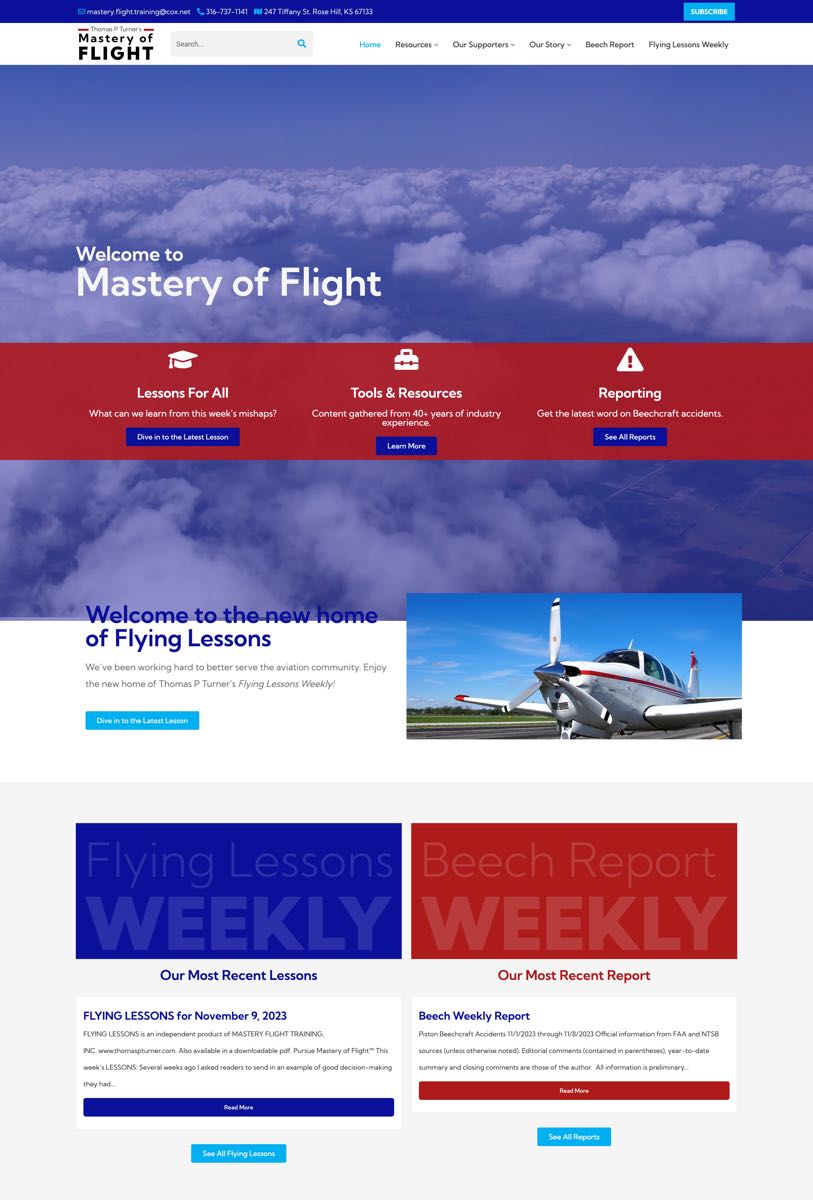 I've subscribed to Tom Turner's weekly Flying Lessons newsletter longer than I've been a reader. But over the last few years, I've made it a habit to read this treasure trove of knowledge.
A few months ago Tom's website went offline after a run-in with an "unscrupulous web designer."
I'm happy to report the Thomas P Turner Mastery of Flight website is back online and ready to serve. If you are looking to up your safety game and improve your aviation knowledge, point your web browser to https://thomaspturner.com/
Welcome back to the internet Tom.