It had to be here somewhere. I was hunting a small grass strip south of pretty Mount Dora, Florida, as my search for a retirement town continued. Aside from its growing reputation as a new Florida "cultural capital" and great weekend outing from Orlando, Mount Dora had two or three grass airstrips on its map.
I inquired at Orlando-Apopka Airport about nearby Potter Airfield, where a nice L-16 had been restored years ago. However, the "X" on the wall-mounted Sectional presaged disappointment. The young guys at First Landings Aviation told me Potter closed when the area started growing houses, not crops to dust. I left, complimenting their new PiperSport Cruiser for rent. It had been first in the nation on a rental line, they said.
Up US 441 and Jones Road was X61. Yep, there are the hangars. There's the wind sock. Where's the entrance? I guess they figure any pilot worth his salt will 1) divine the way in, then 2) plow uninvited down the dirt road through the farm towards the airport. I resolved to ask forgiveness (rather than permission) and plowed ahead. Yep, here was Bob White Field.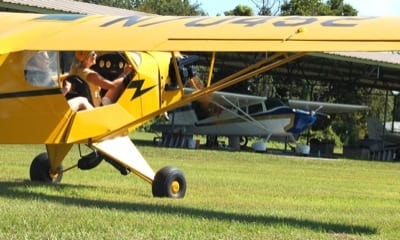 The guys at Southern Aviation Services were rebuilding a Piper Cub in an old tin hangar. An Aeronca stood outside hoping for maintenance. My kind of place. The "SAS guys" swear there's a sign at the entrance. "OX-5" it supposedly reads. That would be clever aero-code for pilots… if they locate the sign. I didn't.
I returned the next day to catch two happy people taxiing a Cub past the shade hangars for a jaunt around the Harris Chain of Lakes. (There are seven of them.) They waved. I waved. I shouted "GA News." They gave big thumbs-up and happily S-turned on. What a Cub can do for people on a bright Saturday morning!
They say there's an L-4 in those hangars for sale but it hasn't flown lately. Regardless, my quest was fulfilled: A Florida yet unscathed by growth, some big inland lakes for sailing, a quaint but happening downtown scene and a grass strip with some life left in it. It's definitely on the list!
Photo and story © Drew Steketee 2010 All Rights Reserved