Dan Johnson, president of the Light Aircraft Manufacturers Association, is an expert on Light Sport Aircraft.
Tim Casey is just plain full of it. Garmin's jovial, well-recognized manager of the instrument company's aviation hand-held and LSA line of avionics products is one knowledgeable character. In fact, he is so full of information that his one-hour seminar at the Midwest LSA Expo only scratched the surface of the seemingly limitless capabilities of the company's digital instrument line. For example, synthetic vision comes preinstalled on the G3X and if you want, the Garmin unit can even be wired to show the closure of doors.
I enjoyed his review of the Garmin G3X line used in some LSA and plenty of homebuilt aircraft. It's a deluxe system that costs $14,500 for the full dual-screen unit… BUT, if you act before the end of 2010, you can secure a whopping 25% discount, saving you $3,600.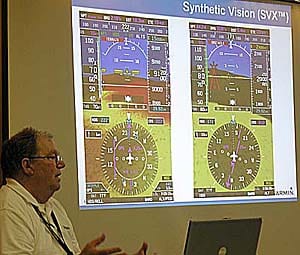 Garmin also makes the increasingly common GPSMap 696 or the 496 used in a large number of LSA. In his talk, Tim touched on those products and the handheld Aera, my personal favorite with its touchscreen interface that works similarly to my iPhone.
In a comment certain to warm the heart of a pilot, Tim noted, "The software engineers as well as the hardware, mechanical, and systems engineers behind the company's G3X systems are all airplane builders."
In a similar vein, he explained that Garmin stitches together features from many other databases including maps, of course. "We have no less than 45 cartographers to handle these duties," Casey added.
G3X comes with all engine software preinstalled for the Rotax, Jabiru, Continental, and Lycoming. Of course, you'll need the correct engine probes and sensors — the same as any engine gauge, even an analog gauge. In addition, Garmin recently added a fuel calculator to speed awareness of this important parameter. And, the GPS giant added the opportunity to create several checklists; you build your own using your laptop or desktop computer.
In one hour, Tim could not possibly review all the features of Garmin avionics, which explains why you really need to visit Garmin's mini-website for these devices.
For more on Sport Pilot and LSA: ByDanJohnson.com