Sporty's has issued a Trends Report for 2010, highlighting the top trends of the year. Topping the list: the iPad.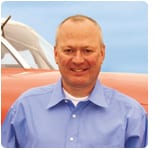 Pilots were early adopters of the Internet, laptops and GPS so it makes sense that they feel totally comfortable with technology, Sporty's President Michael Wolf notes. Lightweight and compact, the iPad was built for cockpit use and pilots have made this gadget their own in huge numbers. With all that said, paper charts are still quite popular. Pilots like the security of a no-battery backup.
2. Name that tune. In-flight music is almost an essential, at least for passengers. Accessory adapters, Bluetooth on headsets, and other gear that brings music to the cockpit are all very popular.
3. JC Penney had a bad third quarter. Tiffany & Co. had one of its best. Same with headsets. Despite economic conditions, premium-priced headsets such as the Bose A20 are hotter than ever. In fact, Sporty's founder Hal Shevers has said that the most surprising thing in his career has been that pilots would pay $1,000 for a headset, and now they are paying slightly more.
4. Retrofit glass panels are the must-have upgrade for owners of older aircraft. Sporty's on-site avionics shop, Cincinnati Avionics, has kept busy this year with numerous Garmin G500 and Aspen Evolution installations. Still, round gauges are not dead. We estimate that the majority of our customers have yet to fly glass.
5. Modular flight bags are the new thing. Consumers' desire to personalize and customize many of their belongings now extends to flight bags. A contributing factor is that electronic devices can be padded and protected and not just thrown in a duffel bag.
6. When is GPS not enough? Even with GPSs everywhere, pilots still want and need a backup NAV/COM, and they want it to do more than ever.
7. New student enrollment in the University of Cincinnati's Professional Pilot Program, which Sporty's manages, is up significantly this year. More and more young people are choosing aviation as a career path, and preparing now for an expected hiring boom.
8. Portable traffic systems are hot — not just as stand-alones, but as an add-on to a portable GPS. This combination creates a real portable MFD — navigation, charts, weather, traffic, terrain.
9. Sales activity at Sandy's Airpark, Sporty's fly-in community at the Clermont County/Sporty's Airport (I69), remains slow in the face of a weak housing market.
10. Consumers have more power in a tough economy. This trend continues. At Sporty's we never thought that being able to talk to a real-live person (and a knowledgeable one at that) when a customer calls with a question would turn into such a compelling selling point.
11. Portable eBook readers became mainstream in 2010, and in many cases eBooks have outsold their paper cousins. eBooks are an ideal tool for pilots on the go — portable, buyable anywhere there's Internet access and (pilots love this) less expensive than regular books. Sporty's introduced four eBooks in 2010, and Sporty's eBook offerings will continue to grow in 2011.
12. Teaching people to fly is still what Sporty's is all about, and providing the finest educational materials has kept Sporty's strong for the past 49 years. Sporty's Complete Pilot Courses, which evolved from the original three day ground schools in the 1960s, are now available on DVD, online and on mobile devices.
For more information: Sportys.com