Dan Johnson, president of the Light Aircraft Manufacturers Association, is an expert on Light Sport Aircraft.
Accompanying this post is our customary chart showing market share of the entire fleet of LSA. We've collected all market reports to make reviewing them easier. Here's a look-back with emphasis on results only for 2010: With 83% of the year (10 months) accounted for, Piper's legacy brand is convincingly leading the Light Sport Aircraft market. At 43 airplanes registered in 2010 (24% of all registrations), the Vero Beach, Florida-based company is rising rapidly. (Note as always that these figures do not match actual sales activity at companies.)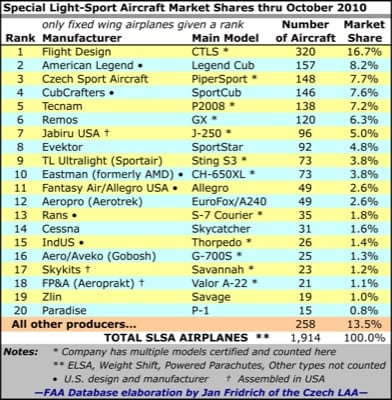 Following Piper, CubCrafters is enjoying a strong year, said Jim Richmond as his company added 37 LSA registrations (20% of all 2010 LSA). The company also has a Part 23 line and does service work on Cub-types, so the enterprise is surviving well in this downturn, he noted.
No one should be surprised that Cessna added 29 Skycatchers (16%) to FAA's registry (the source of all figures for this report). Other reports suggest Cessna should ship about 150 LSA for 2011, which will sharpen an already-close battle for second place.
Industry stalwarts Flight Design and Tecnam are having OK years at 17 (9%) and 14 (8%) registered in the first 10 months of the year. Next up is newer arrival, the Lightning, with nine (5%) new registrations, followed by American Legend at six, and Paradise at five registered.
Honorable mentions go to TL/SportairUSA for adding four new Sirius; Aerotrek with four new A-series LSA; Skykits with four Savannah; FPNA with three A-20 series models; and 3Xtrim with a pair of Navigator 600s.
Projecting to a full year, I estimate 218 new registrations in 2010, down 4% from a dreadfully slow 2009. After two years of waiting for greater certainty in the economy, several industry veterans believe buyers could unleash some pent-up demand in 2011.
For more on Sport Pilot and LSA: ByDanJohnson.com