LSA America builds the Czech-designed Allegro in America as one of the first companies (but not the last, I suspect) to cross the Atlantic. Ironically, this results in an aircraft less expensive than other LSAs that come from Eastern European countries where we once thought low wages and high aviation skills would upset U.S. airplane manufacturing. Funny how life works out, and in only six or seven years.
Doug and Betty Hempstead, who used to import Allegro from Fantasy Air, took a long and winding road to American production, finally teaming up with another developer in Roseburg, Oregon. When the other company shut down, the Hempsteads had to start again. Finally they succeeded in bringing the Allegro to U.S. manufacturing under the company name LSA America. The North Carolina company was visible at Sebring 2012 where I took an opportunity to fly a Made-in-the-USA Allegro.
A full-length report will appear later but following is my mini-review: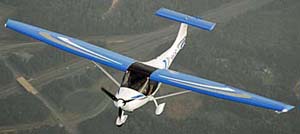 Allegro is light on the joystick while being lively in performance with the 80-hp Rotax 912 as its powerplant. Indeed, Hempstead believes the new Allegro gets performance out of 80 horses that other LSAs need 100 horses to match. Such comparisons are difficult to evaluate accurately, but Allegro is clearly a good performer thanks partly to its low empty weight.
With very low stall — below 40 mph indicated — Allegro is an easy lander. Short field operation capability comes from deep 48° flaps and good slip capability if that's still not enough. On sinky days, a long 12:1 glide will be appreciated.
A few other basic specs include: Stall with flaps extended 40 mph; cruise at 75% power is 120 mph (104 knots); climb is better than 1,000 fpm (even with the 80-hp Rotax 912 engine).
Allegro appears to have a strength among Light-Sport Aircraft: Payload, an important factor for many shoppers. While many early LSAs carried more than their empty weight, most lost that claim as their equipment lists grew more deluxe in response to customer demands. Bucking the bulking-up trend, Allegro weighs a relatively trim 638 pounds with basic equipment, giving it a useful load of 682 pounds. With its smaller 17-gallon fuel tank, Allegro's payload of 536 pounds allows full fuel, two 200-pound occupants, and 34 pounds of baggage or gear. Fuel burn on the 80-hp engine can be below three gallons per hour in cruise at altitude. Allegro can fly 500 miles before the tanks run dry.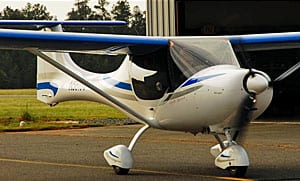 Allegro's fuselage is constructed of a Kevlar-reinforced material to which are mated all-aluminum wings. The empennage structure and covering is also aluminum. This genuine composite is lean and clean helping to account for its flight efficiency. Bubble doors expand downward and aft visibility, which adds to skylight visibility. Dual throttles allow pilots to keep their arm comfortably in their lap and the center joystick is simple while easing access to either seat.
Starting at $89,000, quite well equipped, Allegro is an American bargain you ought to consider.
For more on Sport Pilot and LSAs: ByDanJohnson.com
People who read this article also read articles on airparks, airshow, airshows, avgas, aviation fuel, aviation news, aircraft owner, avionics, buy a plane, FAA, fly-in, flying, general aviation, learn to fly, pilots, Light-Sport Aircraft, LSA, and Sport Pilot.