GippsAERO, manufacturer of the GA8 Airvan, has teamed with MT-Propeller to provide a low noise solution.
The lightweight, composite MT-Propeller will give Airvan operators a significantly reduced noise footprint, a great benefit to European operators due to the stringent noise regulations set by EASA and local authorities, company officials said. On completion of the project, the propeller will be offered as an option with all new GA8 Airvans, officials added.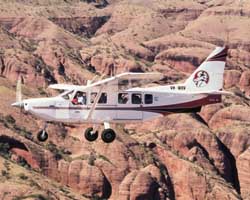 Existing owners will also be offered the new prop under a Service Bulletin.
The GA8 Airvan, an eight-seat utility aircraft, received type certification for Europe in 2005; Airvans are now flying in Germany, United Kingdom, Lithuania, Romania, Netherlands, France, Luxembourg and Ireland.
MT-Propeller manufactures propellers with a reduced noise footprint, greater strength, reduced weight, and more ground clearance.
The test flight of the Airvan fitted with MT propeller is planned for June 2012, and certification to follow soon after. Once certified, the propeller will be offered to both Normally Aspirated and Turbo Charged variants.
For more information: MT-propeller.com, GippsAero.com
People who read this article also read articles on airparks, airshow, airshows, avgas, aviation fuel, aviation news, aircraft owner, avionics, buy a plane, FAA, fly-in, flying, general aviation, learn to fly, pilots, Light-Sport Aircraft, LSA, and Sport Pilot.