The National Aeronautic Association is now accepting nominations for the 2012 Wright Brothers Memorial Trophy. Deadline for submissions is Aug. 31.
NAA created the Wright Brothers Memorial Trophy in 1948 to acknowledge individuals who contribute to the history of aviation.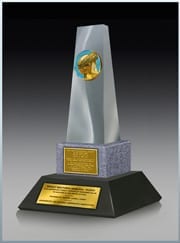 The trophy recognizes individuals who are pioneers, visionaries, public servants, business leaders, and explorers, NAA officials said. While the criteria for the trophy is quite simple — it is awarded annually to a living American for "significant public service of enduring value to aviation in the United States" — it has been awarded to some of the most famous Americans in our nation's aerospace history.
Recipients include Gene Cernan, Neil Armstrong, John Glenn, Herb Kelleher, Joseph F. Sutter, Dwayne L. Wallace, Ira C. Eaker, Clarence "Kelly" Johnson, Barry M. Goldwater, Igor I. Sikorsky, Juan T. Trippe, Donald Douglas, James Doolittle, and Charles A. Lindbergh. The 2011 Recipient was Lieutenant General Tom Stafford, USAF (Ret.).
The recipient is selected by a panel of aviation and aerospace leaders as well as former Wright Trophy Recipients. The 2012 Wright Brothers Trophy will be awarded at the Wright Memorial Dinner hosted by the Aero Club of Washington on Dec. 16 in Washington, DC.
For more information: NAA.aero
People who read this article also read articles on airparks, airshow, airshows, avgas, aviation fuel, aviation news, aircraft owner, avionics, buy a plane, FAA, fly-in, flying, general aviation, learn to fly, pilots, Light-Sport Aircraft, LSA, and Sport Pilot.