Gulf Coast Avionics and Pacific Coast Avionics have added the DeLorme inReach two-way satellite communicator to their product lines. Designed for use with an iPhone, iPad, iPod Touch or Android device, it provides two-way satellite communications in remote or high-risk environments anywhere in the world.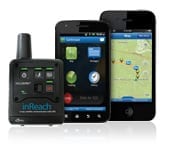 "This is an incredibly capable product that provides so many previously unavailable features," said Rick Garcia, president of Gulf Coast Avionics. "It is small and lightweight but is packed with benefits such as two-way messaging, interactive two-way SOS signaling, message delivery confirmation, and remote tracking. On top of that it provides pole-to-pole global coverage. All that said, we expect it to do extremely well in the marketplace."
The inReach also comes with a social media component, as users will be able to post messages to Facebook and Twitter and enable remote tracking for others to follow their travel timelines, Garcia noted.
The device's wide range of capabilities and versatility will help solve a problem desperate for a solution, said Dewey Conroy, vice president and COO of Pacific Coast Avionics. "Anyone who is serious about outdoor adventure should have one of these products," he said. "All too often we see less than perfect outcomes of search and rescue missions simply because those in distress cannot be accurately located. We are really excited about adding this product to our inventory."
Gulf Coast Avionics is a supplier of avionics, instruments and pilot supplies to customers around the world and is an FAA approved Repair Station, No. UB4R564M, Class 1, 2, and 3/Limited Instrument. For more information: 863-709-9714 or GCA.aero
Pacific Coast Avionics is also a supplier of avionics, instruments, and pilot supplies to customers worldwide, and is an FAA approved Repair Station, No. OPXR455L, Class 1 and 2 /Limited Instrument. For more information: 503-678-6242 or PCA.aero
People who read this article also read articles on airparks, airshow, airshows, avgas, aviation fuel, aviation news, aircraft owner, avionics, buy a plane, FAA, fly-in, flying, general aviation, learn to fly, pilots, Light-Sport Aircraft, LSA, and Sport Pilot.