Team RV, the world's largest formation aerobatic team, will perform for aviation fans from around the globe at EAA AirVenture Oshkosh 2012. This is the team's first appearance at the big show. with performances on opening day, Monday, July 23, and Wednesday, July 25.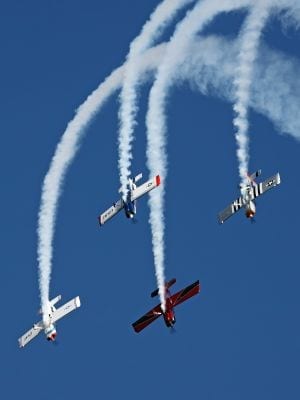 It seems fitting for Team RV to fly this year given the 40th anniversary celebration honoring the first Vans (RV Series) aircraft.
The 10-year-old team is made up of pilots flying the RVs they built themselves. The performance includes rejoins, extended trail chases, aerobatics, and the team's signature large formation photo passes.
Because of their homebuilt, experimental aircraft, Team RV pilots feel a special connection to the AirVenture crowd. Mike "Kahuna" Stewart, flight lead and founder of the group, said "Flying in Oshkosh is like playing a championship game in your hometown. We receive tremendous support from EAA members and homebuilders from across the country and the world. We want to hit a homerun and put on our best performance here."
For more information: TeamRV.us
People who read this article also read articles on airparks, airshow, airshows, avgas, aviation fuel, aviation news, aircraft owner, avionics, buy a plane, FAA, fly-in, flying, general aviation, learn to fly, pilots, Light-Sport Aircraft, LSA, and Sport Pilot.