Witmer's Aircraft Service hosted the East Coast Fly-in Oct. 20 at its facilities at Pottstown Municipal Airport (N47) in Pennsylvania. Open to all pilots and working in conjunction with the Bellanca-Champion Club, the East Coast Fly-in was attended by over 50 people, some traveling from as far as North Carolina to attend, according to organizers.
Friday saw nearly a dozen arrivals who headed over for dinner at the Sly Fox Brewery, just a stone's throw from N47. Saturday featured seminars from the FAA about older airplanes and older pilots. Insurance adjuster John Cooley talked about the concept of "betterment" and what that means to your pocketbook in the event of a claim. Mark Sellers presented his experiences and views after converting his airplane from a Continental IO520 to an IO550. There were also several roundtable discussions, including tablets in the cockpit, general maintenance issues, wood and fabric information, and piloting techniques. Following the events, participants enjoyed a pig roast and barbeque chicken dinner and a good amount of hangar-flying.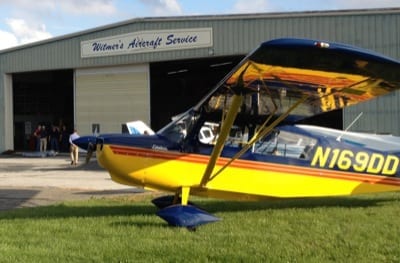 Sunday morning included breakfast, a wrap up discussion and some beautiful weather for the flight home.
Witmer's Aircraft Service has been in business for 20 years and serves all facets of piston engine general aviation and specializes in Bellanca aircraft. For more information: 610-323-0320, WitmerAir.com, Bellanca-ChampionClub.com
See more photos from the fly-in at Facebook.com/WitmersAircraftService