Jeppesen has introduce new capabilities and European coverage areas for Jeppesen Mobile FliteDeck VFR.
The new software version includes expansion of European coverage to Belgium, the Netherlands and Luxembourg. New app capabilities include interactive airspace warnings, NOTAM pinning functionality and enhanced track vector features that further enhance the private pilot flying experience.
Jeppesen Mobile FliteDeck VFR simplifies complex airspace design through a seamless and dynamic chart rendering capability, company officials said.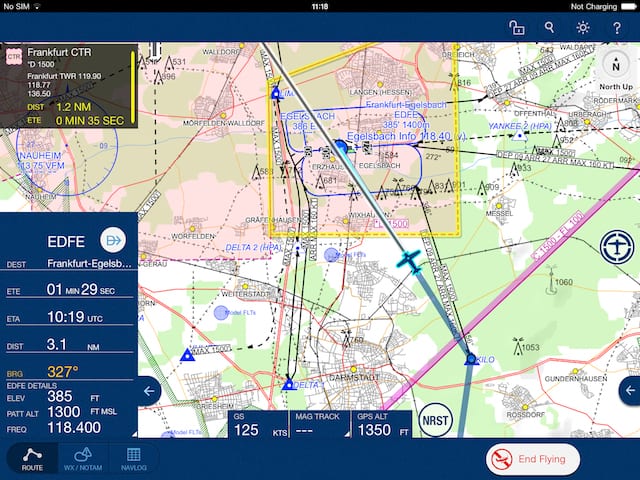 The new "airspace warnings" function increases situational awareness by providing advance warnings of potential in-flight airspace infringements. General airspace information, distance and time to infringement as well as frequencies are now included with Mobile FliteDeck VFR.
Interaction with NOTAMs is improved with the new version of Mobile FliteDeck VFR. Additional sub-sections for 'temporary flight restriction' notices (in USA), 'warnings' and 'enroute airports' have been added.
Jeppesen Mobile FliteDeck VFR also now allows personalized display of distance configurations through a new 'track vector' feature (at 5, 15, 30 and 60 minute intervals), to view flight progression. The new track vector feature was developed as the result of input received from pilots flying in complex terrain or airspace structures, Jeppesen officials said.
Jeppesen Mobile FliteDeck VFR includes features and functions necessary for VFR flying, with flexible route planning, enroute charting, terminal charting and text information presented in a fully interactive design. Truly interactive, dynamic flight information is presented for a seamless VFR navigation experience, from taxi and departure to enroute and parking. Jeppesen Mobile FliteDeck VFR also allows for management of planned, actual and past flights, providing simplified access to preferred flight data.
Jeppesen Mobile FliteDeck VFR is available for a free download and trial phase through the App Store on iPad or at www.itunes.com/appstore/.
For more information: www.jeppesen.com/flitedeck-vfr